Identity : "What you are"
Brand : "What you stand for" is a result of brand communication.
Never ever project what you are not.
You may think good PR locks the bad in you. It is Punctured Reputation. And dont blame the PR agency.

Brand is a Band with R.
Without R, its just a Band of music and this band is of millions of corporates, millions of NGOs, thousands of funding agencies.
R is reputation.
Brand Identity : Equate what you are and what you stand for.

Large corporates have multiple products. They ensure each product is different brand.
So the corporate identity is different than multiple brand identities.
Same with countries which has people from different economic, social, cultural, geographic backgrounds.
So country identity can be different than identity of each state which is an integral part of a country.
What is CSRidentity.com ?
For most of the visitors, CSR stands for Corporate Social Responsibility.
In 2010, we thought that CSR was Corporate, Sustainability & Reputation.
But after an almost fatal accident to founder on 28.8.2013, we changed CSR to Conscience, Sustainability & Reputation.
Every individual & institution in every country has social responsibility. Why think and cover only Corporate Social Responsibility ?

CSR (Conscience, Sustainability & Reputation) means
every individual & institution must have is conscience.
every individual & institution must have is sustainability.
every individual & institution must have is reputation.
And we should not allow caste, religion, body colour, nationality to interfere in conscience . Let it always be pure.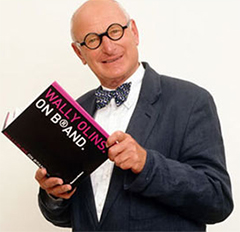 What is Identity and why Wally Olins is shared ?
Identity is "What you are'"
Wally Olins with his India partner Sista's Worldcom recommended Identity for Tata Group in India.
Founder was part of the team which attended meeting with Ratan Tata & his team and the board meeting.
But he just attended and what is more important is he learned how corporate identity is important and it is not at all the Chairperson's or CEO's identity but the identity of corporate as a whole, which means right from security guard, receptionist, liftsman, people, managers, department heads, CEO, board all are an integration of Identity of the company.
Great advertising or PR can enhance your image and reputation.
But that image is sustainable only if you are good in terms of the way you are, your governance, your character .................
Founder wants to change the thinking of world on CSR from just Corporate Social Responsibility to Conscience Sustainability & Reputation. So he added Identity in CSRidentity.com
Dot com because founder is one of the 3500 odd Ashoka Fellows in 92 countries for his idea of Social Entrepreneurship.
Ashoka Fellowships are given to Not for Profits and founder has a for profit organisation.
So hardly any for profit was given Ashoka Fellowship in 2005

Visitors may think it is personal experience and personal thinking.

What is CSRidentity.com ?
Visitors may think it is personal experience and personal thinking.
Any company or NGO or funding agency is just started by its founder. She or he or third gender starts it because of reasons like personal experience or innovation or family business or NGO started by parent .... In a staircase, there is first step, second setp .....or now people use only lifts (staircase only during emergency) ... but even the lift crosses first floor, then second floor. So we have changed and as one says, "change is the only constant".
Visiting CSRidentity.com is waste of time or it is good time investment ?
CSRidentity.com is Knowledge & information avenue.
First thing that one thinks is : Why visit CSRidentity.com because I have many other things to do in my life. I have to work for me & my family, I have to enjoy, relax and most importantly take care of my health. I want to go to foreign countries .......
I is the first think that comes to mind when questioning.
CSRidentity.com has two times I and both are in the word Identity
Every human and organisation as well as every village, city, country, river, technology, animal, nonliving thing like cement, steel has unique identity.
And that is the beauty if I

I comes in Police who are responsible for Safety of us all.
I comes in Political parties because they take care of countries.
Yes, I also comes in the word WIN and infact it comes in the middle of W and N.
W stands for world and N stands for Neutral.

governments of formed by politicial parties who win.
But think where I doesnt come. There is no I in Government, corporates, NGOs, volunteer, donate, person, human... Because they need good governance.
In Governments, Corporates, NGOs, I should not come. Its a team effort. There is no I in team and efforts. But they work for communinites, where I comes twice.
There is no I in consumer, because any corporate works for many consumers and not one, so there is no I. But see there is I in clients because at a time, you deal with one client.
See I comes in Time but I doesnt come in Money that one earns. Because there is no full stop for money and one is hungry to earn more.
When it comes to volunteering there is I, when it comes to donation, there is I, when it comes to funding agencies there is I, when it comes to philanthropists there is I .....
Country name India starts with I (may be because of forming the name or because India has 130 crore odd population and that means 130 crore (1300 million) I's)...

So dont just think about I, think of others (humans, living things like animals, wildlife & marine life, non living things)
Is there anyone in this world who doesnt come in contact with other humans,
NO is the clear answer.
There are social issues which people face. We cover the social issue programmes, funding proposals, volunteering opportunities ...

Is there any human being who never faces any health issue ... cough, cold, fever to larger life threatning issues like accidents, cancer, HIV or Ebola....
NO is the clear answer.
So we cover health issues.

Is there any human being or living beings like animals or non living things like infrastructure who will never have issues related to Climate ?
No is the answer.
So we share Climate Change action that needs to be taken by all
And we cover the entire global and the SHC Issues (Social, Health, Climate Issues) people face. So it is GBI SHCI which is Global Bank of Information on Social, Health, Climate issues.
Dont visit CSRidentity.com
If it is only self, we repeat only for self, then visit CSRidentity.com a few times and you may change your view.
If you doesnt change your view by visiting 3 times, dont visit CSRidentity.com unless you wish to.
The first thing all must question themself is the purpose of their life.
If great scientists like Newston, Edison are dead, if Neil Armstrong the first person who was the first human to walk on Moon is dead (Born : 05 Aug 1930 - Death 25 Aug 2012 and founder was born on 08 Aug 1962 and has an almost fatal accident on 28 Aug 2013 which means August and this is the only common thin so far between Neil and founder), if Edmond Hillary, the first human to climb Mount Everest was Born on 20 Jul 1919 and died on 11 Jan 2008 (No common thing but advertising mind of founder works on Edmond's time on earth and it is 88 years and again 8) ..... the founder thinks many times (not 8 times but many times) what is the purpose of Life ?

If death (or in good words, expiry) is common for all who are born, then the purpose of life must be far far larger and deeper than just living for self, family, relatives, few friends, making earning, getting good income, good life partner .....
The purpose of life may change depending on many things like the geographic area, economic background, people around you ... the number of years you are on earth ...
But doing something for other human beings, living beings who are not your blood relatives or friends, doing something which is climet positive ... can easily be done.
Billions of humans can give USD 12 per year to community or Rs 828 per year which is USD 1 per month or Rs 69 per month
USD 12 is aprox Rupees 828 per year and this means Rs 69 per month if one take currency rate of 1 USD = Rs 69.
Founder went to the extent that in March 2019, he thought he should not take any salary and donate all salary to community but his wife, CA ... said that No salary is not a financial condition for the founder's family because they have to take care of two children. One is Rohan (Sensory Integration differently abled citizen who is founder's teacher on Integration) and second son who is studying Medicine in his last year plus several other expenses like legal expenses .... so they said earn more and donate more ... and founder has to agree because Sustainability is the theme of CSRIdentity.com
So, now, our purposes are many but to share with you
1) sustainable to help more communities & integrate programme sustainability with institutional, national & universal sustainability.
2) reputed so that one gets the right donation & volunteers to further enhance the scope of work.
To summarise
CSR is for Conscience, Sustainability, Reputation and has 60 plus stakeholders including the community.
Identity stands for what you are and it will be of course dependent on cultural, national, global & universal issues and it is certainly not just the logo.
We want every individual & institution to be sustainable and earn income towards it. So dot com (not dot org) is what we want.
So CSRidentity.com
We are a global research and partnership site and we thought of a dream of universal development by year 2050. But then we realised that there will be new challenges by 2050, 2100, 2150 .... so universal development is a process and is never ending. So now there is no year of universal development.
Now our plan till 31.3.2021 is
Share 258 countries, islands, SARs...
25 000 corporates
200 000 NGOs
5000 funding agencies
200+ governments
Political parties in 193 countries and 2 SARS
Police officials in countries other than India and in India, district headquarter offices of police
Names of 150 000 doctors (health issuewise)
Names & addresses of 35000 hospitals
Names of lawyers
Links to law ministries in 150 countries
and brand enhancers like ad agencies & PR agencies ....
We know that celebrities have a new role of social responsibility and
We must share various types of celebs plus add new celebs like social workers, CSR people in corporate sector, journalists, rivers, scientists, religious location, historical locations ... and start sharing 5 types of volunteers and 10 types of donors and may share their names as celebs
And more importantly, for profit and not for profit organisations having programmes social issuewise (few thousand from at least 100 countries)
Health issue challenges & solutions
Climate responsibiltiy practices which must be replicated world wide or scaleup or modify ....
We will interview various individuals and institutions on what they think is the identity of each institution.
Like the identity of corporate sector (not any individual corporate) is asked not only to corporates but their customers, clients, supply chain ...
similarly identity of NGO sector (not individual NGO but NGO sector) is asked to communities, donors, volunteers, media, government officials ..........
What we cover in CSRidentity.com ?
We have two focus areas.
1) Social, health, climate issues
2) 258 countries - 193 UN member countries, 63 Non UN countries & 2 special administrative zones (HongKong & Macau)
7 continents, 5 oceans, 1 world & 1 universe.
We know that Middle east is not legally a continent but we feel that it is important for universal development and hence we may decide to share it as a separate area
It is like Thane is a district in India but we share it as a global example location and may share it with large time investment that say countries like Chad, Swaziland ....
With time, the number of countries, regions may increase or decrease and we will share it with related news within few working days.

We share awards, helplines, seminars, conferences, governments, corporates, NGOs, FAs, media, celebrities , ad / PR agencies, consultants & researchers.......
We also share various UN organisations and worldwide UN observances.
We cover India, Indian government schemes, 36 States & UTs & 710 odd districts in India
We realised that we should not limit ourselves to corporates. Governments, NGOs /NPOs, Soc businesses, Soc. Entrepreneurs, Funding Agencies, Philanthropists, Media, Celebrities, Developmental celebs, Film celebrities, Sports celebrities .. must do certain things and must avoid certain things in their behaviour, governance, HR policies, business processes (for profit or not for profit)... We may or may not exist in 2020, 2030, 2050 but we must ensure that we leave this world with something where the world & the universe is a better living place.

----------------------------------------------------------------------------------------------------------------------
Why we share funding proposals of others in CSRidentity.com ?
We know that for universal development, we need lot of money. More than 1 billion people live with just 1 dollar a day and now there is an issue of migration, so this number may change everyday. After 28.08.2013, we decided that millions of individuals & institutions are helping communities and we must promote them. So, one way is to share thousands of funding proposals across the world by March 2019.
----------------------------------------------------------------------------------------------------------------------
What are new areas we plan to cover in CSRidentity.com ?
There are two such issues.
1) Sustainability tree : We have shared sustainability tree branches & leaves and plan to share at least one example of each sustainability tree branch & its leaves by March 2020.
2) We have started covering CSR in industries with Indian corporates as leaders in example and will start reachout to corporates from March 2020.
Of course, we will cover only few industries to start with and we may increase industries based on our research with stakeholders.
Instead of just one search engine like google, why we share so many things on the first page ?
See its like a menu card in a big hotel which serves all kinds of food.
First time visitors to the hotel should know what is there that I can eat and then decide how much & what to eat.
Regular hotel visitors know what they want to eat, so regular visitors to CSRidentity.com know what they want to see and will directly go there.
Why visit CSRidentity.com when we can see everything through Google or see it on wikipedia or facebook, youtube, linked in ?
Go to Google.com and then you see the search engine. Pur anything and search and you get it.
We are too small compared to Google.com but on CSRidentity.com you will see philanthropic & service angle in case of doctors.
Or CSR in business process, CSR people & planet policies ....
So while we know we are too small, we know our focus area and if our focus matches your need, then visiting CSRidentity.com is far better.
e.g. Google just the word Thane and you will see about 4,38,00,000 results (as of 7th November 2017 at 13.11 Hrs India time. But visit Thane on CSRidentity.com and directly you will see Thane MPs, corporates, NGOs, funding agencies, philanthropists, media, celebrities......

How to surf CSRidentity.com
Do use dropdowns to surf the interviews, governments, media, NGOs/NPOs, corporates, funding agencies, philanthropists. You can surf how celebrities promote issues or do campaigns for them so that millions who follow them understand the social & developmental issues. You can see the offline (as of now India) & online (200+ countries in ths world) services we provide.
How to benefit from CSRidentity.com
Share your social programmes, social funding proposal, social videos on your site as well as you share on facebook, youtube or any other site
Share capacity building, training, seminars, conferences, awards you give on the social, developmental sector as well as CSR issues, your career opportunities...
Sharing this with us is free but funds are required for travel, interviews (excperts, communities), sending mails to millions of individuals, infrastructrue, technology, global promotion. So we invite sponsors to help our own sustainability, global promotion and research.
CSR for not just for corporates but for all individuals and institutions
Initially, we equated CSR as corporate social responsibility. But soon we realised that not just corporates but every stakeholder like governments, NGOs/NPOs, funding agencies, philanthropists, celebrities...and all individuals whether they are children, youth, women, men or senior citizens must be sustainable & more importantly reputed.
What is key is conscience of all the individuals and institutions.
Our present & future plans
We plan to cover 4000 Media, 150 000 NGOs, 10 000 corporates, 1 000 Funding agencies, 1500 Philanthropists, 500 CSR Consultants, 500 Developmental Consultants, 500 Researchers, 200 Helplines, 200 pledges, 500 Business Associations, 500 Developmental associations, 4000 Ad agencies, 1500 PR Agencies, 200 sports clubs, 1000 Social Work Institutes, 1000 MBA Institutes, Legal Institutes, Medical Institutes, 200 Award Giving Institutes, 300 Film producers / directors, 200 Film writers, 1500 Famous celebrities, 1000 Developmental celebrities, 2500 Speakers, 500 Lawyers.
We plan to interview 5000 experts, consultants, researchers & field workers from all stakeholder groups like governmens, NGOs, donors.
Social work institutes is ok but why legal, MBA & medical institutes?
Everyone expects social work institutes coverage from us.
We want new MBA students to know how they have to be positive in business processes, people & planet policies.... so we cover MBA institutes.
We know law is a profession but we plan to share lawyers which work for the senior citizens, disabled, poor, women, HIV citizens and others and the best way is to share this with future lawyers..
Finally (and infact it is the first, last and future step of humans), we cover medical institutes because we want to share with the world that "Health is wealth".
We plan to share the programmes of all stakeholders like government, NGOs/NPOs, corporates, funding agencies, philanthropists....and also researchers, consultants, celebrities, ad agencies, PR agencies which cover these issues either as donor or researcher / consultant or as campaigners.
Why global and not focus on just one country or one issue
Instead of working for one village or one community or one country, we must enhance the great work millions are doing in different countries. In this case, we must share a global picture of challenges & solutions.
Why Identity and why .com
Identity plays a significant role in the way an organization presents itself to both internal and external stakeholders and it is important that the identity of every stakeholder is taken care of. We are a social enterprise and that's why .com