1 to 100
101 to 200
201 to 300
301 to 400
401 to 500

Fortune 500 are largest 500 companies in the world by revenue.
Fortune Magazine shares shares following rich information about the 500 corporates.
Country (Headquarters) , Industry, CEO, Website, Company Type, Revenues ($M), Profits ($M), Market Value ($M), Employees
Key Financials (Last Fiscal Year) , Profit Ratios, Earnings Per Share (Last Fiscal Year), Total Return, Measure Up Diversity & Inclusion Metrics.
So please visit Fortune to see more details.
CSRidentity.com is perhaps the only company in the world which plans to share links of all Global Fortune 500 corporates related to
CSR, Sustainability, News / Media and country
And we are clear, if these links are available in public zone then only we share them.
The idea of CSR or Sustainability link is to share link which tells you what CSR or Sustainability issues the company takes care of
The idea of News or Media link is to share link which tells you the latest news from the company.
Ideally, we would like to have only one sponsor for all the 2 (Link to Index, Sustainability, News and CSR) but we have option fof different sponsors.
1) Name, Sustainability & Media links 2) CSR Links
If you want to be the sponsor who helps us in gloal promotion, contact the sponsorship fees you think are appropriate to Datacentre
Sponsorship period : From now to 31.3.2025
Please note that when Fortune 500 announces new list of Global 500 for 2023, within a fortnight we will do necessary changes and the cost of these changes is included in the sponsorship fee
You want Index, CSR / Sustainability & News / Media link directly to you to save time, we can to that.
If you want all the Fortune 500 global companies with their CSR or Sustainability links as well as News or Media links then we can do that for Rs 5000/-
You can go to Fortune 500 website, then go to each company, find their website and then CSR, Sustainability, News or Media link.
You can go to Fortune 500 companies shared on CSRidentity.com with link to their CSR, Sustainability, News and then again link to their CSR.
Details are shared below
Payment to company
Corporate Sustainability & Reputation Consulting Ltd.
State Bank of India, 425, Gokhale Road, Thane West
Through NEFT
IFSC code : SBIN0005354
C.D. Account Number : 32704401177
No courier or post, its direct online payment
Payment to NGO
Developed Nation Network Trust
TJSB Bank, Naupada, Thane West

Through NEFT
IFSC code : TJSB0000003
C.D. Account Number : 003120100013214
CSRidentity.com is the only portal in the world which offers CSR or sustainability link & Media / News of each of the Fortune 500 company (Global ranks)
Contact : Datacentre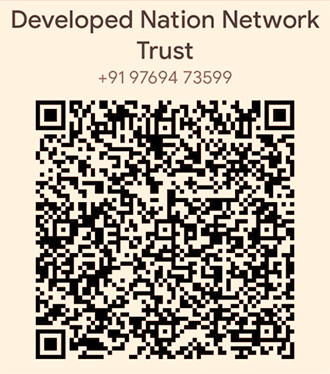 For everything, there is first target
Bhau, founder's father gave house & property to him through a Gift Deed and Government Authorities valued it as Rs 1 34 33 000/- and founder's father (Bhau) was asked to pay a stamp duty of Rs 4 03 000/-.
Neither founder has that much money nor he aspires to earn money for himself. His purpose is to help the world. He may earn money but substantial part of it will be donated to either building a hospital for his son or help NGOs registered in Thane or helping many new initiatives which will make CSRidentity.com a Knowledge Bank.
He knows that after death, PM, President, Queen, Super rich, Middle class, Below the poverty line or any individual of any nationality, caste, religion neither takes anything with them nor do they know whether their son, wife of son, grandson, wife of grandson or close relatives came to see them before they left earth.

When they leave this world, what remains is
Deeds when they were on earth.
And it remains for a year or many years ...
it depends of what you left behind.
But Bhau demonstrated die empty attitude.

Bhau's indirect message to founder Sanjay Kumud Moreshwar Bapat
Your death was postponed to serve mother earth & share and promote individuals & organisations which help Mother Earth as well as if you can do something which is different than rest of the world.
Remember what you will do is like a drop in this big ocean.

So our first target is Rs 13433000/-
Its not at all a legal responsibility.
Founder feels his death is postponed not to make money but to help others across the world with Information, Knowledge, Branding identity.
It is our way of giving back to earth.
Things we can do. Not dreams.

As of now, it is donation from and to within India but when our FCRA gets renewed, we will accept from any country towards India. We may partner with entities in different countries, so that you can directly donate to them.
Of course, in case of India, the donation amount we will receive will be less because of bank transaction charges if money comes from outside India. So we will donate what we get in our account.