Prakasam District In Andhra Pradesh
Corporates
Any corporate interested in having NGOs as selling agents can contact the NGO directly.
But if the corporate wants to put their name plus contact person's name and phone number here, then they have to pay a donation of Rs 2000/- for one district.
Corporates
We plan to donate at least Rs 13433000/-
This amount is not just any amount. Bhau, founder Sanjay Kumud Moreshwar Bapat's father gave house & property to him through a Gift Deed and Government Authorities valued it as Rs 13433000/- and founder's father (Bhau) paid a stamp duty of Rs 403000/-. And after the Gift Deed, Bhau was the first person on earth (Of course many others stepped in) to start postponing death of founder after an almost fatal accident on 28.08.2013.
Founder knows that after death, neither anyone takes anything with them nor do they know whether their son, grand son, daughter in law or so called blood relatives or neighbours came to see them before they left earth.
When any human leaves this world, what remains is their Deeds when they were on earth. So our first target is Rs 13433000/- Of course they will not know the impact of their gifts to world, but that is beauty of life. Enjoy it but leave the world as satisfied human and not one with unending greed of money, property.
Corporates can donate to the NGO
Developed Nation Network Trust by G Pay.
It has 80G and waiting for renewal of FCRA.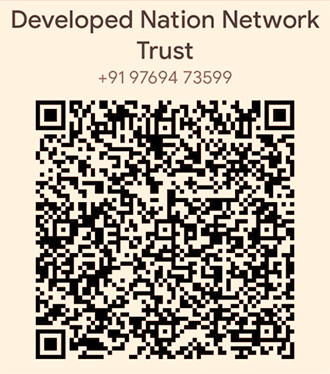 NGOs
NGO Brands
We share NGO Brands statewise in case of India
NGOs in this district
A South India Rural Womens Association For Development
Abyudaya Seva Samithi
Accurate Development For Allivated Masses Society
Activities For Poor Peoples Loving & Ecumenical Society (Apple)
Adarsa Mitra Mandali
Adarsha Mahila Mandali
Adarsha Seva Samithi
Adi Andhra Educational Society
Aid For Innocent Mission Service Foundation
Allama Iqubal Memorial Muslim Minority Society
Anantha Lakshmi Mahila Mutually Aided Cooperative Thrift Society Limited
Angels In The Field
Anna Educational Society
Apmahilabhyudayasamithi
Apoorva Welfare And Educational Society
Arunodaya Mahila Mandali
Arunodaya Mahila Mandali
Ashrya Society For Mentally And Physically Challenged Persons
Assist Rural Development Welfare Society
Association For Welfare Active Rural Development
Association Of Free Lutheran Congregations
Bandla Bapaiah V S C
Banjara Tribal Development Organisation
Beth Myriam
Beulah Ministries Of India
Brethren Institute For Rural Development
Bullard Educational & Development Society
Cards
Chaitanya Disabled Welfare Society
Chaitanya Mahila Mandali
Chandravamsa Organisation For Rural Development
Child Care Organisation
Childrenfilms&Culturalsociety
Christ For India Mission Society
Christian Educational Society
Christian Rural Educational And Economical Development Ministries (Creed)
Church Of Christ Komarole
Church Of Christ Social Welfare Society
Collective Activities For Rejuvenation Of Village Arts And Environment Carve
Compassion Focus Ministry
Creating A Highty Generation
Crescent Educational Society
Dalith Action For Rural Enlightenment And Education Dare
Daniel Foundation Trust
Dannasi Prakasamaiah Foundation Society
Dasari Adivaiah Memorial Educational Society
Deborah Girls Home
Disabled People And Rural Development Organisation
Dravulpakirjainulabdeenabdulkalamsevasamastha
Effort
El Shaddai Ministries
Ever Living Prayer House Of Mission
Father Chopparapu Jojaiah Educational Society
Federation Of District Mahila Mandals
Forever Found Society
Forever Rural Integrated And Educational Needs Development Society
Friends Foundation
Friends Organisation For Rural Development
Global Relief Activities Of Poor & Ecumenical Society (Grapes)
Gods Will Voluntary Organisation
Goginenipitchaiah&Sarojanicharitabletrust
Good News Ministries Jail & Prisoners Welfare Society
Good Samaritans Charitable Trust
Good Shepherd Ministries
Good Shephered Educational Society
Gospel Crusade And Social Welfare Service Activities Society
Gowthami Foundation
Grace Gospel Ministries Martur
Grace Gospel Mission
Harry And Arlene Summers Welfare Society
Help Entire Lower And Rural People
Help To Helpless Society Pakala
Holy Cross Social Service Society
Holy Faith Health & Education Research Organisation
Home Of Faith Society
Hoths Organisation For The Human Services
Ideal Development & Empowerment Accessory Society
India Evangelical And Educational Rural Development
India Evangelistic And Relife Fellowship
Indian Christian Ministries
Indira Priyadarsini Mahila Mandali
Infant Welfare Society
Integrated Rural & Urban Development Society
Jan Shikshan Sansthan Ongole
Jesus Orphans Ministries Organisation
Jijiyabaimahilamandali
Kakatheeya Educational Society
Kamala Educational Society
Karuna Rural Development Society
Kasturiba Socio & Educational Development Organisation
Kk Educational And Rural Development Society
Lakshmi Mahila Mandali
Lc Disability And Development Programmes
Leelamma Tribal Welfare Society
Lightforblind
Mahila
Mahila Mandali Chirala
Manalo Manam
Manasa Educational And Development Society
Manna Service Society
Masters Assembly On Social Service
Mother Teresa Social Service Society (Mtsss)
Mother Theressa School For The Blind
Mount Olive Prayer Tower & Economic Development Society
Mudivarthy Hanumantharao And Kameswari Educational Committee
Neelam James Medical & Educational Society
Netaji Yuva Kendra
Nirmal Development Society
Omega Charitable Trust
Organisation For Rural Advancement And General Empowerment
Orphans Welfare Organisation
Peace Gospel Ministries Of India
Peoples Welfare Assocition
Poineer Charitable Organization
Positive Peoples Network
Pragathi Mahila Mandali
Prakasam Development Social Service Society
Prakasam Yuvajana Sangham
Prakasam Zilla Balaheena Vargala Colony Varala Seva Sangham
Prakasam Zilla Poura Vinyogadarula Samkeshema Sangam
Prakasam Zilla Scbcstminorities Ngos Sevastamb Association
Prasanthi Mahila Mandali
Premachand Educational And Development Society
Prerana
Priyadarshini
Priyadarsini Mahila Mandali
Protect
Rainbow Foundation India
Rakshana
Ramananda Trust
Rashtra Chenetha Jana Samakhya
Redemption Research For Health And Educational Development Society
Research In Environment Education And Development Society
Rhema For Asia
Rural Economic Development And Educational Mobilisation Projects Through
Rural Educational Awareness And Development Society
Sabari Girijana Mahila Mandali
Samatha Mahila Vedika
Sameem Mahilamandali
Saraswathi Welfare Society
Saroj Seva Foundation
Selfservicefoundation
Social Activities For Rural Development Society
Society For Christian Welfare And Rural Development
Society For Education Agriculture And Rural Community Health
Society For Integrated Rural Improvement Action (Siria)
Society For National Integration Through Rural Development
Society For Urban Poor People And Orphan For Rehabilitation Training
Society Of Jesus Mary And Joseph Stxaviers Convent
Society Of Reach The Unreached Through Literature And Assistance
Society On Action Village Education Guiding Environment
Solmons Health And Development Of Weaker Societies
Spurthi Welfare Society
Sree Mahalakshmi Mahila Mandali
Sri Bhavani Mahila Mandali
Sri Chaitanya Kalanjali Rural Development Society
Sri Ganesh Khadi & Silk Gramodyog Association
Sri Kashta Jeevula Jatiya Seva Sangham
Sri Nagubadi Rangaiah Charitable Trust
Sri Nidamanuri Educational Society
Sri Padmavathi Educational And Social Welfare Society
Sri Potru Subba Rao Memorial Rural Development And Educational Society
Sri Sai Rural Development Society
Sri Satya Sai Dharmika Seva Samastha
Sri Venkateswara Khadi & Silk Rural Development Society
Sri Vyshnavi Educational Society
Srinivasa Educational Society
Ssgmv (Shirdi Sai Ganaga Mandir Vemulabanda)
St Philips Childrens Home
St. Paul's Educational Society
Support
Suvarnamukhiswara Sustainable Agricultural Society
Swanthana Seva Samithi
Swarna Swayamkrushi Of Society
Swayamkrushi Rural And Urban Development Society
The Community Development Society
The Immaculate Heart Of Mary Society Kanigiri
The Joshua Foundation
The Kingdom Of Jesus Christ
The New Life Society For The Poor And Handicapped
The Ongole Don Bosco Society
The Sharon Ministries
The Sidhardha Educational And Rural Development Society
Thehopefoundation
Thraiyukta Organization
Three Men Academics
Ushodaya Mahila Mandali
V.H.R.Educational Society
Valmiki Seva Sangam
Values Foundation
Vasavi Educational Society
Venkaiah Social Welfare Society
Venkateswara Health And Educational Society
Victoryruraldevelopmentsociety
Vikas
Vikasa Bharathi Development Organisation
Viveka Service Society
Voluntary Integrated Multiple Orphan And Children Human Activities Need Action (Vimochana)
Vutukuri Venkata Subbamma Welfare Society
Vutukuri Venkata Subbamma Welfare Society Salmoncenter
Vyshnavieducational Development Academy
Way Society
Welfare
Welfare Of Innocent Neglected Guarding Society
Wings India Foundation
Women Empowerment Society
Youth Association For Rural Development Society

If your NGO is having programmes related to social issue in this district, just email the name of the NGO with link to it and we will share it free.
Our email : Datacentre@CSRidentity.com
We Salute
Soldiers, Police, Below the poverty line people who live with humanity, Social workers, NGO Founders, Hospital staff, Health care workers, Chemists, Medicines Trees, Forests, Medicinal plants, Rivers , Extinct animals, Homes, Climate, People working in crematorium
Shop from NGOs
NGO Sellers Concept
Following NGOs sell products.
These products are either made by communities or the NGOs act as agents of companies making these products.
The idea is to help communities, NGOs and corporates together.
NGOs can be selling agents
NGOs must be sustainable.
We dont want to loose focus of serving communities but in case of emergency where their funding stops, they must have at least one year survival funds so that the communities they serve do not suffer.
We have experienced that when an NGO working with disabled sales products made by them or NGOs working with women sell products made by them or NGOs selling tribal products or paintings .. its great honour to communities they serve.
And NGOs working in slums or villages or rural areas have great relationship with communities and corporates can think of having them as agents which can order products from corporates.
Its good for corporates who find good agents
Its good for NGOs because they earn
Its good for communities because its at home service

NGOs can keep half the commission they get and pass the other half to communities so that its win win long term situation