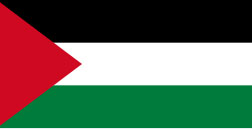 National Anthem
Warrior, warrior, warrior
O my land, ancestors' abode
Warrior, warrior, warrior
O my folk, folk o' eternity
With bravery arm'd, the burning in my vendetta
Thirst in my blood fo' my land, my home
Wars I've fought, mountains I've climb'd
I've conquer'd the impossible, o' frontiers cross'd
With the will o' winds, fire o' weapons
And grit o' my nation o' struggles
(Palestine, my home, thou art my fire)
Palestine, my home, path o' my triumph
Palestine, land o' brace and o' my strife.
By thy oath under the shade o' thy flag
By my land and nation, the pain that burns
As a warrior I shall live and remain as such
As a warrior I shall die, until my country returns
O Warrior!
Source

Palestine recognized officially as the State of Palestine by the United Nations and other entities, is a de jure sovereign state claiming the West Bank and Gaza Strip with Jerusalem as the designated capital
Partial administrative control is held only over the 167 "islands" in the West Bank and the interior of the Gaza Strip,
Its administrative center is currently located in Ramallah.
Independence day (Decleration)
15 November 1988
Population
5,101,414
Latest population
Capital
Jerusalem (Proclaimed capital)
Administrative center : Ramallahc
Area
6,020 km2
Currency
Egyptian pound (EGP)
Israeli new shekel (ILS)
Jordanian dinar (JOD)]
(see also Palestinian currency)
Languages
Arabic