Krishna District In Andhra Pradesh
Corporates
Any corporate interested in having NGOs as selling agents can contact the NGO directly.
But if the corporate wants to put their name plus contact person's name and phone number here, then they have to pay a donation of Rs 2000/- for one district.
Corporates
We plan to donate at least Rs 13433000/-
This amount is not just any amount. Bhau, founder Sanjay Kumud Moreshwar Bapat's father gave house & property to him through a Gift Deed and Government Authorities valued it as Rs 13433000/- and founder's father (Bhau) paid a stamp duty of Rs 403000/-. And after the Gift Deed, Bhau was the first person on earth (Of course many others stepped in) to start postponing death of founder after an almost fatal accident on 28.08.2013.
Founder knows that after death, neither anyone takes anything with them nor do they know whether their son, grand son, daughter in law or so called blood relatives or neighbours came to see them before they left earth.
When any human leaves this world, what remains is their Deeds when they were on earth. So our first target is Rs 13433000/- Of course they will not know the impact of their gifts to world, but that is beauty of life. Enjoy it but leave the world as satisfied human and not one with unending greed of money, property.
Corporates can donate to the NGO
Developed Nation Network Trust by G Pay.
It has 80G and waiting for renewal of FCRA.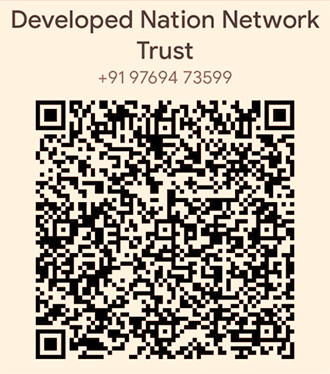 NGOs
NGO Brands
We share NGO Brands statewise in case of India
NGOs in this district
Aadyaa Society For Education And Training
Abhivrudhi Mahila Sangham
Abhyudaya Foundation
Abhyudaya Mahila Mandali
Action For Development Of Human And Rural Neglected Areas (Adharana)
Action For Rural Development
Adarana Mahila Mandali
Aditya Global Business Incubator
Alamelu Charitable Foundation
Alert
Alive Service Society
Amma Prema Adarana Seva Samstha
Amritasaieducationalimprovementtrust
Andhra Capuchin Society
Ankitha Charitable Trust
Annamma School For Hearing And Physically Handicapped And Baby Care Centre
Ap Girijana Sevak Sangh
Aravinda Viniyogadarula Sankshema Sangham
Arheds
Arise And Shine Society
Arthik Samata Mandal
Aruna Mahila Mandali
Arunodaya Charitable Trust
Asha Jyothi Handicapped Welfare Society
Asha Kiran Rural Development Society
Ashwani Foundation India
Assisi Karuna Bhavan
Association For Poor People Liberation Effort
Association Of Relief Volunteers
Assurance For Rural Development Society
Atheist Centre Trust
Aura Educational Society
Banzara Tribal Ministries
Ben Ruben Welfare Association
Berachah Educational Rural Action And Community Health Association For Humanity Ministries
Bethel Charitable Organisation
Bethel Ministries
Bethel Ministries Welfare Association
Bethesda Homes
Bezawada Joseph Prasad Memorial Charitable Trust
Bharatiya Vijnana Mandali
Blessing Blossoms
Blessyministries
Boravancha Education Empowering Society (B E E S)
Bridge Of United Indians For Life Development
Bright Integrated Rural Development Society Birds
Calvary Prayer Tower
Care & Share Charitable Trust
Catholic Health Association Of Andhrapradesh
Chain Of Charitable Trust
Chaitanya Mahila Mandali
Change Foundation
Child Rights Advocacy Foundation Trust
Chreesthu Sheba Ministries Welfare Association
Chukkapalli Charitable Trust
Church Of South India Krishna Godavari Diocese
City Educational Society
Comfort Foundation
Compassionate Rural Association For Social Action
Daf Folio
Dalitha Vikasam
Darsini Handicapped Welfare Society
Deepam Development Of Economic Educational Programme And Ministries
Deva Organization Rural Development Society
Development Agency For Socially Handicapped
Diocesan Educational Society
Ditty Integrated Rural Development Society
Dr.J Frank Davis Education Society
Ebenezerministries
El Shaddai Evenglical Ministry And Social Organisation
Elshaddai Church Ministries
Emmanuel Evangelical Ministries
Faith Action For Community Transformation
Faith In Almighty Charitable Trust
Far Corners Missions
Fathimanagar Adoration Society
Food First Information And Action Network Society
Full Gospel Churches Of India
Fullness Of Life Ministries
Ghantasala Khadi Rural Development Association
Global Relief And New Development Trust
Global River Ministries
Godson Ministries
Good News Ministries
Good Shepherd Vincetian Society
Gospel Prayer Temple Ministries
Gospel Torch Charitable Mission
Guide Foundation For Development
Hallelujah Ministries
Harvest India
Health And Education For All
Heartfulness Education Trust
Help The Helpless
Helping Hands Society
Helping Hands Welfare Organization For Rural Development Society
Hema Sairam Annapurna Charitable Trust
Heralds Of Good News Welfare Society
Hindu High & Branch Schools Society
Holy Vision
Hope Mission
Humanitarian Organisation With Peoples Entity
Hyny Educational Society
Immaculate Heart Of Mary Society
Immaculate Heart Of Mary Society For Welfare Of Disabled
Immanuel Gospel Ministries Of India
Indi Village Ministries
India Pentacostal Church In Andhra Pradesh
Initiatives In Development Empowerment And Awareness Society
Integrated Rural Development Society
International Multidisciplinary Research Foundation Imrf
Ivm Trust
Jagruthi Yuvajana Mahila Sankshema Sangham
Jan Shikshan Sansthan Vijayawada
Janahitha Society For Social Service
Jeevam Health And Rural Development Society
Jesus Christ Charitable Trust
Jesus Helps
John Hyde Charitable Trust
Johnanna Charitable Trust
Kanthi Samstha
Karlapati Charitable Trust
Kasinadhuni Durgamba Butchaiah Trust
Katherine Hoover Social Service Center
Khadiwears
Kiranmayi Socio Educatinal Society
Koneru Lakshmaiah Education Foundation
Krishna District Federation Of Mahila Mandals
Krishna Zilla Schedule Trible Welfare Society
Krupanidhi Church Ministries
Lakireddy Bali Reddy Charitable Trust
Lakireddy Foundation
Lakshya Sports Promotion Society
Leads Legal Education And Action For The Development Of Society
Lekhana Social Service Society
Levi Evangelical Apostolic Faith Ministries
Life Givers
Light Organisation For Rural Development Lord
Light Society
Love And Serve Charitable Trust
Lyny Society
Maataram Foundation
Mamata Old Age Home
Manasa Devi Charitable Trust
Manasika Vikasa Kendram
Maranatha Vimukthi Charities
Maranatha Visvasa Samajam
Maruthi Mahila Society
Mendu Rural Development Society
Mercy And Grace Charitable Trust
Metropolitan Mission
Minaakshi Arts And Crafts Welfare Society
Moses Memorial Children Home
Mother Flora Faith Ministries Service Society
Mother Theresa Educational And Welfare Society
Mother Theresa Educational Society
Mother Therissa Mahila Mandali
Nandigama Auxilium Society
National Institute Of Life Skills
Nava Kanthi
Navajeevan Bala Bhavan
New Hope Ministries
Newbeginnings Charitable Trust
Nirmala Society Of The Franciscan Clarist Sisters
One Way Mission
Openheart Social Organisation And Charitable Trust
Organization For Action Social Integration Service
Orphans Faith Home
Our Lady Of Assumption Church
Padmasali International Welfare Association
Pearl Educational Society
People In Need Ministries
Peoples Emancipation Through Rgral Action
Peoplewelfaresociety
Pharaoh Educational Society
Philadelphiya Prayer And Gospel Charitable Trust
Praja Pragathi Seva Sangham
Praja Rakshaka Parishad
Praja Shakthi Vidya Sangam
Priyadarsini Mahila Mandali
Promotion Of Rural Education Agriculture Community Health Enlightment Society
Question India
Raja Rural And Urban Development Society
Ramakrishna Mission
Ramvilas Rural Development Organisation
Ratna Prasad Multidisciplinary Research And Educational Society
Ravicherla Integreted Development And Education Society
Ray Of Hope Service Society
Reach All Nations Association
Reach Out Ministerial Associates
Real Friend Association
Rehoboth Ministries Society
Rotary Community Service Trust
Rural Education And Compassionate Helps
Rural Empowerment By Women Entreprenuers Of Amaravathi
S K P V V Hindu High School's Committee
Salem Ministries
Samaritan Humanitarian Aid And Relief Organisation For The Needy Charitable Trust
Samskar
Santhi Mahila Mandali
Santhi Social Service Association
Sarvajana Sneha Charitable Trust
Saso Social Awareness & Service Organization
Satya Sai Social Welfare Association
Saviors Heartbeat
Senior Citizens Forum Vijayawada
Shalom Ministries
Shalom Welfare Educational Society
Share And Serve Charitable Trust
Shree Society For Rural Empowerment
Siddhartha Academy Of General And Technical Education
Silicon Andhra
Sion Assembly Church
Siripurapu Deva Sahayam Miriyamma Charitable Trust
Sirisha Rehabilitation Centre
Skcv Childrens Trust
Skill Tech Welfare Association
Smart Andhra Pradesh Foundation
Smt Merla Ramamma Memorial Trust
Social Service Centre
Society For Community Participation And Education In Rural Development
Society For Education Reform And Victory In Commitment Enable (Service)
Society For Employment Rehabilitation And Voice In Creating Equal
Society For Humanizing Action In Rural And Deserving Urban Areas
Society For Innovation And Incubation Development
Society For National Integration Through Education And Humanizing Action
Society For Through Advancement For Rural Section
Society Of Science Students
Society To Eradicate Poverty Through Sustainable Development
Solid Rock Childrens Education Fund
Sports And Games Players Welfare Association
Sri Chakra Health & Educational Society
Sri Durga Malleswari Educational Society
Sri Jaladeswera Khadi & Silk Weavers Association
Sri Lakshmi Mahila Mandali
Srm Trust Ap
St Annes Society
St Pauls Educational Society
St. Ann's Educational Society
Staryouthassociationn
Sudheekshan Foundation
Tana Foundation (India)
Tapaswini Charitable Trust
Teen Missions In India
Telemedicine Society Of India
Thambys Organisation For Upliftment And Charity To The Homeless
The Amaravathi Mutually Aided Cooperative Housing Society
The Baptist Missions Centre Tiruvuru
The Benedictine Fathers
The Congregation Of The Franciscan Missionary Sisters Of The Sacred Heart
The Congregation Of The Missionary Sisters Of The Immaculate
The Guntupalli Don Bosco Society
The India Christian Assemblies
The Love In Action Fellowship
The Ncc Abraham Charitable Trust
The Roman Catholic Diocese Of Hyderabad Deccan Society
The United Christian Gospel Association
The Vijayawada Don Bosco Society
The Way Mission
The Word Of Life Church
Thefathershouseoforphanhome
Timothy Trust Association
Tiruvuru Social Service Society
Tripura Sundari Foundation India
Tulip Garden Charitable Trust
Udaya Kiranam Voluntary Service Society
United Christian Church Of India
Vasavya Mahila Mandali
Vemulapalli Kodanda Ramaiah Trust
Vennela Educational Society
Vijayavahini Charitable Foundation
Vikasa Educational Trust
Vimala Women Charitable Society
Vincentian Andhra Society
Virus Stopper Foundation
Vision For Asia
Viswaseva Parishath Public Charitable Trust
Vivekananda Yuvajana Samakhya
Wings Outreach Foundation
Wisdom Global Foundation
Yahweh Raah Ministries Yrm
Yehweh Full Gospel Ministries
Yesupadam Charitable Society
Young India Volunteer Organisation
Z P H S Nidamanuru Old Students Welfare Association
Zion Charitable Trust
Zion Devotional Charity Welfare Society
Zion Gospel Ministries Of India
Zion Ministries
Zion Ministry
Zion World Outreach

If your NGO is having programmes related to social issue in this district, just email the name of the NGO with link to it and we will share it free.
Our email : Datacentre@CSRidentity.com
We Salute
Soldiers, Police, Below the poverty line people who live with humanity, Social workers, NGO Founders, Hospital staff, Health care workers, Chemists, Medicines Trees, Forests, Medicinal plants, Rivers , Extinct animals, Homes, Climate, People working in crematorium
Shop from NGOs
NGO Sellers Concept
Following NGOs sell products.
These products are either made by communities or the NGOs act as agents of companies making these products.
The idea is to help communities, NGOs and corporates together.
NGOs can be selling agents
NGOs must be sustainable.
We dont want to loose focus of serving communities but in case of emergency where their funding stops, they must have at least one year survival funds so that the communities they serve do not suffer.
We have experienced that when an NGO working with disabled sales products made by them or NGOs working with women sell products made by them or NGOs selling tribal products or paintings .. its great honour to communities they serve.
And NGOs working in slums or villages or rural areas have great relationship with communities and corporates can think of having them as agents which can order products from corporates.
Its good for corporates who find good agents
Its good for NGOs because they earn
Its good for communities because its at home service

NGOs can keep half the commission they get and pass the other half to communities so that its win win long term situation