Idukki District In Kerala
Corporates
Any corporate interested in having NGOs as selling agents can contact the NGO directly.
But if the corporate wants to put their name plus contact person's name and phone number here, then they have to pay a donation of Rs 2000/- for one district.
Corporates
We plan to donate at least Rs 13433000/-
This amount is not just any amount. Bhau, founder Sanjay Kumud Moreshwar Bapat's father gave house & property to him through a Gift Deed and Government Authorities valued it as Rs 13433000/- and founder's father (Bhau) paid a stamp duty of Rs 403000/-. And after the Gift Deed, Bhau was the first person on earth (Of course many others stepped in) to start postponing death of founder after an almost fatal accident on 28.08.2013.
Founder knows that after death, neither anyone takes anything with them nor do they know whether their son, grand son, daughter in law or so called blood relatives or neighbours came to see them before they left earth.
When any human leaves this world, what remains is their Deeds when they were on earth. So our first target is Rs 13433000/- Of course they will not know the impact of their gifts to world, but that is beauty of life. Enjoy it but leave the world as satisfied human and not one with unending greed of money, property.
Corporates can donate to the NGO
Developed Nation Network Trust by G Pay.
It has 80G and waiting for renewal of FCRA.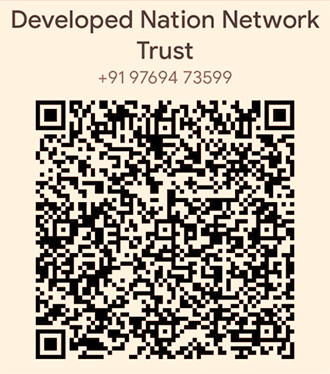 NGOs
NGO Brands
We share NGO Brands statewise in case of India
NGOs in this district
A Imocha Singh Foundation
Abdul Razak Helpline
Action For Artisans Federation
Action For Social Justice Organization
Actors Repertory Theatre
Agency Of New Generation For Education And Liberties
Agent For Social Change
Akhoka
All India Radio Writers Forum
All Jiribam Ex Servicemen Association
All Manipur Widows Foundation
Allied Sciences And Social Development Organisation
Amir Shahabuddin Healthcare Trust
Andro Mahila Mandal Association
Anji Cultural Academy
Apunba Handloom & Handicraft Co-Operative Society Limited
Arbri Foundation
Arsalan Afifah Islamia Cultural Society
Ascent Repertory Theater Imphal
Association For Rural Maintenance Services
B K Handloom And Handicraft Co-Operative Society Ltd
Barak Brothers Union
Bashikong Chanura Sinlon Lup
Biswanath Mahila Kalyan Samiti
Brahmapur Handloom & Handicraft Co Operative Society Limited
Care And Share Foundation
Care Foundation Imphal
Carmel Jyoti
Catholic Medical Centre
Centre For Manipuri Culture
Centre For Performing Arts And Culture Manipur
Centre For Social Development
Chandrajini Memorial Foundation
Chanurashinggi Yaipha Thourang Lup
Chaokhat Thourang Apunba Lup
Charik Pareng Child Welfare Association
Charitable And Religious Society
Child Welfare Ashram
Ching Tam Development Organisation
Chumthang Cultural Research Centre
Citizen Welfare Association
Community Network For Empowerment
Council For Anti Poverty Action & Rural Volunteers
Cradle For Disabled Union
Crafts And Social Development Organisation
Crafts Development Promoters' Organisation
Cultural Development Society
Diocesan Social Service Society Imphal
Diocese Of Imphal
Dynamic Group Of Foundations
Eastern Kala Vidya Thang Ta Association
Eastern Rural Development Association
Eastern Rural Development Organisation
Eastern Thang Ta Organisation
Ecology And Environment Maintenance Association
Educated And Self Employed Womens Social Service Association
Education Support Society
Elite Foundation
Enlighten Unique Care Organisation
Female Handloom Handicarft Cooperative Society Ltd
Global Foundation Manipur
Global Institutes Of Medical Sciences In Short Gims
Good Will Foundation For Culture
Guru Charitable Trust
Guru Irabot Institute Of Manipur Culture
Guru Kulla Cultural Academy
Guru Thanil Manipuri Culture Academy
Handicapped Welfare Association
Handloom And Handicraft Production And Export Co Operative Society Ltd
Harimati Dance And Music Centre
Hee Yai Marup
Heisnam Ahanjao And Dhane Singh Memorial Trust
Helping Hand For Social Upliftment
Helping Hands Innovative Foundation
Human Development Association
Human Development Society
Human Resource Development Institute
Human Resource Development Organisation
Human Resource Development Society
Huyen Lallong Manipur Thang Ta Cultural Association Irilbung
Ibomcha Rastravasha Mahavidalaya
Ibudhou Computer Centre
Ima Leimarel Women Welfare Association
Imphal East District And Boyscount And Girl Guide Association
Indigenous Manipuri Youth Organization
Innovative Development On Educational Activities
Innovative Handloom And Handicrafts Co-Operative Society Limited
Institute For Human Development
Institute Of Manipuri Performing Arts
Institute Of Performing Arts
Institute Of Rural Development And Training Centre
Institute Of Rural Development Society
Integrated Creative Society
Integrated Cultural Association
Integrated Economic Development Society
Integrated Educational Social Development Organisation
Integrated Rural Advancement Centre
Integrated Rural Reconstruction And Education Organisation
International Youth Committee
Inunganbi Manipuri Dance Academy Jiribam
Islamic Philanthropist Society
Jalki Foundation
Jamia Halima Aziz Educational Trust
Kalyan Ashram Manipur
Kangla Foundation
Kangla Handloom And Handicraft Artisans Co Operative Society Ltd
Kanglei Enat Thang Ta Shindam Sanglen
Kanglei Jagoi Anoy Leikol(Kajal)
Kanglei Society Development Organisation
Kangleipak Thang Ta Cultural Academy
Kangleipak Thang Ta Cultural Association
Khagemba Handloom & Handicrafts Co-Operative Society Ltd.
Khangsinlung Gangmei Foundation
Khenjonglang
Khomidok Social Development Club
Khurai Kala Bidya Bhavan
Kimacs
Kk Bright Brothers Trust
Koirouhanba Handloom And Handicraft Co-Operative Society Ltd
Kongpal Nupee Ishei Marup
Kongpal Nupee Ishei Marup
Kongpal Porompat Handloom And Handicraft Cooperative Society Ltd
Konsam Jugindro And Akashini Foundation
Kshetri Thiyam Leikai Weaver Cooperative Society Ltd
Kuki Senior Citizens Welfare Forum
Kunja Dance Academy
Lamhil Kuki Cultural Research Centre
Lanchenbi Handloom & Handicraft Co-Operative Society Ltd
Lanleima Centre For Human Resource And Social Development
Leima Womens Welfare Association
Leirik Memorial Charitable Society
Leitai Nongdai Shinnai Pung
Leo Charitable Trsut
Lichat Inat Kanba Lupki Apunba Maheisang
Life Savers Manipur
Living Art
Luwang Relief Foundation
Luwangpokpa Women Welfare Association
M M Higher Secondary School
Maipakpi Devi Memorial Women And Child Care Centre
Malem Cultural Foundation
Mangi Foundation
Manipur Archives Of Films And Literature Trust
Manipur Artists Association
Manipur Centre For Tribal Performing Arts
Manipur Cultural Ashram
Manipur Eastern Hill People's Development Society
Manipur Hill Areas Bamboo Entrepreneurs Association
Manipur Intergrated Cultural Cendtre
Manipur Intigrated Social Development Council
Manipur Islamic Development Charitable Trust
Manipur Mahila Kalyan Samiti
Manipur Positive Women Network
Manipur Research & Development Foundation
Manipur State Scouts Union
Manipur Tourism Forum
Manipur Youths Cultural Organisation
Manipuri Chanura Leishem Marup
Manipuri Ensemble
Mayol Eco-Tourism Marketing Society
Meetei Indegenous Thang Ta And Cultural Institute
Meetei Ipa Ipu Salai Inat Khongul Liba
Meitei Inat Sindam Apunba Misa Heingang
Meitei Inat Thang Ta Academy
Moirangthem Development Society
Mubi Foundation
Multi Cultural Foundation
Multi Industrial Cum Weaving Co Operative Society Ltd
Naga Hindi Vidyapeeth
Nature Cure And Yoga Hospital
Nebrda North Eastern Bio Economic Rural Development Activities
Networking Service For Communtiy Participation
New Era Environmental And Development Society
New Era Peace Foundation
New Vision Manipur
Nirmal Rastravasa Bidyalaya
Nokphade Cultural Foundation
Nonganjao Trust
Nongeen Arts And Culture Association Manipur
Nongjaabee
Nongpok Ingouba Cultural Academy
Nongpok Ningthou Cultural Academy
Nongthangleima Ladies Welfare Association
North East Educational Trust
North Eastern Minority And Rural Development Organisation
Northeast Skill Development Foundation
Organisation For Mankind
Organisation For Relief And Social Upliftment
Organisation For Rural Upliftment
Organisation For Social Development
Organisation For Socio Economic Development
Panthoi Leima Art & Culture Institute
Panthoibi Handloom And Handicraft Cooperative Society Ltd
Panthoibi Women's Organisation
Paradise Theatre
Pari Imom Khwai Shindam Shang
Pathou Thang Ta Performing Arts Centre Manipur
People S Arts And Dramatic Association
Peoples Development Society
Peoples Welfare Association
Peoples Welfare Society
Performing Artistes Centre
Performing Organisation Of Arts And Culture Manipur
Phouoibi Natya Institute
Pincod
Pioneer Art And Cultural Foundation
Pioneer Health Club Manipur
Progressive Handloom And Handicraft Co Operative Society Limited
Progressive Rural Development Agency
Puthiba Leirak Muga And Silk Weaver
Raag Tarang Mandal
Rahmania Minority Educational Development Trust
Rajarsi Samskrta Gokulam
Regional Economic Development Organisation
Repertory Of Waree Leeba Manipur
Resource Development Agency
Resource Mobilisation Centre
Rural And Urban Developmemt Society
Rural Community Development Centre
Rural Development Charitable Trust
Rural Development Foundation
Rural Economic Development Organisation
Rural Evolutionary Agency
Rural Service Agency
Rural Social Service Society
Rural Unemployment Youth Development Organisation
Rural Upliftment And Development Organisation
Rural Voluntary Organisation
Sach
Salutary Service Society
Sanathoi Silk Embroidery Handloom And Handicraft Co Operative Society Ltd
Sawombung Sangeet Samaj
Seikon
Self Help Information Networking And Education
Shalom Prayer And Healing Centre
Sharadha Foundation
Share And Care
Shinning Foundation
Shri Shri Gouragovinda Nat Sangritan Academy
Shri Shri Govindajiu Bhakti Grantha Kendra Vidyalaya
Social Action For National Development
Social Advancement And Research Centre
Social Advancement And Rural Development Association
Social Advancement For New Generation Association Of Iramdam
Social Amelioration Society
Social Communities Womens Welfare Association
Social Development Foundation
Social Development Foundation Trust
Social Development Organisation
Social Development Organisation Keirao Makting Menjor Ingkhol
Social Enlightenment And Welfare Association
Social Environmen & Development Association
Social Reformation And Development Organisation
Social Service Society
Social Upliftment Women Welfare Association
Social Welfare Services Association
Society For Health And Education
Society For Human Advancement In Rural Area
Society For Human Welfare And Education
Society For Peoples Advancement Manipur
Society For Rural Development Agency
Society For Upliftment Of Fellowship
Socio Economic And Educational Development For Child And Women Organisation
Socio Economic Development Awareness Association
Socio Economic Development Foundation
Socio Economic Development Organisation
Soibam Leikai Handloom & Handicraft Cooperative Society Ltd.
Soram Foundation
St Anthonys Educational Society
St Michael School Of Popular Music
Stella Foundation
Taorem Leikai Weavers Cooperative Society Ltd
Tekcham Gopal Foundation For Arts And Culture
Thambalkhong Maning Leikai Weaver Cooperative Society Ltd
The Apunba Imagi Macha Sing
The Arapti Mayai Leikai Development Association
The Artisan Institute For Manipur
The Association For Human Interest
The Center For Upliftment Of Rural Women Association
The Cultural Research And Training Institute
The Darendrajit Rashtra Bhasa Mahavidyalaya
The De Bagd Tracss Association
The Friends Of People
The Hafiz Educational Society
The Huikap Womens Development Association
The Integrated Cultural Society
The Integrated Rural Development Association
The Itam Nungoi Womens Development Association
The Juvenile Theatre
The Kangla Khunou Handloom & Handicrafts Co Operative Society Limited
The Kangleipak Multipurpose Organisation
The Khongman Woolknitting Embriodary & Sericulture Development Association
The Khundrakpam Makha Leikai Weavers Co-Operative Society Ltd
The Kongba Makha Nandeibam Leikai Imoinu Nupi Lup
The Kongpal Shri Shri Radha Govinda Nupi Ishei Lup
The Lamjing Thawan Association
The Lanleibi Womens Handloom & Handicraft Co-Operative Society Limited
The Living Cultural And Educational Development Foundation
The Lodestar Public School Trust
The Manipur Bamboo & Cane Handicraft Cum Handloom Workers Co Soc Limited
The Manipur Mountaineering And Trekking Association
The Manipur Peoples Voluntary Action For All Round Development Agency
The Manipur Public School Society Mpss Koirengei
The Manipur Rural Service Association
The Manipur Thang Ta Cultural Association
The Manipuri Manaharsai Ashram
The Manipuri Nat Sangeet Ashram
The Meitei Leimarol Art Performing Centre
The Meitei Thang Satjal Cultural Association
The More Khadi Production And Sales Association
The Nanda Care Foundation
The National Information Technology Of Manipur
The Nongmeibung Rashtrabhasha Mahavidyalay
The Nongpok Chaokhat Thourang Marup
The North Eastern Dance & Drama Academy
The Paradise Womens Association
The People Advancement Of Community Empowerment
The Planters And Producers Association
The Public Museum
The Pungdongbam Women Development Society
The Punshi Sintha Handloom & Handicraft Coop Society Ltd
The Rural Development Association
The Rural Institute Of Multipurpose Activities
The Rural Women And Children Upliftment Organisation
The Salan Leirak Maning Leikai Vikas Mahila Mandal
The Self Employment Creative Association
The Service For Advancement Of Rural Development
The Social Awareness And Economic Development Organisation
The Social Development And Welfare Society
The Social Guidance Centre
The Socio Economic And Rural Development Organisation
The State Economy Development Organisation
The Thambalkhog Chandam Leikai Women Welfare Association
The United Handloom And Handicrafts Cs Ltd
The United Human Frienship Organisation
The United Meetei Mayek Academy Imphal
The Western Cultural Association
The Women And Children Development Association
The Women Welfare And Beneficiary Organisation
The Womens Organisation For Rural Development
Thoudam Binodini Foundation
Treasure Art Association Manipur
U Fitness Centre
Ujjawal Rashtrabhasha Hindi Mahavidyalaya
Union For Rural Uplift
Uniqe Trust
United Development Association
Vaiphei Christian Church
Village Development Committee
Wangkhei Ayangpalli Women Development Association
Wangkhei Rastrabhasha Mahavidyalaya
Woman And Child Foundation
Women Action For Development
Women And Child Care Mission
Womens Arts And Cultural Association
Womens Economic Development Society
World Road Church Ministry
Worthy Life Foundation
Yaibi Lennapham
Yaiphabi Development Association
Yening Animal Foundation
Yening Society
Yoga And Naturecure Clinical Research Centre
Young Women Help Organisation
Youth Cultural Society
Youth Development Association
Youth Development Pioneer Organisation

If your NGO is having programmes related to social issue in this district, just email the name of the NGO with link to it and we will share it free.
Our email : Datacentre@CSRidentity.com
We Salute
Soldiers, Police, Below the poverty line people who live with humanity, Social workers, NGO Founders, Hospital staff, Health care workers, Chemists, Medicines Trees, Forests, Medicinal plants, Rivers , Extinct animals, Homes, Climate, People working in crematorium
Shop from NGOs
NGO Sellers Concept
Following NGOs sell products.
These products are either made by communities or the NGOs act as agents of companies making these products.
The idea is to help communities, NGOs and corporates together.
NGOs can be selling agents
NGOs must be sustainable.
We dont want to loose focus of serving communities but in case of emergency where their funding stops, they must have at least one year survival funds so that the communities they serve do not suffer.
We have experienced that when an NGO working with disabled sales products made by them or NGOs working with women sell products made by them or NGOs selling tribal products or paintings .. its great honour to communities they serve.
And NGOs working in slums or villages or rural areas have great relationship with communities and corporates can think of having them as agents which can order products from corporates.
Its good for corporates who find good agents
Its good for NGOs because they earn
Its good for communities because its at home service

NGOs can keep half the commission they get and pass the other half to communities so that its win win long term situation