Hooghly District In West Bengal
Corporates
Any corporate interested in having NGOs as selling agents can contact the NGO directly.
But if the corporate wants to put their name plus contact person's name and phone number here, then they have to pay a donation of Rs 2000/- for one district.
Corporates
We plan to donate at least Rs 13433000/-
This amount is not just any amount. Bhau, founder Sanjay Kumud Moreshwar Bapat's father gave house & property to him through a Gift Deed and Government Authorities valued it as Rs 13433000/- and founder's father (Bhau) paid a stamp duty of Rs 403000/-. And after the Gift Deed, Bhau was the first person on earth (Of course many others stepped in) to start postponing death of founder after an almost fatal accident on 28.08.2013.
Founder knows that after death, neither anyone takes anything with them nor do they know whether their son, grand son, daughter in law or so called blood relatives or neighbours came to see them before they left earth.
When any human leaves this world, what remains is their Deeds when they were on earth. So our first target is Rs 13433000/- Of course they will not know the impact of their gifts to world, but that is beauty of life. Enjoy it but leave the world as satisfied human and not one with unending greed of money, property.
Corporates can donate to the NGO
Developed Nation Network Trust by G Pay.
It has 80G and waiting for renewal of FCRA.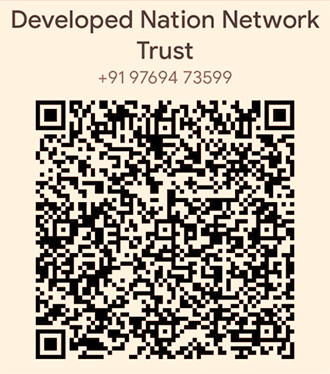 NGOs
NGO Brands
We share NGO Brands statewise in case of India
NGOs in this district
Aankhi Charitable Trust
Aikyatan Social Dignity & Welfare Society
Al-Farah Mission
Alor Kutir
Amitaranjan Sankaribala Vedavidya Mandir
Aniya Pallimangal Samity
Apanjan Rural Development Sangha
Arambagh Gramin Nabadiganta Welfare Society
Association For Social Health In India Hooghly District Branch
Athmik
Aurobindo Smrity Sangha
Bakkeshwar Nabin Sangha
Baksha Science Organization
Balagarh Pracheshta
Balaji Educational Charitable Family Trust
Balipur Sister Nivedita Child Welfare Centre
Bamdever Seva Sangha
Bandel Arohee
Bandel Auxilium Educational Society
Bandel Church
Bandel Dishari
Bandel Sister Nivedita Smriti Sangha
Bandhan Konnagar
Bandhu Cornea Kendra
Banga Society Of Backward Classes Scs Sts And Minorities
Bangiya Ayurveda Samaj
Bankrishnapur Janashree Sangha
Banna Adarsha Janakalyan Samity
Barnakatha Chandannagar
Begampur Azad Hind Mission
Begampur Saradama Mahila Samity
Beldiha Sri Ramakrishna Ashrama
Bengai Vivekananda Seva Samity
Bengal Health Care Help Line Charitable Trust
Bethesda Child Development Society
Bhabna
Bhadrakali Art And Culture
Bhadrakali Athletic Club
Bhadrakali Welfare Society
Bhadreswar Netradarpan Welfare Foundation
Bhadreswar Public Library
Bhurkunda Ramakrishna Sarada Sangha
Bishak Society For Sishu O Matri Mangal
Bluebirds Foundation
Borhal Paras Samaj Kalyan Sangha
Bramhachari Jyotirmoy Saraswati Sishu Mandir
Bubai Babai Handicraft Welfare Society
Calcutta Lions Ramkrishnabati Hospital
Champdany Art & Cultural Society
Chandannagar Aquatic Centre
Chandannagar Paribesh Unnayan Samity
Chandannagar Rural & Urban Entrepreneurship Development Organisation
Chandernagore Ideal Cultural Centre
Chandernagore Sakti Sangha
Chanditala Prompter
Chanditala Shilabati Welfare Society
Chatra Maitry Parishad
Chatra Swimming Club
Chinsurah Arogya
Chinsurah Friends Of The People
Chinsurah Sense Society
Chitranil Unnayan Trust
Continental Human Right Awarness Organisation
Creation Science Association Of India
Ctree Technologies
Dankuni Ashwash Institute For The Disabled
Dasghara Roypara Child Welfare Centre
Daspur Ramkrishna Sarada Sangha
Daudanda Ramkrishna Sarada Sangha
Debasanskriti Debabani Mandir
Dhulepur Milani Sangha
Diaspora Global Ministry
Diyasha Academy
Don Bosco Bandel
Durgo Cultural Associate
Equinox Social Welfare Foundation
Eshona Chinsurah
Foundation Infotech Trust
Furfura Nirmal Rural Development & Welfare Society
Furfura Sharif Ahale Sunnatul Jamat Association
Ghoshla Vivekananda Gram Unnyan Sansad
Gopalnagar Nivedita Welfare Society
Gopinagar Rural Welfare Society
Graham Bell Centre For The Deaf
Green Path Foundation
Guptipara Computer Education Society
Guptipara Football Club
Haripal Annabhuban Natya Gosthi
Haripal Ashramik
Hazipur Udaan Welfare Society
Hindmotor Focus
Hindu Bhoomi
Hooghly District Council For Child Welfare
Hooghly Loko Shilpi Sanstha
Human Wave
Indian Medical Association Serampore Branch
Islamic Educational & Welfare Trust Champdany
Jangipara Shrish Byayam Mandir
Jouthik
Kaikala Rural Development Society
Kaikala Sammilita Welfare Society
Kalidas Parui Smriti Pustakagar
Kalyan Bharati
Kalyani Center For Sustainable Development
Kamal Chattopadhyay Smriti Pathagar
Kamarpara Swamiji Welfare Society
Kanak Shally Recreation Club
Kenrema Ramkrishna Vidyamandir
Khajurdaha Nabankur United Club
Khajurdaha Netai Chand Smriti Sangha
Khamarchandi Natya Prahari
Khamarpara Sishu Sangha
Khanyan Cultural Coir
Khanyan Dr B R Ambedkar Seba Samity
Kheyal Khola Group Theatre Team
Know The Truth
Krishnaganj Debabani Mandir
Liberal Social Association For Disabled And Education
Life Livelihood Initiatives For Empowerment Shantiniketan
Maa Sarada Charitable Trust
Mahadesh Parishad
Mahesh Shri Ramakrishna Ashram
Makhla Janakalyan Seva Sangha
Makhla Shilpak
Makhla Shinjini
Mamudpur Unnayan Parisad
Manab Seva Mission
Mandra Lions Club
Mandra Unnayan Samsad
Mankundu Sadharan Pathagar
Marokhana Sadharan Pathagar
Mayakantho
Mazidia Minority Trust
Medha Educational Trust
Model Education Society
Mogalpur Vivekananda Janakalyan Samity
Mondal Educational Welfare Society
Muktarpur Social Welfare Society
Nalikul Prajjwalan Society
Nandan Palli Unnayan Swechachasebi Sangstha
National Human Rights Federation
Nature Conservation & Human Relief Society
Nivedita Community Care Centre
Panchgara Institute For Social Service
Pandua Mogra Prakhand Hindi Siksha Kendra
Partner Hooghly
Peoples Participation
Prabartak Samgha
Prabartak Seva Niketan
Pratibandhi Kalyan Kendra
Prayas Come Together For Change
Proactive Foundation
Pronabananda Distressed Welfare Samity
Puin Seba Sadan
Pursurah Society For Welfare Attachment Judicious Assistance And Nurture
Rahimpur Tarama Village Welfare Society
Rajbalhat Cultural Circle
Rajbalhatsrijan
Rajrajeswari Puja Samity
Rajyadharpur Subas Sangha
Ramanathpur Ananda Ashram
Ramnagar Secular Welfare Society
Ranjapur Mitali Sangha
Rishra Bauddha Samaj Kalyan Samity
Rishra Durayan
Rishra Prohelika
Riya Educational And Technical Institute
Rkmpallimangal
Roopkatha
Rotary Hooghly Eye Hospital
Rudrayaa
Rukeshpur Sriram Krishna Society
Rupaksanghaclub
Sabuj Sangha
Sahaganj Mahila Mangal Samity
Samaj Unnayan Samsad
Samatat Sanskriti Uttarpara
Satya Bharati
Senate Of Serampore College
Seorafhuli Durbar Samity
Serampore Manab Kalyan Sanastha
Serampore Tapasya
Shakti
Shananda Milan Tirtha Mission
Shashwata Suchetana Gramin Pathagar
Shelter
Shishu Unmesh Kendra
Shrirampur Child Guidance Centre
Siksha Sambad And Educational Welfare Society
Silhouette Dream
Somaspursamadha
Sri Sri Radhamadan Gopal Jiu And Sri Maha Prabhu Thakur Trust
St.Joseph's Convent Chandannagar Educational Society
Struggle Committe Of Helpless People Of Pandua
Supreme Knowledge Foundation
Surendra Seva Pratisthan
Swasthya Bhabna Welfare Society
Tala Dhrupad Natya Sanstha
Tapsil Jati Adibasi Prakatan Sainik Krishi Bikash Shilpa Kendra
Tapsil Jati Adibasi Praktan Sainik Krishi Bikash Shilpa Kendra
Tarakeswar Christian Welfare Association
Tarakeswar Darpan Natya Charcha Kendra
Tarakeswar Green Mates
Tarakeswar Karunamoyee
Tarakeswar Medical Welfare Society
Taraknath Social Welfare Centre
Thakuranichak Khristo Mandali
The Arcis Foundation
The Baidyabati Sheoraphuly Park & Sports Association
Tribeni Thalasemia Welfare Society
Tribute And Patronage
Trishna Welfare Trust
Trust Doctor Chalki
Uttarayan
Uttarpara Aaradhona Welfare Society
Uttarpara Ashraya
Uttarpara Bratyajon
Uttarpara Sammelak
Uttarpara Sangeet Chakra
Vivekananda Seva Sadan , Mandra
Westbengal Gas Consumer Protection
Young Naturalist Network

If your NGO is having programmes related to social issue in this district, just email the name of the NGO with link to it and we will share it free.
Our email : Datacentre@CSRidentity.com
We Salute
Soldiers, Police, Below the poverty line people who live with humanity, Social workers, NGO Founders, Hospital staff, Health care workers, Chemists, Medicines Trees, Forests, Medicinal plants, Rivers , Extinct animals, Homes, Climate, People working in crematorium
Shop from NGOs
NGO Sellers Concept
Following NGOs sell products.
These products are either made by communities or the NGOs act as agents of companies making these products.
The idea is to help communities, NGOs and corporates together.
NGOs can be selling agents
NGOs must be sustainable.
We dont want to loose focus of serving communities but in case of emergency where their funding stops, they must have at least one year survival funds so that the communities they serve do not suffer.
We have experienced that when an NGO working with disabled sales products made by them or NGOs working with women sell products made by them or NGOs selling tribal products or paintings .. its great honour to communities they serve.
And NGOs working in slums or villages or rural areas have great relationship with communities and corporates can think of having them as agents which can order products from corporates.
Its good for corporates who find good agents
Its good for NGOs because they earn
Its good for communities because its at home service

NGOs can keep half the commission they get and pass the other half to communities so that its win win long term situation