East Godavari District In Andhra Pradesh
Corporates
Any corporate interested in having NGOs as selling agents can contact the NGO directly.
But if the corporate wants to put their name plus contact person's name and phone number here, then they have to pay a donation of Rs 2000/- for one district.
Corporates
We plan to donate at least Rs 13433000/-
This amount is not just any amount. Bhau, founder Sanjay Kumud Moreshwar Bapat's father gave house & property to him through a Gift Deed and Government Authorities valued it as Rs 13433000/- and founder's father (Bhau) paid a stamp duty of Rs 403000/-. And after the Gift Deed, Bhau was the first person on earth (Of course many others stepped in) to start postponing death of founder after an almost fatal accident on 28.08.2013.
Founder knows that after death, neither anyone takes anything with them nor do they know whether their son, grand son, daughter in law or so called blood relatives or neighbours came to see them before they left earth.
When any human leaves this world, what remains is their Deeds when they were on earth. So our first target is Rs 13433000/- Of course they will not know the impact of their gifts to world, but that is beauty of life. Enjoy it but leave the world as satisfied human and not one with unending greed of money, property.
Corporates can donate to the NGO
Developed Nation Network Trust by G Pay.
It has 80G and waiting for renewal of FCRA.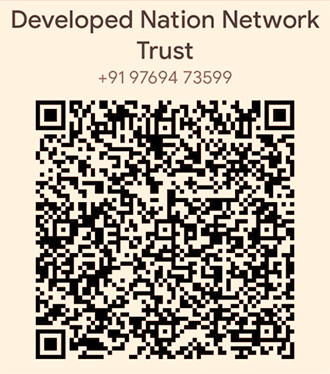 NGOs
NGO Brands
We share NGO Brands statewise in case of India
NGOs in this district
Abhi Foundation
Academicians Association For Liberation Peace And Education
Adarsh Educational Society
Adarsha Vayo Vruddula Samkshema Sangham
Aditya Academy
Adivasi Samaja Chaitanya Sangam
Agape Full Gospel Mission Church
Akshara Educational Society
Alluri Seetha Ramaraju Educational Society
Alpha Educational And Welfare Society
Alvar Helmes Mission & Welfare Society
Amazing Grace Association For Social Enlightenment
Andhra School Of Preaching
Anna Ministries
Apostolic Life Ministries Of India
Ashirvad Foundation
Association For Awareness On Rural And Tribal Health Institute
Association For Rural Andtribal Development
Association For Social And Humanize Action
Association For The Care Of The Aged
Award Ngo
Axene Evangelical Mission
Baptist Women Welfare And Evangelistic Work
Batchu Foundation
Beersheba Charitable Trust
Bethany Association For Social Empowerment(Base)
Bethany Children Home
Bethesda Evangelical Ministries A Annavaram
Bethesda Rural Economical Association For Development
Bharathi Ranga Organization For Welfare Of Society
Bheemabhai Mahila Mandali
Bible Believers Association
Bible Followers Ministries
Brethren Mission
Bridge Of Hope
Burning Tools Ministries
Calvary Prayer House Society
Care For All Welfare Society
Care For Children Improvement
Care Rehabilitation And Evangelistic Associates For Minorities
Centre For Empowerment And Development Of Women
Centre For Legal Clinic Research And Rehabilitation Welfare Charitable Trust
Childrens Ark
Christ Baptist Church Association
Christ Fellowship Ministries
Christ Saving Missions And Welfare Ministries
Christadelphian Compassion India
Christian Cancer Centre
Christian Coastal And Interior Ministries Associates
Christian Prayer House Ministries
Christs Evangelical Mission
Church Of Christ Ministries
Church Of God Ministries
Churches Of Christ
Coastal Network Of Positive People
Community Revival Oriented Service
Congregation Of The Sisters Of St Joseph Of Cluny
Creators Charitable Organization
Cross Mission
Daniel Memorial Educational Society
Dayspring Childrens Home
Deeper Life Ministries
Divine Eye Foundation
Divine Path Ministries Trust
Divine Touch Ministries
Door To Door Ministry
Dr B R Ambedkar Educational And Charitable Organisation
Dr K V R Research Foundation For Health And Rehabilitation
Dunamis Ministries
Elim International
El-Shaddai Ministries
Emmanuel Lepers Boarding Home
Evangelisten's Helping Hand
Everlasting Grace Ministries Welfare Association
Faith And Vision Educational Society
Faith Evangelical Ministries
Faith Gospel Church Ministries
Fellowship Of Indigenous Gospel Churches
Firm Foundation (Church Of Christ Organisation)
First Born Gospel Life Ministries
Friends Promotions Charitable Trust
Front Line Missions
Gate Way Ministries
Girijana Seema Welfare Association
Global Youth Organisation
Glory Ministries
Gnana Sri Mythri Institute Of Technology Private Limited
Gnanodaya Educational Society
Godavari Eco Welfare Association
Godavari Rural Development Society
Good Samaritan Ministries
Good Samaritans Home Ministries
Good Shepherd Compassion Ministries
Gospel Assembly
Gospel Fellowship Of India
Gospel Outreach Ministries Trust
Gospel Prayer Home
Goutami Eye Institute
Grace Childrens Orphanage
Grace Ministries
Ha Career Educational And Welfare Society
Hanna Charitable Trust
Havilah Charitable Trust
Heart To Heart Welfare Association
Heavens Harvest Ministries
Heavens Image Sowers Ministries
Hindi Mahavidyalaya Palakonda
Hindi Mahavidyalaya Rajahmundry
Holy Land Ministries
Hopesociety
Human Rights Protection Council Of India
Humane Voluntary Welfare Association
Icarve Voluntary Organisation
India Rural Development Charitable Trust
Indian Penta Costal Church
Indian Red Cross Society
Interior Church Ministries
Jana Vikas Society
Janakalyan Welfare Society
Jawaharlal Nehru Technical Center
Jeevana Sravanthi Educational And Welfare Society
Jerusalem Full Gospel Fellowship Welfare Association
Jesus Grace Association
Jesus Grace Ministries
Jesus Loves Ministries Welfare Association
Jesus Loves Welfare & Full Gospel Ministries Kakinada
Jesus Salvation And Social Work Ministries
Jesus The Way Ministries
John Wesly International Ministries
Joy Ministries Of The Gospel
Joyfuljourneyministries
Jyothi's Hope Foundation
Kainrads Educational Society
Kakinada School Of Preaching
Kambhampati Mahidhra Foundation
Kanna Ashrai Foundation
Kesavabhatla Charitable Trust
King Of Kings Charitable Trust
Konaseemasevamandali
Light Children Home
Light In Fruitful Effect (Life) Charitable Trust
Light Way Ministries
Little Flock Foundation
Love In Deed Ministries
Madhunapantula Foundation
Maharshi Sambamurthy Institute Of Social And Development Studies
Malireddy Charitable Trust
Manafull Gospal Ministries
Manikanta Educational Society
Maryamma Educational Welfare Society
Masswelfare Ministries
Master Piece Outreach Ministries
Matha Educational Society
Meenakshi Seva Foundation
Mercy Educational Society
Miracle Ministries
Mission Of Hope
Missions To The Nations
Mitras Association For Rural Poors Upliftment (Marpu)
Mother Home Welfare Society
Native Missionary
Nazareth Association For Social Awareness (Nasa)
Nazareth Educational Society
Nehemia Ministries Welfare Organisation
New Jerusalem Society
Nokku Eliah Memorial Development Society
Omega Ministries And Educational Society
One Humanity Care
Padala Charitable Trust
Palle Siri
Paramjyoti Educational Foundation
Pedavadu Welfare Society
People Service Organization
People's Action For Rural Awakening (Para)
Pioneer Ceramic And Pottery Manufacturing Industrial Co-Op Society
Pradhy Solutions
Prakruthi Social Service Society
Preachers Training School
Priyadarshini Educational Society
Project India Compassion Trust
Pushakara Matha Convent Committee
Ramakrishna Math Rajahmundry
Ramaraju Health Foundation
Rapidaction Kores For Social And Health Awareness
Refuge Trible Church Ministries
Rev K S Joseph Memorial Hospital
Rock Church Of India
Rural Awareness Ministries (Ram)
Rural India Self Development Trust
Ryali Church Of Christ & Christian Charitable Society
Sadhana Swochanda Seva Sankshema Sangam
Sahiti Charitable Trust
Sahiti Educational Society
Sai Annapurna Trust
Sai Ganesh Educational Society
Sakku
Samata
Samatha Vidya Vyavasaya Abhivrudhi Sankshema Sangam
Sanghamitra Educational Society
Sanjay Gandhi Memorial Orphanage And Boarding Home Committee
Sankurathri Foundation
Santhivardhana Ministries
Sarada Educational Society
Sarojini Educational Society
Sarvaraya Educational Trust
Satya Sankshema Sangham
Search For Action Knowledge Of Tribal Initiative
Shalom Health And Educational Society
Shalom Ministries
Shalom Outreach Ministries
Shi-Loh Church Ministries
Shri Choday Apparow Prakruti Chikitsalayam
Siri Educational Society
Sitara Association
Snehita Voluntary Service Organization
Social Welfare Activities And Management For You (Swamy For You)
Society For Helpless And Economical Backward Areas
Society For Rural Agriculturists And Mass Awareness
Society For Rural Self Development And Rehabilitation
Society Of The Lutheran Mission Of Salvation Of India
Society To Empower Women Action
Sravanti Association For Rural And Tribal Development
Sree Charitable Trust
Sri Prakash Vidyaniketan E.M School By Sree Prakash Educational Society
Sri Ram Educational Society
Sri Ram Foundation
Sri Sai Satya Krishna Deena Jana Sevashramam
Sri Saranam Ayyappa Samaja Sangham
Sri Saraswathi Educational Society
Sri Shirdi Sai Nitya Annadana Charitable Trust
Sri Vennela Welfare Association
Srimath Upanishad Siddantha Acharya Peetham
Srinivasa Educational Society
Streams For Deserts Welfare Association
Suresh Memorial Educational Society
Swarajyaabhyudayasevasamithi
Sylom Blind Centre
Tejaswini Educational And Welfare Society
Tetala Govinda Reddy Memorial Trust
The Bikkavolu Charitable Society
The Christ Love And Global Hope Ministries
The Council Of Christian Hospitals
The Fathers Heart Educational Society
The Good Shepherd Children Home
The Independent Full Gospel Churches
The Katru Kanthamma Nathaniel Memorial Rural Welfare Trust
The Libra Society
The Manna Charitable Trust
The Messiah Gospel Ministry Welfare Association
The Mission Of Peace-Santi Ashram
The Ramachandrapuram Education Society
The Ravulapalem Don Bosco Society
The Society Of Christ Witnesses Fellowship
The United Christs Gospel Church Association In India
The Widows Provident Foundation
To Every Creature Society
Trfwha Ministries
Uma Educational And Technical Society
Urban And Rural Development Society
Ushodaya Mahila Sankshema Mandali
Vanderfield Foundations
Victory Social Welfare Association
Vivekananda Mano Vikas Kendram And Rural Development Society
Voice Of Jesus
Vundru Institute Of Social Affairs Foundation
Vyavasayaka Mariyu Sanghika Abhivrudhi Samstha
Watch These Kids Bloom Society
White Family Ministries
Williams Charitable Society
Word In Action Outreach
Zion Educational Society
Zion Gospel Ministries

If your NGO is having programmes related to social issue in this district, just email the name of the NGO with link to it and we will share it free.
Our email : Datacentre@CSRidentity.com
We Salute
Soldiers, Police, Below the poverty line people who live with humanity, Social workers, NGO Founders, Hospital staff, Health care workers, Chemists, Medicines Trees, Forests, Medicinal plants, Rivers , Extinct animals, Homes, Climate, People working in crematorium
Shop from NGOs
NGO Sellers Concept
Following NGOs sell products.
These products are either made by communities or the NGOs act as agents of companies making these products.
The idea is to help communities, NGOs and corporates together.
NGOs can be selling agents
NGOs must be sustainable.
We dont want to loose focus of serving communities but in case of emergency where their funding stops, they must have at least one year survival funds so that the communities they serve do not suffer.
We have experienced that when an NGO working with disabled sales products made by them or NGOs working with women sell products made by them or NGOs selling tribal products or paintings .. its great honour to communities they serve.
And NGOs working in slums or villages or rural areas have great relationship with communities and corporates can think of having them as agents which can order products from corporates.
Its good for corporates who find good agents
Its good for NGOs because they earn
Its good for communities because its at home service

NGOs can keep half the commission they get and pass the other half to communities so that its win win long term situation