Churachandpur District In Manipur
Corporates
Any corporate interested in having NGOs as selling agents can contact the NGO directly.
But if the corporate wants to put their name plus contact person's name and phone number here, then they have to pay a donation of Rs 2000/- for one district.
Corporates
We plan to donate at least Rs 13433000/-
This amount is not just any amount. Bhau, founder Sanjay Kumud Moreshwar Bapat's father gave house & property to him through a Gift Deed and Government Authorities valued it as Rs 13433000/- and founder's father (Bhau) paid a stamp duty of Rs 403000/-. And after the Gift Deed, Bhau was the first person on earth (Of course many others stepped in) to start postponing death of founder after an almost fatal accident on 28.08.2013.
Founder knows that after death, neither anyone takes anything with them nor do they know whether their son, grand son, daughter in law or so called blood relatives or neighbours came to see them before they left earth.
When any human leaves this world, what remains is their Deeds when they were on earth. So our first target is Rs 13433000/- Of course they will not know the impact of their gifts to world, but that is beauty of life. Enjoy it but leave the world as satisfied human and not one with unending greed of money, property.
Corporates can donate to the NGO
Developed Nation Network Trust by G Pay.
It has 80G and waiting for renewal of FCRA.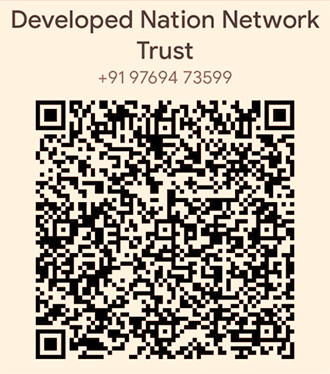 NGOs
NGO Brands
We share NGO Brands statewise in case of India
NGOs in this district
Action For Women And Child Advancement
Agape Acts
Agape Art College
Agape Hospital And Research Centre
Aina Women Welfare Society
Alround Development Foundation (Adef)
Assisi Home
Bethany Christian Institute
Bethesda Khankho Foundation
Bible Believing Churches Society
Bible Hill Youth Club
Brighter English School
Centre For Advancement Of Rural Tribals Action
Centre For Community Initiative
Centre For Mass Communication And Rural Development (Mass Cord)
Centre For Tribal Culture
Chehjang Watershed Committee
Christian Trust Of India
Churachandpur District Community Resource Management Society
Church Of The Nazarene International
Community Development Society
Community Resources And Development Agency
Covenant Children's Home
D Khovangchoi Cattle Dairy Cum Multi Farming Co-Operative Society Limited
Development Agency For Rural Entrepreneurs
Dr.S.Radhakhrishnan Foundation School
Ebenezer Academy
Ein Gedi
Elite Horticulture Farming Cooperative Society Limited
Evangelical Assembly Church
Evangelical Baptist Convention Lamka Rehabilitation And Research Centre
Evangelical Churches Association
Evangelical Congregational Church Of India
Evangelical Organization Church
Evangelical Partnership Church For Christ
Evergreen Development Agency
Foundation For Social Development
Fronteir Mission Society
Geljang Women Association
Gilead Health Care Centre
Glory Home
Good Life Line Development (Gold)
Good Shepherd English School
Goodwill Foundation
Goodwill Innkuan Society
Gospel Centenary School
Grace Academy High School
Grace Bible College Endowment Trust
Gracy Christian English High School
Gram Vikas Mandal
Health Integrated Ministries
Helping Oppressed People's Environment
Hengkapkot Area Handloom Weavers Cooperative Society
Hengkapkot Self-Help Group
Hengkapkot University
Hengkapkot Village Development Society
Hengkapkot Village Watershed Committee
Hill Area Development Agency
Hills Farmer Producer Cooperative Society Limited (Hfpcsl)
Himalaya Research Organisation
Hmar Women Association
I Now If Not Now When
I.W.M.P. Jolzam Village
Independent Church Of India
Indigenous Farmers Producer Co-Operative Society Limited
Integrated Peoples Development Society (Ipds)
Integrated Rural Development Society
Integrated Rural Economic Development Agency
Itnu Integrated Rural Development Society
Janajati Rashtra Bhasa Hindi Maha Vidyalaya
Jounoi Village Watershed Committee
K. Geljang Self-Help Group
Kaipau Integrated Development Society (Kids)
Khankho-Lom Foundation
Khankho-Lom Producers Co-Operative Society Ltd
Khongjang Watershed Committee
Kuki Manasheh Socio Economic Cultural Organisation
Kuki Women Union Churachandpur
Kulbung Rural Welfare Association
L Molnoi Watershed Committee
Lainat Ministry
Lamka Core
Langchinmanbi Watershed Committee
Langchinmanbi Watershed Committee
Leimata Area Integrated Farmers Producer Cooperative Society Ltd.
Leimatak Area Social Transmission Organisation
Lenlai Development Organisation
Letson Multipurpose Farming C.S Ltd.
Life Development Institute
Living Fountain Ministry
Loulhoumi Organic Producer Company Limited
Luihoih Moulcham Area Youth Club
Lydia Book Ministries
Mamong Watershed Committee
Manipur Evangelical Lutheran Church
Martha Rashtabhasaha Hindi Mahavidyalaya
Mercy Home
Mercy Ministry
Millenium Loktak Project Area Social Gateway Mission
Millenium Village Health Organisation
Mollen Watershed Committee
Muolhoih Youth Club
Najang Watershed Committee
Nalon Village Watershed Committee
Natural Agrotech Research And Processing Service
Neseed Foundation
Nest
New Bijang Watershed Committee
New Life Ministries
Nightingale Education Trust
Nightingale Rashtrabhasha Hindi Mahavidyalaya
Ningthiching Self Help Group
Ningthiching Village Watershed Committee
North East India Support Trust
North Eastern Children's Home
Northeast Development Alliance & Research (Nedar) Foundation
Northeast Foodbanking Network
Partnership In Progress Mission Foundation
Partnership Mission Society
People Advanced In Social Services
People's Development Organisation
Peoples Organisation For Development Action
Phailian Hindi Vidyalaya
Presbyterian Church In India Reformed
Radco Rural Area Development Committee
Raenghzaeng Development Society
Rayburn College
Rayburn High School
Rcds
Reformed Presbyterian Church North East India
Regional Development Society
Rock Of Horeb Foundation
Ropiang Foundation Trust
Roshni Bhawan
Rural Aid Service
Rural Area Development Co-Operative Society
Rural Area Tribal Upliftment Society
Rural Development Agency
Rural Development And Improvement
Rural Economic & Social Development Organisation
Rural Enhancement Foundation (R.E.F.)
Rural Environmental Development Agency
Rural Women Upliftmet Society
S. Gangpijang Self-Help Group
Samaritan Charitable Foundation
Samaritan Educational Society
Samaritan Resource Centre
Sang Ga Muon Inn (Orphanage)
Shiloijang Foundation (Shif)
Siamsinpawlpi
Smartlife Development Mission (Sdm)
Social Action For Community Development Society
Social Action For Evangelism (Safe)
Social Care Ministry
Social Human Action For Rural Empowerment Society
Social Transmission Agency
Society For Health And Educational Development For All
Society For Hiv Aids And Lifeline Operation In Manipur
Society For Rural Development & Empowerment India
Society Of Tribal Alliance For Integrated Rural
Socio Economic And Environmental Development Service(Seeds)
Socio-Economic Enterprises Development Society
Songkong Watershed Committee
Songpeh Youth Club
St Pauls Institute
T.Boljang Integrated Watershed Management Committee
Tear Fund India Committee On Relief And Rehabilitation Service
Teiseng Youth Club
Thangkhal Baptist Church
Thangsi Watershed Committee
The Abundant Life Ministry
The Agape Museum
The Association Of Voluntary Agencies For Rural Development Manipur
The Children's Home
The Elite Juvenile Care Centre
The Emmanual Handloom And Handicraft Cooperative Society Limited
The Engedi Camp And Retreat Centre
The For One Life Asia
The Good Samaritan Foundation
The Ideal Handloom And Handicrafts Co Operative Society Limited
The Kinship High School
The Kom Art And Cultural Development Institute
The Kongjanglok Women Welfare Association
The Kuki Senior Citizens Welfare Forum
The Lamka Tribal Women Upliftment Society
The Living Word Bible Institute
The Lower Lamka Women Society
The Metamorphosis Foundation
The Ningthiching Youth Club
The North East India Skills Development Foundation (Neisdf)
The Pamyala Arts And Science College
The People Development Association
The People Development Association
The Rural Social Service (Russ)
The Rural Socio-Economic Development Agency
The Rural Women & Child Upliftment Agency
The Sagang Lairam Wangma Women Welfare Society
The Serto Pare Welfare Association
The Social Action For Human Economic Integration
The Thangting Area Ex-Servicemen Welfare Association
The Tribal Handloom & Handicraft Cum Production Cooperative Society Limited
The Tuilum Women Welfare Association
The Tuinom Khopi Dairy Cum Multi.Farming Co-Operative Society Limited
The Valpa Ahsi Welfare Agency
The Village Educational Development And Arts Society
Thingtangpa Farmer Producer Company Limited
Tipaimukh Area Farmers Upliftment Society
Tribal Art And Culture Development Organisation
Tribal Cultural Guild
Tribal Development Agency
Tribal Upliftment Society
Tribal Youth Rural Development Society
United Planters Association
V.N. Model English Junior High School
Village Foundation
Walkhu Women Welfare Society
Wesleyan Methodist Church Of East India
White House
Widows Welfare Association Asia
Women Centre
Yes I Can
Zingsol Welfare Organisation
Zogam Multipurpose Development Association
Zolei Women Power Mission
Zomi Economic Planning & Dev. Agency

If your NGO is having programmes related to social issue in this district, just email the name of the NGO with link to it and we will share it free.
Our email : Datacentre@CSRidentity.com
We Salute
Soldiers, Police, Below the poverty line people who live with humanity, Social workers, NGO Founders, Hospital staff, Health care workers, Chemists, Medicines Trees, Forests, Medicinal plants, Rivers , Extinct animals, Homes, Climate, People working in crematorium
Shop from NGOs
NGO Sellers Concept
Following NGOs sell products.
These products are either made by communities or the NGOs act as agents of companies making these products.
The idea is to help communities, NGOs and corporates together.
NGOs can be selling agents
NGOs must be sustainable.
We dont want to loose focus of serving communities but in case of emergency where their funding stops, they must have at least one year survival funds so that the communities they serve do not suffer.
We have experienced that when an NGO working with disabled sales products made by them or NGOs working with women sell products made by them or NGOs selling tribal products or paintings .. its great honour to communities they serve.
And NGOs working in slums or villages or rural areas have great relationship with communities and corporates can think of having them as agents which can order products from corporates.
Its good for corporates who find good agents
Its good for NGOs because they earn
Its good for communities because its at home service

NGOs can keep half the commission they get and pass the other half to communities so that its win win long term situation