Bhopal District In Madhya Pradesh
Corporates
Any corporate interested in having NGOs as selling agents can contact the NGO directly.
But if the corporate wants to put their name plus contact person's name and phone number here, then they have to pay a donation of Rs 2000/- for one district.
Corporates
We plan to donate at least Rs 13433000/-
This amount is not just any amount. Bhau, founder Sanjay Kumud Moreshwar Bapat's father gave house & property to him through a Gift Deed and Government Authorities valued it as Rs 13433000/- and founder's father (Bhau) paid a stamp duty of Rs 403000/-. And after the Gift Deed, Bhau was the first person on earth (Of course many others stepped in) to start postponing death of founder after an almost fatal accident on 28.08.2013.
Founder knows that after death, neither anyone takes anything with them nor do they know whether their son, grand son, daughter in law or so called blood relatives or neighbours came to see them before they left earth.
When any human leaves this world, what remains is their Deeds when they were on earth. So our first target is Rs 13433000/- Of course they will not know the impact of their gifts to world, but that is beauty of life. Enjoy it but leave the world as satisfied human and not one with unending greed of money, property.
Corporates can donate to the NGO
Developed Nation Network Trust by G Pay.
It has 80G and waiting for renewal of FCRA.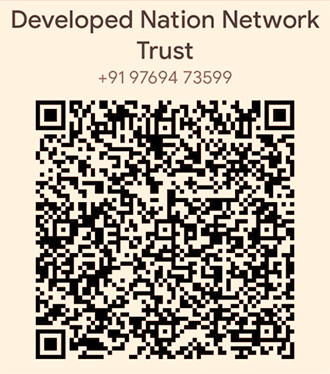 NGOs
NGO Brands
We share NGO Brands statewise in case of India
NGOs in this district
A Commn Man For Information And Action Samiti
Aadhar Gyan Dhatri Samiti
Aadhar Social Welfare Society Bhopal
Aadinath Yuva Sanyojan
Aadivaasee Kala Evam Sanskrti Kendr
Aadivasi Sewa Mandal
Aahan Shiksha Sanskriti Avam Samaj Kalyan Samiti
Aakar Samajik Sanskritik Evam Shiksha Vikas Samiti
Aakarshanm Jan Kalyan Samiti
Aalay Jan Kalyan Avam Shikshan Samiti
Aalok Aastha Lok Kalyan Samiti
Aamir Education And Welfare Society
Aanav Education And Welfare Society
Aao Sakhi Samaj Kalyan Samiti
Aarambh Education And Community Development Society Bhopal
Aarambh Shiksha Evam Jankalyan Samiti
Aarambh Shri Organization
Aarnavi Shiksha Evam Jan Kalyan Samiti
Aaroha Tamso Jyotih Samiti
Aarti Sinha Trust
Aarush Welfare Society
Aarya Bhatta Education Social Science
Aarya Social Development & Action Society
Aas Kiran Society For Education And Social Development
Aas Society
Aasara Mahila Avam Yuva Vikas Samiti
Aasha Social Welfare Society
Aasra Jan Vikas Parishad
Aasra Kalyan Society
Aasrariya Alpsankhyak Education Chikitsha Avam Welfare Society
Aastha Helping Hands Education Society
Aastha Sanskritik Evam Samajik Kalyan Samiti
Aatm Nirogi Sansthan
Aaushdhi Sangrahan Evam Vitran Kalyan Samiti
Aawaj Jankalyan Samiti
Aayushmati Education And Social Society
Abhang Vikas Srijan Foundation
Abhashree Welfare Society
Abhay Nari Kalyan Samiti
Abhikalpana Social Welfare Society
Abhilasha Sanskritik Avam Shaikshanik Sangathan
Abhinav Manav Kalyan Samiti
Abhinav Shiksha Samiti Bhopal
Abhinavodaya Samiti
Abhiuday Samaj Kalyan Samiti
Abhivritti Skill And Livelihood Foundation
Abhivyakti Janshiksha Evam Sanskritik Samiti
Abhyudaya Research And Social Development Foundation
Aboriginal Tribals Of India Federation
Access Edutech Pvt. Ltd.
Access Social Development Society
Acharya Baba Sahab Adhyatmik Samiti
Acharya Shankar Sanskritik Ekta Nyas
Achivers Social Welfare Society Bhopal
Action For Community Empowerment Society Samiti
Action For Social Advancement Asa
Active Society For Integrated Development And Management
Actors Lab Theatre Society For Performing Art And Culture
Adarsh Mahila Mandal
Adarsh Sanskriti Yuva Mandal
Adarsh Sanskritik Kala Avam Welfare Society
Adarsh Shiksha Evam Seva Samiti
Adarsh Shikshan Sansthan
Adarsh Vidya Mandir
Adarshdeep Akshmta Punerwas Kendra
Adbhut Aawaj Social And Welfare Society
Adept Edusys Private Limited
Adept Training And Consulting
Adersh Vashvaic Avam Kalyan Sanstha
Adil Puja Viklang Evam Samaj Kalyan Samiti
Adimjati Manav Kalyan Avam Utthan Society
Aditya Education And Welfare Society
Aditya Information Management Society
Aditya Shekshanik Wa Samajik Kalyan Samiti
Admiretheatre
Adrashshikshasamiti
Adrika Seva Samiti
Advance Education Social Welfare Society
Advancement For Development Initiatives Society
Agrani Jan Shiksha Sansthan Samiti
Ahad Education And Social Welfare Society
Ahinsa Path Cultural And Social Welfare Society
Ahirwar Samaj Shiksha Avm Sanskritik Kalyan Samiti
Aic-Mcu Samvaad Bharati Foundation
Aim Achievers Education Society
Ainef Society For Human Development Samiti
Aisect
Aishbag New Asha Mahila Vikas Samiti
Ajar Amar Shikhsha Avam Samaj Kalyan Samiti
Ajay Memorial Trust
Ajey Lakshya Educational And Welfare Society
Ajna Jankalyan Samiti
Ajwani Eye Hospital
Akhand Seva Avm Jan Vikas Kalyan Samiti
Akhand Sindhu Sansar Vichar Manch
Akhil Bhartiya Darshan Parishad
Akhil Bhartiya Pal Mahasabha
Akhil Bhartiya Rojgar Evam Kaushal Vikas Sangathan
Akikrat Samajik Suraksha Chetna Sansthan
Aks Social Welfare Society
Akshada Social Welfare Society
Akshar Association For Welfare And Research
Aksharika Education Foundation
Akshat Education And Welfare Society
Akshat Health Help & Research Society
Al Asr Educational Society
Al Rashad Education Welfare Society
Al Rasheed Charitable Maternity Research & Welfare Society
Alaknanda Gramin Jankalyan Gou Sewa Samiti
Alharaam Darus Salaam Social Welfare Society
Alja Foundation
All Handicraft Prashikshan Samiti
All India Voluntary Organisation Information Society
All Mansoori Samaj Society
Allamaiqbal Memorial Welfare Society
Alliance Francaise De Bhopal
Alliance Urban & Rural Development Society
Almighty Education And Welfare Society
Always Yes Education And Social Welfare Society Samiti
Aman Education Society
Amar Ujala Shilp Vikas Sangh
Ambica Shiksha Samaj Kalyan Samiti
Ambrocia Seeds Producer Company Limited
Amiti Social Welfare Society Samiti
Amreen Zareen Mahila Shiksha Kalyan Samiti
Amrit Mahila Mandal
Amulett Educational Services Private Limited
Amulya Kranti Nasha Mukti Evem Punarvas Kendra
An Earth Human Welfare Organisation For Right And Logical Devilopment
Anadi Sai Shiksha Samiti
Anand Education Society
Anant Association Samiti
Anant Gyan Sewa Samiti
Ananya Vikas Avam Jagrukata Sansthan Samiti
Andragogy Impact Methodology And Analysis Private Limited
Angels Social Development And Research Association
Animatics Education And Welfare Society
Anjali Jankalyan Samiti
Anjenya Welfare Organisation
Anjuman Ishalahaul Muslimin Wefare Society
Ankit Baal Kalyan Shikshan Samiti
Ankita Education Society
Anmol Jan Seva Samiti
Anmol Samaj Sevi Sanstha
Anmol Welfare Society
Anna Nagar Shri Sai Dham Samiti
Ansh Happiness Society
Anticipatory Resource Organization Bhopal Samiti
Anubhav Theatre Natay Kalan Society
Anudeep Mahila Bal Vikas Samiti
Anugrah Foundation
Anugrih Aashram Samiti
Anunay Education And Welfare Society
Anupam Janlok Kalyan Samiti
Anurodh Manav Kalyan Samiti
Anusha Shaikshanik Anusandhan Swasthya Avam Vikkas Samiti
Anwar Ul Uloom
Arambh Begin To Help Welfare Society
Aranya Lok Nyas
Aranya Sociel Welfare Society
Archana Brajmohan Mahila Evam Bal Kalyan Samiti
Archidiocese Of Bhopal
Arghya Kala Samiti
Arise Association
Arogya Bharati
Arogya Health Care And Education Society
Arogya Jan Kalyan Sanstha
Aroma Shikshan Evam Sanskrtik Samiti
Arpan Rehabilitation Welfare Center
Arpita Sanskritik Sahityik Samajik Sanstha
Arth Cultural And Theater Society
Arth Infocon Pvt Ltd
Artists Association Of Youth Acting Arts And Music
Artists Guild Of Mp
Artmisia Welfare Society
Arunodaya Information Management Society Ujjain
Arushi Society
Aryavarta Social Welfare Society
Arynagar Mahila Samiti
Asa Development Services
Ascent Education And Skill Development Society
Aseem Jyoti Sanskratik Siksha Parishad
Asha Education Welfare Society
Asha Niketan Hospital & Rehabilitation Centre
Asha Niketan Welfare Centre
Asha Prawaha Samudaik Vikas Samiti
Asha Smita Foundation
Ashavadi Shiksha Avam Samaj Kalyan Samiti
Ashi Shiksha Avam Samaj Kalyan Samiti
Ashirvad Seva Evam Jankalyan Samiti
Ashirwad Welfare Society
Asian Public Sewa Parishad
Asian Research Organisation Indulging In Environmental Industries
Ask Horizon Education And Technology Private Limited
Association For Society And Human Advancement
Association Of Anusuchit Jati Anusuchit Janjati Piccharda Varg Alph Sankiyak Nirdhan Varg M.P
Association Of Budding Entrepreneurs
Association Of Indian Muslims
Association Of Ngo
Association Of Sensible Education Employment Training
And Social Welfare
Association Of Sensible Education Employment Training
And Social Welfare Samiti
Association Of Theater Artists
Astha Jan Chetna Society
Astitva Welfare Society
Atharva Education And Welfare Society Samiti
Atharvan Foundation
Avarutti Samiti
Avicenna Educational And Welfare Society
Avikashree Education And Social Welfare Society
Aviram Jankalyan Sanstha
Avyansh Welfare Society
Avyukta Education And Welfare Society
Awaking Youths Welfare Society
Awanti Rehabilation Programme And Action Networking Society Arpan
Ayan Welfare Society
Ayes Infotech Private Limited
Ayushman Sanjeevani Bahuuddeshiya Jan Kalyan Samiti
Azma Zafar Siksha Evam Jan Kalyan Samiti
Azra Mahila Kalya Samaj Kalyan Samiti
B.H.E. Viklang Kalyan Samiti
Baghel Education And Welfare Society
Bahuddeshiya Jankalyan Samiti
Bahuuddeshiya Shahari Evam Gramin Vikas Sansthan
Bairagarh Sharda Shiksha Samiti
Bairagi Education And Welfare Society
Bais Mahila Kalyan Avm Shiksha Prasar Samiti
Baithak -The Art House
Bal Bhavan School
Baliraja Krishi Bahudeshiya Sanstha
Balmaan Educational Services Pvt Ltd
Balniketan Trust (Balgrah)
Basant Educational Culture Welfare Socity Bhopal
Bayaar Social Welfare Society Samiti
Being Capable Social Society
Being Progressive Education And Social Welfare Society
Bejnath Shiksha And Samaj Kalyan Samiti
Berasia Bhopal Swasahayata Samuh Mahasang Samiti
Berasia Radhakishan Shiksha Evam Samaj Kalyan Samiti
Beti Shristhi Mahila Mandal
Bhagwati Jeewan Social Charitable Society
Bhagwati Shiksha Samiti
Bhagyoday Mahila Mandal Bhopal
Bharti Jute Avem Silai Kala Training Centre Samiti Bhopal
Bhartiya Gramin Vikash Mahila Shashati Karan Avam
Kaushal Jan Jagran Samiti
Bhartiya Samajik Niyay Avam Manav Adhikar Jan Cheshtha Parishad
Bhartiya Shaikshik Sansthan Mp
Bhartiya Yuvak Khel Kud Avam Vikash Sansthan
Bhaskar Uday Samaj Utthan Samiti
Bhavishya Shikshan Jan Kalyan Samiti
Bhavishya Uday Shiksha Avam Baalcheatna Samiti
Bhavna Foundation
Bhoj Kala Evam Shiksha Sansthan
Bhoj Participatory And Integrated Rural Solution Society
Bhojanchal Youth Association
Bhojmanthan Berozgar Utthan Samiti
Bhojpuri Ekta Manch Samiti
Bhoomika Samiti
Bhoomika Society For Awairness And Reform Samiti
Bhopal Arth Shiksha Evam Kalyan Samiti
Bhopal Bal Evam Yuva Mandal
Bhopal Birds Conservation Society
Bhopal Campion School Society
Bhopal Divisional Malkhambh Association
Bhopal Education Foundation
Bhopal Gyan Sanchar Gramin Vikas Evam Samaj Kalyan Samiti
Bhopal Mahila Sashaktikaran Samiti
Bhopal Peoples Excellence Society
Bhopal Runners
Bhopal Shapers Shiksha Avam Samaj Kalyan Samiti
Bhopal Theaters Society
Bhopal Yuwa Paryavaranshikshanand Samajiksansthan Bypass
Bhumika Mahak Mahila Education And Welfare Society
Bindas Bol Welfare Society
Bles Welfare Society Samiti
Blessing Hand Welfare Society
Blue Diamond Education And Welfare Society
Bmeducationsociety
B-Nest Foundation
Boon Help Line Society
Boudha Samaj Shiksha Jankalyan Samiti
Brain Lab Education And Research Welfare Society
British Education And Languages Society
Broadarks Foundation
Buland Awaz Naarishakti Aanganwadi Karyakarta Sahayika Sanghathan Bhopal
Bundelkhand Ekta Manch Vikas Development Welfare Foundation Bhopal
Bushra Jankalyan Samiti
Cantabae Education & Welfare Society
Care For Social Welfare
Care Social Welfare Organization
Career Society
Cares Welfare Society Bhopal (M.P)
Casyon Technology Solutions
Catholic Health Association Of Madhya Pradesh
Center For Planning And Resourse Management
Center For Social Welfare Society
Centre For Advanced Research And Development
Centre For Entrepreneurship Development Madhya Pradesh
Centre For Human Welfare And Development
Centre For Innovations And Development Assistance
Centre For Media Communication And Studies
Centre For Research And Development In Technical And Profesional Ethicks
Centre For Research And Industrial Staff Performance
Centre For Resource Transformation
Centre For Resources Development Studies
Centre For Rural Development And Environment
Centre For Rural Innovative Peoples Action Samiti
Centre Of Education And Distance Learning
Chaitanya Sociocultural Society
Champaphool Bal Shiksha Samiti Bhopal
Chanakya Samajik Jan Utthan Wefare Society
Chanderi Developement Society For Handloom Weaver Samiti
Chandra Prabha Baikunth Dham Samiti
Chandra Vadami Mahila Shiksha Samiti
Chandrakanta Shikshan Seva Sansthan
Chanroday Mahila Vikas Samiti
Charitable Welfare Society For Humankind And Animals
Charu Shiksha Samiti
Chetna Saanskritic Avam Jankalyan Samiti
Chetna Social Welfare Society
Chetna Socio Development Society
Chhaya Sports Samiti
Chidar Kshatriya Samaj Mahasabha
Child Rights Observatory Madhya Pradesh
Childrens Theatre Academy
Chingari Trust
Chintamani Devi Education Society
Chirayu Charitable Foundation
Chitransh Human And Welfare Society
Chitransh Training And Social Welfare Society
Chouhan Education Society
Cmi Christ Academy Educational And Charitable Society
Comman Vikas Jan Sewa Samiti
Community Action Through Motivation Programme
Conscience Education Society
Consortium For Small Farmers Agriculture & Livelihoods
Contemporary Social Educational Environmental Development Organisation
Cooperation And Assistance For Relief And Development
Creative Art And Cultural Development Society
Creative Brains Educational & Welfare Society
Creative Professional Drawing Arts Social Cultural Welfare Society
Creative Skill Development
Creative Village Development Soceity
Cwo
Cyriac Elias Rural Organisation For Women & Children
Daau Foundation Samiti
Daiva Welfare Society
Daksh Educational And Welfare Society
Dakshin Ganga Seva Evam Lok Kalyan Samiti
Dalchand Ajab Bai Education Society Bhopal
Dalphin Foundetion Of Welfare Society
Daniel John Memorial Welfare And Education Society
Darul Uloom Sabeel-Ur-Rehman Education And Welfare Society
Dashmesh Educational Society
Dattopant Tengdi Shodh Sansthan
Dayanand Arya Samaj Kalyan Samiti
Dayoday Jeevdaya Evam Saadhna Kendra Samiti
Dayoday Mahasangh
Deaf Can Foundation
Debate Lok Nyas
Deep Jyoti Welfare Society
Deepti Prabha Shiksha Avam Jan Kalyan Samiti
Delight Club
Desaj Rang Mandap Society
Dev Ashish Social Welfare Society Samiti
Dev Social And Welfare Society
Devanshi Foundation
Development Of Environment Society
Devi Ahilya Shiksha Samiti
Devi Shakuntala Thakral Charitable Foundation
Devyanshi The Light Social Welfare Society, Samiti
Dewcon Social Welfare Society
Dhanywad Sakaratmak Kalyan Kari Samiti
Dharohar Purasthal Puravastu Evam Samajik Sanrakshan Sanstha
Dhrupad Sansthan Bhopal Nyas
Dif - Development Innovations Foundation
Digdarshika Institute Of Rehabilitation And Research
Digital Skill Indo Corp
Digjyoti Sankalp Educational And Social Welfare Society
Diksha Welfare And Cultural Society
Disha Sakaratmak Soch Welfare Soceity Samiti
Disha Shikshan And Samaj Kalyan Samiti
Dishanwelfaresociety
Divya Drashti Viklang Evam Samaj Sewa Samiti
Divya Drishti Shiksha Samiti
Divya Jyoti Mahila Mandal
Divya Jyoti Social Development Centre
Divya Karuna Asha Deep Samaj Kalyan Sangthan Samiti
Divya Sewa Samiti
Divya Vani Sangh
Divyajeevan Health And Education Society
Divysagar Society
Do Good For Good Education Cultural And Social
Welfare Society
Don Bosco Society For Education & Human Upliftment
Dr Harswaroop Educational Academy
Dr Radhakrishanan Shikshan Samiti
Dr Vijay Mathur Welfare Society
Dr.Visvesvaraya Social Welfare Education Society
Drishti Cultural Social Work Organisation Samiti
Drishti Shiksha Samiti
Drop Of Change Education And Social Welfare Society
Drushtikon Jankalyan Samiti
Duggu Education And Welfare Society
Durbasa Mahila Kalyan Evam Utthan Samiti
Durga Shiksha Shikshan Prashikshan Evam Samajik Punaruthan Sanstha
Durgam Gyan Evam Samaj Kalyan Samiti
Dwarika Education And Social Welfare Society
Dwarka Woman Child Care Society
Dynamic Healthcare And Social Awareness Welfare Society
Dynamic Yuva People Society
Eagle Educational & Welfare Society
Earth Society For Excellence
Eco Care And Welfare Society, Bhopal
Edin Medical Relife Society Of Health & Research Samiti
Educational Society Of Professional
Eherex Skills India Pvt Ltd
Eherex Technologies Pvt Ltd
Ek Rang Socio Culctural Society
Ek Sat Prayas Jankalyan Samiti Bhopal
Eka - The Communicators' Collective
Ekal Swayam Siddha Society
Ekas Social Welfare Society Samiti
Ekjut Bhopal
Ekjut Theatre And Welfare Samiti
Ekrang Theatre Society
Ekta Adhikar Evam Kalyan Parishad
Ekta Foundation Trust
Ekta Sanitary Napkin Company
Ekta Social Welfare Society Bhopal
Elation Skill Whiz Private Limited
Elia Sewa Parishad
Eminence Innovative Skill Education Pvt. Ltd
Empathy Prashikshan Sanstha Samiti
Enize Social Welfare Society
Ensemble Theatre In Education Society For Research And Performing Arts
Equal Justice Foundation
Erecetion Youth Education Society
Eshan Social Welfare Society
Ex Army Social Awareness Welfare Foundation
Exalt Education And Welfare Society
Excellence Acadamy And Welfare Society
Fame Education Society
Federation Of M P Chambers Of Commerce And Industry
Federation Of Self Help Group
First Dream Educational And Welfare Society
Florida Educatio Society
Flying Fairies Social And Cultural Welfare Society
Folk Culture India Association
Fortune Educare Pvt Ltd
Fortune Rainbow Foundation
Foundation For Resources Environment Energy Development Organization And Management Society
Franciscan Clarist Society
Frank Educatin Society
Gagan Vashudhara Yuvak Mandal
Gandhibhawan Trust
Ganga Gyan Vikas Samiti
Gangotri Sikhsha Avem Jankalyan Samiti
Garbhanaal Nyas
Gayatri Vidya Mandir Sansthan
Geeta Education And Social Welfare
Geeta Jyoti Shiksha Avam Samaj Kalyan Samiti
Geeta Shree Shiksha Evam Sanaj Kalyan Seva Samiti
Geetma Social Foundation
Genius Maker Education And Welfare Society
Gennext Foundation
Geomaster Services Private Limited
Gihara Kuchbandiya Aadiwasi Sarv Kalyan Samiti
Girdhar Shiksha Evam Samaj Kalyan Samiti Bhopal
Give Education And Management Services Private Limited
Global Biodiversity Education Society
Global Earth Society For Environment Energy & Developmen
Global Environmental Research And Welfare Organisation
Global Research & Welfare Society
Global Social Research Foundation
Glory Children Shiksha Samiti
Godan Art Welfare Society
Godsend Welfare Society
Good News Service Society
Goodluck Welfare Society
Gorakshnathmahilauthansevasamiti10
Goura Jan Uthan Va Kalyan Sanstha Samiti
Gram Shilpi
Gram Vikas Sewa Samiti
Grameen Swasthya Rakshak Sangh
Gramin Surbhi Vikas Sansthan
Gramin Vikas Avm Prabandh Sansthan Samiti
Gramin Vikas Mandal
Granth Education Society
Grask Gramin Rojgar Evam Samaj Kalyan Samiti Samiti Dewas
Grask India Skill Development & Management Services
Green Park Skills Foundation
Grikaet Society
Grow Up Social Evolution Society
Growth Social Welfare Society
Gulab Shiksha Samiti
Gunga Mahila Evam Bal Vikas Samiti
Gunjan Samajsevi Society
Guru Drishti Education And Welfare Society
Gyaan Vatika Education & Welfare Society
Gyaan Vatika Training And Development Organisation Society
Gyan Ganga Seva Samiti
Gyan Raksha Shiksha Samiti
Gyan Uday Education Society
Gyandeep Lakshya Lok Shiskha Avam Samajik Kalyan Samiti
Gyandeep Shiksha Samiti
Gyaneshwar Aryawart Shiksha Evam Jan Kalyan Samiti
Gyanodaya Information And Education Society
Gyanpath Sikhsha Evam Samaj Kalyan Samiti
Gyanvardhan Avam Samaj Uthan Shiksha Samiti Narsinghpur
Gyaraspur Lodhi Shiksha Evam Samaj Kalyan Samity
H K Kalchuri Education Trust
Habib Theater Samiti
Hafiz Ismail Baig Organization
Hamdard Health And Reaserch Institute
Hamrahi Roshni Mahila Samiti
Hands Arounds Nature And Society
Hans Vahini Gyan Dayini Social Welfare Society
Happiness Welfare Society
Happy Life Education And Social Welfare Society
Harda Nagar Bal Vikash Samiti Harda
Hari Geeta Charitable Foundation
Hari Om Samajik & Shaikshnik Sewa Samiti
Harihar Abhinav Kala Shiksha Samiti
Harijan Adiwasi Mahila Bal Kalyan Shiksha Avam Prashikshan Sanstha
Harsh Cultural Evam Welfare Society
Harsh Mahila Computer Prashikshan Samiti
Harsh Utkarsh Shiksha Avam Samaj Kalyan Samiti
Harshita Welfare And Educational Social Society Samiti
Heeal
Heelp Initiatives Organization
Heera Barway Health And Education Society Bhopal
Helpbox Foundation
Helping Arms Welfare Society
Helping Wings Foundation
Highline Educare India Private Limited
Himanshi Enterprises
Hinglaj Institute Of Technical Education Centre And Social Welfare Sociaty
Hira Mahila Mandal
Hitec Youth Federation
Hiteshri Samajik Sanstha
Holistic Human Adavancement And Social Research Organization
Holy Family Society Bhopal
Holy Tree Educational And Social Welfare Society
Honey Samajik Sanstha
Hope Foundation
Hopes Society For Community Empowerment And Research
Hum Ek Hain Society
Hum Theatre Sanskratik Sanstha
Human Unique Moment Development Organisation
Human Welfare Organisation
Humanity Welfare Society
Humans Care And Development Society
Humlog Shiksha Avam Samaj Kalyan Samiti
Idaksha Training Academy Private Limited
Ideal Education Society
Ideal Global Social And Welfare Organization
Idvika Foundation
Ies Education & Welfare Services
Ies Global India Earth Revital Foundation
Ignite Skill Development And Rural Education Welfare Society
Impaa Film Artist Sanshtha Samiti
Impact Care Foundation
Impact Education And Welfare Society
Impact Educational And Social Welfare Society Samiti
India Full Gospel Mission
Indian Institute Of Development Management
Indian Institute Of Forest Management Society
Indianeers Media Private Limited
Indira Gandhi Convent School
Indo European Chamber Of Commerce And Industry
Infogain Aman Educational And Welfare Society
Infotech Education Society
Innovate Sedate Student Samiti
Innovation Technology Research Foundation
Innovation Welfare Society Bhopal
Institute Of Regional Analysis Bhopal
Institute Of Social Research And Development
Integrated Academy Of Pediatircs Welfare Society
Integrated Development Organisation
Integrated Society For Human Welfare(Ishwel)
Integrated Socio-Economic Development Services
International Institute Of Waste Management
Iqra Kainat Minority Welfare Society
Iqra World Education Society
Ira Society Of Art And Culture Samiti
Iravati Social And Welfare Organisation
Ishaan Jankalyan Society
Ishanvi Social And Welfare Society
Ishwaramma Gyan Sagar Socitey
Itminaan Neighbor Education And Welfare Society Inews
Jagat Foundation
Jagatguru Bahuddeshiya Samaj Kalyan Samiti
Jagjyoti Shiksha Evam Swasthya Welfare Society
Jagran Social Welfare Society
Jagruk Shiksha Samiti
Jahnvi Society For Social Welfare
Jai Ho Education And Welfare Society
Jai Jagannath Welfare Society
Jai Narayan Shiksha Samiti
Jai Sankatharini Shiksha Avam Samaj Seva Samiti
Jai Shri Maharshi Goutam Shiksha Evam Samaj Sewa Samiti
Jai Shri Ram Educational And Welfare Society
Jain Sarvodaya Vidhya Gyanpeeth Samiti
Jainishadraj Samaj Seva Samiti
Jamia Islamia Arbia Falah Society
Jan Gan Man Samaj Kalyan Sanstha
Jan Kalyan Samaj Sevi Sansthan
Jan Madhyam
Jan Parivartan Society
Jan Sadharan Jankalyan Samiti
Jan Sahyog Foundation
Jan Sahyog Parishad
Jan Sahyog Social Welfare Society Bal Vihar Samiti
Jan Shikshan Santhan Bhopal
Jan Shruti Evam Samaj Kalyan Mahila Mandal
Jan Swaranjya Sangh
Janchopal Samaj Kalyan Samiti
Jannayak Woman And Child Welfare Society
Janparishad
Jansamvedna Kalyan Samiti
Jansewa Avam Gramin Vikas Tatpar Samati
Janshri Welfare Society
Jaswant Dangi Welfare Society
Javed Kabir Educational And Social Welfare Society
Jawala Lalit Kala Evam Sanskritik Samiti
Jay Kalyan Shiksha Samiti
Jayshree Jan Klyan Samiti
Jeev Sewa Sansthan
Jeevan Kalyan Seva Samiti Bhopal
Jeevan Sarthak Social And Welfare Society
Jeevan Sarvajan Kalyan Sanstha Samiti
Jethro Welfare Foundation
Jharokha Educational And Welfare Society
Jigyasa Samaj Kalyan Sewa Samiti
Jila Viklang Punarwas Kendra Samarpan
Jove Siksha Abim Prashikshan Samiti
Jp Socail Development And Welfare Society
Jssbhopal Two
Jungle,The Nest Of Nature
Kadambini Shiksha Evam Samaj Kalyan Seva Samiti
Kaivalya Sanskriti Kala Academy Samiti
Kala Kunj Shiksha Avm Samaj Kalyan Samiti
Kala Samay Sanskriti Siksha Our Samaj Sewa Samiti
Kala Shree Kala Vikash Ekta Kalyan Samiti
Kalandhika Nritya Natya Sanstha Samiti
Kalchuri Shiksha Avam Samaj Kalyan Samiti
Kalyanayu Vikas Samiti
Kalyani Welfare Society Mp
Kamdhenu Sewa Samiti
Kamla Nagar Shikshan Sanstha
Kamladevi Educational Social Welfare Society
Kanchan Education Welfare Society
Kanchan Verma Wealfear And Ejucation Socity
Kanishka Samaj Kalayan Samiti
Kanti Arya Soceity For Education And Training
Karaate Unnatisheel Prashikshan Sanstha
Karamyogi Garibothan Siksha And Samaj Kalyan Samiti
Karm Skill Development And Social Welfare Society
Karmayogi Theater And Creative Group Samiti
Karmveer Social Society
Karmyog Welfare Society
Karwaan
Kasoti Baile And Performing Arts Samiti
Kauser Ali Foundation
Kaushal Education And Welfare Foundation
Kaushalya Samaj Utthan Wa Shodh Samiti
Kavya Research Development Society
Kaynat Human Devlopment Society
Kedar Kamal Shiksha Evam Jan Kalyan Samiti
Khadi Deepak Welfare Foundation
Khaskar Education And Welefare Society
Khoslas Applied Research Foundation
Khrist Premalay Regional Philosophate
Khshetriya Sarthak Samudayik Vikas Evam Jan Kalyan Sanstha
Khulte Pankh Society Of Education
Khushali Artisan Handicraft Producer Company Limited
Khushboo Mahila Evam Bal Kalyan Samiti
Khushi Welefare Samiti
Khwaja Garib Nawaz Social Foundation
Kilol Shiksha Samiti
Kirti Ballet And Performing Arts
Kirti Welfare Society
Kishorika Science Activity And Woman Awareness Society
Kj Education Society
Knowval Social Foundation
Kolar Hindu Utsav Samiti
Komal Jan Kalyan Mahila Mandal Samiti
Kopal Club
Kopal Sanskritik And Sewa Samiti
Kopal Shiksha Evam Jan Vikas Samiti
Koshish Natya Sanstha
Kothiya Society For Sustainable Development And Research
Krishna Education And Welfare Society
Krishna Nav Jagrati Mahila Mandal Samiti
Krishna Sakha Sudama Shiksha Samiti
Kritarth Foundation
Kshatriya Akada Sanskar Shala Kalyan Samiti
Kshetriya Jan Shiksha Evam Vikas Samiti
Kunjal Welfare Society
Kushi Sahara Cultural And Social Welefare Society
Lake City Priyadarshini Social Welfare Society
Lakecity Excellence Education And Welfare Samiti
Lakecity Palak Shishak Sangha Samiti
Lal Sakhi Har Ek Mahila Ki Awaj Samajik Samiti
Lala Ram Rakhamal Shiksha Awam Sewa Samiti
Lalita Excellence Education Society
Lalitamba Social Welfare Society
Lalmani Shiksha Samiti
Late C L Chouksey Smriti Shiksha Evam Kalyan Samiti
Late Harcharan Lal Verma Shiksha Avam Samaj Kalyan Samiti
Late Kuwar Bai Smriti Shiksha And Samaj Kalyan Samiti
Late Pradeep Chandra Pandey Cancer Sahaytarth Sanstha
Late Shree R C S Memorial Swasth Shiksha Avam Samajik Vikas Sanstha Samiti
Law Horizon Welfare Society
Laxmi Engineering Industries (Bhopal) Private Limited
Laxmidevi Vikyomal Shroff Educational Society
Leed Social Welfare Society
Leeladhar Medicare Foundation
Legend Associates Engineering And Consultancy Services Pvt Ltd
Leopard Social Welfare Society
Life Line Siksha Sansthan
Lifechain Foundation
Lila Maa Vindhyavasini Sansthan
Live Research Association Of Edu & Media
Livelihood Empowerment And Development Society
Lmn Health Computer Education Awareness And Social Welfare Society
Lok Gunjan Natya Sanstha
Lok Jagar Kala Manch
Lok Kalyan Seva Sansthan
Lok Lakshya Welfare Society
Lokuthhan Welfare Society
Lopmudra Samaj Kalyan Samiti
Lt Gheesu Lal Rathore Educational Memorial Society
Luwana Education And Welfare Society
M P Christian Asembly
M P Con Foundation For Inovation Education Social Tranformation And Reserch
M.P. Meena Samaj Sewa Sangathan
M.P. Navyuvak Saini Mali Samaj
M.P. Paryavaran Shodh Avam Van Sanrakshan Sansthan
Ma Kameshwari Society
Ma Narmada Chetna Swasth Sewa Samiti
Maa Aadhi Kumari Siksha Prasar And Samaj Kalyan Samiti
Maa Durgeshwari Education & Social Society
Maa Guru Infromation Tchnology Samaj Sewa Samiti
Maa Harsiddhi Jan Utthan Samiti
Maa Harsiddhi Samajik Jan Kalyan Samiti
Maa Hinglaj Sewa Samiti
Maa Jwalamukhi Manav Kalyan Samiti
Maa Kailadevi Social Society
Maa Krishna Devi Jan Kalyan Samiti
Maa Pitamabara Krashi Shikhsa Swastha Avam Prayavaran Vikas Samiti
Maa Pitambara Shiksha Avam Samaj Kalyan Samiti
Maa Saraswati Education Society
Maa Sharda Dharmik Evam Samajik Sanstha
Maa Tapti Shiksha Samiti
Maa Uma Electronic Training Institute
Maa Vaishnavi Skill Private Limited
Maahi Socio Cultural Society
Madad Foundation
Madarsa Hamidiyah Qasmiyah Fakhrul Uloom Bhopal
Madatghar Welfare Society
Madhuja Jan Kalyan Samiti
Madhuri Aayaam Education And Welfare Society
Madhya Bharat Samajik Evam Samagra Vikas Sanstha
Madhya Pradesh Ayurvedic Homeopathic Alopathic Doctors Adhikar Parishad
Madhya Pradesh Khadi Tatha Gramodhyog Board
Madhya Pradesh Samaj Seva Sanstha
Madhya Pradesh Tiger Foundation Samiti
Madhya Pradesh Vigyan Sabha
Madhya Pradesh Vipassana Samiti
Madhya Pradesh Water And Land Management Institute Bhopal
Madhya Pradesh Yogasana Sports Association
Madhya Sewa Association
Mahabali Siksha Evam Jan Kalyan Samitit
Mahakoshal Education Avam Welfare Society
Mahalwala International Educare Services Llp
Mahamaya Shiksha Evam Sanskritik Samiti Bhopal M P
Mahamaya Takshsheela Aashram Sanchalan Samiti
Mahamrityunjay Trust
Maharani Laxmibai Jan Kalyan Samiti
Maharshi Dayanand Jan Kalyan Sanstha
Mahashakti Ashirwad Organisation
Mahashakti Seva Kendra
Mahatma Shiksha Prasar Samiti
Mahaveer Goushala Ram Dwara Samiti Sukheda
Mahaveer Jan Seva Evam Jan Utthan Samiti
Mahaveer Shiksha Evam Samajik Sewa Samiti
Mahendra Shiksha Samiti
Mahila Aatmnirbhar Foundation Bhopal Samiti
Mahila Jan Kalyan Samiti
Mahila Sarvdharm Colony Samiti
Mahila Unnati Evam Prashikshan Samiti
Mahila Utkarsh Sansthan
Malti Dwivedi Memorial Shiksha Evam Samaj Kalyan Vikas Samiti
Malwa Education Society Bhopal
Mamta Samajik Kalyan Sanshtha Samiti
Man Shiksha Evam Jankalyan Samiti
Man Singh Memorial Shiksha Avam Jankalyan Samiti
Manahil Education And Welfare Society
Manasvi Manas Sansthan
Manav Sansadhan Vikas Samiti
Manav Sewa Sanrakshan Sangathan
Manav Vikas Seva Sangh
Manav Vikas Sewa Sangh
Manavta Ishwar Kei Liye Kalyan Sanstha Parishad
Mandakini Sanskritik Evam Samaj Kalyan Sewa Samiti
Mandar And No More Foundation
Mangla Barpete Shiksha Evam Jan Kalyan Samiti
Maniya Seva Samiti Bhojapura
Manjudeep Education And Social Welfare Society
Mannat Maitri Charitable Trust
Manodeep Education And Welfare Society
Manodeep Social Cultural Welfare And Development Society
Mansa Development Cooperative Society Limited
Mansoor Ali Khan Empowerment Society
Manthan Gramin Evam Samaj Sewa Samiti
Manushree Social Welfare Foundation
Maran Technical Education And Social Welfare Society
Margi Kathak Sansthan
Marian Society
Masiha Shaishnik Kalyan Samiti
Master Education Evam Welfare Society Samiti
Matra Chhaya Cultural Welfare Society
Matra Shakti Janjagrati Mahila Mandal
Matrabhumi Public Welfare Society
Maulana Barkatullah Bhopali Education And Social Services Society
Maulana Mohammed Ayyub Education And Social Welfare Society
Max Care Welfare Society Bhopal
May Flower Public School
Maya Mahila Bal Vikas Samiti
Maya Shiksha Avam Mahila Vikash Samiti
Meenesh Meena Samaj Vikas Sewa Sangathan
Meet Social Society
Meghna Shikshan Avam Samaj Kalyan Samiti
Mental Challenge Social Welfare Society
Michhu Education Society
Minalay Vigyan Avam Prodhougiki Sansthan
Miriam Society
Misha Welefare Society
Mithila Education Welfare Society
Mitra Social And Welfare Foundation
Model Education Society
Morning Awake Educational And Welfare Society
Mother Education And Social Welfare Society
Mouli Shiksha Evam Jankalyan Society
Mount Carmel Society
Mp Cancer Chikitsa Evam Sewa Samiti
Mp Council For Child Welfare
Mp Jan Abhiyan Parishad District Rewa
Mpcon Limited
Mrigendra Vanya Prani Sanrakshan Evam Social Welfare Society
Mukesh Shrivastava Memorial Samaj Kalyan Samiti
Multi Hands To Help Education And Welfare Society
Mumtaz Shiksha Evam Kalyan Samiti
Murari Pyaridevi Memorial Welfare Society
Muskaan
Muslim Educational Social & Cultural Society
Muslim Maashra Taraqui Socaiety
Muslim Welfare Society
Myplanet Fundation Society
N Tech Samaj Seva Evam Shikshan Prashikshan Samiti
Nai Roshni Mahila Mandal
Najar Krishi Evam Paryavaran Sanrakshan Samiti
Namrata Education Society
Nandi Swayam Sahayata Samooh Vikas Sangh
Narendradev Shiksha Evam Bal Kalyan Samiti
Narmada Jewandayini Gramin Shiksha Swsthy Avam Samajik Kalyan Samiti
Narmada Puram Educational And Welfare Society
Narmada Samagra Nyas M P Bhopal
Narmada Vikas Samiti
Nascent Welfare And Education Society
National Association For The Blind Bhopal Branch
National Centre For Human Settlements And Environment
National Muslim Education Society
Native Education And Employment Developing Society
Natraj Sangeet Vidhyalaya
Natraj Welfare And Cultural Society Samiti
Natrajan Performing Arts Education And Welfare Society
Natural Resource Management And Common Wealth
Nature Development Welfare
Nav Bahar Area Level Samiti Bhopal
Nav Jagrati Sanskratik Samiti
Nav Nritya Natya Sanstha
Nav Umang Nishaktjan Yuva Mandal Samiti
Nav Yuvak Aadiwashi Avam Harijan Samaj Vikas
Navab Hameedullah Education And Social Welfare Society Samiti
Navalaya
Navchetna Samajik Santhan
Navkrishna Education Society
Navoday Biocure Helathcare And Welfare Society Samiti
Navrachna Seva Sansthan
Navraj Educational Society
Navrang Human Welfare Organization
Navya Sanskritik Avam Welfare Society
Navyug Jan Kalyan Samiti
Naya Theatre
Neelam Education And Welfare Society
Nehru Mahila Mandal Khajuri Sadak
Nellore Shiksha Samiti Bhopal
Netri Foundation
Nevedhya Education And Welfare Society
New Ahinsa Niketan Shaikshanik Evam Samajik Kalyan Samiti
New Apostolic Sanstha
New Astha Gramin Vikas Sanstha
New Choice Education And Welfare Soceity Bhopal
New Drishti Shiksha Gramin Vikas Evam Samajik Kalyan Samiti
New Lakshya Social And Environmental Development Society
New Pratap Shiksha Samiti
New Shiv Mahima Samiti Bagmugaliya
New Skill Welfare Society
New Swastik Charitable Society
New Vision Foundation
News Mohalla Welfare Foundation
Newworld Computer Education Society
Nicol Society
Nida Us Safa Education And Welfare Society
Nidaan Sewa Samiti
Nidan Sarvajan Welfare Society
Nidanta Swasthya Welfare Society
Nikhil Education And Welfare Society
Nikky Tasha Welfare Society Samiti
Nilesh Tiwari Smriti Shiksha Evam Samaj Kalyan Samiti
Nimar Education Society
Nimbus Shiksha Evam Kalyan Samiti
Nimit Dhc Welfare Foundation
Niper Shiksha Samiti
Nirantar Yog Avam Samajik Santha
Nirbhaya Foundation
Nirdhan Vidhyarthi Utthan Samajik Sewa Samiti Bhopal
Nirmal Mata Society Bhopal
Nirmansheel Welfare Society
Nirmit Foundation
Nirupama Devi Foundation
Nirvana Social Welfare Society
Nisarg Agripreneurship Foundation
Nisha Education Welfare Society
Nisus Initiatives For Science And Society
Niswarth Seva Samiti
Nitya Seva Society
Nivedita Kalyan Samiti
Niviraj Education And Welfare Society
Novelty Welfare Society Samiti
Nyashis Samajik Samiti
Ocean Education And Social Welfare Association
Odls Foundation
Ojashkar Charitable Foundation
Ojaswini Samaj Kalyan Evam Prashikshan Samiti
Ojjesdeep Society
Om Aarogya Samaj Samiti
Om Prakash Bansal Jan Kalyan Samiti
Om Sai Jan Kalyan Avam Vikas Samiti
Om Sai Manav Kalyan Samiti
Om Shri Maa Pitambara Jan Kalyan Samiti
Omkareshwar Jan Kalyan Samiti
One Step Foundation
Open Arms Education And Social Welfare Society Samiti
Opinion Welfare Society
Optimus Educational And Social Development Society
Orange Swastik Welfare Society
Oriental Kala Evam Sewa Kendra
Osmo Foundation
Other Backward Classes Scheduled Castes Scheduled Tribes Ekta Manch
Other Theater Society For Reserch And Performing Arts Samiti
Paarshveera Education And Charitable Foundation
Pahal Imprint Cultural Society
Pahal Samajik Sanstha
Pahal Shiksha Gramin Vikas Evaam Samajik Jankalyan Samiti
Pahel Social Samiti
Pakeeza Education Society
Pakhi Social Welfare Society
Pakhi Social Welfare Society
Panchayat Vikas Parishad
Pandey Shiksha Evam Samaj Kalyan Samiti
Pandit Laxminarayan Rampyari Sanskriti Avam Khel Samiti
Pandit N P Sharma Shiksha Avem Sewa Samiti
Panghat Gramin Vikas Sansthan
Paradise Help Care
Param Antah Sukham
Param Pujya Shri Chetanya Goswami Samaj Kalyan Aivam Seva Samiti
Parampara Dharmik Evam Samajik Sanstha Samiti
Paras Shiksha Evam Samaj Seva Samiti
Paras Social Welfare Society
Paridrashya Medical Development And Research Organisation
Parikalpana Society For Medical Education And Charitable Hospital
Parivartan Foundation
Parivartan Sahyog Samiti
Parivartan Sewa Avam Shiksha Samiti
Parmartham Shiksha Evam Samaj Kalyan Samiti
Parmeshwaram Welfare Society
Paryavaran Shiksha Evam Sanrakshan Samiti
Paryawaran Shoudh Sansthan
Patmos Society
Pawan Putra Jankalyan Samti
Pawan Tanay Shiksha Samiti
Pawar Samaj Kalyan Avam Shikshan Samiti
Paws And Care Animal And Social Welfare Association
Pentecostal Unity Prayer Fellowship Welfare Society
Peoples General Association Bhopal
Peoples Hospital
Peoples Theatre Cultural Education And Welfare Society
Perfect Bank Coaching
Perfect Samajik Avam Shiksha Samiti
Pesh Shiksha Evam Samaj Kalyan Samiti
Pingaksh Oriental Welfare Education And Research Society(Powers)
Pink Bird Sociocultural Society
Pioneer Shiksha Evam Samaj Kalyan Samiti
Pioneer Society For It Awareness Samiti
Pipalkhedi Jankalyan Samiti
Pooja Mahila Vikash Samiti
Pooja Smriti Social Welfare Society
Poornodaya Training Centre
Popular Education End Social Welfare Society
Positron Social And Educational Socity
Prabhat Shikshan Sansthan
Prabodh Samaj Sansthan
Prachin Jan Utthan Samiti
Pradeep Welfare Foundation
Pradeepmaan Shiksha Avam Samaj Kalyan Samiti
Pradeshik Anusuchit Jati Janjati Vikash Seva Society
Pradushan Nivaran Yuvak Sangathan
Pragat Samajik Vikas Sansthan
Pragati Chetna Manch
Pragati Multistate Co-Operative Multipurpose Society Limited
Pragati Nagar Mahila Mandal Samiti
Pragati Samaj Kalyan Samiti
Pragati Shikshan Samiti
Pragvansh Foundation
Pragya Manav Kalyan Sansthan Trust
Pragya Shiksha Avam Samaj Samiti
Pragya Shiksha Samiti
Pragya Social Organization
Pragyan Social Welfare Society
Pragyasheel Vikas Sangh
Prajapati Samaj Vikas Samiti Hat Mangalwara Bhopal
Prakhar Shiksha Sansthan
Prakruti Yog Avam Prakrutik Chikitsa Sansthan
Pranavi Education And Training
Prantiya Mahila So Sahayata Samuh Mahasangh
Prantiya Mahila Swa Sahayta Samuh Mahasangh
Pranyog Trust
Prashant Deep Shiksha Evam Samaj Kalyan Samiti Udaipura
Prashanti Saima Education And Welfare Samiti
Prasoon
Prathmik Chikitsa Association Welfare Sansthan
Prathmik Chikitsa Bahuuddeshiya Welfare Sangh
Prathvi Manikarnika Educational And Social Welfare Development Society
Pratibha Digital Foundation
Pratibha Foundation
Pratibhalaya Art And Welfare Society
Pratibodh Samajik Sansthan
Pratigya Samaj Seva Kalyan Samiti
Prayag Shiksha Samiti
Prayas Kalyan Samiti
Prayas Samaj Kalyan And Anusandhan Kendra Samiti
Prayas Sanskritik Avam Samajik Sanstha
Prayas Social And Welfare Society
Prayash Right Hand Social And Welfare Society Samiti
Preceptor Education Welfare Society
Preeti Convent School Shiksha Samiti
Prem Bashant Education And Welfare Foundation
Prerana Service Society
Prerna
Prerna
Prerna Education And Welfare Society Bhopal
Prime Education Society
Prishank Education And Social Welfare Society
Priya Swasth Shiksha Avam Samaj Kalyan Gramin Samiti
Priyal Education Society
Priyal Welfare Foundation
Priyanshi Educational Cultural And Social Society
Progressive Educational Trust
Progressive Welfare Society
Pronnati Education Society
Protecting Animals Nature Development Welfare Society
Protection And Rights Of Student Riders Association
Protsahit Education & Social Welfare Society
Prthvinath Welfare Society
Pt. Shiv Ram Sharma Memorial Jan Kalyan Samiti
Public Welfare Relation Society Of Bhopal
Puri Skill Training Institute
Pushp Samagr Samajik Evam Shaikshanik Samiti
Pushpa Shrivastava Smartee Shiksha Evem Samaj Kalyan Seva Samiti
Qasmi Education And Welfare Society
R.D.Shikshan Evam Samaj Kalyan Samiti Bhopal
R.K. Memorial Education And Welfare Society
Raah Shiksha Avam Kalyan Seva Samiti
Raah Welfare Society
Radha Krishna Sahu Samaj Samiti
Rafi Ahmed Qidwai Education Society
Raftar Education And Welfare Society
Raghav Foundation
Rahat Education And Improvement Welfare Society
Rahat Society For Social Welfare
Rahi Welfare And Research Society
Raj Educational & Social Welfare Society
Raj Gange Samajik Evam Shaikshanik Samiti
Rajdhani Sewa Samiti
Rajeev Nagar Shiksha Evam Samaj Kalyan Santha
Rajeev Smriti Gas Pidit Punarvas Kendra
Rajshree Kala Evam Samaj Kalyan Samiti
Rajtilak Shiksha Samiti
Rajya Anand Sansthan
Rakshansh Sewa Samiti
Rakshita Animal Care Society
Rakshita Welfare Society
Ramai Lok Kalyan Samiti
Ramanujan Education Society
Rambhamahilaevamshishukalyansamitibhopal
Ramkrishan Shiksha Evem Jan Kalyan Samiti
Ramkrishna Repertoire Social & Cultural Society
Rana Cheritable Foundation
Rang Madhyam Natya Sanstha
Rang Mahima Theater Society
Rang Mohalla Socieaty For Performing Arts Samiti
Rang Sanskriti Srijan Samiti
Rang Triveni Sahitia Avam Sanskritiksamiti
Rang Vidushak
Ranga Sri Little Ballet Troupe
Ranga Theatre Cultural And Social Walfare Society
Rangdarshan Cultural Avn Welfare Society Samiti
Rangkarmi Natyakala Evam Sanskritic Sanstha Samiti Bhopal
Rangkriti Natya Sanstha Samiti
Ranglok Cultural And Welfare Society
Rangmhini Art And Welfare Samity
Rangoli Education And Welfare Society
Rangsanchar Bhopal
Rangshirsh Sanstha
Ranu Educational And Social Welfare Society
Rashtriya Manav Sangrahalaya Samiti
Rashtriya Pratibha Samman Manch
Rastrahit Jagriti Gandhiwadi Prayas
Rathore Kshatriya Samaj Bhopal
Rathore Sangh Bhopal
Raunak Social And Cultural Society
Ravindra Amateur Natya Group
Reform Activities By Youth Society
Regional Society For Education Welfare And Research
Regionalsocietyfordevelopmentofwomenimmatureandyoungsamiti
Rekhankan Lalit Kala Samiti
Relief Welfare Society
Remember Bhopal Trust
Renaissance Social Welfare Society
Renuka Lok Natya Kala Kendra
Resource Centre For Adult And Continuing Education
Rishi Takniki Prashikshan Samiti
Rishi Valmiki Shikcha Samiti
Rising Aryavarta Welfare Society
Riyansh Janjagran Jankalyan Avam Jansamasya Samadhan Samiti
Rkdf Education Society
Roshan Social Welfare And Research Foundation
Roshan Social Welfare And Research Foundation
Rubin And Reuel Welfare Society
Ruchi Social Welfare Society
Rudra Social Welfare And Research Foundation
Rudraksh Culture And Welfare Socity Samiti
Rukmani Sarva Abhiyan Samiti
Runkunmullansanstha
Rural World Health And Education Organization
S.V.D. Vidya Bhawan
Saadi Womens Voluntary Social Service Society Bhopal
Saarthak Social Development Organization Bhopal
Sabak Rural And Urban Development Society
Sadbhavna Manav Jagriti Seva Samiti
Sadguru Kabir International Meditation Resort And Public Welfare Trust
Sadguru Maharaj Shiksha Prasar Avam Seva Samiti
Sadhna Social Welfare Sanstha
Sadvipra Foundation
Safe Life Foundation
Sagar Guncha Natrang Cultural & Welfare Society
Saghan Society For Culture And Welfare
Sahaj Vikas Avam Samajik Parivartan Sanstha
Sahara Jan Adhikar Evam Samaj Kalyan Parishad
Sahara Manch
Sahara Sakshrta Educational & Social Welfare Society Bhopal
Sahara Sports Association
Saharsh Cultural Evm Welfare Society
Sahasrara Welfare Society
Sahayog Social Welfare Society
Sahayyam Social Welfare Foundation
Sahib Shiksha Avam Samaj Kalyan Samiti
Sahu Chaupal
Sahu Development Society
Sahyog Educational & Social Welfare Society
Sahyog Shiksha Awam Manav Sewa Samiti Bhopal M.P.
Sahyog Welfare Foundation
Sai Charan Education And Welfare Society
Sai Samarth Education And Samaj Kalyan Society Samiti
Sai Sarita Smriti Sansthan Samiti
Saint Domnic Education Society
Saksham Sakh Sahkari Samiti Maryadit
Saksham Sanskratik Avam Samaj Kalyan Samiti
Saksham Seva Sanstha
Saksham Society For Empowering Rural Areas
Sakshi Saheli Mahila Kalyan Bahuuddeshiya Samiti
Sam Skills Development & It Solution Pvt Ltd
Samadhan Swayam Sewi Sanstha
Samaj Kalyan Janseva Samiti
Samantar Sociocultural Society
Samarpan Seva Samiti
Samarth Jankalyan Samiti
Samarth Sanstha
Samarthy Prayas Samaj Kalyan Avam Nari Utthan Samitihan
Samay Welfare & Development Organization
Sambhagiya Shiksha Evam Samaaj Vikas Sangathan Parisad
Sambhav Jan Kalyan Samiti
Sambhav Paropkarini Sewa Samiti
Samgra Handicraft And Social Welfare Society
Samhit Manav Chetna Evam Vikas Samiti
Samhita Development Network
Sampada Institute Of Social Awareness Samiti
Sampoorn-Society In Pursuit Of Total Humanism
Samrddhi Foundation
Samrdhdi Dev Aashish Shiksha Samiti And Jan Kalyan Samiti
Samriddhi Jankalyan Samiti
Samriddhi Welfare Society
Samvardhan Shiksha Evam Samaj Kalyan Samiti
Samvedna
Samyak Gyan Social Welfare Society
Samyak Shiksha Evam Samaj Kalyan Samiti
Samyak Shikshan Avem Jan Kalyan Samiti
Sancharika Science And Environment Awarness Society
Sanctum Education And Social Welfare Society
Sandarbh Shikshan Prashikshan Welfare Samiti
Sandeep Data Process Industrial Training Centre Socity
Sandesh Samaj Kalyan Sanstha
Sandesh Shiksha Avam Samaj Kalyan Samiti
Sangini Mahila Kalyan Samiti
Sanidhya Samiti
Sanjeevani Gou Raksha Kalyan Samiti
Sanjeevani Mahila Sangh Bhopal
Sanjeevani Swasthya Avam Shiksha Seva Samiti
Sanjivani Education And Social Welfare Society
Sanjivi Welfare Society And Research Centre
Sankalp Khushi Jankalyan Sewa Samiti
Sankalp Samajik Vikas Sansthan
Sanrakshan Welfare Society
Sanskar Sudha Foundation
Sant Hirdaram Shiksha Evam Samajik Vikas Samiti
Sant Shri Arunand Ji Maharaj Pidit Manav Seva Samiti
Santanak Dev Vidhyapeeth
Santosh Education Society
Saphire Heights Social Welfare Society
Saptarishi Vateshwar Samiti
Sarahna Foundation
Saral Sudha Shikshan Samiti
Saraswati Acdemy
Saraswati Nav Yug Nirman Samiti
Saraswati Vidhya Vikas Avam Jan Kalyan Samiti
Sarawgee Dreams Media And Educare Private Limted
Sarkar Sai Jan Kalyan Samiti
Sarswati Vidhya Pratishthan M.P
Sarthak Jankalyan Samiti
Sarthak Pahal Samaj Kalyan Sansthan
Sarthak Prayas Welfare Society
Sarthak Samajik Kalyan Samiti
Sarthi Health And Education Development Organiztion
Sarthi Jan Kalyan Society Samiti
Sarthi Shiksha Evam Jan Kalyan Samiti
Sarthi Vikas Parishad
Sarv Kalyan Mahila Mandal Bhopal
Sarv Shri Beni Prasad Samaj Kalyan Samiti
Sarvaayudh Foundation
Sarvajanik Jan Kalyan Parmarthik Nyas
Sarvhit Foundation
Sarvoday Basor Vanshkar Samaj Utthan Samiti
Sarvodaya Diamond Samajik Vikas Evam Sanskritik Kalyan Samiti
Sarvodaya Samaj Kalyan Samiti
Sarvodaya Samaj Kalyan Samiti
Sashakti Shiksha Mahila Evam Bal Kalyan Samiti
Satakshi Shakti Sanstha Samiti
Satkarm Sewa Eyam Shikhsha Socity
Satpura Vigyan Sabha
Satya Manohar Social Welfare Society Samiti
Satya Prakhar Walefare Society
Satya Samarth Social Welfare Society
Satyam Society
Satyavichar Shiksha Evam Samaj Kalyan Samiti
Saumya Mahila Mandal
Saurabh Gramin Vikas Shiksha Ayam Jan Kalyan Samiti
Save Animal Save Climate Foundation
Savitri Shakti Pith Seva Samiti
Saya Welfare Society
School Of Livelihood And Rural Development Under Gyanav Social Welfare Society
School Of Planning And Architecture Bhopal
Science Centre Gwalior
Scientech Educational And Welfare Organisation
Search And Research Development Society
Seer Shiksha Samiti
Sejal Educational Cultural And Welfare Society
Senior Citizen Social Welfare Foram
Senior Citizens Forum Bhopal
Serv Samaj Sanskriti Seva Sangh
Serving Beings Foundation
Seva Viklango Ke Abhibhabako Ka Sangh Samajik Shaiksihik Samiti
Sevabhav Jagaran Sansthan
Seven Colours Cultural And Welfare Society
Sewa Bharti
Sewa Foundation
Sewa Jagrati Jan Kalyan Samiti
Sewa Sadan Eye Hospital
Sewa Shri Jankalyan Samiti
Sewashree Educational And Social Welfare Society
Shabad Shri Sahitya Sanstha
Shadow Culture And Social Welfare Society
Shaheed Bhagat Singh Sports Foundation
Shaheed Hemu Kalani Educational Society
Shahpura Mahrshi Patanjali Sanskrit Sansthan Samiti
Shaikh Zakariya Memorial Education Society
Shaikshnik Vikash Sanshthan
Shain Art Welfare Society
Shalini Foundation
Shalom Special School
Shanti Manav Kalyan Samiti
Sharda Mahila Mandal
Sharda Samajik Punarutthan Manch
Sharda Vihar Jan Kalyan Samiti
Share'n Care Social Welfare Society
Sharthak Mahila Mandal Bhopal
Shashi Kasturi Vision Foundation
Shashi Mahila Jagriti Samiti
Shauryavardhan Economically Wecare Section Welfare Organization
Shayama Adarsh Mahila Mandal Samiti
Sheeba Shiksha Samiti
Sheetal Jankalyan Samiti Bhopal
Sheetalnath Builders Private Limited
Shiba Reflexions And Jankalyan Samiti
Shikhar Social Welfare Organisation
Shiksha Mitra Sewa Samiti
Shilpkar Swayam Sahayata Samooh Vikas Sangh
Shishu Kalyan Sudarshan Shiksha Samiti Aber
Shiv Gyan Inovation Foundation Bhopal
Shiv Kalyan Evam Shikshan Samiti
Shiv Parvati Shikshan Evam Seva Samiti
Shivalik Jankalyan Samiti
Shivam Foundation
Shivanjli Helth And Education Welfare Society
Shivnagar Pahal Shiksha Sanstha Samiti
Shivom Computers Solutions Pvt Ltd
Shlok Samajik Sanstha
Shraddha Mahila Mandal Raisen
Shraddha Saburi Sainath Manav Sewa Samiti
Shraddha Welfare Society
Shraddhey Varishth Jan Kalyan
Shramik Shiksha Evam Kalyan Samiti
Shree Akhand Jyoti Jan Kalyan Samiti
Shree Balaji Mandir Nirman Trust
Shree Ganesh Sarv Shiksha Evam Jankalyan Samiti
Shree Hanuman Seva Samiti
Shree Harnarayan Patware Shiksha Evem Samaj Kalyan Samiti
Shree Jairam Education Society
Shree Kankesh Jan Kalyan Samiti
Shree Lakshya Aavam Vikas Welfare Society
Shree Navjyoti Hasthshilp Hathkarga Avam Gramodhyog Prashikshan Samiti
Shree Panna Lal Health Welfare Society
Shree Pranavanand Arsh Gurukul Nyas
Shree Ram Krishna Jan Shiksha Samiti
Shree Sarvodaya Kalyan Samiti
Shree Sharda Gyan Prasarak Mandal
Shreejee Shogeet Welfare Society Samiti Bhopal
Shreyash Shiksha Prasar Samiti
Shri Adinath Jain Swetamber Sangh
Shri Agrawal Educational & Cultural Society
Shri Ananya Welfare Society
Shri Balaji Educational And Social Welfare Society
Shri Balmaan Memorial Foundation
Shri Ganesh Education Society
Shri Ganesh Sanskritik And Welfare Society Samiti
Shri Gangadhar Malajpure Siksha Evam Samaj Kalyan Samiti
Shri Guru Hargovind Society
Shri Guru Ramdas Shiksha Samiti
Shri Kamla Ganesh Social Welfare Organisation Society
Shri Krishn Guru Memorial Education Society
Shri Krishna Shiksha Evam Samajik Vikas Seva Samiti
Shri Laxmi Chand Memorial Jankalyan Sewa Samiti
Shri Maha Mrityunjay Gou Sewa Sadan
Shri Mahakal Art And Socialcultural Welfare Society
Shri Mahakalka Yuva Utsav Samiti Bhopal
Shri Mahavir Shiksha Evam Jankalyan Samitee Hatta
Shri Neelkanth Gramin Vikas Samiti
Shri Neellohit Shiksha Evam Samaj Sewa Samiti
Shri Om Sanstha Bhopal
Shri Pitambara Vidhyapeeth Nyas
Shri Pushp Bal Mahila Evam Samaj Kalyan Samiti
Shri Rama Shankar Tripathi Welfare Society
Shri Ramdas Shikshan Avam Samaj Kalyan Samiti
Shri Rathore Educational And Social Development Society
Shri Sadguru Kripa Sewa Samiti
Shri Sai Sarathi Shiksha Samiti
Shri Sant Namdev Gau Sewa Samiti
Shri Sawariya Shiksha Sewa Samiti
Shri Shiksha Samiti
Shri Shiv Ashray Sevarth Samiti
Shri Shivay Welfare Society
Shri Shreejee Education And Welfare Society
Shri Shri Ma Anandmayee Upavan Shiksha Samiti
Shri Shri Maa Narmada Sewa Samiti
Shri Siddharth Society For Information Technology Devlopment Samiti
Shri Somnath Gurukul Sanstha
Shri Vayuj Samaj Kalyan Shiksha Samiti
Shri Venkateshwar Balajee Educational And Social Welfare Organisation
Shri Vidhya Jan Kalyan Samiti
Shri Vishwakarma Paryavaran Jagrukata Sangathan
Shri Vyankat Singh Baghelsikasha Avam Samajik Samiti
Shriddha Mahila Hastkala Avm Val Bikas Samiti Bhopal
Shrihari Mokshda Foundation
Shrilalmani Welfare Society
Shrimati Gayatri Devi Manav Kalyan Parishad
Shrimati Khalik Bano Mahila Evam Bal Vikas Shiksha Samiti
Shrimati Ramadevi Social Welfare Society
Shrinathji Society Of Advance Knowledge And Welfare Work
Shringar Foundation
Shrishti Helping Hands Welfare Society
Shristi Educational & Welfare Association
Shristi Ki Nayi Asha Sewa Samiti
Shruti Laya Lok Kalyan Samiti
Shubh Shree Sewa Samiti
Shubhakrati Samaj Kalyan Samiti
Shubham Co-Operative Credit Society Limited
Shubham Nari Shakti Mahila Kalyan Samiti
Shubham Viklang Evam Samaj Seva Samiti
Shuruaat
Shwetamber Jain Samaj
Shyama Urban And Rural Welfare Society
Shyamal Nritya Kala Academy Samiti
Sia Cultural And Welfare Society
Siddharth Anusuchit Jaati Janjaati Mahila Evam Bal Vikas Shiksha Samiti
Sidhharth Educational Welfare Society
Sigma Computer Avm Samajik Kalyan Samiti
Sigma Institute And Career Development Society
Simhavaahini Prayas Jan Sewa Samiti
Sindhu Co Operative Housing Society Limited
Sindhu Darpan Sanskritik Sanstha Samiti
Sister Nivedita Takniki Siksha Society
Skill Education And Development Association
Skill Educon Training And Rehabilitation Society
Skillmission Welfare Society
Skills Art And Beyond Development Services Llp
Skills Art And Beyond Social Welfare Society
Skills Edutech Education & Welfare Society
Sky Of Humanity
Sky Social
Skyhawk Broadband Services
Smart Education And Social Welfare Society
Smart Jobs
Smriti Shanti Niketan
Smt Gulab Devi Chaturvedi Educational Shocial &Welfare Socaity Samiti
Smt. Gyarasi Devi Educational Society
Sneh Alamban Samiti
Sneh Heart Society
Sneh Parivaar
Snehdhara Welfare Society
Sobhagya Nav Prabhat Educational And Cultural Welfare Society
Soch Surbhi Welfare Society
Social Center For Rural Initiatives And Advancement
Social Organization For Health And Rural Development (Sohard)
Society For Communication And Social Research
Society For Education & Environmental Development
Society For Enlightenment In Research And Vibrant For Education
Society For Environment And Sustainable Development
Society For Environmental Conservation
Society For Environmental Conservation And Social Awareness (Ecosake)
Society For Health Education And Family Welfare
Society For Information Technology Development Bhopal Sitd
Society For Organic Farming And Sustainable Agriculture
Society For Resource Planning Development And Research
Society For Social Development And Upliftment
Society For Social Suport And Intimacy Samity
Society For Women Empowerment & Ecological Studies
Society Of Amtag For Cyber Ethics
Society Of Benedictine Sisters Of St. Lioba
Society Of Divine Providence
Society Of Nature Healers Conservators And Local Tourism Development
Society Of Ngo Awareness
Society Of Pilar
Society Of Sisters Of St Francis Raisen
Society Of Sisters Of St. Joseph
Society Of The Poor Sisters Of Our Lady
Society To Serve
Society Undertaking Poor People's Onus For Rehabilitation
Socity For Maximising Agricultural And Rural Technology
Soft Line Education Society
Softlink Institutions Of Innovation Incubation Research & Technology
Sohadra Maitree Sanskritik Samiti
Sohard Sewa Sanstha
Solution Point Technology Society For Educational Social Welfare Samiti
Solution Welfare Society
Soniya Area Level Samiti
Sowranjali Sanskratik Kala Avm Welfare Society
Sparsh Foundation
Sparsh Society
Spectrum Education And Welfare Society
Sri Aurobindo Education Centre
Sri Maa Nirmal Shiksha Avam Samaj Kalyan Samiti
Sri Sai Shiksha Samiti
Sri Sai Shoshit Basti Jagran Evam Kala Prashikshan Parishad
Sri Sathya Sai College For Women Bhopal
Srijamyaham Educational Society
Srijan Kamna Samaj Kalyan Education And Social Welfare Society
Srpm Aspire Education And Welfare Society Samiti
St John Church
St John Paul Welfare Society
Stand India Welfare Foundation
Stem Learning Society
Stuti Shiksha Evam Jan Kalyan Society
Subhwanti Social Welfare Society Bhopal
Subodh Shiksha Evam Mahila Sansthan
Sufal Sarv Utthan For Art Life & Culture Welfare Society
Sugam Informatics Society Samiti
Sukh Samarpan Mahila Mandal Samiti
Sukhvarsh Welfare Society
Sulaimaniya Foundation & Charitable Trust
Sumantra Educational Welfare Samiti
Sumantra Sarvodaya Vikas Seva Parishad
Sunder Foundation Social Welfare Society Kailaras
Sunga Jod Jansewa Shiksha Samiti
Sunita Murab Foundation
Support For Social Upliftment Society
Support People For Intergrity And Necessity Society
Surachna Mahila Sewa Sansthan
Surbhi Art And Cultural Welfare Society
Surevin Bpo Service Limited
Surya Shashti Samaj Kalyan Seva Samiti
Surya Vikas Sansthan
Sushma Social Welfare Society
Sustainability And Human Resources Initiative Society
Sustainable Creature Welfare Trust
Suvi Jan Kalyan Samiti
Sw. Shri B.S. Tatware Research Education And Welfare Society
Swa.Minimata Nari Utthan Evam Balbirdh Viklang Sewa Sansthan
Swadeshi Mahila Jan Kalyan Sangh
Swami Vivekanan Shiksha Samiti
Swami Vivekanand Jan Jagarukta Kalyan Samiti Bhopal
Swami Vivekanand Yuva Vikas Samiti
Swargiya Prabhudayal Sharma Shiksha Avam Samaj Kalyan Samiti
Swargiya Shri B L Panday Siksha Evam Kida Pasar Samiti
Swargiye Kamta Prasad Memorial Shikshan Samiti
Swashakti Samaj Evam Jan Kalyan Samiti
Swashasan Foundation
Swastik Education And Social Welfare Society
Swastik Health And Education Society
Swatantra Sahayak Foundation
Swati Shiksha Sewa Samiti Bhopal
Swavlamban Mahila Avam Bal Kalyan Samiti
Swayam Sashakt Seva Evam Shiksha Samiti Bhopal
Sweta Janhit Sanstha
Switch On Scurry Art Organization
Swyamsevi Sansthane Mahasangh
Sympathy Foundation
Taigore Institute Of Multipurpose Education
Takshshila Mahila Gramotthan Samiti
Takshshila Shiksha Evam Jankalyan Samiti
Tameer-E-Millat Foundation
Tanishk Foundation Samiti
Tanishk Foundation Yuva Mandal
Tanishk Shikshan Evam Samaj Kalyan Sanstha Samiti
Tapas Foundation
Tapasya Siksha Samiti
Taramathi Education Society
Targate Secial Welefare Society
Tatpar Bharati Jankalyan Samiti
Team Maan
Team Work Welfare Foundation
Techno In Medicare Educational Society
The Aasharika Foundation
The Bhopal Management Association
The Bhopal School Of Social Sciences
The Blind Relief Association
The Brothers Of St Gabriel Society Province Of Delhi
The Buddhabhoomi Dhammadoot Sangha
The Buddhist Society For Education & Rural Development
The Capuchin Friars Minor Society
The Child Welfare And Research Society
The Congregation Of Sisters Of St Joseph Of Chambery, India
The Dream Catcher Theatre Society For Performing Arts And Culture
The Holy Faith Ladies Education Society
The Imdaad Foundation Society
The Rahul Khushboo Hunger And Needy Person Welfare Foundation
The Reflection Socity For Performing Arts And Culture Samiti
The Representative Society
The Rivayat Foundation
The Sky Peoples Welfare Foundation
The Society Of Mother Of Sorrows Servants Of Mary Maria Mandal
The Soul Social Welfare Society
The Theosophical Society
The Young Generation Social Welfare Society
Think For Smile Foundation
Thou Global Consortium Of Environment Forest And Rural Development Society
Tilakhedi Gram Jankaliyan Yuva Mandal
Towards Action And Learning (Taal)
Trikarshi Natya Sanstha
Trimurti Adarsh Shiksha Evam Samaj Kalyan Samiti
Tripti Jankalyan Sewa Samiti
Trisha Natya Evam Lokkala Sahitya Samiti
Triveni Bal Vikash Samiti
Truba Advance Sciences Kombine
True Welfare Society Samiti
Trust Of Rising Youth Samiti
Tulsi Adarsh Shiksha Samiti
Tulsi Manas Pratishthan
Tulsi Prem Shikshan Evam Samajik Jankalyan Samiti
Tumul Social Fundamental Development Society Bhopal Madhya Pradesh
Tvr India Securities Private Limited
Udaan Social Welfare Development Organization
Udaghosh Social Welfare Society
Udaianand Foundation
Uday Social Development Society
Uday Social Welfare And Resource Development Society
Uddeshya Yuva Samajik Ewam Jankalyan Samiti
Ujiyara Welfare Society
Ujjawal Bhoomi Foundation
Ujjawaldeep Shiksha Kalyan Samiti
Ujjwal Sewa Sanstha
Ultimate Energy Resource Private Limited
Ultimate Vision Society For Education & Social Welfare
Uma Shiksha Evam Samaj Kalyan Samiti
Umang Deaddiction And Rehabilitation Foundation
Umang Gaurav Deep Welfare Society
Umang Naari Shakti Sangathan Society
Umang Prerna Gramin Yuva Kendra
Umashankarmishrashikshaevamjankalyansamiti
Ummeed Facilities Foundation
Ummeid Ek Nayi Udaan Shiksha Evam Jan Kalyan Samiti
Ummid Ek Kiran Social Welfare Society
United Reformers Organisation
Unity For Social And Human Welfare Society Samiti
Unmukt Gagan Education And Welfare Society
Unnat Vikas Aur Abhipreran Samiti
Unnatisheel Chhayaa Path Jan Kalyan Samiti Bhopal
Unnatisheel Shubhakriti Samajik Kalyaan Samiti
Upbhogtahiteshimanch
Upbhokata Jagrukta Jan Kalyan Samiti
Upbhokta Sanrakshan Kalyan Seva Samiti
Updesh Welfare Society
Upwards Societ
Uselocator Advertising Private Limited
Utkarsh Kalyan Samiti
Utkarsh Social Development And Welfare Society
Utpatti Research And Development Organisation
Vaapa Jankalyan Samiti
Vaibhav Samridhi Education And Welfare Society
Vaijyanti Devi Memoriyal Shiksha Avam Samajik Kalyan Samiti
Vanabandhu Natural Resource Management And Services Opc Private Limited
Vandana Organic Trade Private Limited
Vaniya Health And Physiotherapy Mahila Jan Vikas Samiti
Vansh Manav Sewa Samiti
Vanshika Social Welfare Society
Vanshpati Smriti Shiksha Samiti
Varisha Prashikshan Kendra Samiti
Varktund Criative Social Welfare Society Samiti
Varsha Thakur Shikachha Avam Samaj Kalyan Samiti
Varun Bajpai Education Society
Varun Manav Vikas Samitee
Vasudhaiva Kutumbakam Micro Finance Organisation
Vatsala Education And Welfare Society
Ved Shikshan Prashikshan Evam Jan Kalyan Samiti
Veda Education And Welfare Socity
Vedant Mahila Evam Bal Vikas Samiti
Vedik Foundation
Veenapani Sanskrit Samiti
Verma Typing And Computer Training Society
Veronika Pater Siksha Samajik Evam Sanskrtik Samiti
Vibhamana Foundation
Vidhata Charitable Foundation
Vidhi Education And Welfare Society
Vidhik Educational Evam Paramarsh Samiti
Vidhik Shaikshanik Sansthan
Vidhya Chapal Memorial Samaj Kalyan Samiti
Vidhyarchan Shiksha Sansthan
Vidya Niketan Samiti
Vidyarthi Sewa Jan Kalyan Samiti
Vigyan Bharti
Vigyan Evam Prodhyogiki Vikas Samiti
Vigyataa India Foundation
Vihaan Socio Cultural Wellbeing Society
Vijayshri Masses Development Foundation
Vijyasandevimandal
Vikalp
Vikas Education And Welfare Society
Vikas Samiti Shashkiya Model Higher Secondary School Harrakheda
Vikas Samvad Samiti
Viklang Kalyan Samiti
Vimukt Ghummakd Evam Ardh Ghummakd Jaati Evam Samaj Kalyan Sangh
Vinaysheel Public Education Society
Vindhya Shiksha Prachar Samiti
Vindhya Shiksha Prachar Samiti
Vindhyavasini Gramin Berozgar Samiti
Vineeta Shiksha Kalyan Samiti
Viraaj Foundation
Virat Samaj Kalyan Sangathan
Virat Voluntary Organization For Rural Agriculture And Technology
Vishal Education And Welfare Society
Vishal Parinam Shiksha Samiti
Vishvnath Education And Welfare Society
Vishwa Kalyan Ashram
Vishwakarma Janutthan Shiksha Samajik Evam Sanskrti Samiti
Vishwas Ek Nai Sonch Social Welfare Society
Vishwas Mahila Mandal
Vision Academy The Socio Medical Society Samiti
Vision Info Education Welfare Society
Vision Shiksha Evam Kalyan Samiti
Vision Social Welfare & Education Society
Vivekanand Shiksha Avam Seva Samiti
Vivekanand Vichardham Shiksha Evam Samaj Kalyan Samiti
Vivekanand Vidhik Nyay Kendra
Vividha Kala Avam Sanskratik Samiti Bhopal
Voice Educational And Social Welfare Organisation
Voice Of The Golden Bird Society
Volunteers For Enhancing Development Society
Vradha Chhaya Social And Welfare Society
Vrinda Kathak Kendra
Vrunda Voluntary Rural And Urban Development Association
Vyas Social Welfare Charitable Trust
Wadhwani Education Society
Wali Sai Villayatrai Sewa Samiti
Welfare Society For Holistic Development
Wild Hunk Social Development Organization
Wingssocietyforperformingarts
Wisdom Education Society
Women Education Empowerment Society Bhopal
Yahowa Education And Welfare Society
Yaman Academy Of Fine Arts
Yaman Welfare Social Devlopment Committee
Yamini Cultural And Welfare Society
Yamini Movies & Satelite Creative Samiti
Yashasvi Education And Social Welfare Society
Yashasvini Shiksha Evam Jan Kalyan Sansthan
Yashika Educational And Social Welfare Society
Yog Anusandhan Parishad
Yoga Swasthya Shodh Sansthan
Young Mens Christian Association
Youngs Theatre Artist Art And Cultural Foundation
Your Dreams Professional Makeover
Yours Social Society
Youth First Step Welfare & Educational Society Bhopal
Youth Josh Welfare Organisation
Youth Life Line Education Society
Youth Wings Welfare Society
Yuav Umang Public Welfare Society
Yusuf Ismaily Education & Welfare Society
Yuva Bharti Jankalyan Samiti
Yuva Buddhijeevi Education And Welfare Society
Yuva Vikas Mandal Bhopal
Zafar Saeeda Samaj Kalyan Shiksha Samiti
Zenithi Education And Welfare Society
Zindagi The Hope Of Change

If your NGO is having programmes related to social issue in this district, just email the name of the NGO with link to it and we will share it free.
Our email : Datacentre@CSRidentity.com
We Salute
Soldiers, Police, Below the poverty line people who live with humanity, Social workers, NGO Founders, Hospital staff, Health care workers, Chemists, Medicines Trees, Forests, Medicinal plants, Rivers , Extinct animals, Homes, Climate, People working in crematorium
Shop from NGOs
NGO Sellers Concept
Following NGOs sell products.
These products are either made by communities or the NGOs act as agents of companies making these products.
The idea is to help communities, NGOs and corporates together.
NGOs can be selling agents
NGOs must be sustainable.
We dont want to loose focus of serving communities but in case of emergency where their funding stops, they must have at least one year survival funds so that the communities they serve do not suffer.
We have experienced that when an NGO working with disabled sales products made by them or NGOs working with women sell products made by them or NGOs selling tribal products or paintings .. its great honour to communities they serve.
And NGOs working in slums or villages or rural areas have great relationship with communities and corporates can think of having them as agents which can order products from corporates.
Its good for corporates who find good agents
Its good for NGOs because they earn
Its good for communities because its at home service

NGOs can keep half the commission they get and pass the other half to communities so that its win win long term situation