Bhind District In Madhya Pradesh
Corporates
Any corporate interested in having NGOs as selling agents can contact the NGO directly.
But if the corporate wants to put their name plus contact person's name and phone number here, then they have to pay a donation of Rs 2000/- for one district.
Corporates
We plan to donate at least Rs 13433000/-
This amount is not just any amount. Bhau, founder Sanjay Kumud Moreshwar Bapat's father gave house & property to him through a Gift Deed and Government Authorities valued it as Rs 13433000/- and founder's father (Bhau) paid a stamp duty of Rs 403000/-. And after the Gift Deed, Bhau was the first person on earth (Of course many others stepped in) to start postponing death of founder after an almost fatal accident on 28.08.2013.
Founder knows that after death, neither anyone takes anything with them nor do they know whether their son, grand son, daughter in law or so called blood relatives or neighbours came to see them before they left earth.
When any human leaves this world, what remains is their Deeds when they were on earth. So our first target is Rs 13433000/- Of course they will not know the impact of their gifts to world, but that is beauty of life. Enjoy it but leave the world as satisfied human and not one with unending greed of money, property.
Corporates can donate to the NGO
Developed Nation Network Trust by G Pay.
It has 80G and waiting for renewal of FCRA.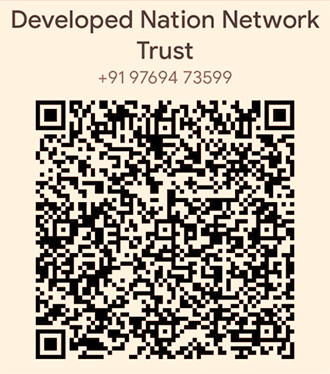 NGOs
NGO Brands
We share NGO Brands statewise in case of India
NGOs in this district
Ahimsha Mahila Bal Kalyan Swasthy Shiksha Prasar Samiti
Aisha Foundation
Amrit Sanjivani
Anaya Welfare Foundation
Arol Welfare Foundation Samiti
Ashok Shiksha Prasar Samiti
Asra Shiksha Prsar Avam Paryaavaran Samiti
Atulkant Radhika Samaj Kalyan Seva Samiti Surpura
Baba Kedarnath Seva Sanstha
Baba Shankardas Shiksha Avam Samaj Kalyan Samiti
Basudev Mahila Avam Bal Vikas Samiti Mehgaon
Bhimroa Ambadker Seva Parishad Samiti
Bhind Seva Bharti Jila Bhind
Ch Roop Narayan Dubey Samaj Kalyan Samiti
Charitable Maharishi Parashuram Seva Samiti
Chinta Haran Shiksha Avam Samaj Kalyan Samittee
Daipuriya Jan Kalyan Evam Shiksha Prasar Samiti
Dewa Arabia Madarsa Jankalyan Samiti
Dixitshikshaprasarsamiti
Excellence Valley Pollution Health And Eduction Society
Famous Mahila Kaliyan
Gautam Shiksha Prasar Samiti
Gayatri Shiksha Prasar Samiti
Girijesh Shikshan Samiti Genthari
Gorishankar Adhunik Shikcha Prasar Samiti Jamna Road Bhind Madhya Pradesh
Gram Vikas Prasfutan Samiti Chikali Samiti
Gram Vikas Samajik Animator Sangh
Gramin Anchal Smajik Avam Shekshik Seva Sanstha
Gyan Research And Development Foundation
H S Fakhruddin Shah Shiksha Samiti
Haji Ramjan Khan Samaj Kalyan Evam Shiksha Prasar Samiti
Heera Lal Jatav Shiksha Evam Samaj Kalyan Parishad Samiti
Hukumsinghsevasamitibhind
Insaniyat Yuva Mandal Samiti
Jai Shreehari Jankalyan Avam Shiksha Prasar Smiti
Jain Samaj Seva Samiti
Janbhagidari Samiti Ambedkar Nagar Bhind
Karuna Gaushala
Konhar Mahila Mandal
Laxmi Shiksha Prasar Paryavaran Evam Samaj Kalyan Samiti
Lt. Sri Omkar Prasad Education Samiti
Maa Beejasen Shiksha Prasar Evam Jan Kalyan Samiti
Maa Gajanan Vradhashram Samiti
Maa Gayatri Abhinav Shikchha Prasar Samiti Bhind M P
Maa Mangala Devi Poonam Agrawal Mahila Mandal
Maa Saraswati Shiksha Prasar Samiti
Maa Trimukha Shiksha Prasar Samiti
Madhya Kshetriya Sakh Sahakari Sanastha Maryadit Bhind
Mahila Bal Vikas Samiti
Manav Kalyan Bahudeshiy Seva Samiti
P Baburam Daipuriya Shiksha Prasar Avam Samaj Kalyan Samiti
Pandit Bhagawati Prasad Samaj Kalyan Evam Swamsevi Sansthan Bhind
Pavitra Aadarsh Siksha Prasar Evam Samaj Kalyan Samiti
Poorneshwar Jan Kalyan Avam Shiksha Prasar Samiti
Pragati Mahila Mandal Mihona
Pratistha Social Welfare Foundation
Premadevi Samaj Kalyan Evam Shiksha Prasar Mahila Madnal
Public Inter College Shiksha Prasar Samiti Nayagaon
Pushp Samaj Kalayan Evam Shiksha Prasar Samiti
Pushpa Lok Kalyan Evam Shiksha Trust Bhind
Ram Avtar Shiksha Prasara Evam Pary Avaran Samaj Kalyan Samiti
Raman Science Research Foundation
Ramsahay Singh Lok Kalyan Shiksha Prasar Samiti
Rustam Singh Shiksha Prasar Samiti
Sahari Evam Gramin Yuvak Evam Mahila Jankalyan Samiti
Sahodra Devi Samaj Kalyan Aivam Shikhshan Samiti
Samaj Sudhar Seva Samiti
Sameer Tanay Shiksha Prasar Samiti Dandrua
Sampooran Vikash Seva Samiti
Sarvajanik Adarsh Shikshan Mandal Bhind
Sarvoday Sant Lallu Dadda Jan Seva Samiti
Shabri Samaj Sewa Samiti
Shalini Mahila Yuva Mandal Samiti
Shree Munnalal Gupta Shiksha Prasar Samaj Seva Samiti
Shresth Prachin Maa Vaishno Manav Utthan Seva Samiti
Shri Balaji Shiksha Prasar Samiti
Shri Banke Bihari Kunj Bahuddesiya Mahila Kalyan Samiti Lahar Bhind
Shri Dwarikadheesh Hop Foundation
Shri Gahoi Shiksha Prasar Samiti
Shri Gopaldas Shiksha Prasar And Jan Kalyan Samiti
Shri Hanuman Karunamay Foundation Samiti
Shri Hanumant Shiksha Prasar Samiti
Shri Karan Singh Shiksha Prasar Evam Samaj Kalyan Samiti
Shri Mahaveer Singh Jan Kalyan Evam Paryavaran Shiksha Prasar Samiti
Shri Moolchandra Shiksha Prasar Samiti
Shri Pavansut Shiksha Prasar Samiti
Shri Pawansut Dadrawa Sarkar Sarvajanik Nyas
Shri Ramjilal Welfare Foundation
Shri Ramswaroop Singh Shiksha Prasar Samiti Nunhad Gormi Bhind
Shri Rawatpura Sarkar Lok Kalyan Trust
Shrimati Kamala Devi Rapariya Shiksha Prasar Samiti
Shweta Mahila Mandal Samiti
Smt Bhagwanti Bai Shiksha Prasar Samiti
Smt Rita Anthony Monika Mahila Mandal
Smt Vidhyavati Mishra Memorial Lok Nyas
Sw Shri Bhogiram Nagar Siksha Prashar Samiti
Sw Shrimati Mayadevi Pandoliya Lok Kalyan Samiti
Swa Pt Dinesh Kumar Parashar Lok Kalyan Seva Samiti
Swa Smt Ochhibai Shiksha Prasar Samiti
Swami Keshavanand Pryavaran Shiksha Prasar Avam Lok Kalyan Samiti
Tanmay Uvak Mandal
Tyagi Galav Shiksha Evam Samaj Kalyan Samiti
Vimal Shiksha Samiti
Vivekanand Educational And Medical Research Organisation Samiti
Yasheen Samaj Kalyan Evam Shiksha Prasar Samiti
Yashwant Singh Shaikshanik Kalyan Samiti

If your NGO is having programmes related to social issue in this district, just email the name of the NGO with link to it and we will share it free.
Our email : Datacentre@CSRidentity.com
We Salute
Soldiers, Police, Below the poverty line people who live with humanity, Social workers, NGO Founders, Hospital staff, Health care workers, Chemists, Medicines Trees, Forests, Medicinal plants, Rivers , Extinct animals, Homes, Climate, People working in crematorium
Shop from NGOs
NGO Sellers Concept
Following NGOs sell products.
These products are either made by communities or the NGOs act as agents of companies making these products.
The idea is to help communities, NGOs and corporates together.
NGOs can be selling agents
NGOs must be sustainable.
We dont want to loose focus of serving communities but in case of emergency where their funding stops, they must have at least one year survival funds so that the communities they serve do not suffer.
We have experienced that when an NGO working with disabled sales products made by them or NGOs working with women sell products made by them or NGOs selling tribal products or paintings .. its great honour to communities they serve.
And NGOs working in slums or villages or rural areas have great relationship with communities and corporates can think of having them as agents which can order products from corporates.
Its good for corporates who find good agents
Its good for NGOs because they earn
Its good for communities because its at home service

NGOs can keep half the commission they get and pass the other half to communities so that its win win long term situation