Wardha District In Maharashtra
Corporates
Any corporate interested in having NGOs as selling agents can contact the NGO directly.
But if the corporate wants to put their name plus contact person's name and phone number here, then they have to pay a donation of Rs 2000/- for one district.
Corporates
We plan to donate at least Rs 13433000/-
This amount is not just any amount. Bhau, founder Sanjay Kumud Moreshwar Bapat's father gave house & property to him through a Gift Deed and Government Authorities valued it as Rs 13433000/- and founder's father (Bhau) paid a stamp duty of Rs 403000/-. And after the Gift Deed, Bhau was the first person on earth (Of course many others stepped in) to start postponing death of founder after an almost fatal accident on 28.08.2013.
Founder knows that after death, neither anyone takes anything with them nor do they know whether their son, grand son, daughter in law or so called blood relatives or neighbours came to see them before they left earth.
When any human leaves this world, what remains is their Deeds when they were on earth. So our first target is Rs 13433000/- Of course they will not know the impact of their gifts to world, but that is beauty of life. Enjoy it but leave the world as satisfied human and not one with unending greed of money, property.
Corporates can donate to the NGO
Developed Nation Network Trust by G Pay.
It has 80G and waiting for renewal of FCRA.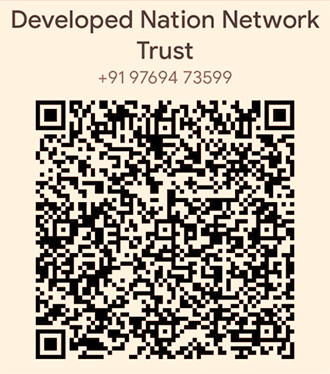 NGOs
NGO Brands
We share NGO Brands statewise in case of India
NGOs in this district
Aarambh Bahuuddeshiya Sanstha,Bopapur
Abhivyakti Sarvangin Vikas Sanstha
Abhyudaya Bahudeshiy Sanstha
Ahillyadevi Gram Sudhar Sanstha
All India Apang Kalyankari Bahuuddeshiya Sanstha
Anand Bhavanchurch Society
Astha India Mission
Baliraja Bahuuddeshiya Seva Sanstha
Bhartiya Bhauuddeshiya Khadi And Gramudhyog Shikshan Sanstha
Bhumi Bahuuddeshiya Samajik Santha
Carmelodaya C M C Educational Society
Carmelodaya Provincial Multipurpose Society
Centre For Bee Development
Chaitanya Bahuuddeshiya Mahila Vikas Sanstha
Claretian Ashram
Darsana Educational Socitey
Dharamitra
Dharmvir Shikshan Sanstha
Dil Bahuuddeshiya Sanstha
Dr Madhukarrao Chore Bahuudeshiya Shikshan Sanstha Arvi
Dr. Ambedkar Memorial Education Society
Earth Research And Development Foundation
Gandhi Memorial Leprosy Foundation
Gourishankar Bahuddeshiya Shikshan Sanstha
Gram Swaraj Seva Trust
Indushri Shikshan Sanstha
Jansahas Shaishnik Va Samajik Bahuddeshiya Sanstha Deoli
Jeevanvikas Society
Kamalnayan Jamnalal Bajaj Foundation
Kasturba Health Society
Krantiveer Late Mahadeoji Thakare Social Association
Kshitij Gramvikas Sanstha
Last Mile Multipurpose Foundatio Kolhapur Rao
Late Pralhadji Goriya Goseva Sansthan
Late Rukhamabai Pal Bahuuddeshiya Shikshan Sanshtha Wardha
Life Care Gramin Vikas Sanstha
Lok Shikshan Mandal
Lokmanya Navyuvati Mahila Mandal Daroda
Magan Sangrahalaya Samiti
Maharogi Sewa Samiti
Maharudra Bahuuddeshiya Sanstha Alodi
Maharudra Sanskrutik Bahhudishiya Sanstha Warda
Mahatma Fhule Magasvargiya Kalyankari Mandal Tuljapur Relway
Mahatma Fule Shikshan Prasarak Mandal
Mahila Vikas Sanstha Wardha
Missionary Sisters Of Mary Immaculate Pavanatma Society
Nai Talim Samiti
National Organisation For Community Welfare
Navneet Bahu-Uddeshiya Sanstha
Nutan Bharat Shikshan Sanstha
Paramhans Welfare Society
Pavan Bahu Uddeshiy Shikshan V Samajik Vikas Sanstha Wardha
People For Animals Wardha
Prabhu Vishwakarma Gramin Bahuudeshiya Shikshan Sanstha, Wardha
Pragati Bahuuddeshiya Sanstha
Pragati Gramin Mahila Vikas Sanstha
Ramai Bahuuddeshiya Vikas Sanstha
Rashtra Bhasha Prachar Samiti
Renukamata Bahuuddeshiya Sanstha
Rural Blessing Mission
Sabrang Multipurpose Education Society
Sadbhavna Gramin Vikas Sanstha
Sagar Gramin Vikas Sanstha Wardha
Sahayata Mahila Nagari Sahakari Pat Sanstha Ltd
Sahyog Rural Science Society Yavatmal
Samaj Prabhodhan Bahuuddeshiya Gramin Vikas Sanatha
Sanjeevani Society
Seloo Taluka Gramin Adivasi Vikas Sanstha
Seva Bahuuddeshiya Gramin Shikshan Sanstha
Sharda Kala & Sanskritik Mandal
Shree Datta Bahuuddeshiya Sanskrutik Va Shekshnik Sanstha
Shree Gurudatta Bahuuddeshiya Sanstha
Shree Sainath Bahuuddeshiya Seva Sanstha Wardha
Shri Sant Bhanudas Maharaj Sansthan
Shri Saptashrungi Kulswamini Gramin Vikas Sanstha Wardha
Shrimati Savitribai Fule Bahu Uddeshiy Shikshan Sanstha
Society Of Sisters Of St John
St Antonys Catholic Church Society
Sukhakarta Bahuuddeshiya Shikshan Sanstha
Swargiya Ganeshsingh Bahuuddeshiya Gramin Vikas Shikshan Sanstha
Takshashila Bahuuddeshiy Shikshan Sanstha
The Association Of The Sisters Of The Destitute Krupadham
The Marginalised An Institute For Alternative Researches And Media Studies Miarms
Triratna Bahuudeshiya Shikshan Sanstha
Tsubosaka Dera Kushtha Sewa Pratishthan
Udgam Bahu Uddeshiya Sanstha Aashti
Ushakkal Mahila Bahuuddeshiy Shikshan Sewa Prasarak Mandal
Vidyabharti Sanstha Wardha
Vidyaniketan Shikshan Sanstha Sindi Rly
Vivekanand Shikshan Prasarak Mandal
Wardha Kukkutpalan Va Krushiudyog Sanshodhan Sahakari Sanstha
Zep Education & Social Foundation

If your NGO is having programmes related to social issue in this district, just email the name of the NGO with link to it and we will share it free.
Our email : Datacentre@CSRidentity.com
We Salute
Soldiers, Police, Below the poverty line people who live with humanity, Social workers, NGO Founders, Hospital staff, Health care workers, Chemists, Medicines Trees, Forests, Medicinal plants, Rivers , Extinct animals, Homes, Climate, People working in crematorium
Shop from NGOs
NGO Sellers Concept
Following NGOs sell products.
These products are either made by communities or the NGOs act as agents of companies making these products.
The idea is to help communities, NGOs and corporates together.
NGOs can be selling agents
NGOs must be sustainable.
We dont want to loose focus of serving communities but in case of emergency where their funding stops, they must have at least one year survival funds so that the communities they serve do not suffer.
We have experienced that when an NGO working with disabled sales products made by them or NGOs working with women sell products made by them or NGOs selling tribal products or paintings .. its great honour to communities they serve.
And NGOs working in slums or villages or rural areas have great relationship with communities and corporates can think of having them as agents which can order products from corporates.
Its good for corporates who find good agents
Its good for NGOs because they earn
Its good for communities because its at home service

NGOs can keep half the commission they get and pass the other half to communities so that its win win long term situation