Uttar Dinajpur District In West Bengal
Corporates
Any corporate interested in having NGOs as selling agents can contact the NGO directly.
But if the corporate wants to put their name plus contact person's name and phone number here, then they have to pay a donation of Rs 2000/- for one district.
Corporates
We plan to donate at least Rs 13433000/-
This amount is not just any amount. Bhau, founder Sanjay Kumud Moreshwar Bapat's father gave house & property to him through a Gift Deed and Government Authorities valued it as Rs 13433000/- and founder's father (Bhau) paid a stamp duty of Rs 403000/-. And after the Gift Deed, Bhau was the first person on earth (Of course many others stepped in) to start postponing death of founder after an almost fatal accident on 28.08.2013.
Founder knows that after death, neither anyone takes anything with them nor do they know whether their son, grand son, daughter in law or so called blood relatives or neighbours came to see them before they left earth.
When any human leaves this world, what remains is their Deeds when they were on earth. So our first target is Rs 13433000/- Of course they will not know the impact of their gifts to world, but that is beauty of life. Enjoy it but leave the world as satisfied human and not one with unending greed of money, property.
Corporates can donate to the NGO
Developed Nation Network Trust by G Pay.
It has 80G and waiting for renewal of FCRA.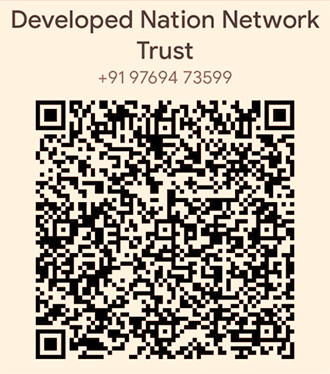 NGOs
NGO Brands
We share NGO Brands statewise in case of India
NGOs in this district
Al-Jamiatul Qadria Misbahul Uloom Janta Hat
Allamah Shawkani Educational And Welfare Trust
Andharia Minority Educational Welfare Society
Baldiabasa Youth Sangha
Bamoir Bishnupur Vivekananda Smriti Sangha
Banspokher Jounir High Madrasah
Barakaate Baharul Uloom Eslahe Moashera Society
Bharat Sevashram Sangha Raiganj
Bhitiar Samaj Seva O Unnayan Samity
Bimala Sishu Tirtha
Bindole Anusandhan Social Welfare Society
Bishahar Ashirbad Welfare Society
Chakulia Rural Development Society
Chandansen Memorial Welfare & Cultural Society
Chhota Singnath Jamia Darul Ulum
Chopra Brotherhood Welfare Society
Chopra Ebong Amra Welfare Society
Chotparua Jesuit Society Raiganj
Daspara Nabadisha Education And Welfare Society
Debinagar Tribeni Natya Sangstha
Dhabail Muslim Welfare Society
Diocese Of Raiganj
Diya Social Foundation
Educational Mission Corps, Panjipara
Free Will Baptist Society
Goalpokherwelfaresociety
Haptia Gach Subidha Welfare Society
Haque Welfare Society
Huda Educational And Welfare Trust
Islampur Evangelical New Life Mission
Islampur Multimedia Computer Training Centre
Islampur Ramkrishnapally Rural Welfare Society
Itahar Al Sammyaa Welfare Society
Jamia Islamia Budhra
Jamia Tajush Sharia
Janta Hat New Angels Edeucational And Welfare Society
Kaliyaganj Ananya Theatre
Kaliyaganj Astha Sebayan Samity
Kalpana Educational Society For Skill Development
Kanaipur Old Citizen Helping Hand Society
Karandighi Gramin Sarbik Kalyan Samity
Karnajora Public Reliance Society
Limra Social Welfare Society
Mahmood Chowk Thikribari Edara Faizul Quran
Majlispur Quadri Education Point
Motilal Rural Welfare Foundation
North Dighabana Grameen Jana Seva Society
North Dinajpur Asha Welfare Society
Nsk Memorial Trust
Om Narayan Nomo Foundation
Pajol Sabamulak Societies
Perfect Rural Welfare Society
Protirodh
Radhanath Gana Nirapatta Samiti
Raiganj Ambition Education Society
Raiganj Charitable Anath-O-Bridhashram
Raiganj Collegepara Mukto Dishari Study Centre
Raiganj Jana Seva Society
Raiganj Jiban Bikash Welfare Society
Raiganjmahilasammilani
Raiganjpratyayawelfaresociety
Raihan Education And Welfare Trust
Rajdatta Eye Cilinic
Ramganj Bazar Moulana Azad Education Society
Sampur Jamia Nooria Junior Madrasah
Shripur Mahila O Khadi Unnayan Samity
Sirnia Educational Trust
Sishumangal Raiganj
Sj Tracking Solution Private Limited
Social Welfare Institute
Teen Pool Asha Welfare Society
Thalassaemia And Aids Preventive Foundation
Transferred Area Surjapur Organization
Try To Help Foundation
Tulsipur Jameeatun Noor At Talimia Wal Khairiah
Uttar Dinajpur Ankur Gram Unnayan Society
Uttar Dinajpur Arannya Horticulture Farmers Welfare Association
Uttar Dinajpur Rural Peoples Uplifment Organization
Varma Gram Vikas Samiti
Vivekananda Voluntary Health Workers Association Raiganj

If your NGO is having programmes related to social issue in this district, just email the name of the NGO with link to it and we will share it free.
Our email : Datacentre@CSRidentity.com
We Salute
Soldiers, Police, Below the poverty line people who live with humanity, Social workers, NGO Founders, Hospital staff, Health care workers, Chemists, Medicines Trees, Forests, Medicinal plants, Rivers , Extinct animals, Homes, Climate, People working in crematorium
Shop from NGOs
NGO Sellers Concept
Following NGOs sell products.
These products are either made by communities or the NGOs act as agents of companies making these products.
The idea is to help communities, NGOs and corporates together.
NGOs can be selling agents
NGOs must be sustainable.
We dont want to loose focus of serving communities but in case of emergency where their funding stops, they must have at least one year survival funds so that the communities they serve do not suffer.
We have experienced that when an NGO working with disabled sales products made by them or NGOs working with women sell products made by them or NGOs selling tribal products or paintings .. its great honour to communities they serve.
And NGOs working in slums or villages or rural areas have great relationship with communities and corporates can think of having them as agents which can order products from corporates.
Its good for corporates who find good agents
Its good for NGOs because they earn
Its good for communities because its at home service

NGOs can keep half the commission they get and pass the other half to communities so that its win win long term situation