Thoothukudi District In Tamil Nadu
Corporates
Any corporate interested in having NGOs as selling agents can contact the NGO directly.
But if the corporate wants to put their name plus contact person's name and phone number here, then they have to pay a donation of Rs 2000/- for one district.
Corporates
We plan to donate at least Rs 13433000/-
This amount is not just any amount. Bhau, founder Sanjay Kumud Moreshwar Bapat's father gave house & property to him through a Gift Deed and Government Authorities valued it as Rs 13433000/- and founder's father (Bhau) paid a stamp duty of Rs 403000/-. And after the Gift Deed, Bhau was the first person on earth (Of course many others stepped in) to start postponing death of founder after an almost fatal accident on 28.08.2013.
Founder knows that after death, neither anyone takes anything with them nor do they know whether their son, grand son, daughter in law or so called blood relatives or neighbours came to see them before they left earth.
When any human leaves this world, what remains is their Deeds when they were on earth. So our first target is Rs 13433000/- Of course they will not know the impact of their gifts to world, but that is beauty of life. Enjoy it but leave the world as satisfied human and not one with unending greed of money, property.
Corporates can donate to the NGO
Developed Nation Network Trust by G Pay.
It has 80G and waiting for renewal of FCRA.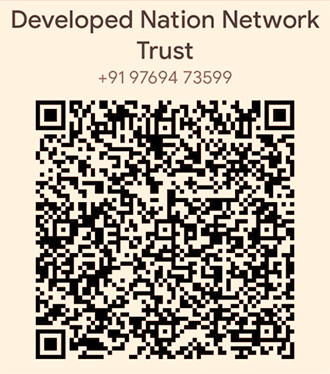 NGOs
NGO Brands
We share NGO Brands statewise in case of India
NGOs in this district
Action In Disabilities India (Aid India)
Aditanar Educational Institution
Agriculturer Water And Ac
Alpha & Omeha Ministries
Anbu Ullangal
Aranjsei Arakttalai
Arumugasamy Anbu Asirma Sangam
Asha
Assisi
Association For Annai Kasthuribha Mahila Mandhals
Auxilium Salesian Sisters Society Therespuram
B G Samuel Social Welfare Trust
Bastar For Christ Missionary Movement
Build India Capacity
Centre For Community Services
Christian Faith Fellowship
Church Of South India Thoothukudi Nazareth Diocese
Counian Educational Charity Trust
Crab Meat Processors Association
Development Association For Integrated Activity
Development Education And Welfare Institute Dewi
Development Of Village Education Dove
Divine Seva Sangh
Ebenezer Share And Care Trust
Elshadai Jebathottam Trust
Empower
Father Sebastian Educational And Charitable Trust
Institute Of Franciscan Missionaries Of Mary
Integrated For Educational And Nursery Trust Infent
Integrated Rural Workers Organisation
International Youth Fellowship In Christ Trust
Jesus Goodlife Ministry Voluntary Charitable Trust
Jesus Redeems
Jothimony Farms And Agro Ventures Private Limited
Keela Eral Don Bosco Society
Kirubai Illam
Kirubai Illam For Children
Kovilpatti Nadar Jawli Readymade&Varthaga Kumasthakkal Sangam
Love Hands Educational And Charitable Trust
Lucia Society For The Blind And Other Disabled
Mahatma Social Service Society Mass
Mar Gregorios Bethel Order
Mother Social Service Trust
Mutharamman Kosalai Pasu Pathu Kappu Sangam
Naatru
New Life Society
New Pasakarangal Educational & Charitable Trust
Oscar Charitable Trust
P.M.Ornellas Destitute Home For Children Society
Psts Foundation
Pudhuvidial Social Development Trust
Ram Lakshmanan Charitable Trust
Reed Centre
Research Education For Women Agricultural Rural Development(Reward)
Rural Oar For Social And Educational Empowerment (Rose Trust)
Sacred Heart Marine Research Centre
Saravanantha Yogasanam Matrum Iyarkai Nalavazhu Abiviruthi Arakatali
Sedco
Shanthi Foundation
Sharing Love Mission
Shirley Educational Society
Shri Bhagampriyal Educational Trust
Sl Siva Sidhika Ayush Educatational And Charitable Trust
Sowna Trust
Sri Sai Baba Santhosi Matha Welfare Trust
St Marys Educational Soci
St. Mary's College(Autonomous)
Stthomas Boys Home
Suganthi Devadason Trust
Tamilnadu Educational Resource Centre (Terc Trust)
Thanga Sudar Trust
The Blue Cottage
The Good Samaritans
The Ranji Aarom Memorial Trust
The Sisters Of Our Lady Of Dolors Society
The Society Of Mother Of Sorrows Servants Of Mary Maria Natchathira Provinc
The Tuticorin Education Society
Tuticorin Diocesan Association
Tuticorin Multipurpose Social Service Society
V O C Educational Society
Valampurinatham Institute For Research In Society And Religion
Vembu Trust
Vidiyel Trust
Vignesh Entrepreneurial Training And Rehabilitation Institute(Vetri)Trust
Vision Educational Trust
Vvj Charitable Trust
Women Education And Employment Development Society(Weeds)
Ymcaoftuticorin
Young Christian Educational Fellowship Trust
Zion Ministries

If your NGO is having programmes related to social issue in this district, just email the name of the NGO with link to it and we will share it free.
Our email : Datacentre@CSRidentity.com
We Salute
Soldiers, Police, Below the poverty line people who live with humanity, Social workers, NGO Founders, Hospital staff, Health care workers, Chemists, Medicines Trees, Forests, Medicinal plants, Rivers , Extinct animals, Homes, Climate, People working in crematorium
Shop from NGOs
NGO Sellers Concept
Following NGOs sell products.
These products are either made by communities or the NGOs act as agents of companies making these products.
The idea is to help communities, NGOs and corporates together.
NGOs can be selling agents
NGOs must be sustainable.
We dont want to loose focus of serving communities but in case of emergency where their funding stops, they must have at least one year survival funds so that the communities they serve do not suffer.
We have experienced that when an NGO working with disabled sales products made by them or NGOs working with women sell products made by them or NGOs selling tribal products or paintings .. its great honour to communities they serve.
And NGOs working in slums or villages or rural areas have great relationship with communities and corporates can think of having them as agents which can order products from corporates.
Its good for corporates who find good agents
Its good for NGOs because they earn
Its good for communities because its at home service

NGOs can keep half the commission they get and pass the other half to communities so that its win win long term situation