Radhika & Abhay Gadiyar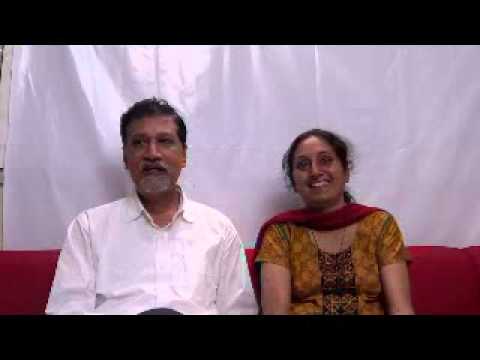 Adoption
This was in Jan 2003. It was severe winter and we had gone for a morning walk on Kolshet Road at around 6:30 AM. As we went little ahead from our house, we heard a baby crying from thorny bushes near the main road. Initially we thought that it must be a puppy crying in pain.
Then we walked ahead & Radhika said it is a human baby & not animal sound. In the meanwhile a milkman was passing by & he also said that this was a baby's crying voice. Then it was confirmed.
Then we went ahead but at the same time decided to wait. One or two passers just went on the road but no one dared to go ahead and see. But we did. And saw that it was a new born naked baby. It was near a gutter. With the help of some people we picked up the baby.
The moment we touched the baby it was our baby. It was very sweet, healthy baby boy. We felt very sad. The first thing Radhika said that we should arrange for a blanket as the baby was shivering being naked. We wrapped the baby in blanket.
After some time, the baby stopped crying due to warmth of blanket and human touch. The baby was found on 9th Jan. We took him to doctor. The doctor said that the baby was around three days old & might have been fed earlier. After seeing the plastic clamp they could make out that the baby was delivered in a private hospital. The baby was absolutely healthy and in good condition despite of lying near gutter, no rashes or bites of mosquitoes or rats etc.
Thane's challenge no 1 - Education
I am living in Thane since my birth. Thane is growing tremendously. It was earlier a town with one lakh population, now it is having 24 lakh population. The major problem is education system. There are hardly 4-5 English medium schools. The schools are distributed in 3 categories State, CBSE & ICSE – So for the parents the option is limited. There is no increase in the number of schools in so many years. Most of the schools belong to the builders or housing colony. So naturally the residents of the housing colony get preference in the admission process. Thane badly needs good education institutes. The last good college is VPMS's Thane College. As of now we don't have a medical or engineering college.
See Video
Thane's challenge no 2 - Public Transport
It is not just bad but absolutely bad. It is under subsidiary of TMC which is in very bad condition. Out of 200 odd buses only 100 buses are in good condition. Buses don't have the route written. The routes are all faultily designed. Each and every bus passes through Thane station for reason unknown.
Somebody wants to travel from Pokhran to Kalwa. It can go from Cadbury Junction via Uthalsar to Kalwa. I have never understood why all the buses are going via station. That is why there is a long gap between 2 bus timings. The problem is major in kolshet road. We used to stay there from 1994 -2005. I used to visit my clients waiting for a long time for a bus. The same scene is seen today also. People are waiting for half an hour for the buses. That is something very surprising seen today that despite of road development there is no proper road transport.
See Video

Thane's challenge no 3 - Jobs in Thane
The third thing that affects Thane is the jobs. Wagle Industrial Estate was the biggest Industrial estate in Asia. If I am not wrong it had around 21000 industries running in 1970- 80. Many of them have gone into loss, many have closed down. But there are no major companies in Thane. Earlier we used to have in 1970s. many worker families of Raymond, Bayer, Sandoz who lived in Vartark Nagar. But there are no jobs in Thane. People are working in Mumbai, travelling 2 hrs from Thane. Thane is only as supplement / extra bed room for Mumbai. People only come here to rest / sleep & go back to Mumbai for their career. That is why there is not interest seen in development of Thane. I have seen many of my friends migrating to Thane. But for regular purchases, haircut they are going back to their original place. That is the reason we cannot see Thane really developing. If Thane has really to develop then it is our citizen's duty to take part in the regular running work of TMC. Like my friend Satyajit Shah started TMT Bachao Andolan. Where ever something wrong happens he steps in. Many more Satyajit Shah's have to come ahead & make our corporators accountable. If something is wrong in the colony regard with drinking water etc. We should meet our corporators. Citizens have to come forward for the development of Thane.
See Video
Thane is a global example.
Do visit http://www.CSRidentity.com/2015/thane.asp
Our contact : Datacentre
For details, contact Datacentre