Sri Potti Sriramulu Nellore District In Andhra Pradesh
Corporates
Any corporate interested in having NGOs as selling agents can contact the NGO directly.
But if the corporate wants to put their name plus contact person's name and phone number here, then they have to pay a donation of Rs 2000/- for one district.
Corporates
We plan to donate at least Rs 13433000/-
This amount is not just any amount. Bhau, founder Sanjay Kumud Moreshwar Bapat's father gave house & property to him through a Gift Deed and Government Authorities valued it as Rs 13433000/- and founder's father (Bhau) paid a stamp duty of Rs 403000/-. And after the Gift Deed, Bhau was the first person on earth (Of course many others stepped in) to start postponing death of founder after an almost fatal accident on 28.08.2013.
Founder knows that after death, neither anyone takes anything with them nor do they know whether their son, grand son, daughter in law or so called blood relatives or neighbours came to see them before they left earth.
When any human leaves this world, what remains is their Deeds when they were on earth. So our first target is Rs 13433000/- Of course they will not know the impact of their gifts to world, but that is beauty of life. Enjoy it but leave the world as satisfied human and not one with unending greed of money, property.
Corporates can donate to the NGO
Developed Nation Network Trust by G Pay.
It has 80G and waiting for renewal of FCRA.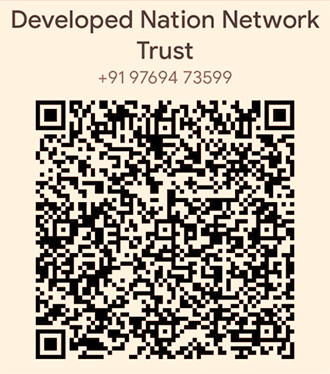 NGOs
NGO Brands
We share NGO Brands statewise in case of India
NGOs in this district
Abundant Life Ministrial Associates
Advanced Institute Of Counselling And Human Relations
Agnesh Multipurpose Development Society
Alagala Ramesh Charitable Trust
Alhuda Education Society
Ambedkar Seva Samithi
Andhra Pradesh Rashtra Yanadi Samakhya
Anjana Rural Development Voluntary Organisation
Arya Dayananda Mahila Mandali
Association For The Rural Depressed Peoples Development
Association For The Rural Development
Asthana A Chistia Mahila Mandali
Ave Maria Mahila Mandali
Baladarshan
Balajyothi Rural Development Society
Baptist Brethren Fellow Ship & Rural Evangelism
Benign Hearts Foundation
Bethel Orphanage
Bethesda Chruch On India Charitable Trust
Bright Future Rural Development Society
Care Social Service Society
Charitha Computers
Cheyutha A Voluntary Service Organisation
Children Of Promise(India) Trust
Coasta Seva Samithi
Community Development Society
Community Rural Welfare Development Society
Cultural Association For Mass Education And Liberation
Depressed People's Development Welfare Society
Development Of Under Privileged Through Integrated Economical Services
Diocese Of Nellore Social Service Society
Dot
Dr A P J Abdul Kalam Charitable Trust
Dr Ambedkar Society For Youth & Rural Development
Ednamma Memorial Christian Foundation
Eye Care Mission Ecm
Farheen Educational Society
Forestry Upland Development Society Udayagiri
Gollapalli Charitable Foundation India (Gcfi)
Good Samaritan Orphanage
Good Samaritans Evangelical Trust
Gospel Lost Ministry Society
Green India
Green Life
Guiding Lights Charitable Foundation
Haritha Mahila Mandali Society
Health Care And Social Welfare Society
Help India Trust
Holy Cross Ministries
Integrated Rural Development Society
Jacob Abraham Manickam Memorial Ministries
Jai Bheem Samaikhya Seva Sangam
Jeromes Youth For Development
John And Joel Educational Trust
Joshhna
Joshua Kavitha Peetham
Kairali Educational Society
Kesava Smaraka Samithi
Krushi Mahilamandali Network Association Of Women Agencies
Lakshmi Mahila Mandali
Loyal Organization For Rural Development
Mahila Abhyudaya Seva Samastha
Mandal Community Development Welfare Society Seetharamapuram
Manikya Mahila Mandali
Margadarsi
Margadarsi Seva Samstha
Medikondaabhiramcharitabletrust
Model Organisation For Oppressed And Neglected
Mother Child Welfare Society
Multipurpose Social Development Society
Murali Krishna Trust
Muralikrishna Educational Society
My Friends Association
Mythreini Charitable Trust
Narayana Integrated And Rehabilitation Trust
Navajeevan Organization
Navodaya Yuva Kendram
Nayago Educational Trust
Nbkrist
Nehru Bharathi Educational Institution
Nellore Pola Baptist Sangamula Samajam
Nellore The Network Of People Living With Hiv/Aids Nellore
Nirmalhrudaya Charitable Trust
Novial Institute Of Computer Educational Training Society
Omkarameducationalsociety
Pabolu Ogirala & Sri Ram Charitable Trust
Pragathi Charities
Pragathi Yuva Kendram
Praja Abhyudaya Swatchanda Seva Samithi
Pranava Institute Of Yoga & Wellness
Priyadarshini Mahila Mandali Andhra Pradesh
Priyanka Harijana Mahila Mandali
Raviprolu Prabhavathi Educational Trust
Reliable Organization For Action And Development Society (Roads)
Rextons In Christ Ministries
Root Institute For Manpower Enlightenment And Rural Development
Rrr Educational Society
Rural Action For Social Integration
Rural Development Organisation - Rdo
Rural Development Social Service Organisation
Rural Reconstruction And Development Society
Rural Women Village Development Society
Satyagraha Charitable Trust
Simhapuri Swagati Mahila Abhyudaya Sangham
Simhapuri Vydya Seva Samithi
Sneha Development Of Rural People Society
Social Awareness And Develoment Agency
Society For Awareness And Holistic Activities By Youth
Society For Development
Society For Development Action
Society For People's Education And Economic Change
Society For Urban Poor People And Operative Rural Transformation
Society Of Bethlemite Sisters
Society Promoting Enlighting And Knowedye Development In Corporated Actions
Socio Economic & Literacy Foundation
Spandana Educational Society
Sri Manidweepa Maha Samsthan Trust
Sri Mathrudevi Viswashanti Ashram Trust
Sri Sai Kshetram Service Society
Sri Vaanaprastha Foundation
Sri Vasudevananda Swamy Trust
Sri Venaiahswamy Foundation
Srishirdi Sai Rural Welfare And Medical Foundation
St.Xavier's Educational Society
Swathi Mahila Mandali
Syed Rasool Saheb Educational Society
Tammineni Krishnaiah Memorial Charitable Trust
The Diocese Of Nellore Society
The Divine India
The Presbyterian Church Of South India
The Rural Educational And Ecumenical Development Society
Training Reconstruction Educational Environmental Society
Ujvala
Varasathul Ambia Sahara Baithulmaal Trust
Vianney Home
Vikrama Simhapuri Social Workers Association
Village Development Society Mangupalli
Village Reconstruction And Development Society Udayagiri
Zenex Vision Academy Educational Society

If your NGO is having programmes related to social issue in this district, just email the name of the NGO with link to it and we will share it free.
Our email : Datacentre@CSRidentity.com
We Salute
Soldiers, Police, Below the poverty line people who live with humanity, Social workers, NGO Founders, Hospital staff, Health care workers, Chemists, Medicines Trees, Forests, Medicinal plants, Rivers , Extinct animals, Homes, Climate, People working in crematorium
Shop from NGOs
NGO Sellers Concept
Following NGOs sell products.
These products are either made by communities or the NGOs act as agents of companies making these products.
The idea is to help communities, NGOs and corporates together.
NGOs can be selling agents
NGOs must be sustainable.
We dont want to loose focus of serving communities but in case of emergency where their funding stops, they must have at least one year survival funds so that the communities they serve do not suffer.
We have experienced that when an NGO working with disabled sales products made by them or NGOs working with women sell products made by them or NGOs selling tribal products or paintings .. its great honour to communities they serve.
And NGOs working in slums or villages or rural areas have great relationship with communities and corporates can think of having them as agents which can order products from corporates.
Its good for corporates who find good agents
Its good for NGOs because they earn
Its good for communities because its at home service

NGOs can keep half the commission they get and pass the other half to communities so that its win win long term situation