Srinagar District In Jammu And Kashmir
Corporates
Any corporate interested in having NGOs as selling agents can contact the NGO directly.
But if the corporate wants to put their name plus contact person's name and phone number here, then they have to pay a donation of Rs 2000/- for one district.
Corporates
We plan to donate at least Rs 13433000/-
This amount is not just any amount. Bhau, founder Sanjay Kumud Moreshwar Bapat's father gave house & property to him through a Gift Deed and Government Authorities valued it as Rs 13433000/- and founder's father (Bhau) paid a stamp duty of Rs 403000/-. And after the Gift Deed, Bhau was the first person on earth (Of course many others stepped in) to start postponing death of founder after an almost fatal accident on 28.08.2013.
Founder knows that after death, neither anyone takes anything with them nor do they know whether their son, grand son, daughter in law or so called blood relatives or neighbours came to see them before they left earth.
When any human leaves this world, what remains is their Deeds when they were on earth. So our first target is Rs 13433000/- Of course they will not know the impact of their gifts to world, but that is beauty of life. Enjoy it but leave the world as satisfied human and not one with unending greed of money, property.
Corporates can donate to the NGO
Developed Nation Network Trust by G Pay.
It has 80G and waiting for renewal of FCRA.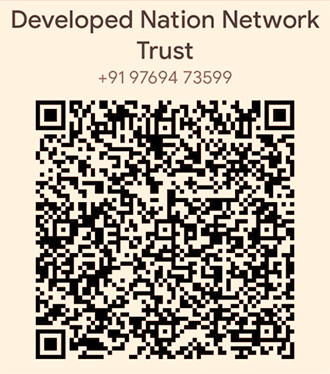 NGOs
NGO Brands
We share NGO Brands statewise in case of India
NGOs in this district
A.K. Builders Sanitations
A.N.I Group Ltd
Aab E Rawan
Aabru Womens Welfare Society
Aarifeen Womens Welfare Society (Ngo)
Aash (A Ray Of Hope)
Advantech Educational Trust
Ahmad Zewail Educational And Welfare Trust
Air Borne Socio Development Society Kashmir
Al Habib Foundation
Al Hayat Welfare Society
Al Noor Welfare Society
Al-Ameen Dr. Mumtaz Ahmad Khan Educational And Welfare Trust
Alfurqan Computers
All J&K Youth Welfare Organisation
Alsa Arts And Crafts Society
Al-Sideeq Womens And Children Welfare Society
Arsh Institute Of Health Sciences And Technology
Aspire Centre Of Education & Training
Aspire Educational Trust
Awaan Society
Baba Ghulam Ud-Din Sahib Craft Welfare Society
Baba Handicrafts Welfare Society
Baba Institute
Bhartia Kala Munch
Bismah Social Welfare Society
Blue Dart Centre For Women And Child Development
Brilliant Public Welfare Society
Build Tech Developers
Cancer Society Of Kashmir
Career Park Trust
Center For Slum Development
Centre For Youth Development
Chenab Educational Trust
Child Nurture And Relief (Chinar)
Child Nurture And Relief Kashmir Chinar Kashmir
Chinar Womens Welfare Society
Chotay Taray Foundation
Cura Social Welfare Association
Cyrus Educational Welfare Trust
Dal Lake Khadi
Darkshan Womens And Child Welfare Society
Darul Salam
Dar-Ul-Uloom Imam Azam &Trust
Deep Disable Education Empowerment Organition
Diamond Khadi Gram Udyog Sangh
Diginity Womens Skill Deveopment Trust
Digital Computer Institute
Digital India Communication And Welfare Trust
Dilnawaz Sozni Embroidery Ics Ltd
Divertex Services Private Limited
Ehsaas An Organisation For Rural Health And Educational Development
Elfa International
Ensemble Kashmir Theatre Akademi Ekta
Ess Arr Human Development Mission
Esscorts Organization
Eves Cyber I.T. School
Falkan Skill School
Firdous Educational Trust For Orphans
Forum For Literacy And Development
G M Rafiq Welfare Trust
Gaash The Enlightenment Charitable Trust
Gaash Trust
Gaash Welfare Foundation
Gemini Group Welfare Trust
Gk Medical Trust
Golden Urban Rural Sanitation Society
Grameen Vikas & Khadi Gram Udyog Bhawan
Green Land Foundation
Green World Welfare Society
Gulistan Institute
Gulmarg Development And Educational Trust
Heaven House
Heemal Ari And Sozni Ind Coop Limited
Help Foundation
Help Poor Voluntary Trust
Help Saba Cancer Charitable Trust
Hi Tech Educational Trust
Home Land Women And Children Welfare Society
Horizon I.T. Solutions
Hriday
Human Care Social Welfare Society (Ngo)
Human Touch
Human Welfare And Educational Trust
Human Welfare Organisation
Human Welfare Voluntary Organisation
Idara Fallah I Aam
Ier Tekto Infra Private Limited
Inception
Indian Cottage Khadi Society
Indian Helpage Society
Info Net Computer Education
Initiative For Peace And Development
Insha Society
Institute Of Computer Management Science And Technical Education Icms
International Computer Institute
International Institute Of Professional Studies Society Iips
Iqbal Memorial Trust
It Educational Trust
J And K Yateem Foundation
J&K Humanity Trust
J&K Peoples Forum
J&K Sheikh Ul Aalam Yateem Khaana
J&K Tendril Educational Trust
J&K Women's Empowerment & Leadership Organisation
Jamia Islamiya Waripora Gonipora
Jammu & Kashmir Humanity Charitable Trust
Jammu And Kashmir Association Of Social Workers
Jammu And Kashmir Habakhatoon Foundation
Jammu And Kashmir Peace Foundation
Jammu And Kashmir State Social Welfare Board
Jammu Kashmir Yateem Trust
Jandk Women Handi Craft And Handloom Workers Development Board
Jawahir Khadi Gram Udyog Sangh
Jk Developmental Action Group Jk Dag
Jk Sunflower Wcw Society
Karwani Islami
Kashmir Artisans Society
Kashmir Carpet Cluster Development Organization
Kashmir Foundation For Education And Social Justice
Kashmir Human Care
Kashmir Law College Trust
Kashmir Research Institute
Kashmir Sarhadi Tarkyatee Adara
Kashmir Society
Kashmir Suba Khadi Gramudyog Idara
Kashmiri Kala Manch
Kausar Educational Society
Kford
Khatoon Boutique
Khidmat Women And Child Welfare Society
Laksha
Lal Ded Mahilla Committee
Madawa
Madni Educational Welfare Society
Madri Meherban Women And Child Welfare Institute Miskeen Bagh
Mahila Welfare Society
Majestic Voluntary Organisation
Manha Foundation
Maqdusiya Welfare Society
Master Institute
Masterpro Institute Of Technology
Motherland Women's Welfare Society
Mukhtar Memorial Society
Multichannel Educational Institute (Mei)
Munificent Angels
Murrawat Centre Charitable Trust
National Human Rights Forum
National Institute Of Software Technology
National Society For Human Welfare
Neat Ngos Education And Trainings
New Citizen Womens Welfare Society
New Kashmir Women & Child Welfare Society
New Kashmir Womens United Organisation
New Light Women's Welfare Society
New Paradise Welfare Society
New Shalimar Womens Welfare Society
Ngo's Conference
Ngos Coordination Federation J And K
Nist
Orphans In Need Charitable Public Trust Kashmir India
Paradise Welfare And Skill Development Trust
Peoples Social And Cultural Society
Peoples Welfare Forum
Police Retired Officers Association Non Gazetted (Proang)
Praggash Trust Jammu & Kashmir
Ramakrishna Mission Srinagar
Rehbar Organization
Rubeena Welfare Institute
S R Institute Of Development
Sahara Handicraft Society Ngo
Sahara International
Salfia Muslim Educational And Research Trust
Salsabeel Help Foundation
Samaj Welfare Organization
Sara Educational Society
Sarvshresth Times
Save Social Abetterment In Versatile Environment
Scholars Association For Research And Development
Scholars' Education Society
Self Employed Womens Association Sewa
Shab I Alam Womens Welfare Society
Shadab Educational Trust
Shahdhaar Welfare Trust
Sheikh Ul Alam Welfare Society
Sindh Valley Khadi Gramodyog Ashram
Sky-High Educational Trust
Smile Foundation
Smile Welfare Society
Social Service & Learning Development Trust
Society For Human Empowerment Kashmir Chapter
Society For Weaker Section
Sociokers Support Network
Surab Sanitation Society
Swaraj Khadi Gramodyog Samaj
Swift Foundation
Tagore Cultural Society
Tanzeem Ul Khawateen
Tawheed Forum
Technogate Educare Skills Private Limited
Tehreek E Fala Ul Muslimeen
Tendril Institute Of Information Technology
The Green Fields Society
The Helping Hand Welfare Society
The Inner Call
The Iram Shawl Emb.
The Kashmir Chamber Of Commerce & Industry (Inc)
The Sajid Iqbal Foundation For Peace And Human Rights
Training Guides
Tyndale Biscoe And Mallinson Girls School
Unique Women And Child Development Society
Valley Womens Welfare Society
Vikas Foundation
Vision Foundation
Voluntary Medicare Society
Voluntry Rural Health Mission (Trust)
Wadies Hindi Shiksha Samiti
Womens Era Welfare Society
Young Brains
Young Dramatists Society
Zainabia Educational Society
Zainul Abideen Techinical Training Centre

If your NGO is having programmes related to social issue in this district, just email the name of the NGO with link to it and we will share it free.
Our email : Datacentre@CSRidentity.com
We Salute
Soldiers, Police, Below the poverty line people who live with humanity, Social workers, NGO Founders, Hospital staff, Health care workers, Chemists, Medicines Trees, Forests, Medicinal plants, Rivers , Extinct animals, Homes, Climate, People working in crematorium
Shop from NGOs
NGO Sellers Concept
Following NGOs sell products.
These products are either made by communities or the NGOs act as agents of companies making these products.
The idea is to help communities, NGOs and corporates together.
NGOs can be selling agents
NGOs must be sustainable.
We dont want to loose focus of serving communities but in case of emergency where their funding stops, they must have at least one year survival funds so that the communities they serve do not suffer.
We have experienced that when an NGO working with disabled sales products made by them or NGOs working with women sell products made by them or NGOs selling tribal products or paintings .. its great honour to communities they serve.
And NGOs working in slums or villages or rural areas have great relationship with communities and corporates can think of having them as agents which can order products from corporates.
Its good for corporates who find good agents
Its good for NGOs because they earn
Its good for communities because its at home service

NGOs can keep half the commission they get and pass the other half to communities so that its win win long term situation