Sirsa District In Haryana
Corporates
Any corporate interested in having NGOs as selling agents can contact the NGO directly.
But if the corporate wants to put their name plus contact person's name and phone number here, then they have to pay a donation of Rs 2000/- for one district.
Corporates
We plan to donate at least Rs 13433000/-
This amount is not just any amount. Bhau, founder Sanjay Kumud Moreshwar Bapat's father gave house & property to him through a Gift Deed and Government Authorities valued it as Rs 13433000/- and founder's father (Bhau) paid a stamp duty of Rs 403000/-. And after the Gift Deed, Bhau was the first person on earth (Of course many others stepped in) to start postponing death of founder after an almost fatal accident on 28.08.2013.
Founder knows that after death, neither anyone takes anything with them nor do they know whether their son, grand son, daughter in law or so called blood relatives or neighbours came to see them before they left earth.
When any human leaves this world, what remains is their Deeds when they were on earth. So our first target is Rs 13433000/- Of course they will not know the impact of their gifts to world, but that is beauty of life. Enjoy it but leave the world as satisfied human and not one with unending greed of money, property.
Corporates can donate to the NGO
Developed Nation Network Trust by G Pay.
It has 80G and waiting for renewal of FCRA.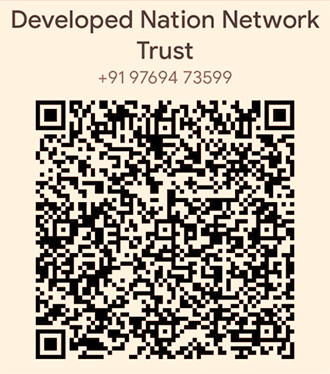 NGOs
NGO Brands
We share NGO Brands statewise in case of India
NGOs in this district
A.R. Memorial Education Trust
Adarsh Education Society
Arya Smaj Mahasha Dharamshala Society Mandi Dabwali Distt. Sirsa
Baba Bala Samandha Wala Gowshala Samiti
Baba Bhuman Shah Charitable Trust
Baba Saheb Dr. Bhim Rao Ambedkar Sabha Avm Shiksha Samiti Haryana
Balaji Educational Society
Balika Shiksha Foundation
Bhai Kanahaiya Manav Sewa Trust
Career Education And Technical Society
Ch Devi Lal Gaushala Village Khajakhera Sirsa
Ch. R. R. Memorial Education Society
Chander Sekhar Azad Yuva Foundation
Cpit Edutech Private Limited
Dera Sacha Sauda Sirsa
Dharamshala Dhanak Samaj Trust
Disha Sirsa
Durga Devi Education Society
Evergreen Royal Education Society
Farmer & Rural Empowerment Society Of Haryana
Freedom Fighter Raghunath Rai Memorial Education Society
H.B.N Education Society
Indian Red Cross Society Distt Branch Sirsa
Jagdish Prashad Charitable Trust
Jai Maa Saraswati Sewa Samiti Sirsa
Jan Nayak Memorial Jat Chatrawas Samiti
Jan Shiksha Foundation
Jan Shikshan Sansthan Sirsa
Jatt Dharamshala Sabha
Jkcs Edu India Foundation
Kaluana Education Society
Kaluana Welfare Shiksha Samiti
Kamal Education Society
Lord Buddha
M P Education Society
Meera Bai Gaushala
Nand Baba Gau Sewa Sansthan
New Vocational Training Institute
Nirman Women Welfare Society
Pantilisa Gaushala Samiti
Pratibha Women Welfare Society
Rhombas Educational & Technical Society
S.S. Jain Sabha
Sadewala Social Society
Sant Baba Kishan Singh Jimaharaj Memorial Goushala Samiti Masitan
Saugat
Saugat Chaudhary Ami Lal Memorial Charitable Trust
Sawabhiman
Shah Satnam Ji Green S Welfare Force Wing
Shah Satnam Ji Research And Development Foundation
Shaheed Bhagat Singh Social Welfare Trust
Shiv Sakti Krishan Muni Goshala
Shree Gao Sewa Samiti Keharwala
Shree Goshala Rania
Shree Hanumant Foundation Sirsa
Shree Krishan Gaushalla
Shree Madhosinghana Gaushala
Shree Rama Club Charitable Trust
Shree Shyam Education & Social Welfare
Shri Amar Nath Gaushala
Shri Banwala Goshala Anusandhan Kender
Shri Durga Gaushala Samiti
Shri Gau Shala Chakkan
Shri Gaushala Mandi Dabwali
Shri Girdhar Gopal Gaushala
Shri Krishan Chander Gaushala
Shri Krishan Gopal Gaushala Bijjuwali
Shri Sant Baba Labh Singh Gao Sewa Samiti
Shri Shri 1008 Moti Nath Gaushala
Shri Shri One Zero Eight Baba Santokh Dass Gaushala
Society Of Pilar Punjab Haryana
Suraksha Trust
Swami Laksheswaryashram Gau Sewa Sadan
The Saharan Edu Society
The Sirsa Social Welfare Society
Thebrijlalmemeducationsociety
Trinetra Foundation
Ucl Education And Skill Development Society
Virtuous Club India
Welfare Trust
Zila Kumhar Sabha

If your NGO is having programmes related to social issue in this district, just email the name of the NGO with link to it and we will share it free.
Our email : Datacentre@CSRidentity.com
We Salute
Soldiers, Police, Below the poverty line people who live with humanity, Social workers, NGO Founders, Hospital staff, Health care workers, Chemists, Medicines Trees, Forests, Medicinal plants, Rivers , Extinct animals, Homes, Climate, People working in crematorium
Shop from NGOs
NGO Sellers Concept
Following NGOs sell products.
These products are either made by communities or the NGOs act as agents of companies making these products.
The idea is to help communities, NGOs and corporates together.
NGOs can be selling agents
NGOs must be sustainable.
We dont want to loose focus of serving communities but in case of emergency where their funding stops, they must have at least one year survival funds so that the communities they serve do not suffer.
We have experienced that when an NGO working with disabled sales products made by them or NGOs working with women sell products made by them or NGOs selling tribal products or paintings .. its great honour to communities they serve.
And NGOs working in slums or villages or rural areas have great relationship with communities and corporates can think of having them as agents which can order products from corporates.
Its good for corporates who find good agents
Its good for NGOs because they earn
Its good for communities because its at home service

NGOs can keep half the commission they get and pass the other half to communities so that its win win long term situation