Rohtak District In Haryana
Corporates
Any corporate interested in having NGOs as selling agents can contact the NGO directly.
But if the corporate wants to put their name plus contact person's name and phone number here, then they have to pay a donation of Rs 2000/- for one district.
Corporates
We plan to donate at least Rs 13433000/-
This amount is not just any amount. Bhau, founder Sanjay Kumud Moreshwar Bapat's father gave house & property to him through a Gift Deed and Government Authorities valued it as Rs 13433000/- and founder's father (Bhau) paid a stamp duty of Rs 403000/-. And after the Gift Deed, Bhau was the first person on earth (Of course many others stepped in) to start postponing death of founder after an almost fatal accident on 28.08.2013.
Founder knows that after death, neither anyone takes anything with them nor do they know whether their son, grand son, daughter in law or so called blood relatives or neighbours came to see them before they left earth.
When any human leaves this world, what remains is their Deeds when they were on earth. So our first target is Rs 13433000/- Of course they will not know the impact of their gifts to world, but that is beauty of life. Enjoy it but leave the world as satisfied human and not one with unending greed of money, property.
Corporates can donate to the NGO
Developed Nation Network Trust by G Pay.
It has 80G and waiting for renewal of FCRA.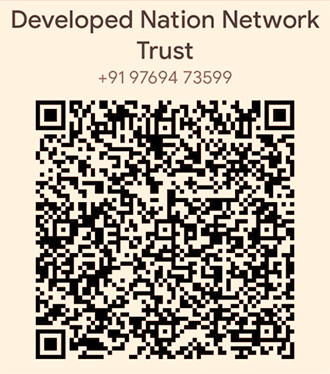 NGOs
NGO Brands
We share NGO Brands statewise in case of India
NGOs in this district
Aam Jan Shiksha Sansthan
Akhil Bhartiya Gaushala Pehrawar
Alp Sankhyak Samaj Sudhar Samiti
Arya Pratinidhi Sabha Haryana
B S R A Education And Welfare Society
Bharat Singh Rathi Memorial Dharamarth Trust
Bhartiya Gram Sudhar Samiti
Biits Education Society
Bright Career Education Society
Bulbul Mahilla Khumb Utpadak Sangh
Career Nirman Education Society
Chaubisee Vikas Sangh
Chavvi Mahila Avm Bal Vikas Samiti
Darsh Education And Welfare Society
Daya Nand Saraswati Education Society
Dayanand Vedic Sansthan Adarsh Gurukul Singhpura-Sunderpur, Rohtak
Delta Forum Society
District Yoga Association Rohtak
Do Jamma Panch Mudde Trust
Dr. Parmanand Lal Charitable Society
Feetjee Education And Welfare Society
Global Trust Of India
Haryana Education Society
Haryana Jat Mahasabha
Haryana Nav Yuvak Kala Sangam
Haryana Stupa Sports Association
Indian Red Cross Society District Branch Rohtak Haryana
Jan Sewa Sansthan
Jan Shikshan Sansthan
Joginath Samaj Sudhar Dharamshala Samiti
Krishanveer Maina Trust
Kriti Kala Kender Rohtak
Lakhi Ram Arya Anathalya
Mata Dhanpati Devi Charitable Trust
Mr Dav Educational Trust
Nai Disha Education Society
Paras Jan Kalyan Sewa Samiti
Patriotic India Foundation
Pradeshik Sanatan Dharm Sabha Baba Brahmdas Smarak Trust
R P Education Society
Rural Community For Welfare Association
Sahyog
Saini Sewa Society
Saptak Cultural Society
Satya Science & Medical Social Welfare Education Society,Sisar,Meham,Rohtak
Shree Mahabir Sewa Samiti
Shri Gramin Vikas Avm Sannskartik Samiti
Shri Narayani Sena Charitable Trust
Shri Sain Smaj Dharamshala Avm Shiv Mandir Samiti
Shri Sanatan Dharam Panjabi Ram Lila Club
Shrivishwakarmapanchalsabha
Sindhu Education Society
Society For Education And Rural Development
Society For Haryana Vigyan Manch
Ssb Global Foundation
Sumer Singh Arya Sansthan
Swami Amritanand Sewa Samiti
Tanishka Arts And Culture Society
The Rural Organization For Awareness And Development Road
Tikana Baba Sat Dayal Shah Baba Jeewan Shah Baba Sawal Shah Charitable Trust
Vaish Education Society
Vishavkarma Dharmshala Avm Jan Sewa Samiti
Vishwabharti Shiksha Sansthan

If your NGO is having programmes related to social issue in this district, just email the name of the NGO with link to it and we will share it free.
Our email : Datacentre@CSRidentity.com
We Salute
Soldiers, Police, Below the poverty line people who live with humanity, Social workers, NGO Founders, Hospital staff, Health care workers, Chemists, Medicines Trees, Forests, Medicinal plants, Rivers , Extinct animals, Homes, Climate, People working in crematorium
Shop from NGOs
NGO Sellers Concept
Following NGOs sell products.
These products are either made by communities or the NGOs act as agents of companies making these products.
The idea is to help communities, NGOs and corporates together.
NGOs can be selling agents
NGOs must be sustainable.
We dont want to loose focus of serving communities but in case of emergency where their funding stops, they must have at least one year survival funds so that the communities they serve do not suffer.
We have experienced that when an NGO working with disabled sales products made by them or NGOs working with women sell products made by them or NGOs selling tribal products or paintings .. its great honour to communities they serve.
And NGOs working in slums or villages or rural areas have great relationship with communities and corporates can think of having them as agents which can order products from corporates.
Its good for corporates who find good agents
Its good for NGOs because they earn
Its good for communities because its at home service

NGOs can keep half the commission they get and pass the other half to communities so that its win win long term situation