Rewa District In Madhya Pradesh
Corporates
Any corporate interested in having NGOs as selling agents can contact the NGO directly.
But if the corporate wants to put their name plus contact person's name and phone number here, then they have to pay a donation of Rs 2000/- for one district.
Corporates
We plan to donate at least Rs 13433000/-
This amount is not just any amount. Bhau, founder Sanjay Kumud Moreshwar Bapat's father gave house & property to him through a Gift Deed and Government Authorities valued it as Rs 13433000/- and founder's father (Bhau) paid a stamp duty of Rs 403000/-. And after the Gift Deed, Bhau was the first person on earth (Of course many others stepped in) to start postponing death of founder after an almost fatal accident on 28.08.2013.
Founder knows that after death, neither anyone takes anything with them nor do they know whether their son, grand son, daughter in law or so called blood relatives or neighbours came to see them before they left earth.
When any human leaves this world, what remains is their Deeds when they were on earth. So our first target is Rs 13433000/- Of course they will not know the impact of their gifts to world, but that is beauty of life. Enjoy it but leave the world as satisfied human and not one with unending greed of money, property.
Corporates can donate to the NGO
Developed Nation Network Trust by G Pay.
It has 80G and waiting for renewal of FCRA.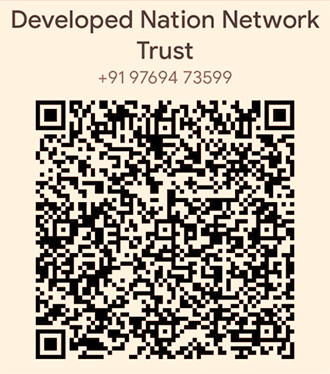 NGOs
NGO Brands
We share NGO Brands statewise in case of India
NGOs in this district
Akhand Paryavaran Sansthan
Akshat Women Social Welfare Society
Amarpal Singh Lok Kalyan Shikshan Sansthan Samiti
Aranya Shiksha Avam Seva Samiti
Armaan Foundation
Arti Shaikshanik Avm Samajik Utthan Sewa Samiti
Ayush Bshuddeshiya Jan Kalyan Samiti
Azad Vcch Tequnique Shiksha Vikash Avam Seva Samiti
Benisonhelpingsocialwelfaresocity
Bhagwan Singh Social Welfare Foundation Society
Bharatiya Adim Jati Sevak Sangh Branch Hanumana Rewa Mp
Bharosha Seva Samiti
Bihan Bikas Prasfutan Samit
Capital Infoline Marketing Private Limited
Champ Lock Kalyan Samiti
Days Society
Dev Seva Samiti
Dewanchal Welfare Society
Doma Suraj Yuva Mandal
Dr Raghav Foundation
Equitas Foundation
Facilitation And Awareness Of Community For Empowerment Face
Gayatri Education And Social Welfare Society
Gram Seva Dal Samiti Evam Shodh Sansthan
Grit
Hamdard Education Society
Indian Red Cross Society
Institute Of Science & Prompt Computer System
Jai Bramh Shree Jan Kalyan Sewa Sansthan Samiti
Jai Siddh Sewa Samiti
Jan Shikshan Sansthan Rewa
Jay Budhi Maiya Maa Bamba Devi Samajik Sewa Samiti
Jwala Grameen Swarojgar Evam Vikash Sansthan
Kalpana Kalyan Samiti
Kanpura Kutumbkam Sansthan
Krishnauram Shiksha Evam Jan Kalyan Samiti
Lodheswar Rural Devlopmentsociety
Maharana Pratap Bal Kalyan Samiti
Mandap Sanskritik Shikcha Kala Kendra Samiti
Mangal Yuwa Kalyan Samiti
Nari Vikas Mahila Mandal
Nav Vindhya Shikshan Awam Jan Kalyan Sansthan
Neeranchlam Seva Sansthan
New Janhit Seva Samiti
Niwas Jankalyan Samiti
Pahal
Paryavaran Vahini Mahila Samiti
Peoples Association Representative Of Peoples Kindness Awareness Righteousness
Pragati Foundation
Prantiya Kalakar Sangh Madhyapradesh
Prerna Foundation
Raj Jansewa Kalyan Sansthan Samiti Sagra
Rajrani Sewa Awam Shikshan Prashikshan Sansathan And Social Welfare Society
Revanchal Dalit Adiwasi Seva Sansthan
Rewa Lions Eye Hospital
Rojgar Margdarshan Avam Swarojgar Prasikshan Sanstha
Royal Rajput Sangthan
Samagra Jan Chetna Vikash Parisad Jawa Rewa
Samudayik Kalyan Samiti
San Thome Vincentian Society
Sanskar Bhartiya Siksha Prasar And Samaj Kalyan Samiti
Saraswati Higher Secondary School
Sarvoday Foundation
Sarvoday Vindhya Vikas Samiti
Shree Vayuputra Shiksha Avam Seva Samiti
Shri Divya Vikas Shiksha Samiti Chirhula Rewa
Shri Ganga Bahuudeshiya Paryavaran Sanvardhan Avm Sanrachan Sansthan Sumiti
Shubhendra Yuvak Mandal Samiti
Shyam Shiksha Evam Samaj Kalyan Samiti
Simran Samaj Kalyan Foundation Samiti
Sneh Shikshan Avam Manav Sewa Sansthan
Soshit Pidit Kalyan Vikas Parisad
Srijan Development Organization
Sumitra Shiksha Jan Kalyan Evam Sewa Samit
Surendra Pratap Singh Shiksha Samiti
Swami Vivekanand Bal Kalyan Samiti Semariya Rewa
The Care Of Animals And Society
Triveni Bahuddeshiy Jan Kalyan Sanstha
Triveni Jan Jagrit Seva Sansthan
Twarit Community Development Society
Vartika Shaikshanik Evam Jan Kalyan Samajik Santhan
Vidya Sagar Siksha Samiti

If your NGO is having programmes related to social issue in this district, just email the name of the NGO with link to it and we will share it free.
Our email : Datacentre@CSRidentity.com
We Salute
Soldiers, Police, Below the poverty line people who live with humanity, Social workers, NGO Founders, Hospital staff, Health care workers, Chemists, Medicines Trees, Forests, Medicinal plants, Rivers , Extinct animals, Homes, Climate, People working in crematorium
Shop from NGOs
NGO Sellers Concept
Following NGOs sell products.
These products are either made by communities or the NGOs act as agents of companies making these products.
The idea is to help communities, NGOs and corporates together.
NGOs can be selling agents
NGOs must be sustainable.
We dont want to loose focus of serving communities but in case of emergency where their funding stops, they must have at least one year survival funds so that the communities they serve do not suffer.
We have experienced that when an NGO working with disabled sales products made by them or NGOs working with women sell products made by them or NGOs selling tribal products or paintings .. its great honour to communities they serve.
And NGOs working in slums or villages or rural areas have great relationship with communities and corporates can think of having them as agents which can order products from corporates.
Its good for corporates who find good agents
Its good for NGOs because they earn
Its good for communities because its at home service

NGOs can keep half the commission they get and pass the other half to communities so that its win win long term situation