Puri District In Odisha
Corporates
Any corporate interested in having NGOs as selling agents can contact the NGO directly.
But if the corporate wants to put their name plus contact person's name and phone number here, then they have to pay a donation of Rs 2000/- for one district.
Corporates
We plan to donate at least Rs 13433000/-
This amount is not just any amount. Bhau, founder Sanjay Kumud Moreshwar Bapat's father gave house & property to him through a Gift Deed and Government Authorities valued it as Rs 13433000/- and founder's father (Bhau) paid a stamp duty of Rs 403000/-. And after the Gift Deed, Bhau was the first person on earth (Of course many others stepped in) to start postponing death of founder after an almost fatal accident on 28.08.2013.
Founder knows that after death, neither anyone takes anything with them nor do they know whether their son, grand son, daughter in law or so called blood relatives or neighbours came to see them before they left earth.
When any human leaves this world, what remains is their Deeds when they were on earth. So our first target is Rs 13433000/- Of course they will not know the impact of their gifts to world, but that is beauty of life. Enjoy it but leave the world as satisfied human and not one with unending greed of money, property.
Corporates can donate to the NGO
Developed Nation Network Trust by G Pay.
It has 80G and waiting for renewal of FCRA.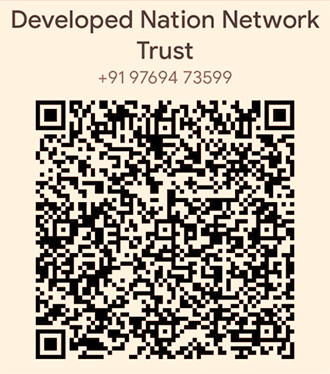 NGOs
NGO Brands
We share NGO Brands statewise in case of India
NGOs in this district
Acharya Harihar Sishu Bhawan
Agency For Social Action (Asa)
Anchalika Kunjeswari Sanskrutika Sansad
Association For Voluntary Action
Bankeswari Jubak Sangha
Baral Balunkeswar Dev Charitable Trust
Bhagabati Pathagara
Bhakta Manei Seva Pratisthan
Bharatiya Chatrudhamvedabhawan
Bou
Care India Charitable Trust
Chintamani Educational Trust
Christian Organisation For Development & Education
Council Of Social Worker And Research Centre
Dasabhuja Gotipua Odisi Nurutaya Parishad
Development Initiative
Development Resource Centre
Dibyadham Jogashram Trust
Dibyadham Yogashram
Draupadi Mahila Samiti
Drusti
Garudadhwaj Sri Basudev Yagnyabalkya Veda Pathasala
Gopabandhu Seva Parisad
Gopabandhu Seva Sangha (G S S)
Gopinath Jubak Sangh
Gram Vikas Sahayak Sanstha
Guru Maguni Jena Goipua Nutrya Parishad
Gurukula Veda Pathasala
Gyaandeep Foundation
Holy Lord Education Society
Indian Institute Of Advanced Studies Itc Puri
Indian Institute Of Social Action And Research
Institute For Self Employment And Rural Development
Institute Of Rural Development Programme Irdp
Jaganath Training Center
Jagannath Seva Pratisthan
Jageswari Jubak Sangha
Jagrat
Jan Shikshan Sansthan Puri
Janakalyana Foundation
Janamangal Club
Janamangal Mahila Samiti
Kalimnga Bahini
Karunalaya Leprosy Care Centre
Khetramani Club
Lingaraj Kala Niketan
Lok Shakti Vikash Kendra
Love And Serve India
Maa Gangeswarrr Pragatisila Pathagara
Maa Ghumura Yuvak Sangha
Maa Tara Socio Economic Rehabilitation Foundation
Madani Welfare Association
Mahaveer Yuva Seva Samiti
Maitreeban Seba Sangha
Matimaa Suraksha Parisad
Maulana Azad Youth Club
Narayan Pathagar
National Educational Trust
National Institute For Rural Management And Advancement Of Nation
National Integrated Human And Industrial Development Agency Nihida
National Youth Organisation
Natyadeepa
Nilachal Seva Pratisthan
Nilakantheswar Club
Nirmal Odisha
Odisha Development Management Programme (Odmp)
Odisha Garib Bikash Parishada
Om Sri Sri Jagannath Kalki Jogashram
Orissa College Of Art And Crafts
Orissa Institute For Computer Studies
Orissa Rastravassa Parisad
Ovarr(Orissa Voluntary Association For Rural Reconstruction)
Parampara
Patitapaban Seva Sangha
Peoples Empower Ment And Need Based Community Development Pencode
Peoples Legal Aid Association Network Plaan
Pingalakhi Public Welfare Organisation
Polly Bhikash Pratisthan
Poorvamnaya Utkarsh Samiti
Prachandeswar Seva Sansthan
Prachi Youth Social Organisation
Pragati
Prashanti Pre School Chatasalis Managing Committee
Prashantiinternationalschool
Prerana
Puri Creative Handicrafts Industrial Cooperative Society Limited
Rahbar Educational Point
Ramakrishna Mission Ashrama Puri
Ramhari Das Odissi Gurukul Trust
Ratnachira
Rural Infrastructure Development Society
Rural Welfare Institute
Sadhana
Sahaya
Saisidh Charitable Trust
Samaj Bikash
Sambhab Foundation
Sampark
Sankalap
Santoshi Development Complex
Saraswati Charitable Foundation
Saraswati Shishu Vidya Mandir Nimapada
Saraswati Youth Cultural Association
Satyabadi Sangeet Mahavidyalaya
Satyachhayacharitable Trust
Sekh Allauddin Memorial Trust
Seva Sankalp
Seva Voluntary Organisation
Shangatrust
Shree Devyei Sukla Yajurved Kanwoved Pathasala
Shree Shrikhetra Soochana
Smile Odisha
Social Awareness For Village Environment
Social Culture And Research Society
Social Effect Of Voluntary Action (Seva)
Society For Leprosy Amelioration And Rehabilitation
Sp Foundation
Spandan
Sri Jagannath Seva Sangha
Sri Nrusingha Dev Anchalika Yuba Parisada
Sri Ramanandacharya Kanva Vedapathasala
Srihari Club & Haradurga Pathagara
Surakhya
The Assembly Of God Society For Upliftment Of The Poor
The Association Of Social Health Awarness
Unmesh
Unnayan
Vivekananda Society For Integrated Development
Wave-Ogalpur- Gop-Puri
Women Wings
Yojana
Young India

If your NGO is having programmes related to social issue in this district, just email the name of the NGO with link to it and we will share it free.
Our email : Datacentre@CSRidentity.com
We Salute
Soldiers, Police, Below the poverty line people who live with humanity, Social workers, NGO Founders, Hospital staff, Health care workers, Chemists, Medicines Trees, Forests, Medicinal plants, Rivers , Extinct animals, Homes, Climate, People working in crematorium
Shop from NGOs
NGO Sellers Concept
Following NGOs sell products.
These products are either made by communities or the NGOs act as agents of companies making these products.
The idea is to help communities, NGOs and corporates together.
NGOs can be selling agents
NGOs must be sustainable.
We dont want to loose focus of serving communities but in case of emergency where their funding stops, they must have at least one year survival funds so that the communities they serve do not suffer.
We have experienced that when an NGO working with disabled sales products made by them or NGOs working with women sell products made by them or NGOs selling tribal products or paintings .. its great honour to communities they serve.
And NGOs working in slums or villages or rural areas have great relationship with communities and corporates can think of having them as agents which can order products from corporates.
Its good for corporates who find good agents
Its good for NGOs because they earn
Its good for communities because its at home service

NGOs can keep half the commission they get and pass the other half to communities so that its win win long term situation