Purba Bardhaman District In West Bengal
Corporates
Any corporate interested in having NGOs as selling agents can contact the NGO directly.
But if the corporate wants to put their name plus contact person's name and phone number here, then they have to pay a donation of Rs 2000/- for one district.
Corporates
We plan to donate at least Rs 13433000/-
This amount is not just any amount. Bhau, founder Sanjay Kumud Moreshwar Bapat's father gave house & property to him through a Gift Deed and Government Authorities valued it as Rs 13433000/- and founder's father (Bhau) paid a stamp duty of Rs 403000/-. And after the Gift Deed, Bhau was the first person on earth (Of course many others stepped in) to start postponing death of founder after an almost fatal accident on 28.08.2013.
Founder knows that after death, neither anyone takes anything with them nor do they know whether their son, grand son, daughter in law or so called blood relatives or neighbours came to see them before they left earth.
When any human leaves this world, what remains is their Deeds when they were on earth. So our first target is Rs 13433000/- Of course they will not know the impact of their gifts to world, but that is beauty of life. Enjoy it but leave the world as satisfied human and not one with unending greed of money, property.
Corporates can donate to the NGO
Developed Nation Network Trust by G Pay.
It has 80G and waiting for renewal of FCRA.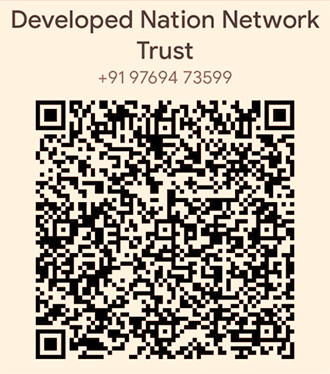 NGOs
NGO Brands
We share NGO Brands statewise in case of India
NGOs in this district
Abdus Sattar Samaj Kalyan Kendra
Aikyatan Development Society
Ainaa Cultural Centre
Akabpur Sammelani
Akhra Sree Sree Radhagobinda Jew Mandir
Al Madina Market Education & Welfare Society
All Bengal Sanskrit Lovers Association
Alliance Foundation For Humanity And Education
Alo O Batas
Amdanga Resham Khadi Gramodyog Sangha
Asansol Burdwan Seva Kendra
Astithya
B M Foundation
Balgona Icon Computer Academy
Bam Vivekananda Primary Teachers Training College
Bardhaman Al Ameen Mission
Bardhaman Bidhanpally Agragati Samaj Kalyan Society
Bardhaman Graph Society
Bardhaman Next
Barnamala Educational Trust
Bhabar Bhabani Mandir Public Trust
Bharatia Unity Benefit
Bharatmata Sangha
Bhenpur Creation Social Welfare Society
Bhumi Foundation & Grameen Bikas Trust
Bikrampur Milan Sangha
Billagram Ambedkar Yuba Sangha
Biswabandhu Mission
Blessing And Hope Mission
Blooming Buds Institution Welfare Society
Bolgona Taj Education And Welfare Society
Bolpur Sri Sri Bholananda Manab Bikash Utsha
Burdwan Aanisa Social Foundation
Burdwan Alamganj Education Society
Burdwan Ananya Training Institute
Burdwan Dharani Kalyan Society
Burdwan District Council For Child Welfare
Burdwan Exploration And Nature Drive Society
Burdwan Gramin Silpa Samity
Burdwan Kids Care Organisation
Burdwan Santi Samity
Burdwan Social Welfare Organisation For Peoples Awareness And Nature
Burdwan Sripally Rural & Urban Development Society
Burdwan Swami Vivekananda Youth Educational Institute
Burdwan Swastipally Manab Unnayan O Janakalyan Samity
Burdwan Tentultala Sacred Heart Church
Burdwan The Puppeteers
Burdwan Yogam
Cesta
Chapahati Mohila Khadi Unnayan Sanstha
Chatta Begum Rokeya Educational Society
Chetana Barddhaman Manabkolyan Samiti
D B G Welfare Trust
Debipur Mahila Khadi Trust
Debipur Sarada Mission
Deepan Yuba Gosthi
Dhrupadee Nritya Kala Kendra
Dosomik
Dr Sailendra Nath Mukherjee Muka Badhir Vidyalaya
East Berh Nandanik Samaj Kalyan Kendra
East West Model School Education Society
Ehiapur Astha Welfare Society
Fab Global Innovations
Familiar Welfare Organisation
Galsi Health Awareness Society
Galsi Modern Computer Mission
Galsi Rural Educational Society
Ghoshhat Abhoyananda Sishu Kalyan Kendra
Girigarhnagar Gram Unnayan Sangh
Gives
Gobindapur Sephali Samaj Seba Samity
Gorachand Seba Samity
Gour Gopal Sishu Vidyapith
Gramin Economic Development Works Centre
Guskara Godhuli
Hapania Social Welfare Society
Hate Kalame Shiksh Kendra
Hatgobindapur Ramkrishna Seba Samity
Indian Red Cross Society Katwa Branch
Inside Out
Jamia Islamia Madinatul Uloom
Jougram Centre For Mother And Child Development
Kairapur Kristy Social Forum Of Burdwan
Kalna Sahajog Organisation
Kamarhati Sarada Sangha
Kandari Cultural And Social Welfare Wing
Kandratikuri Wood Craft Welfare Society
Kanyakumari Welfare Society
Katwa Gulshan Muslim Welfare Society
Katwa Jagatbandhu Seba Society
Krishnapur Memari Netaji Sangha
Kumarpur Rural Development Society
Lions Club Of Galsi
Lions Club Of Gushkara Town
Lions Club Of Jamalpur Welfare Trust
Lowa Srada Educational Society
Ma Kalyaneshari Educational Trust
Mamoon National School Trust
Mandardihi Welfare Society
Memari Centre For Rural Development And Social Action
Memari Eclectic Social Organization
Memari Handicapped Social Welfare Society
Memary Loknath Seva Sadan
Mobarakpur Vivekananda Sishu Vidyalaya
Mondalgram Gramin Khadi Mandir
Mongalkote Kumud Development Society
Monteswar Communication And Research Welfare Society
Moulana Abul Kalam Ajad Foundation
Musthuli Boltala Sarbojanin Kalimata Puja Committee Trust
Naba Jiban Microfinance
Nagen Chandra Human Development Foundation
Nandai Women Welfare Trust
National Anti Trafficking Committee
Naveenjyothi Rural Development Foundation
Om Educational Trust
Orgram Rammohan Rural Welfare Society
Panuhat Karmadyag Welfare Society
Paramananda Mission
Paratal Anchal Swami Vivekananda Sevashram
Parulia Netajee Welfare Society
Patuli Institute For Social Change
Pc Infotech Group
Pindira Elora Natya Dal
Prayas
Purbanchal Khadi Gram Silpa Pratisthan
Raina Tapaban Ashram Mission
Ramkrishna Vivekananda Sevasram
Sagrai Human Development Society
Saheb Foundation
Sailendranath And Gitarani Educational Institute
Samanti Swamiji Sangha
Samasthi Unnayan Trust
Sanavi Foundation
Sara Welfare Trust
Shaktipada Bhattacharjee Technical Institute
Shrimashram
Siksha Bikash Seba Foundation
Siksha Niketan
Singhapara Rural Welfare Society
Society For Mental Health Care Anandaniketan
Speed
Sri Ramkrishna Sevashram
Sylvan Foundation
Techno Bengal
The New Tech Education And Training Trust
The United Service Co Operative Society Limited
Udaypally Future Point Educational Society
Udyomi Bangla
Univision Skills Private Limited
Uttaran Education Trust

If your NGO is having programmes related to social issue in this district, just email the name of the NGO with link to it and we will share it free.
Our email : Datacentre@CSRidentity.com
We Salute
Soldiers, Police, Below the poverty line people who live with humanity, Social workers, NGO Founders, Hospital staff, Health care workers, Chemists, Medicines Trees, Forests, Medicinal plants, Rivers , Extinct animals, Homes, Climate, People working in crematorium
Shop from NGOs
NGO Sellers Concept
Following NGOs sell products.
These products are either made by communities or the NGOs act as agents of companies making these products.
The idea is to help communities, NGOs and corporates together.
NGOs can be selling agents
NGOs must be sustainable.
We dont want to loose focus of serving communities but in case of emergency where their funding stops, they must have at least one year survival funds so that the communities they serve do not suffer.
We have experienced that when an NGO working with disabled sales products made by them or NGOs working with women sell products made by them or NGOs selling tribal products or paintings .. its great honour to communities they serve.
And NGOs working in slums or villages or rural areas have great relationship with communities and corporates can think of having them as agents which can order products from corporates.
Its good for corporates who find good agents
Its good for NGOs because they earn
Its good for communities because its at home service

NGOs can keep half the commission they get and pass the other half to communities so that its win win long term situation