Prayagraj District In Uttar Pradesh
Corporates
Any corporate interested in having NGOs as selling agents can contact the NGO directly.
But if the corporate wants to put their name plus contact person's name and phone number here, then they have to pay a donation of Rs 2000/- for one district.
Corporates
We plan to donate at least Rs 13433000/-
This amount is not just any amount. Bhau, founder Sanjay Kumud Moreshwar Bapat's father gave house & property to him through a Gift Deed and Government Authorities valued it as Rs 13433000/- and founder's father (Bhau) paid a stamp duty of Rs 403000/-. And after the Gift Deed, Bhau was the first person on earth (Of course many others stepped in) to start postponing death of founder after an almost fatal accident on 28.08.2013.
Founder knows that after death, neither anyone takes anything with them nor do they know whether their son, grand son, daughter in law or so called blood relatives or neighbours came to see them before they left earth.
When any human leaves this world, what remains is their Deeds when they were on earth. So our first target is Rs 13433000/- Of course they will not know the impact of their gifts to world, but that is beauty of life. Enjoy it but leave the world as satisfied human and not one with unending greed of money, property.
Corporates can donate to the NGO
Developed Nation Network Trust by G Pay.
It has 80G and waiting for renewal of FCRA.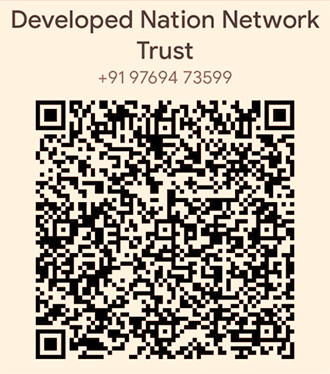 NGOs
NGO Brands
We share NGO Brands statewise in case of India
NGOs in this district
Aadhunik Sewa Sansthan
Aaghaaz Foundation
Aahwan
Aanchal Foundation
Aarti Sewa Evam Anusandhan Sansthan
Aastha
Aastha Samiti
Abbas Educational And Welfare Society
Abhilasha
Abhinav
Abhyuday Hind Seva Sansthan
Abul Kalam Azad Jansewa Sansthan
Adarsh Gramotthan Awam Lok Kalyan Samiti
Adhunik Prakash Sansthan
Adivasi Janjati Mahila Harijan Utthan Shiksha Samiti
Ajit Khadi Gramodyog Sansthan
Akhand Bharat Seva Evam Anusandhan Sansthan
Akhil Bhartiya Jankalyan Vikas Samiti
Akshat Mahila Evam Bal Kalyan Sewa Samiti
Al Hind Zkat Foundation
Al-Hasana Educational And Welfare Society
All India Milly Foundation
Allahabad Bible Seminary
Allahabad Gram Swarajya Samiti
Allahabad Hastshilp Vikas Sansthan
Allahabad Jyothi Society
Alp Sankhyak Dalit Pichra Yarg Utthan Sewa Samiti
Alpsankhyak Pichhda Varg Kalyan Samiti
Amarawati Gramy Vikas Samiti
Amarpushp Educational And Welfare Society
Anamta Educational And Welfare Society
Anjuman Madarsa Subhania
Anjuman Refahul Muslemeen Habibiya
Arohan Foundation
Arpita Sansthan
Arthik Anusandhan Kendra
Arundhati Vashishth Anusandhan Peeth
Ashirwad Educational Social Welfare Society
Ashutosh Memorial Trust
Astha Sewa Samiti
Avadh Jan Kalyan Samiti
Awadh Gram Vikas Samiti
Ayurved Sewashram Kalyan Samiti
Azad Memorial Education Society
B.O.C. Worker Federation Of India
Baba Ram Udit Sewa Sansthan
Baba Saryu Pandey Sewa Sansthan
Babu Udaya Shanker Samajik Sewa Sansthan
Backstage
Beena Memorial Devlopment Society
Bhagwati Gramya Vikas Jan Kalyan Sewa Sansthan
Bharat Shakti Sangthan
Bharat Vikas Abhiyan Trust
Bhartiya Adim Jati Sevak Sangh Meja Branch Uttar Pradesh
Bhartiya Janhit Kalyan Samiti
Bhartiya Samaj Kalyan And Gramin Vikas Sansthan
Bhaskar Sewa Sansthan
Bhavini Welfare Society
Bhoomiheen Sewa Samiti
Bioved Research Society
Bitzer Memorial School Trust
Blessings Institute Of Information Technology
Blossom School Goonj Society
Buniyad Foundation
Canossians Allahabad
Chakshu Association For Sustainable Development
Chandra Gramin Vikas Sansthan
Chitravansham Society
Christ Jyoti Society
Concern India Trust
Cp Gautam Samajik Seva Samiti
Crescent Educational & Welfare Society
Dalit Vikas Avam Samajik Utthan Samiti
Darud Dawah
Dayal Gramodyog Sewa Vikas Sansthan
Dayanand Samajik Sewa Samiti
Defence Pensioners Welfare Association Allahabad
Dev Kalyan Seva Samiti
Devi Chand Memorial Charitable Society
Dhara
Diocesan Development & Welfare Society
Diocese Of Allahabad Education Society
Disha Drishti Sansthan
Dr Ambedkar Mahila Vikas Mandal
Dr Ambedkar Mission Sewa Samiti
Dr Awdhesh Kumar Singh Smriti Sewa Santhan
Dr Bhim Rao Ambedkar Welfare Society
Durga Shakti Goraksha Peeth
Easy Global Orgnisation
Ek Pehal
Ekta Akhil Bhartiya Samajik Sahityak Avam Sanskrit Sanstha
Emerging Science Society
E-Pahel
Evangelical Church Of India
Ex Servicemen Social Welfare Society
Extra An Organisation
Face India Trust
Foundation For Achievement And Change
Ganga Shiksha Samiti
Gangotri Sewashram
Gareeb Nawaz Welfare Society
Gauri Welfare & Creative Society
Gaytri Sarv Viklang Seva Samiti
Ghungru Prashikshan Sansthan
Global Greens
Gopi Yuva Mandal
Govind Ballabh Pant Social Science Institute
Grameen Shodh Sansthan
Grameen Vikas Sevashram
Gramin Utthan Samiti
Gramin Vikas Evam Shikshan Sansthan
Gramodaya Jan Sewa Sansthan
Gramodaya Seva Ashram
Gramodyog Khadi Silai Bhawan
Greenland For Education Welfare & Rural Development Society
Gulam Yahiya Memorial Educational And Welfare Society
Guruji Higher Education Society
Gyandeep Sewa Sansthan
Gyandeep Vidya Society
Gyansource Consultancy Pvt Ltd
Haji Asgar Ali Mansoori Welfare Society
Harihar Jan Kalyan Samiti
Harijan & Tribal Welfare Society
Harsh Manohar Seva Sansthan
Health Care And Technical Education Society
Help And Care Society
Help Hands Samajik Sewa Sansthan
Help People To Save People Trust
Hindi Sahitya Sammelan Prayag
Holy Cross Society
Hudsa
Human Welfare Society
I Q Krishak Sansthan
Ica Indian Charitable Association
Imamia Educational Society
Impact Shiksha Samiti
Imsdm Academy (Opc) Private Limited
India Good News Associates
Indian Academy Of Social Sciences
Indus Foundation
Institute For Development Research And Action
Institution Of Management And Entrepreneurship Development
Integrated Rehabilitation And Resource Centre For Drugs Addicts
Iraa Educational And Welfare Society
Israji Devi Shikshan Sansthan
Jagat Jagdish Jan Kalyan Samiti
Jagriti Jan Kalyan Samiti
Jagwanti Devi Gram Vikas Samiti
Jahangir Memorial Charitable Hospital
Jan Chetna Sansthan
Jan Jagran Shiksha Sewa Sansthan
Jan Kalyan Parishad
Jan Kalyan Seva Samiti
Jan Kalyankari Vikas Sewa Sansthan
Jan Manav Kalyan Sewa Sansthan Delaunha Post Mejaroad
Jan Sahyog Evam Bal Vikas Sansthan
Jan Sewa Samiti
Jan Shikshan Sansthan
Janata Siksha Samiti
Jantahit Karyakarini Sewa Samiti
Jaswanti Devi Siksha Samiti
Jaya Health Foundation And Research Society
Jivan Jyoti Shiksha Samiti
Jyotirnidhi Nyas Trust
Kalyan Bharti
Kalyan Mission
Kamdhenu Charitable Society
Kamini Foundation For Social Upliftment
Kamla Gram Vikas Sansthan
Kamla Joyti Research And Charitable Trust
Kamla Lok Sangeet Shikshan Evam Samaj Sewa
Kamla Sewa Sansthan
Kaneez Fatma Educational Social Welfare And Charitable Society
Kaneez Zahra Audyogik Shiksha Samiti
Karuna Jan Kalyan Samiti
Kasturi Foundation
Kaushambi Vikas Parishad
Kaushki Welfare Society
Kesarbai Charitable Trust
Khadi Ashram
Khadi Gramodyog Sangh
Khadi Gramodyog Sansthan Bahadurpur
Kidwai Memorial Girls Inter College Allahabad
Kpraishikshaprasarsamiti
Krishi Evam Gramodyog Vikas Sansthan
Krishna Mohan Memorial Foundation
Krishna Siksha Sewa Sansthan
Krishnavati Welfare And Development Society
Kriti Samajik Kalyan Evam Sewa Samiti
Kriyayoga Satsanga Samiti
Lal Bahadur Shastri Sewa Niketan
Lat Krishana Devi Shishan Santhan
Late Badari Narayan Dhanraji Devi Gramothan Evam Shikshan Sansthan
Late Hidayat Ullah Memorial Educational And Welfare Society
Late Sahdevram Kushwaha Gramin Vikas Samiti
Life Living Welfare Society
Lok Kalyan Sansthan
Lok Shikshan Gramin Uthan Eva Anusandhan Samiti
Lok Smriti Sewa Sansthan
Lokhit Gram Vikas Seva Samiti
Love Rights
Ma Annapurna Jan Kalyan Samiti
Ma Dulari Devi Gondi Punem Sevasamiti
Maa Ganga Shiksha Avam Sewa Samiti
Maa Gayatri Charitable Trust
Maa Gayatri Foundation
Maa Sarswati Swayam Sahayata Samooh
Maa Sharda Jan Kalyan Sewa Samiti
Maa Sharda Khadi Gramodyag Seva Sansthan
Maabhagwati Jankalyan Samiti
Maajankidevi Sevasansthan
Madarsa Islamia Arbia Wasiatululoom Masjid Dhal Wali Bakshi Bazar Allahabad
Madhav Shiksha Prasaran Mandal
Maharshi Bharadwaj Ved Vidya Samiti
Mahfooz Alam Shiksha Samiti
Mahila Kalyan Evam Nav Chetana Sansthan
Maitreyee Sahityik Sanskritik Evam Samajik Sanstha
Malti Devi Harihar Prasad Welfare Society
Mamta Manav Vikas Avam Sewa Sansthan
Manav Hitkari Sansthan
Manav Kavach Sansthan
Manav Seva Avam Samajik Sansthan
Manav Seva Samiti
Manav Vikas Sansthan
Manjul Mahila Kalyan Samiti
Manjula Mahila Evam Bal Vikas Sasthan
Mannat Foundation
Manno Devi Shishan Sanshthan
Manohar Gram Sansthan
Masihi Pathshala Trust
Mayank Yuva Mandal
Mca Lit & Sci Society
Mehdi Hasan Sewa Sansthan Uttar Pradesh
Metropolitan Church Association
Missionaries Of Lord Buddha
Motilal Jan Sahyog Samiti
Mytech Educational Society
Nai Kiran Vishwa Bandhu Sewa Samiti
Narayan Gramodyog Sewa Sansthan
Narayan Seva Samiti
Narayan Sewa Samiti
Narayan Shaikshik Evam Punrvas Samiti
Narmadeswar Gauri Sankar Dandi Ashram
Nasi
National Fellowship And Rehablitation Center For The Blind
Nature Educational And Welfare Society
Nav Chetana Sewa Sansthan
Nav Chetna Jan Kalyan Samiti
Nav Prabhat
Nav Prayaas Foundation
Nav Srijan
Navjyoti Sansthan
Nazareth Hospital Society
Nclm Shikshan Sansthan
Neelkanth Research And Development Society
Nehru Gram Bharti
Netrarth
Nirgam Sarswati Bal Vidya Mandir Samiti
Nivodh Paryavaran Sodh Avam Samajik Sewa Sanstha
North India New Life Society
Olivia And Mara Charitable Society
Om Sai Nath Human Health And Welfare Soceity
Om Shri Siddhivinayak Foundation
Organ Health Welfare Trust
Owaish Institute For Educational And Social Development
Panchbandhu Sewa Sansthan
Pandey Education And Welfare Society
Pandit Shriram Sharma Acharya Kisan Vidyalaya Samiti
Parakh
Paryavaran Evam Prodyogiki Utthan Samiti
Paryavaran Sudhar Evam Gramin Vikas Samiti
People For Peace Service Society
Pionneer Education And Welfare Society
Prabhu Shree
Pragati Computer Praskshan Samiti
Pragati Gramodyog Evam Samaj Kalyan Sansthan
Pragati Janahit Kalyan Sewa Samiti
Pragatisheel Kisan Samiti
Pragatisheel Mahila Avam Bal Vikas Samiti
Pragatisheel Mahila Avam Bal Vikas Society
Pragatisheel Society
Pratiksha Seva Sansthan
Pratishtha Foundation
Prayag Dant Vigyan Anusandhan Sansthan
Prayag Hastshilp Vikash Foundation
Prayag Kunj Foundation
Prayag Rural Reconstruction Society
Prayagraj Sewa Sansthan
Preeti Samiti
Premdeep Foundation
Primrose Shiksha Sansthan
Public Development Trust
Pushpanjali Manav Seva Sansthan
Radha Memorial Educational Sewa Sansthan
Rafiq Memorial Educacional And Welfare Society
Rafique Memorial Educational Trust
Raj Welfare Society
Rajendra Prasad Shiksha Samiti
Ram Saran Educational Society
Ram Shiromani Dwivedi Charitable Social Welfare Society
Rama Tripathi Gramoday Shikshan Sansthan
Ramakrishna Math Allahabad
Ramanand Sewa Sansthan
Ramashankar Parihar Kisan Vidyalaya Sansthan
Rashtra Nirman Samiti
Rashtriya Asahaya Sewashram Parishad
Raunak Shiksha Seva Sadan Sansthan
Rise Foundation
Roopkatha
Roshni Janhit Seva Samiti
Rotary Sponsored Crippled And Youth Welfare Society
Sachin Khadi Gramoudyog Samaj Sewa Samiti
Saghan Kshetra Vikas Samiti
Sahara Public Shikshan Sansthan
Sahyog Mahila Bal Vikas Samiti
Sai Saroj Navnirman Sewa Sansthan
Saint Mary's Educational Society
Saint Thomas Educational Society
Sam Higginbottom Educational And Charitable Society
Samagr Vikash Samiti
Samanvay
Samvednaa
Sanchetna
Sanjeevani
Sanjeevani Siksha Vikas Samiti
Sankalp Sewa Shram
Santmother Teresa Sewa Samiti
Sardar Patel Shikshan Sansthan
Sarswati Shishu Mandir
Sarv Kalyan Foundation
Sarva Samaj Pragati Samiti
Sarvoday Vikas Samiti
Sarvodaya Gram Vikas Parisad
Sarvodaya Gramotthan Sewa Sansthan
Sathi Welfare Trust
Satwik
Satya Sukrit Seva Sansthan
Satyam Shivam Sundaram Manav Kalyan Sewa Sansthan
Saubhagya Shree Sahara Sansthan
Savendna Samajik Sahitik Sanskritik Samiti
Sehl
Sewa Bharti Samiti
Sewa Foundation Allahabad
Sewa Shakti
Shahid Memorial Educational And Welfare Society7
Shahri Evam Gramin Vikas Sewa Sansthan
Shakuntala Devi Kisan Vidyalay Samiti
Shakuntla Devi Social Welfare Society
Sharda Jyoti
Sharnagat Shivir Kalyan Samiti
Sharp Computer Education Socity
Shashwat Cultural Literature And Social Organisation
Shauzab Educational Society
Shikhar Vidya Mandir Shiksha Samiti
Shiksha Educational Trust
Shiv Mool Charitable Society
Shiv Shakti Sarva Sewa Samaj Kalyan Samiti
Shiva Manav Utthan Samiti
Shivansh Jan Jagriti Seva Samiti
Shoaibs Institute For Educational And Social Development
Shradha Bhakti Viswa Kalyan Trust
Shram Jivi Sewa Samiti
Shramik Vikas Seva Ashram
Shree Dev Chairetabl Trust
Shree Sitaram Vaish Memorial Charitable Society
Shri Bhagirathi Harijan Gramoday Samiti
Shri Krishn Vidyalaya Samiti
Shri Krishna Social Development Society
Shri Mahakali Sewa Samiti
Shri Rajaram Dharmraj Shikshn Sansthan
Shri Sadhu Singh Siksha Samiti Levdi Sendhuwar Tatarganj Bara Allahabad
Shri Shanker Aodyogik Sansthan
Shri Swami Narottamanand Giri Ved Vidyalaya
Sindhu Sangam
Siyadeeh Gram Kisan Shewa Sansthan
Smt Devki Devi Seva Samiti
Smt Savitri Devi Vidyalay Samiti
Smt. Chandra Kumari Shiksha Samiti
Social Development Society
Social Welfare Development Society
Society For Integated Development And Social Reconstruction
Society For Prevention Of Alcohousim And Drug Abuse
Society For Welfare And Advancement Of Rural Generations
Society Of Technical Education For Rural Development
Soft Power Art And Culture
Sp Memorial Educational Trust
Sparsh Pysical Art And Culture
Sreejan Rural Development Society
Sri Gaytri Mata Gyan Mahayga Smiti
Sri Janardan Sharma Memorable Trust
Sri Nath Yuva Kalyan Samiti
Sri Sumanglam
Srijan Sansthan
Sristi Vikas Avam Anusandhan Sansthan
St Joseph's Regional Seminary Society
Star Computer Education Welfare Society
Stewards Trust
Stuti Development Foundation
Stuti Foundation
Subhash Chandra Bosh Shiksha Samiti
Sudha Samaj Sevi Sansthan
Sunahra Bhavishya Vikas Samiti
Sunrise Foundation
Susanskriti
Swadeshi Gramodhyog Sansthan
Swadeshi India Foundation
Swami Vivekanand Computer Sewa Sansthan
Swar Sudha Sangit Sikshha Samiti
Swargiya Amar Nath Dwivedi Seva Samiti
The Indian Institute Of The Blessed Virgin Mary
The Institute Of Applied Sciences
The Institute Of Bio Research And Human Development
The Leprosy Mission Hospital Naini
The Lucknow Diocesan Council Of Cni
The Roman Catholic Diocese Of Allahabad Private Limited
The School And Home For The Blind ( Blind Asylum)
The Third Bell
The United Provinces Institute Of Blessed Virgin Mary
Trijya
Trishla Foundation
Triveni Gramodyog Utthan Samiti
Triveni Social Foundation
True Hope Foundation Trust
Tulika Educational Evam Welfare Association Trust
Ujjwal Yuva Vikas Mandal Sansthan
Unique Shikshan Sansthan
Unnati Foundation
Urvashi Ghanshyam Technological Research And Development Charitable Trust
Urwish Samaj Sewa Sansthan
Uttar Pradesh Gram Vikas Sansthan
Uttar Pradesh Welfare For People Living With Hiv Aids Society
Utter Pradesh Mook Badhir Vidhyalay
Utthan Centre For Sustainable Development And Poverty Alleviation
V I D Y A
Vaikunth Vridhda Sewa Samiti
Vaishanavi Trust
Vaishnavi Foundation
Vaishnavi Foundation Allahabad
Vashudev Kutumbkam Foundation Of India
Vasudha Welfare Society
Vicas Voluntary Institute For Community Applied Science
Vikalp
Vikas Evam Samaj Utthan Samiti
Vikash Path Samiti
Village Development Society
Vindhya Samekit Sansadhan Vikash Samiti
Vinoba Bhave Research Institute
Vipragyan Sewa Samiti
Vishwanath Singh Seva Sansthan
Vivekanand Shiksha Niketan Junior High School Shiksha Samiti
Vyanajana Art And Culture Society
Women Welfare Charitable Trust
Yashashvi Foundation
Yoga Satsanga Samiti
Z.H. Kazmi Shiksha Sewa Samiti
Zaheer Ahmad Educational Society

If your NGO is having programmes related to social issue in this district, just email the name of the NGO with link to it and we will share it free.
Our email : Datacentre@CSRidentity.com
We Salute
Soldiers, Police, Below the poverty line people who live with humanity, Social workers, NGO Founders, Hospital staff, Health care workers, Chemists, Medicines Trees, Forests, Medicinal plants, Rivers , Extinct animals, Homes, Climate, People working in crematorium
Shop from NGOs
NGO Sellers Concept
Following NGOs sell products.
These products are either made by communities or the NGOs act as agents of companies making these products.
The idea is to help communities, NGOs and corporates together.
NGOs can be selling agents
NGOs must be sustainable.
We dont want to loose focus of serving communities but in case of emergency where their funding stops, they must have at least one year survival funds so that the communities they serve do not suffer.
We have experienced that when an NGO working with disabled sales products made by them or NGOs working with women sell products made by them or NGOs selling tribal products or paintings .. its great honour to communities they serve.
And NGOs working in slums or villages or rural areas have great relationship with communities and corporates can think of having them as agents which can order products from corporates.
Its good for corporates who find good agents
Its good for NGOs because they earn
Its good for communities because its at home service

NGOs can keep half the commission they get and pass the other half to communities so that its win win long term situation