Paschim Medinipur District In West Bengal
Corporates
Any corporate interested in having NGOs as selling agents can contact the NGO directly.
But if the corporate wants to put their name plus contact person's name and phone number here, then they have to pay a donation of Rs 2000/- for one district.
Corporates
We plan to donate at least Rs 13433000/-
This amount is not just any amount. Bhau, founder Sanjay Kumud Moreshwar Bapat's father gave house & property to him through a Gift Deed and Government Authorities valued it as Rs 13433000/- and founder's father (Bhau) paid a stamp duty of Rs 403000/-. And after the Gift Deed, Bhau was the first person on earth (Of course many others stepped in) to start postponing death of founder after an almost fatal accident on 28.08.2013.
Founder knows that after death, neither anyone takes anything with them nor do they know whether their son, grand son, daughter in law or so called blood relatives or neighbours came to see them before they left earth.
When any human leaves this world, what remains is their Deeds when they were on earth. So our first target is Rs 13433000/- Of course they will not know the impact of their gifts to world, but that is beauty of life. Enjoy it but leave the world as satisfied human and not one with unending greed of money, property.
Corporates can donate to the NGO
Developed Nation Network Trust by G Pay.
It has 80G and waiting for renewal of FCRA.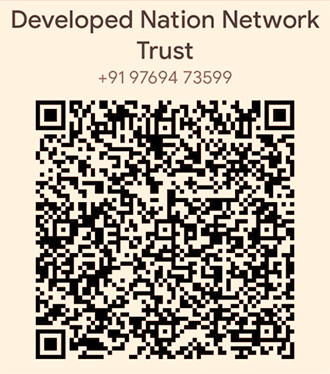 NGOs
NGO Brands
We share NGO Brands statewise in case of India
NGOs in this district
Acts Ministries
Advance Affirmative Movement And Global Education Trust
Al Madina Mission Trust
All India Youth Computer Training Centre Of Welfare Charitable Trust
Ambassadors Service Society
American Baptist Bengal Odissa Mission Of India
Amjam Radhamadhab Social Welfare Society
Amlatora Palli Seva Sangh
Anandan
Anandapur Janakalyan Samity
Andulia Juba Sangha
Anu Computer Academy
Arjya Education And Charitable Trust
Ashadip Medical And Social Welfare Association
Asharaloo Handicapped Society
Assists Building Right And Responsibilities (Abrr) Foundation
B.T. Road Npraxis Educational Society
Baikunthpurasthaldurgotasabsamti
Balarampur Sarvodaya Gramswaraj Sangha
Balichak Sristi Self Help Group Society
Bankim Behari Memorial Trust
Barchara Progressive Cultural Forum
Barnamala Educational And Cultural Society
Belda Society To Promote Awareness And Concern For Environment
Belda Tagore Society For Mass Education And Rural Development
Benai Bijoy Krishna Rural Development Society
Benai Coir Artisans Society
Bengal Odisha Jharkhand Tribal Baptist Churches Association
Bethel Apostolic Assemblies Charitable & Religious Trust
Bhairab Kundu Swami Vivekananda Welfare Society
Bharat Sevashram Sangha Dokra Branch
Bharatiya Samaj Kalyan Sangha
Birkota Rural Development Organisation
Bishnupur Lokeuttaran Sangha & Pathagar
Blind Madrasha & School(Pry)
Boalia Batitaky Gurusikshya
Brahmanipur Bani Mandir
Carmel Prathna Bhawan
Chak Kumar Milan Sangha
Chakkumar Association For Social Service
Chand Ali Public Charitable Trust
Chandabila Lok Bharati Lok Nritya Sanstha
Chandra Social Welfare Society
Chandrakona Road Nutan Aalo
Changual Ideal Welfare Society
Chapline Club
Child And Social Welfare Society
Christian Reformed Church
Compeering Society For Social Work And Research Network
Covenant Family Church
Dantan Manav Kalyan Kendra
Dantan Sports And Cultural Association
Dasagram Sevak Sangha
Daspur Bethel Light Mission
Deshapranpalli Social Welfare Society
Dubra Adibasi Club
Educare & Social Welfare Association
Educational Foundation And Charitable Organisation
Eral Sri Sri Gnan Mandir
Gandhi Mission Trust
Ghatal Mamata Welfare Societyy
Ghatal Missionary Baptist Fellowship
Goalara Gramin Ma Gouri Sebashram
Gobindapur Ramkrishna Seba Sangha
Gohaldanga Ramakrishna Sarada Vivekananda Seva Kendra
Gohaldiha Jati Upajati Blue Bird Womens Welfare Centre
Gopali Youth Welfare Society
Gopsai Avinandan Sangha
Gossner Evangelical Lutheran Church
Gramin Bikash Research Foundation
Hadia Institute Of Management It And Educational Training
Harisinghapur Satyanarayan Sangha
Harvest Rural Development Mission
Hatihalka Minorities Development Society
Hijli Citizen Welfare Association
Hijli Kalyan Kendra
Hitaljore Kishoribala Databya Chikitsalaya
Holy East
International Human Rights Commission
Iswar Chandra Memorial Educational Society
Jafala Jana Seva Sangha
Jahalda Rural Welfare Organisation
Jamda Jhargram Adibasi Club
Jan Shikshan Sansthan Paschim Medinipur
Janankalyan Social Welfare Trust
Jangal Mahal Allor Dishri Handicapped Welfare Society
Janhat Nabin Sangha
Jara Mirga Ambedkar Education Society
Jeevanjyoti Trust
Jhargram Friends Family And Welfare Society
Jhargram Friends Family And Welfare Society
Jhargram Honest Mission
Jhargram Hunger Seva Society
Jhargram Khadi And Village Industries Association
Jhargram Leprosy Project
Jhargram Live Stock Welfare Society
Jhargram Raghunathpur Education & Social Welfare Society
Jivan Dishari Seva Sadan
Joy Guru Sebanjali Seva Samiti
Jycli - Jatio Yuva Computer Learning Institute
Kaigaria Lotus Welfare Society
Kalachand Mandal Memorial Trust
Kalganj Promod Ranjan Sarkar Gramin Seva Society
Kalloldeep Foundation
Kamala Ghosh Smriti Gramin Granthagar
Kankrajhore Sidhu Kanhu Birsa Janakalyan Samiti
Karat Joykali New Tarun Sangha
Karwfc Producer Organization
Kashmar Ramakrishna Sarada Sevasharama
Kashmuli Sri Sri Ramkrishna Shikshasram
Keshiary May Fair Society
Keshpur Al Iqra Welfare Society
Kharagpur Anubartan
Kharagpur Asattoran Pratibandhi Foundation
Kharagpur Bulbulchati Welfare Society
Kharagpur College Alumni Association
Kharagpur Manab Seva Mission
Kharagpur Rising Friends Club
Kharagpur Saraswati Kalabhaban Foundation
Kharagpur Wildlife & Enviroment Conservation Society
Kharida Ward Memorial Church
Konnagar Vidyasagar Urban And Rural Development Society
Koredana Rural And Urban Development Society
Krishnapur Unprivileged Service Society
Kultapara Adarsh Social Welfare Society
Lalgarh Chetak Seva Samity
Lions Club Of Ghatal
Lok Chhanda Cultural Unit
Loka Seva Parishad
Lokayata Sanskriti Parishat
Maa Sarada Krishi Vigyan Mandir
Madhabchak Cyclone Club
Mahakuma Kustha Nibarani Samity
Maligram S K S W Society
Manabik Samsthan
Manikara Bapujee Pally Bandhu Sangha
Manoharpur Matrisebak Sangha
Maranatha Ministry
Marichya Pandit Iswar Chandra Vidyasagar Welfare Society
Mayer Ghar Bamananda Ashram Trust
Medinipur Baragarh Social Development & Welfare Society
Mednapur Unique Educare Eddcation Welfare Society
Meghdambur Birsa Munda Welfare Society
Midnapore Alam Committee
Midnapore District Association Of Sports Medicine
Midnapore Madhusudan Nagar Craft Centre
Midnapore Rehabilitation Centre For Children
Midnapore Rotary Eye Hospital
Midnapore Society Of Science
Midnapore West Sister Nivedita Welfare Society
Midnapur Progressive Sc St Minority Dev Association
Mirzabazar Subhas Sangha Byamagarh
Mohanpur Sri Sri Ramkrishna Ashram
Mohun Bagan Sail Football Academy
Moraine Human Resource Development Organisation
Morrison Memorial Home
Multi Activities Academy
Nabadiganta Janakalyan Samiti
Nachipur Sidhu Kanu Birsa Munda Club
Namosole Palli Mangal Lokyato Chikitsha Prashikhana Abang Gabesana Kendra
Nannurchak Minority United Social Welfare Association
Nayagram Satsang Group Of Society
Need Welfare Society
Nepura Rural Development Society
New Golden Morning Glory School
New Young Bengal Association Of Dantan
Nigam Anand Joyguru Yoga Ashram
Nikhil Bharat Banabasi Panchayat
Om Siddhibinayak Charitable Foundation
Palaspai Sabuj Sathi Sangha
Palli Milani Sangha
Panchthubi Pragati Sangha
Paschim Medinipur Backward Castes Welfare Society
Paschim Medinipur Community Resource Development And Research Centre
Paschim Medinipur Thalassaemia Prevention Society
Paschim Midnapore Backward Classes Welfare Society
Paschim Midnapur Prince Of Peace
Paschim Midnapur The Church Of Prince Of Peace
People For Progress In Chandrakona
Pingla Ambedkar Adibasi Welfare Society
Pingla Surendra Pratibandhi Vidyalaya
Prabuddha Bharati Shishutirtha
Purba Gopinathpur Vivekananda Club
Radhanagar Success Educational And Welfare Society
Radiant Youth Welfare Society
Raghunathpur Spot Light Society
Raja Narendra Lal Khan Women's College
Rajib Gandhi Development Institute
Ramakrishna Math Garbeta
Ramakrishna Math Midnapore
Ramakrishna Mission Ashrama Medinipur
Ramakrishna Mission Sevashrama Garbeta
Ramchandrpur Minority Welfare Association
Ranbania Alamo Rural Development Society
Rural Development Association
Rural Eco-Development Centre
Sabang Chak Vivekananda Welfare Society
Sainik Sishu Kalyan Sadan
Salgadia Happy And Holy Home Society
Salikha Nanak Vidya Pith
Samanta Eye Care
Sanatan Dharm Prachar Manch
Sarabhuj
Sarada Kalyan Bhandar
Saraswatipur Adibasi Bidhu Chandan Club
Sarat Chandra Hindi Vidyalaya
Saratchandra Gramin Pathagar
Sarbik Gram Bikash Kendra
Sarbik Pally Kalyan Kendra
Sauri Vivekananda Manab Kalyan Samity
Shree Guru Singh Sabha
Shree Shree Sarada Ashram (Mayer Bari) Charitable Sevayatan Homoeopathic And Eye Clinic
Shyamchak Pratibandhi Kalyan Samity
Sikh School Committee
Silda Swasti Unnayan Samity
Sitarampur Samaj Kalyan Samity
Social Welfare And Rural Development Society
Society Engaged With Voluntary Activities In Jhargram
South Star Help Line
Sreebora Vivekananda Sangha
Sri Sri Nitya Gopal Vision Care Foundation
Swami Vivekananda Mission Trust
Swasti Sevak Samaj
Teghari Palli Seva Sangha
Temathani Social Welfare Society
The Institute Of Social Research And Applied Anthropology
Tilaboni Ambassador Charitable Society
Tribal Janashikha And Janavikash Research Foundation
Trilochanpur Sri Ramkrishna Ashram
Tutranga Udiyaman Tarun Sangha
Unique Skill Development Institute
Universal Peace Centre
Vihs Educational Development Trust
Vision Educational Trust
Wb Sc And St Rural Development And Socio Economics Welfare Association
West Bengal Sc St And Minority Welfare Association
Women In Social Action

If your NGO is having programmes related to social issue in this district, just email the name of the NGO with link to it and we will share it free.
Our email : Datacentre@CSRidentity.com
We Salute
Soldiers, Police, Below the poverty line people who live with humanity, Social workers, NGO Founders, Hospital staff, Health care workers, Chemists, Medicines Trees, Forests, Medicinal plants, Rivers , Extinct animals, Homes, Climate, People working in crematorium
Shop from NGOs
NGO Sellers Concept
Following NGOs sell products.
These products are either made by communities or the NGOs act as agents of companies making these products.
The idea is to help communities, NGOs and corporates together.
NGOs can be selling agents
NGOs must be sustainable.
We dont want to loose focus of serving communities but in case of emergency where their funding stops, they must have at least one year survival funds so that the communities they serve do not suffer.
We have experienced that when an NGO working with disabled sales products made by them or NGOs working with women sell products made by them or NGOs selling tribal products or paintings .. its great honour to communities they serve.
And NGOs working in slums or villages or rural areas have great relationship with communities and corporates can think of having them as agents which can order products from corporates.
Its good for corporates who find good agents
Its good for NGOs because they earn
Its good for communities because its at home service

NGOs can keep half the commission they get and pass the other half to communities so that its win win long term situation