Paschim Bardhaman District In West Bengal
Corporates
Any corporate interested in having NGOs as selling agents can contact the NGO directly.
But if the corporate wants to put their name plus contact person's name and phone number here, then they have to pay a donation of Rs 2000/- for one district.
Corporates
We plan to donate at least Rs 13433000/-
This amount is not just any amount. Bhau, founder Sanjay Kumud Moreshwar Bapat's father gave house & property to him through a Gift Deed and Government Authorities valued it as Rs 13433000/- and founder's father (Bhau) paid a stamp duty of Rs 403000/-. And after the Gift Deed, Bhau was the first person on earth (Of course many others stepped in) to start postponing death of founder after an almost fatal accident on 28.08.2013.
Founder knows that after death, neither anyone takes anything with them nor do they know whether their son, grand son, daughter in law or so called blood relatives or neighbours came to see them before they left earth.
When any human leaves this world, what remains is their Deeds when they were on earth. So our first target is Rs 13433000/- Of course they will not know the impact of their gifts to world, but that is beauty of life. Enjoy it but leave the world as satisfied human and not one with unending greed of money, property.
Corporates can donate to the NGO
Developed Nation Network Trust by G Pay.
It has 80G and waiting for renewal of FCRA.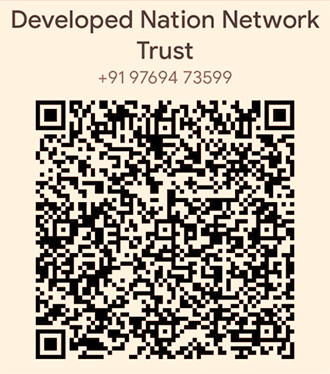 NGOs
NGO Brands
We share NGO Brands statewise in case of India
NGOs in this district
Aaftab E Alam Social Welfare Society
Ahalya Kailash Jyotsna Memorial Charitable Trust
Alapan Durgapur
Amiya Memorial Creative Art
Asansol Anandam
Asansol Charyapada
Asansol Healing Touch Welfare Society
Asansol Kathavasya
Asansol Muktir Alo Welfare Society
Asansol Muslim Educational And Welfare Foundation
Asansol Unicom Institute Of Technology
Barakar Netra Jyoti Health Care Society
Bengal Bible Training Institute
Bethel
Bhanora Mitali Sangha Library
Bidhan Chandra Pratibandhi Karmakendra
Burdwan Industrial Training College
Burnpur Buddhist Association
Burnpur Hirapur Educational Society
Burnpur Ramakrishna Purnananda Seva Ashram
Diocese Of Durgapur
Divine Welfare Trust
Dolon's Boutique & Handcrafts Trust
Domohani Bazar Natya Sena
Dr B C Roy Engineering College
Durgapur Abosar
Durgapur Akash Cultural And Welfare Society
Durgapur Bauddha Samity
Durgapur Bimla Devi Shekhars Welfare Society
Durgapur Blind Relief Society
Durgapur College Of Science And Computer
Durgapur Emkays Society Of Education And Welfare
Durgapur Indira Pragati Society
Durgapur Institute Of Advanced Technology & Management
Durgapur Snehochhaya
Durgapur Social And Educational Trust
Durgapur Society Of Management Science
Durgapur Subhaspally Handicapped Welfare Society
Durgapur Subhaspally Shishu Bikash Seba Kendra
Durgapur Sundaram Creative Welfare Society
Durgapur Viswagandha Science Society
Durgapur Womens Development Organization
Eastern India Educational Trust
Eastern Surveyors Association
Ebong Amra
Friends Of Hem Sheela Model School Corporation
Global National Institute Of Technology
Gopalmath Sisu Kalyan Samity
Guptacollegeoftechnologicalsciences
Guru Gopiram Institute Of Health Annexe
Hope Society For Handicapped Orientation Programme And Education
International Delhi Public School Educational Trust Asansol
Itapara Jagat Seba Society
Janakalyan Silk Khadi Sangha
Kalipather Navajeevan Seva Samity
Kalpana Educational Trust
Kanishka Vivekananda Cultural Society
Kendavivekanandasangha
Khandra Joy Baba Lokenath Welfare Foundation
Khanika Rural Development Society
Khas Kenda Aggradut Sangha
Land Survey Education Society
Lions Club Of Burdwan
Lions Club Of Panagarh Bazar Welfare Trust
Lok Samity Katwa
Ma Sarbamangla Society For Cultural And Education
Madhumoy Srilekha Education And Welfare Society
Mallabhum Manbhum Educational Trust
Manbhum Educational Trust
Manindranath Banerjee Memorial Society
Mirza Bazley Hossain Begg Welfare Society
Muslim Educational Society
Nari Samman Foundation
National Institute Council For Open Education
National Institute For Technical Education Welfare Trust
National Psycho-Social Educational Trust
National School Of Management Studies Durgapur Chapter
Organisation For Promotion Of Peoples Action For Development
Peace House Welfare Trust
Peariganj Computer Academy
Population And Social Development
Pramoth Nath Memorial Trust
Purbachal Ananda Foundation
Raise Your Voice
Ram Awadh Shaw Memorial Trust
Ramakrishna Mission Ashram
Raniganj Unnayan Samiti
Rural Industries Development Centre
Samyak Samadhan Foundation
Sanaka Educational Trust
Saraswat Prachyavidya Mahasangha
Saririk Ptatibandhi Unnayan Samiti
Shri Shri Panch Mata Durga Mandir
Sisu Udgam
Sitarampur Rajiv Gandhi Shikha Mission
Snarc Foundation
Society For Welfare Of The Handicapped Persons
Socio Economic Reforms By Voluntary Efforts
Sree Sree Mohanananda Cancer Diagnostic And Welfare Society
Srijan Educational & Cultural Development Trust
Srreoshi
Swami Pragyananda Education Trust
Swastik Educational Trust
Tentultala Sarada Computer
The Catholic Diocese Of Asansol
Tipu Sultan Memorial Society & Voluntary Blood Donors
Udbartan Social Welfare Organisation
Usha Gram Seva Udyog
Ushagram Seva Udyog
Vivekanandavikash Parishad

If your NGO is having programmes related to social issue in this district, just email the name of the NGO with link to it and we will share it free.
Our email : Datacentre@CSRidentity.com
We Salute
Soldiers, Police, Below the poverty line people who live with humanity, Social workers, NGO Founders, Hospital staff, Health care workers, Chemists, Medicines Trees, Forests, Medicinal plants, Rivers , Extinct animals, Homes, Climate, People working in crematorium
Shop from NGOs
NGO Sellers Concept
Following NGOs sell products.
These products are either made by communities or the NGOs act as agents of companies making these products.
The idea is to help communities, NGOs and corporates together.
NGOs can be selling agents
NGOs must be sustainable.
We dont want to loose focus of serving communities but in case of emergency where their funding stops, they must have at least one year survival funds so that the communities they serve do not suffer.
We have experienced that when an NGO working with disabled sales products made by them or NGOs working with women sell products made by them or NGOs selling tribal products or paintings .. its great honour to communities they serve.
And NGOs working in slums or villages or rural areas have great relationship with communities and corporates can think of having them as agents which can order products from corporates.
Its good for corporates who find good agents
Its good for NGOs because they earn
Its good for communities because its at home service

NGOs can keep half the commission they get and pass the other half to communities so that its win win long term situation