Palakkad District In Kerala
Corporates
Any corporate interested in having NGOs as selling agents can contact the NGO directly.
But if the corporate wants to put their name plus contact person's name and phone number here, then they have to pay a donation of Rs 2000/- for one district.
Corporates
We plan to donate at least Rs 13433000/-
This amount is not just any amount. Bhau, founder Sanjay Kumud Moreshwar Bapat's father gave house & property to him through a Gift Deed and Government Authorities valued it as Rs 13433000/- and founder's father (Bhau) paid a stamp duty of Rs 403000/-. And after the Gift Deed, Bhau was the first person on earth (Of course many others stepped in) to start postponing death of founder after an almost fatal accident on 28.08.2013.
Founder knows that after death, neither anyone takes anything with them nor do they know whether their son, grand son, daughter in law or so called blood relatives or neighbours came to see them before they left earth.
When any human leaves this world, what remains is their Deeds when they were on earth. So our first target is Rs 13433000/- Of course they will not know the impact of their gifts to world, but that is beauty of life. Enjoy it but leave the world as satisfied human and not one with unending greed of money, property.
Corporates can donate to the NGO
Developed Nation Network Trust by G Pay.
It has 80G and waiting for renewal of FCRA.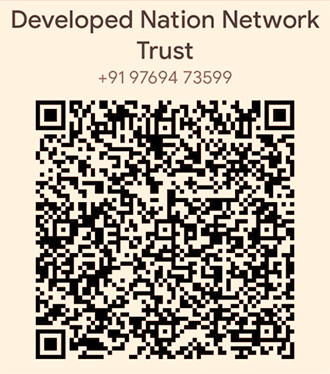 NGOs
NGO Brands
We share NGO Brands statewise in case of India
NGOs in this district
Aaswasa Bhavan
Abhayam
Ace Educational Charitable Trust
Al-Hidaya Islamic Trust
Ammu Care Charitable Trust
Anugrahabhavan
Ashadeepam Convent School For Mr Children
Ashtanga Educational Trust
Assumption Hospital Trust Of M.S.J Kanjirapuzha
Attappady Social Service Organisation
Baitu Shariqa Alkhairi
Bharathamatha Educational And Charitable Trust
Bharathi Vayanasala
Brahmananda Swami Sivayogi Educational Society
Care For Cows Dakshin Vrindavan Trust
Centre For Life Skills Learning
Chaithanya Charitable Trust
Church Of South India North Kerala Cochin Diocese
Consumer Protection Council Of Palakkad
Daughters Of Crowned Virg
Directorate Of Social Action
Dr.Apj.Abdulkalam.Smaraka.Vayanasala
E K Nayanar Smaraka Co-Operative Hospital And Research Centre
E M S Smaraka Janakeeya Vayanasala
Ems Smaraka Kalasamithi Vayanasala
Flory And Agricultural Trust Of Kerala
Folklore Arts And Cultural Enlightment
Gandhi Seva Sadan Kathakali And Classic Arts Akademy
Gowri Creations
Grameena Vayana Sala, Vadanamkurussi
Hamash Initiative Global Social Welfare
Hazrat Khwaja Shaikh Muhammed Swalih Moula Charitable Trust
Himayathul Islam Charitable Trust
Holy Family Social Centre
Hrds India The Highrange Rural Development Society
Human Welcare Foundation
Integrated Rural Technology Centre
Irshad Educational And Charitable Trust
Islahiya Orphanage
Islamic Educational Society
Jan Shikshan Sansthan Palakkad
Jsc Society
K T Ravunni Menon Smaraka Vayanasala
Kairali Grandhasala
Kallekulangara Kathakali Gramam
Kappungal Saidalavi Haji Memoriyal Trust
Karimpanakkal Charitable Trust
Kerala Industrial Promotion Council(Kipco)
Kerala State Peoples Development Centre
Koppam Paurasangam Vayanasala And Library
Krishnan Kutty Pulavar Memorial Tholpavkoothu And Puppet Centre
Lady Immaculate Society
Lead College Of Management
Library Ssweet
Lions Club Of Palghat
Lopaamudra Charitable Trust
Mahathmadesiyavayanasala
Maithri Entrepreneurial Initiatives For Sustainable Development
Malabar Educational And Charitable Trust
Malabar Medical Mission Trust
Marianservicesociety
Medha Education Foundation For Mentally Retarted Children
Mercy Home Charitable Society For The Aged Destitute
Mhm Educational Charitable Trust
Moulana Azad Educational And Cultural Trust (Maect) Vallapuzha
Mount Seena Sneha Sadan
Muthalamada Sneham Charitable Trust
National Service Society Of India
Navarang
Navothana Parishad
Nehru Group Of Institutions Technology Business Incubator (Ngitbi)
Nirmala Educational And Charitable Trust
Noorul Huda Charitable Trust
Nsscepkd
Ottapalam Welfare Trust
P T M E Charitable Trust
Palakkad District Public Library
Palakkad Mujahideen Arabic College Committee
Parokkottil Krishnan Memorial Educational And Charitable Trust
Perur Mahila Samajam Vayanasala
Pratheeksha Charitable Society
Pulasserikara Grameena Vayanasala And Samskarika Kendram
Rc Latin Diocese Of Sultanpet
Sangamam Vayanasala Arts And Sports Club
Sangham Kalasamithi And Vayanasala
Sanmarg Charitable Trust
Saphalam Charitable Society
Sevabharathi Palakkad
Sisters Of St Francis
Skdi Orphanage Committee
Skill Development Charitable Trust
Smart Association
Snehanilayam
Society For Rehabilitation Of Cognitive And Communicative Disorders
Society For The Rehabilitation Of The Poor And The Handicapped
Society Of Sisters Of St Joseph
Spandanam Charitable Trust
Sree Anjaneya Seva Samithi
Sree Sankara Educational And Charitable Trust
Sri Kalamandalam Padmanabhan Nair Smaraka Trust
St Joseph's Convent English Medium School
St Judes Educational Charitable Trust
St Maria Goretty Convent
St Marys Educational Trust
St Mary's Minor Seminary
St Peters Charitable Health Care Trust
St Ritas Convent
St.Paul's English Medium High School
Sultanpet Multi Purpose Social Service Society
Swami Vivekananda Medical Mission
Tapovarishtasram Trust
The Diocese Of Palakkad
The Society Of Daughters Of Divine Providence
The Society Of Dominican Sisters
The Society Of Sisters Of St Francis
The Sultanpet Diocese Society
Transformation India Movement
Trueline Charitable Trust
Trust For Research Rehabilitation Empowerment And Extension
Udaya Library
Vachaparambil M S Thomas Memorial Brothers Library
Vanaprastham Trust
Veda Rakshana Samithi
Vellinezhi Nanu Nair Smaraka Kalakendram
Vengassery Mahila Samajam
Vimal Rani Adoration Province
Viswas
Vyasa Vidya Peethom
Walayar Library And Reading Room
Yuvajana Kala Samithi And Vayansala

If your NGO is having programmes related to social issue in this district, just email the name of the NGO with link to it and we will share it free.
Our email : Datacentre@CSRidentity.com
We Salute
Soldiers, Police, Below the poverty line people who live with humanity, Social workers, NGO Founders, Hospital staff, Health care workers, Chemists, Medicines Trees, Forests, Medicinal plants, Rivers , Extinct animals, Homes, Climate, People working in crematorium
Shop from NGOs
NGO Sellers Concept
Following NGOs sell products.
These products are either made by communities or the NGOs act as agents of companies making these products.
The idea is to help communities, NGOs and corporates together.
NGOs can be selling agents
NGOs must be sustainable.
We dont want to loose focus of serving communities but in case of emergency where their funding stops, they must have at least one year survival funds so that the communities they serve do not suffer.
We have experienced that when an NGO working with disabled sales products made by them or NGOs working with women sell products made by them or NGOs selling tribal products or paintings .. its great honour to communities they serve.
And NGOs working in slums or villages or rural areas have great relationship with communities and corporates can think of having them as agents which can order products from corporates.
Its good for corporates who find good agents
Its good for NGOs because they earn
Its good for communities because its at home service

NGOs can keep half the commission they get and pass the other half to communities so that its win win long term situation