North East Delhi District In Delhi
Corporates
Any corporate interested in having NGOs as selling agents can contact the NGO directly.
But if the corporate wants to put their name plus contact person's name and phone number here, then they have to pay a donation of Rs 2000/- for one district.
Corporates
We plan to donate at least Rs 13433000/-
This amount is not just any amount. Bhau, founder Sanjay Kumud Moreshwar Bapat's father gave house & property to him through a Gift Deed and Government Authorities valued it as Rs 13433000/- and founder's father (Bhau) paid a stamp duty of Rs 403000/-. And after the Gift Deed, Bhau was the first person on earth (Of course many others stepped in) to start postponing death of founder after an almost fatal accident on 28.08.2013.
Founder knows that after death, neither anyone takes anything with them nor do they know whether their son, grand son, daughter in law or so called blood relatives or neighbours came to see them before they left earth.
When any human leaves this world, what remains is their Deeds when they were on earth. So our first target is Rs 13433000/- Of course they will not know the impact of their gifts to world, but that is beauty of life. Enjoy it but leave the world as satisfied human and not one with unending greed of money, property.
Corporates can donate to the NGO
Developed Nation Network Trust by G Pay.
It has 80G and waiting for renewal of FCRA.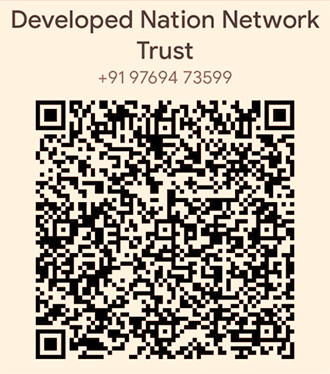 NGOs
NGO Brands
We share NGO Brands statewise in case of India
NGOs in this district
Aaddinath Lakshya Education & Welfare Society
Aagaz Foundation
Aarnova Technologies Private Limited
Aatmic Prem Charitable Trust
Aatmik Aradhana Charitable Trust
Aayushi Shkshan Evam Prasarak Pratishthan
Adarsh Shiksha Jyoti Foundation
Agrotech Research And Social Development
Aicb All India Crime Prevention
Akhil Bhartiya Poojniya Sumitra Mataji Gramin Vikas Sanstha
Akhil Bhartiya Rachnatmak Karya Sansthan
Akhil Bhartiya Viklang Vidhwa Virdha Sewa Samiti
Al - Aliyu Social Welfare Society
Al Kabeer Islamic Development Trust
Al Madeenaeducational And Cultural Society
Al Momin Educational Society
All India Ekta Education And Social Welfare Society
All India Gold Capital Computer Technology & Educational Society
All India Jamiatul Qassar
All India Siddharth International Educational Society (Regd.)
All India Sirajul Uloom Trust
All India Welfare Association
All India Zeenatul Quran Trust
Allied Women Welfare Educational Society
Amansewak
Ambay Educational & Charitable Trust
Amrit Education & Welfare Association Trust
Anchal Charitable Trust
Annan Educational Society
Anugraha Charitable Trust
Anurodh Sanstha
Apollo Tyres Foundation
Arman Foundation Society
Arya Bhatt Shiksha Samiti
Asha Deep Foundation
Association For Awareness And Social Upliftment (Aasu)
Association Of Revival Tebernacle
Atulya Divyang Sewa Samiti
Ayush Society
Back To Life Foundation
Back To Life Foundation Trust
Bagheducational And Socialwefare Society
Bal Jyoti Yuva Manch
Balaji Blind Institution Society
Balram Lal Foundation
Basic Foundation
Bhajan Lal Goyal Educational And Welfare Society
Bhartiya Manav Kalyan Parishad
Bhavishya Ki Neev Social Welfare Society
Bindu
Brics Chamber Of Commerce & Industry
Chalo Olympic Foundation
Chatarpati Shivaji Samaj Kalyan & Shiksha Prachar Samiti
Chetna Janhit Society
Child Educational Foundation
Chitragupt Sewa Sanstha
Ckg Foundation
Community Welfare Organisation
Compact Society For Social Welfare
Conference Of Religious Women India
Cosmic Institute Of Computer Technology And Innovation Trust
Crime Intelligence Force Trust
Darpan Music Society Of Kairana Gharana
Discipleship Mission Sewa Trust
Disha Group Of Visual And Performing Arts
Diyaa Ngo
Dr Hahnemann Educational Development Society
Dr. Zakir Husain Memorial Senior Secondary School
Educational Technology Foundation Society
Edupine Learning Foundation Trust
Ek Soch Ek Vichar
Encoding Technologies Educaional Society
Federation For Educational Development
Fire Pariwar Foundation
Ganga Social Foundation
Genesis Media Training Association
Ghanshyam Sewa Samiti
Gkg Care Foundation
Golden Educational Society
Golden Opportunity A Way To Salvation
Govind Satyagrahi Trust
Govindam Universal Medical Trust
Gram Swawlambi Swadeshi Swaraj Foundation ( G3s Foundation)
Haidry Minority Educational Charitable Trust
Harit Sewa Mission
Hayat-Ul-Uloom Educational Trust
Helping Hands Welfare Society
Heritage India
Himalayan Buddhist Cultural Association
Human Welfare And Progressive Society
Humanhelpers
Imam-E-Ilm-O-Phun (K.M.H.) Memorial Trust
Imperial Service Development Society
Indian Trade Fair Academy
Insha Educational Foundation
International Development Institute
Inwin Women Foundation
Iqra Jahan Foundation
J M Baksh Foundation
Jafrabad Village Resident Welfare Association
Jahan Vocational Training Institute
Jamia Arabia Baitul Uloom Society
Jamia Islamia Delhi
Jan Kalyan Shiksha Samittee
Janmanas Society For Social & Environmental Cause
Janta Ekta Samiti
Kala Kaushal Vikas Sankul
Kalawati Education And Social Service Samiti
Kalinga Bharti Foundation
Kalpataru Cultural Evolution Trust
Khushi An Incredible Smile
Kishori Lal Foundation
Koshish Foundation Trust
Kulhind Imam Association
Kusum Vikas Kendera
Late Shri Thakur Lakhmi Singh Educational And Welfare Society
Laxman Naturopathy Yoga & Research Foundation
Learnify School Of Academics
Life Health Care Organization
Lumbini Educational And Social Advancement Society
Maa Bhawani Foundation
Maa Foundation
Maaratni
Madarsa Gulshan -E Islam Educational Welfare Society
Madarsa Monia Habibiya
Madrasa Karimia Rahimia
Magadh Foundation
Mahendra Kumar Jain Educational Trust
Maitri Arts & Culture Society
Makhdoom-E-Millat Educational & Welfare Society
Manav Alp Sankhayak Utthan Seva Samiti
Manav Samaj Vikas Samiti
Manav Shikhar Ki Aur
Mascot Educational & Social Welfare Society
Mask Magic
Masudi Charitable Society
Mata Kameshwari Foundation
Maximilian Group Foundation
Media Association For Social Service
Mehraj Social Welfar Trust
Merciful Public Modern Education Society
Micro Education And Social Welfare Society
Minority Community Teachers Association
Mohlam Educational Trust
Momeen Kassaar Ekta Manch
Nai Muskan Foundation
Nai Peedhi Nai Soch
Nai Umang Nai Soch Society
National Literal Educational And Welfare Mission
Nav Nari Jagriti Sanstha
Nav Samaj Satyagrah Sansthan
Neghebaan Trust
New Moon Social Welfare Educational Society
Newrishta Micro Foundation
Nice Education Foundation
Nirmal Chhaya Drug De-Addiction And Social Welfare Society
Nissan Sewa Sansthan
Om Mahashakti Punj Trust
Pariwar Unity Road Safety Life Safety Ngo
Parmarth Educational Trust
Peace Scouts And Guides
Photons Welfare Society
Pradeep Social Welfare Group Of India
Pragati Human Foundation
Pragti Education & Welfare Society
Pratham Delhi Education Initiative
Project Concern
Purvanchal Prawasi Sangh
Qaumi Federation Of Madarsa Education
Rachna Womens Development Association
Rama Devi Association For Social Development
Rashtriya Purvanchal Mahasangh
Rastriya Paramhans Ramrattan Maharaj Shri Ji Jagni Trust
Rastriya Social Service Trust
Ratan Ekta Trust
Ravi Bharti Shiksha Samiti (Regd.)
Rewards ( Rural Environment & Water Assets Reproductive & Devlopment Society)
Rhea Educational Society
Rinchen Zangpo Endowment Society
Rishikul Foundation
Rising Initiative For All
Ruhan Educational & Charitable Trust
S D Memorial Trust
Sahara Bharti Foundation Of Delhi
Sahara Kalyan Samiti
Saifi Welfare Association Delhi
Sajha Sanghatan
Saksons Institute For Child Education Research And Development Trust
Sam Arpan For Education And Welfare Society
Samaj Ke Sarthi
Samanvit Shiksha Sansthan
Samarthan Society
Samkalp Education Foundation
Sampark (Regd.Society)
Sampurna
Samriddhi
Sankat Mochan Foundation
Sankatmochan Foundation
Sanskriti Skills Pvt Ltd
Sarvhit Social Welfare Society
Sarvodaya Mission
Sarvodaya Shakti Sewa Dal
Saz E Hera Educational Society
Seemanchal Jan Vikas Parishad Ngo
Shaikshik Foundation
Shifa Medical And Welfare Educational Foundation
Shiksha Jyoti Foundation
Shree Sai Jyoti Trust
Shri Mohanram Yogeshwar Dham And Yog Ashram Trust
Shri Nanaksar Ashram Society Delhi
Siddhi
Sikh Youth Organisation
Sir Syyed Educational And Social Welfare Society
Smart Skills Educational Trust
Social Foundation
Social Life Services Organisation
Society For Community Development
Society For Conscious Overall Progress
Society For People's Integrated Development(Spid)
Society Standing For All Youth Mass Awarness
Srishti Education And Welfare Society
St. Thomas Multipurpose Educational Society
Stay Natural Foundation
Suhail People Care Foundation
Sumadhur Hansadhwani Trust
Sun Shine Foundation
Super Genius Educational & Welfare Society
Suprabhat Educational And Social Welfare Society
Swami Sivananda Memorial Institute
Swami Vivekanand Children Welfare Charitable Trust
Target Welfare Educational & Health Development Society
Thakur Jee Charatable Trust
The Divya Rattan (U) Cooperative T/C Society Limited
The Rising Star Trust
Thought International Foundation
Trustngo Projects & Innovations
Tutelage Welfare Association
Udantika Manav Sewa Sanstha
Ujjwal Foundation
Ummid Foundation - Hope For Human
Universal Social & Educational Welfare Trust
Usha Devi Mandbuddi Viklang Seva Trust
Vanjaksh Group Of Associations
Vishwa Shanti Madhuvan Charitable Trust
Wall Communication Private Limited
Whizz Educational And Technical Organization
Whs Charitable Trust
Women Save And Social Welfare Association
Womens Action Group Chelsea
Yog Yamuna Mission
Yug Nirman Foundation
Yuva Drishti
Zarf Educational & Welfare Society
Zeenatul Quran Educational And Cultural Society
Zentek Educational & Welfare Society

If your NGO is having programmes related to social issue in this district, just email the name of the NGO with link to it and we will share it free.
Our email : Datacentre@CSRidentity.com
We Salute
Soldiers, Police, Below the poverty line people who live with humanity, Social workers, NGO Founders, Hospital staff, Health care workers, Chemists, Medicines Trees, Forests, Medicinal plants, Rivers , Extinct animals, Homes, Climate, People working in crematorium
Shop from NGOs
NGO Sellers Concept
Following NGOs sell products.
These products are either made by communities or the NGOs act as agents of companies making these products.
The idea is to help communities, NGOs and corporates together.
NGOs can be selling agents
NGOs must be sustainable.
We dont want to loose focus of serving communities but in case of emergency where their funding stops, they must have at least one year survival funds so that the communities they serve do not suffer.
We have experienced that when an NGO working with disabled sales products made by them or NGOs working with women sell products made by them or NGOs selling tribal products or paintings .. its great honour to communities they serve.
And NGOs working in slums or villages or rural areas have great relationship with communities and corporates can think of having them as agents which can order products from corporates.
Its good for corporates who find good agents
Its good for NGOs because they earn
Its good for communities because its at home service

NGOs can keep half the commission they get and pass the other half to communities so that its win win long term situation