Nashik District In Maharashtra
Corporates
Any corporate interested in having NGOs as selling agents can contact the NGO directly.
But if the corporate wants to put their name plus contact person's name and phone number here, then they have to pay a donation of Rs 2000/- for one district.
Corporates
We plan to donate at least Rs 13433000/-
This amount is not just any amount. Bhau, founder Sanjay Kumud Moreshwar Bapat's father gave house & property to him through a Gift Deed and Government Authorities valued it as Rs 13433000/- and founder's father (Bhau) paid a stamp duty of Rs 403000/-. And after the Gift Deed, Bhau was the first person on earth (Of course many others stepped in) to start postponing death of founder after an almost fatal accident on 28.08.2013.
Founder knows that after death, neither anyone takes anything with them nor do they know whether their son, grand son, daughter in law or so called blood relatives or neighbours came to see them before they left earth.
When any human leaves this world, what remains is their Deeds when they were on earth. So our first target is Rs 13433000/- Of course they will not know the impact of their gifts to world, but that is beauty of life. Enjoy it but leave the world as satisfied human and not one with unending greed of money, property.
Corporates can donate to the NGO
Developed Nation Network Trust by G Pay.
It has 80G and waiting for renewal of FCRA.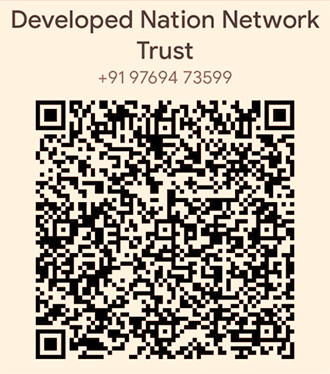 NGOs
NGO Brands
We share NGO Brands statewise in case of India
NGOs in this district
Aadarsh Educational And Welfare Society Malegaon Nashik
Abhivyakti Media For Development
Ability Foundation
Adarsh Samata Shikshan Prasarak Mandal
Ahilya Goshala Vadgaon Balhe
Ajeyveer Bahuuddeshiy Sanstha Nashik
Akhil Bhartiya Shri Swami Samarth Gurupeeth
Al Madeena Educational And Welfare Society Malegaon
All India Disabled Rehabilitation Educational Institute Nasik
Amrutsagar Educational And Human Research Institute
Andarsul Shikshan Prasarak Mandal
Andha Shikshan Prashikshan Sanstha Malegaon
Anil Sunil Khandelwal Trust
Anjuman Tahzeebul Akhlaque
Apulki Bahuuddeshiya Sanstha
Apulki Rugna Seva Samiti
Arpan Thalassemiya Society
Asha School Devlali Camp Nashik
Ashirwad Seva Dham
Ashoka Institute Of Medical Sciences & Research
Ashray Sanskar V Punarvasan Sanstha
Asra Womens Educational & Welfare Soceity
Avhan Bahuudeshiya Vikas Sanstha Tal. Dist.Nashik
Aviraj Education Bahuuddeshiy Sanstha
Ayurved Seva Sangh
Badebaba Macchindranath Trust
Baglan Seva Samiti
Bahu Vudeshiy Gramin Samjik & Shaishanik Santha
Bahuudeshiya Gram Vikas Sanstha, Somthane Tal. Sinnar, Dist.Nashik
Balkrushna Bahuuddeshiy Sevabhavi Sanstha Khambale
Banganga Bhaudeeshiya Sanstha
Bauddha Minorities Dharmik Sanstha Nashik
Bethania Mission Society
Bhagwan Nrusinh Seva Sanstha
Boys Children Home Manmad
Brahmachari Someshwar Chaytany Kalyankari Sanstha
Brahmagiris Pandurang Charitable Trust Nashik
Catholic Diocese Of Nashik
Central Hindu Military Educations Society
Chandrashekhar Badrinarayan Jadhav Foundation
Chhatrapati Rajshri Shahu Maharaj Bahhuudeshiy Sanstha Malegaon
Chinmay Panlot Kshetra Vikas Sanstha Jaykheda
Christian Social Society
Community Health Foundation
Dayasagar Samajik Va Shaikshanik Sanstha
Delight Educational Sports & Welfare Society Malegaon
Devas Health And Development Foundation
Devbappa Yoga Naturopathy Hospital
Dhyeyapurti Seva Va Swayamrojgar Ani Prashikshan Co-Operative Soc. Ltd.
Disha Foundation Nashik
Disha Mahila Bahuuddeshiya Sanghtna Dist- Nashik
Divine Bahhuddhyshiya Sanstha
Divya Daan
Dnyanopasana Bahuuddeshiy Samajik Sanstha Nashik
Dots Samajik Sanstha Nasik
Downs Syndrome Care Association
Dr Anand Amrut Patil Foundation
Dr Babasaheb Ambedkar Mitra Mandal Somthane Tal Sinnar Dist Nashik
Education Of Paramedical Council
Eklavya Jansewa Manch Nashik
Eklavya Seva Sanstha
Freedom Eleven Star Sports Education Social & Welfare Society
Gajanan Foundation
Gangode Gramin Vikas Bahuuddeshiya Sanstha
Gayatri Ayurved Yog Seva Sanshodhan Va Vikas Sanstha
Genesis Foundation
Gharkul Parivar Sanstha
Ghatndevi Shikshan Prasar Mandal
Glory Bahuudeshey Sanstha
Godawari Shikshan Mandal
Gokhale Education Society
Gosavi Bahuuddeshiya Sanstha
Gouri Samajik Kalyankari Sanstha Nashik
Gramin Mahila Vikas Sanstha
Gramin Samajik Parivartan Sevabhavi Sanstha Lahagewadi
Gramin Vikas Shikashan Santha Nashik
Gulabrao Maharaj Bahuudeshiya Sanstha Nikul
Gulshane Hind Educational And Welfare Society
Guru Gobind Singh Foundation Nashik
Gurumauli Medical And Education Trust Nashik
Harikamal Samajik And Shaikshanik Sanstha Nashik
Help Multipurpose Society
Hima Foundation
Hind Samrat Judo Karate And Sport Sanstha
Hrudya Education Trust
Icchapurti Riddhi Siddhi Vinayak Charitable Trust
Imam Ahmed Raza Educational & Welfare Society
Indira Education Society Nashik
Indorewala Memorial Educational And Medical Institute And Reserch Center
Indrajit Education Society
Infocom Computer Institute
International Knowlegde Foundation
Jagruti Karnabadhir Nivasi Vidyalaya, Makhmalabad, Nashik
Jai Hind Mitra Mandal Kolha Tal Manwat Dist Parbhani
Jamiyat E Ulma Hind Party
Janadhar Mahila Vikas Shikshnik Ani Margdarshan Sanstha
Janardan Namdev Ahire Smruti Pratishthan
Janseva Bahuddeshiya Sarvjanik Sanstha
Jay Yogeshwar Bahuuddeshiya Trust
Jay Yogwshawar Bhagwan Ial And Education Social And Educati
Jayhanuman Gramvikas Samajik And Shaikshanik Sanstha
Jayram Foundation
Jeevan Vikas Bahhudeshiya Sanstha
Joshaba Shikshan Prasarak Mandal
Kai Loknete Shri Kisanrao Charoskar Shikshan Sans Didiri
Kai Sundarabai Namdev Pangarkar Goshala
Kai Thagubai Shankar Deore Sevabhavi Sanstha Soundane
Kai Tulshiram Sakharam Hiray Shikshan Sanstha Dabhadi
Kalabhramanti Sanstha
Kapase Foundation
Kasamade Parisar Vikas Mandal Vithewadi
Khatoon Minority Womens Social Welfare And Educational Society
Khawaja Garib Nawaz Educational & Welfare Society
Kulswamini Shikshan Prasarak Mandal
Kulthe Foundation
Lasalgaon Vidya Prasarak Mandal
Late Dayaramji Pratisthan
Late Dr G M Bhavsar Charitable Trust
Lions Club Of Malegaon South Charitable Foundation
Little Angels Educational And Welfare Association
Madhuraa Women Empowerment And Welfare Trust
Maharashtra Prabodhan Seva Mandal
Maharath Foundation
Mahatma Basveshwar Bahuudeshiya Sevabhavi Sanstha Andarsul
Mahatma Fule Jyesth Nagarik Sevabhavi Sanstha Patane
Mahatma Gandhi Vidyamandir
Mahila Aani Sarvangin Utkarsh Mandal Nashik
Mahila Hakka Saurakshan Samiti Nashik
Manali Bahuudeshiya Seva Sanstha
Manavatavadi Bahuuddeshiya Sanstha Nashik
Manoj Sumurti Medical Foundation
Maratha Vidya Prasarak Samaj
Matoshree Education Society
Matoshri Bahu Uadeeshiy Sevabhavi Sanstha
Matoshri Jasodabai Soni Vikas V Seva Kendra Niphad
Mico Employees Forum
Milind Samajik And Sanskrutik Mandal
Mona Education And Weleare Society
Moonlight Womens Education And Welfare Society
Moral Educational And Social Welfare Society Malegaon
Mosam Bahuuddeshiy Sanstha
Mother Teresa Samajik Shaikshanik Va Mahila Vikas Sanstha
Mother Teresa Social Welfare Research And Educational Bahuuddeshiy Sanstha
Murlibhau Kedare Yuva Bahuuddeshiya Sevabhavi Sanstha
Muslim Yateem Khana
Myk Charitable Trust
N K Waje Bahuudeshiya Vikas Sanstha
Naad Foundation
Nagade Paithani Utpadak Vinkar Seva Sanstha Nagade
Najra Education Welfare Society
Namco Charitable Trust
Nashik Engineering Cluster
Nashik Yog Vidya Kendra
National Association For The Blind
Nav Nirman Samaj Vikas Kendra
Navaljyot Ojas India Foundation
Navjeevan Education Society
Navjeevan World Peace And Research Foundation
Navnirmiti Bahuuddeshiya Samajik Sanstha
Next Education Society
Nilratna Education And Medical Research Center
Niranjan Avhad Foundation For The Disabled
Norwegian Free Evangelical Mission India
Om Jivanmulya Sanshodhan & Vikas Foundation Nashik
Om Sai Shikshan Prasarak Sanstha
Padsad Apang Upchar Va Punarvasan Kendra Nashik
Panlot Shetra Vikas Sanstha
Param Chaitanya Foundation
Parashari Vidya Prasarak Sanstha
Parisar Seva Sanstha Kundewadi
Parivartan Education Sanstha Nashik
Parshwanath Jain Education Trust
Pavan Maruti Jagrut Devasthan Vadgaon Balhe
Pedkai Shaikshanik Samajik Seva Sanstha
Pnb Education Social And Welfare Society
Prabodhan Foundation Astane
Prabodhini Trust
Pragati Abhiyan
Prasadpawar Foundation
Pundai Bahuuddeshiya Sanstha Ravalji
Pushpadant Bahuuddeshiya Sanstha Dindori
R P Foundation
R S Samajik Va Shaikshanik Sanstha Wavi
Rachana Trust
Radha Krishna Guru Gaurang Seva Bhavi Trust Nasik Road
Radhika Shaikshanik Sanstha
Ramaai Shekshanik Gramin Vikas Bahuuddeshiya Sanstha
Regional Probation And After Care Association Pune Boys Children Home Malegaon
Renuka Sevabhavi Shikshan Prasarak Mandal
Richfield Agro E Research And Development Center Nashik
Right Way ( Sanmarg ) Samajik Shaikshanik Bahuudeshiy Sanstha
Rotary Charity Trust Malegaon
Royal Geer Goshala Foundation
Rudra Bahuddeshiya Sanstha
Rudreshwar Tarachand Charitable Trust
Rural Gospel And Medical Mission Of India
Sadguru P P More Dada Charitable Hospital & Medical Trust
Sahara Education Society
Sahyog Janvikas Bahuuddeshiya Sanstha
Saksham
Samagra Foundation
Samajik Vikas Bahu Uddeshiya Seva Bhavi Sanstha Yeola
Samanvay Samajik Sanstha
Samarpan Foundation
Samidnya Bahuudheshiya Sanstha
Sandip Foundation
Sandip Sudhakar Sonaje Education Society
Sangharsh Samaj Vikas Mandal
Sanjay Karbhari Deore Charitable Trust
Sanjivani Swayamrojgar Seva Sahakari Sanstha
Sant Shreshtha Shree Gajanan Maharaj Bahuddeshiy Seva Sanstha
Sapalhelp Foundation
Saptashrungi Mahila Vikas Mandal
Saptshrungimata Bahuudesiya Sevabhavi Sanstha Vijaynagar
Saraswati Mata Shikshan Prasarak Sanstha
Sarthak Shikshan Prasarak Samaj
Sarvhara Parivartan Kendra
Sarvsvi Foundation Cidco Nashik
Sarwajanik Seva Mandal Nashik Maharashtra
Savitribai Phule Seva Bhavi Sanstha
Sayyad Turab Ali Rahemattulla Alay Bahuddeshiya Sanstha Nashik
Sewam Social Educational Welfare Association For Multiperpose
Shaida Education Foundation Malegaon
Shakuntala Patil Bahuuddeshiy Sanstha Nashik
Shanakarachrya Nyas
Shantidoot Charitable Trust
Shiri Master Baba Gramin Shikshan Prasarak Mandal Nashik
Shivanjali Shaikshanik Va Samajik Sanstha Nashik
Shivprerna Social Gruop
Shivthirth Shevabhavi Bhahuudeshiy Sanstha
Shree Ganesh Shikshan Prasarak Mandal Umarane Taluka Deola District Nashik
Shree Gaushala Panjarpol Yeola
Shree Gondeshwar Charitable And Educational Trust
Shree Gurudatta Shikshan Prasarak Sanstha
Shree Laxminarayan Charitable Trust
Shree Sadguru Samajik Vikas Va Shaikshanik Sanstha Satana
Shree Sai Sanjivani Sanstha
Shree Saptashrung Niwasini Devi Trust
Shree Siddhivinayak Foundation
Shree Swami Samarth Krushi Vikas & Sanshodhan Charitable Trust Nashik
Shreekrushn Samajik Shaikshnik Vikas Sanstha
Shri Ashtavinayak Kala Krida Sanskrutik Samajik & Shaikshanik Sanstha
Shri Datta Sai Goshala
Shri Kailash Math Trust
Shri Mahavir Jain Dharmartha Dawakhana
Shri Ramakrishna Arogya Sansthan
Shri Sadguru Kacharnath Swami Matoshree Kantadevi Aai Charitebale Trust
Shri Sai Shikshan Sanstha
Shri Shaneshwar Seva Bhavi Sastha Nandgaon
Shri Siddhivinayak Gramin Vikas Mandal Katarvel
Shri Vasantrao Gite Saikshanik Samajik Va Bahuudeshiya Sanstha Nashik
Shrimati Yashoda Madhav Thakare Bahuuddheshiya Seva Bhavi Sanstha Nashik
Shrinath Samaj Vikas Mandal Nashikroad
Shriniwas Foundation
Siddhi Janakalyan Vidyakiya Shaikahanik Sanstha
Smt Parvatabai Tulshiram Garud Samajik Shaishnik Sanskrutik Kala Krida Sanstha Malegaon
Snehijan Bahuddheshay Samajik Shaikshanik Sanskrutik Kala Yuvak Kalyan Sansath
Social Networking Forum
Society For Education Agriculture Research & Child Health Foundation Nashik
Specialised Adoption Agency Run By Adharashram
Steam Foundation
Success Global Foundation
Sukar Adivashi Samajik Shaikshanik Bahuudyashiy Sanstha Fanaspada
Suman Medical And Educational Foundation
Sumati Dnyanpith Abhiyan
Sunrise Educational And Welfare Society
Sw Annasaheb Tatha Sudhir Baburao Pethkar Shikshan Prasarak Sanstha
Swami Vivekanand Samajik Shaikshnik Sarvjanik Sanstha Mu Po Ugaon Road Tal Nifad Dist Nashik
Swami Vivekanand Shikshan Prasarak Mandal Dahiwad
Swamin Foundation
Swarajya Samajik Shaikshanik Sanstha Dyane
Swarambh Foundation
The Evangelical Alliance Ministries
The Leprosy M. Vocational Training Centre
The Manmad Saint Vincentssociety
The Manmad St. Xavier's Society
The Phoenix Foundation
Tulsi Eye Hospital
Uday Bahuuddheshiya Samajik Shaikshanik Sanstha
Udyogwardhini Shikshan Santha
Utkranti Shikshan Prasarak Mandal
Vadhaman Shikshan Santha
Vaidik Dnyan Vidnyan Sanskrit Mahavidyalaya Nashik
Vanita Vikas Mandal
Vanvasi Va Durbal Ghatak Vividh Seva Prakalpa Nyas
Vasantrao Narayanrao Naik Education Society
Vibrations Musical And Educational Society
Vidya Seva Sanstha
Vinkar Bahuddeshiya Vikas Sanstha, Yeola, Tal. Yeoal Dist. Nashik
Vipassana International Children's Academy & Research Center
Vishwanath Shikshan Sanstha
Vishwas Dnyan Prabodhini And Research Institute
Vishwatmak Jangli Maharaj Ashram Trust
Voluntary Association For Community Health And Nurture
Womens And Child Development Trust
Yashwantrao Chavan Granthalaya Va Sarvajanik Vachnalaya Nashik
Yoga Vidya Gurukul
Youth Education & Welfare Socity Nasik
Yuva Mitra
Yuva Sakshamikaran V Kaushalya Vikas Prashikshan Mandal
Zariwala Educational And Social Welfare Society

If your NGO is having programmes related to social issue in this district, just email the name of the NGO with link to it and we will share it free.
Our email : Datacentre@CSRidentity.com
We Salute
Soldiers, Police, Below the poverty line people who live with humanity, Social workers, NGO Founders, Hospital staff, Health care workers, Chemists, Medicines Trees, Forests, Medicinal plants, Rivers , Extinct animals, Homes, Climate, People working in crematorium
Shop from NGOs
NGO Sellers Concept
Following NGOs sell products.
These products are either made by communities or the NGOs act as agents of companies making these products.
The idea is to help communities, NGOs and corporates together.
NGOs can be selling agents
NGOs must be sustainable.
We dont want to loose focus of serving communities but in case of emergency where their funding stops, they must have at least one year survival funds so that the communities they serve do not suffer.
We have experienced that when an NGO working with disabled sales products made by them or NGOs working with women sell products made by them or NGOs selling tribal products or paintings .. its great honour to communities they serve.
And NGOs working in slums or villages or rural areas have great relationship with communities and corporates can think of having them as agents which can order products from corporates.
Its good for corporates who find good agents
Its good for NGOs because they earn
Its good for communities because its at home service

NGOs can keep half the commission they get and pass the other half to communities so that its win win long term situation