Nanded District In Maharashtra
Corporates
Any corporate interested in having NGOs as selling agents can contact the NGO directly.
But if the corporate wants to put their name plus contact person's name and phone number here, then they have to pay a donation of Rs 2000/- for one district.
Corporates
We plan to donate at least Rs 13433000/-
This amount is not just any amount. Bhau, founder Sanjay Kumud Moreshwar Bapat's father gave house & property to him through a Gift Deed and Government Authorities valued it as Rs 13433000/- and founder's father (Bhau) paid a stamp duty of Rs 403000/-. And after the Gift Deed, Bhau was the first person on earth (Of course many others stepped in) to start postponing death of founder after an almost fatal accident on 28.08.2013.
Founder knows that after death, neither anyone takes anything with them nor do they know whether their son, grand son, daughter in law or so called blood relatives or neighbours came to see them before they left earth.
When any human leaves this world, what remains is their Deeds when they were on earth. So our first target is Rs 13433000/- Of course they will not know the impact of their gifts to world, but that is beauty of life. Enjoy it but leave the world as satisfied human and not one with unending greed of money, property.
Corporates can donate to the NGO
Developed Nation Network Trust by G Pay.
It has 80G and waiting for renewal of FCRA.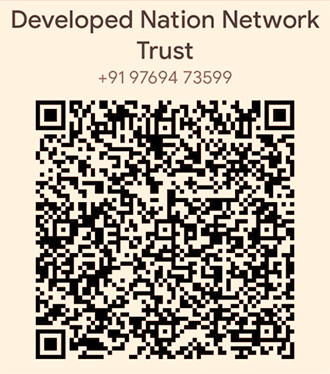 NGOs
NGO Brands
We share NGO Brands statewise in case of India
NGOs in this district
Aadhar Bahuudeshiya Sevabhavi Pratishthan
Aastha Education And Welfare Socity
Adhar Foundation Labour Colony
Adharsh Vidhyarjan Mandal
Adiwasi Shikshan Vikas Mandal Narwat
Almin Education And Welfare Society
Alpsankhyank Bahuddeshiya Sevabhavi Sanstha
Ankur Yuva Pratishthan Shekapur Kandhar
Anna Bhav Sathe Bahuudeshiya Sevabhavi Sanstha
Annabhau Sathe Foundation Mumbai
Apropriate Rural Technology Institute (Arti)
Arnav Social Research And Development Foundation Bodhadi Bk
Ashakiran Sevabhavi Sanstha Vishwadip Nangar Nanded
Ashoka Bahuuddeshiy Sevabhavi Sanstha Kiroda Post Golegaon Pk Taluka Loha Dist Nanded
Ashtavinayak Gram Kalyan Sevabhavi Sanstha Nagapur
Bandhubhav Shikshan Prasarak Mandal
Banjara Shikshan Prasarak Mandal Khatgaon Tanda
Beti Tejaswini Bahuudessiya Sevabhavi Sanstha
Bhagwan Baba Bahuuddeshiy Seva Bhavi Sanstha Nanded
Bharatratna Dr Babasaheb Ambedkar Sevabhavi Sanstha
Bharatratna Dr.Babasaheb Ambedkar Sevabhavi Sanstha,Harbal(P.U.)Tq.Loha Dist.Nanded (M.S.)
Bhavsar Sevabhavi Sanastha
Bhujal Parivartan Gramin Vikas Pratishthan
Chandrama Bahuuddeshiya Sevabhavi Sanstha Nanded Tq Dist Nanded
Chatrapati Shahu Maharajbahuddeshiya Sevabhavisanstha Malegaon Taluka Ardhapur District Nanded
Chatrapati Shivaji Raje Bahuuddeshiya Sevabhavi Sanstha
Deubai Shikshan Prasarak Mandal Waghi
Dhanwantari Sevabhavi Sanstha Loha
Dharma Donkey Sanctury
Dharmabad Shikshan Sanstha Dharmabad
Doctor Babasaheb Ambedkar Gramvikas Pratisthan Nanda Mp Tq Bhokar Dist Nanded
Dr B R Ambedkar Foundation Nanded
Dr Babasaheb Ambedkar Sevabhavi
Dyneshwari Vision Foundation
Ekta Alpsankhyak Shaikshanik Va Arogye Bahu Udeshiye Sevabhavi Sanstha Nanded
Fakira Bahuddeshiya Seva Bhavi Sanstha Balirampur
Faridsahab Welfare Society
Fatema Zohora Bahuuddeshiya Sevabhavi Sanstha
Firdos Bahuddeshiya Seva Bhavi Sanstha Cidco New Nanded
Friends Education And Social Association Barhali
Friends Of The Earth And Nature Conservator
Furqan Education & Welfare Socity
Gangamata Shikshan Prasarak Mandal Biloli
Gangamata Shikshan Prasarak Mandal Nanded
Garib Nawaz Alpsankhyank Sevabhavi Sanstha
Giriraj Foundation Nanded
Gopi Cultural Institute
Gorakshan Sanstha Mukhed
Grahak Panchayat Maharashtra
Gram Vikas Youvak Mandal Barahalli
Gramin Jan Vikas Mandal Kuntur Tq Biloli
Gramin Mahila Bahuuddeshiya Sevabhavi Sanstha Undri
Gramin Manav Vikas Mandal Degaon
Gramin Vikas Bahuddeshiya Samaj Seva Sanstha
Gramin Vikas Bhauuddeshiya Sevabhavi Sanstha
Gramin Vikas Mandal Barhali
Gramin Vikas Shikhan Prasarak Mandal Dhanora
Gramin Vikas Vidnyan Seva Bhavi Sansatha
Hazrat Rafai Alpsankhyank Bahu Uddeshiya Seva Bhavi Sanstha
Hutatma Jayvantrao Patil Shikshan Prasarak Mandal Shirad
Imam Sewabhavi Sanstha
Indira Public Health Center Loha
Jagdamba Vidya Prasarak Mandal
Jai Ambika Mahila Vikas Pratishthan Motarga
Jai Bajrang Gramin Vikas Mandal
Jai Bhavani Gram Vikas Bahuuddeshiya Sevabhavi Sanstha
Jai Gurudev Seva Pratishthan
Jai Jagdamba Shikhshan Prasarak Mandal Nirala Tanda Ta. Kinwat Dist. Nanded
Jai Jawan Jai Kisan Bahuuddeshiya Sevabhai Sanstha
Jai Malhar Sewa Pratisthan Machnoor
Jai Mata Gramin Vikas Shikshan Prasarak Mandal
Jai Tulja Bhavani Shikshan Prasarak Mandal Chavahanwadi
Jaiprakash Gram Kalyan Sanstha
Jan Chetyan Mandal Tq Loha Dist Nanded
Jan Jagrati Bahuuddheshiya Sevabhavi Sanstha Nanded
Janadhar Lok Kalyan Mandal Gajanan Nagar Nanded
Janakalyan Bahuuddeshiya Pratishthan
Jangjagratmandal
Jankalyan Minority Education Welfare And Cultural Society Nanded
Jankalyan Vikas Mandal
Jankranti Shikshan Prasarak Mandal Barahali
Janseva Vikas Mandal Nanded
Janvikas Bhauuddeshiya Sevabhavi Sanstha
Jay Ambika Bahuuseshiya Sevabhavi Sanstha
Jay Hanuman Bahudheshiy Sevabavi Santhas Gaundgaon
Jay Kishan Shikshan Prasarak Mandal
Jaywant Pratishthan
Jeevan Jyot Shikshan Prasarak Mandal
Jeevan Vikas Bahuddeshiy Sanstha
Jivan Jyot Samajik Sanstha
Jivandhara Gramin Vikas Mandal Dapka Gundopant Tq Mukhed Dist Nanded
Jyoti Mahila Mandal Maganpura Nanded
Jyotiba Phule Seva Trust Nanded
Kai Govindrao Bhosikar Krida Va Vyayamshala
Kai Madhavrao Mirkute Sev Abhavi Sanstha Koklegaon
Kai Narbaji Shikshan Prasarak Mandal Mudkhed
Kai Rukhminibai
Kai Venkatrao Patil Gramin Vikas And Shikshan Pratishthan
Kai. Radhabai Shaishanik Gramin Arogya Pratishthan Va Sanshodhan Kendra
Kai.Ismail Banagi Sab Tamboli Shikshan Prasarak Mandal
Kai.Shivrajji Deshmukh Pratisthan Kautha Tq Kandhar Dist Nanded
Krantivir Lahuji Salue Seva Bhavi Sanstha Halda
Krantivir Zashichi Rani Laxmibai Bahuuddeshiya Sevabhavi Mahila Mandal
Late Kishanrao Patil Gramink Shikshan Va Sarvajanik Sanstha Hussa
Late Mohanraoji Bahuuddeshiya Sevabhavi Sanstha
Late Ulhas Memorial Trust Kandhar
Lok Bhaskar Sarvajanik Vachnalay
Lokmangal Villege Development Trust
Lokmanya Savajanik Vachnalay Ambegaon
Lokmata Rajmata Maharani Ahilyabai Holkar
Lokvikas Bhauddeshiya Sewabhavi Sanstha Nanded
Madhav Shikshan Sanstha Mukhed
Mahamta Phule Pratishthan
Maharashtra Sarvajanik Shikshan Prasarak Mandal Nanded
Mahatma Bashweshwar Gramin Vikas Mandal
Mahatma Gandhi Samaj Seva Sanstha
Mahatma Jyotiba Phule Sevabhavi Sanstha Mukhed
Mahatma Phule Bahuuddeshiya Shikshan Sanstha
Mahatma Phule Shikshan Prasarak Mandal Khanapur
Mahatma Phule Shikshan Sanstha Hardaf
Mahila Utkarsh Seva Bhavi Sanstha Kinwat
Mamta Mahila Mandal Hingoli Gate Nanded
Manav Vikas Mandal Motarga
Manav Vikas Rashtriy Shikshan Prashikshan Prasarak Sanstha Dour
Manavkalyan Bahuddeshiya Sevabhavi Sanstha
Mandvi Shikshan Prasarak Mandal Mandvi
Manik Prabhu Sanstha
Mannshanti Sevabhavi Sanstha
Marathwada Khadi Gramodyog Samiti
Marathwada Lokseva Mandal
Marathwada Mahatma Phule Shikshan Prasarak Mandal
Matoshree Kamaltai Thamke Bahuuddeshiya Sevabhavi Sanstha Gokunda Tq.Kinwat Dist.Nanded
Matoshri Janabai Sevabhavi Sanstha
Matoshri Jijau Sarvajanik Vachnalay Chinchala
Matoshri Pratishthan
Matoshri Prayagbai Shikshan Prasarak Mandal
Matoshri Vithal Sevabhavi Sanstha
Mauli Bahuuddeshiya Sevabhavi Sanstha
Meenakshi Mahila Vikas Mandal
Milind Shikshan Prasarak Mandal Ambadi Tq Kinwat
Milind Viddya Prasarak Mandal
Minakshi Mahila Mandal
Mohammed Khaja Education And Welfare Soceity
Mohar Gramvikas Shikshan Pratishthan
Moulana Azad Alp Sankhya Bahuudheshiya Seva Bhavi Sanstha
Mukta Salve Bahuuddeshiya Samajik Sanstha
Mukta Salve Sevabhavi Sanstha Waghala
Muktai Pratishthan Degloor
Namaste Sewabhavi Sanstha Dharmabad
Nanded Gramin Vidya Vikas Sanstha Nanded
Nandigram Lions Trust
Narashyam Shikshan Sanstha
National Bahuuddyesheey Sevabhavi Sanstha Mukhed
Nav Nirman Shikshan Sanstha Bembra Tanda
Nilvishva Bahudeshiya Sevabhavi Sanstha Nanded
Nrusinh Bahuuddeshiya Sevabhavi Sanstha Degloor Tq. Degloor Dist. Nanded
Nursinh Swami Bahuuddeshiy Sevabhavi Sanstha
Nutan Vidhyalay Education Society
Omsai Jankalyan Bahuddeshiy Sevaabhavi Sanstha
P P Yogiraj Khushal Puriji Maharaj Bapu Charitable Trust
Pandit Dindayal Upadhaya Sewa Pratishthan
Pandurang Bahuudeshiy Sevabhavi Sanstha
Parag Samajik Bahuddeshi Sewabhavi Sanstha Deori
Parivar Sevabhavi Sanstha
Parivartan Pratisthan
Parmanand Foundation
Paryavaran Va Vanyajeev Sanrakshan Sevabhavi Sanstha
Prabodhan Bahuuddeshiya Sevabhavi Sanstha
Pradnya Darshan Shikshan Sanstha
Pradnya Surya Dr Babasaheb Ambedkar Mahila Vikas Mandal Rajura Bu
Pragat Maharashtra Mandal
Pratijyot Bahuuddeshiya Sevabhavi Sanstha
Priyadarshini Education Society Jahur
Progressive Friends Circle
Radheya Foundation Trust
Rajaramchandr Kshikshan Prasarak Mandal
Rajarshi Shahu Maharaj Shikshan Prasarak Mandal Mukhed
Rajmata Jijau Sarvajanik Wachnalay, Kamthala, Taluka. Kinwat, Dist. Nanded 431804
Rajmudra Pratishthan
Rajshree Shahu Raje Sevabhavi Sanstha
Ram Manohar Lohiya Pratishtan Vikas Mandal Dagdagaon Tq Loha Dist Nanded
Rani Laxmibai Mahila Mandal Jahur
Rani Laxmibai Mahila Mandal Nanded
Raosaheb Deshmukh National Institute Of Education And Defnes Nanded
Raosaheb Ramrao Sevabhavi Sanstha
Rayat Sevabhavi Sanstha Sujlegaon Nanded
Raza Academy Charitable Trust
Royal Swan Charitable Minority Trust
Sadbhawana Bahuudeshiya Sevabhavi Sanstha
Sahara Nanded
Sahayog Sevabhavi Sanstha
Sai Sewabhavi Trust
Sainath Bahuuddeshiya Sevabhvi Sanstha Panchapimpali
Saipratishthan Sevabhavi Sanstha Unchegaon Bk Tq Hadgaon Dist Nanded
Sairam Health Care Charitable Trust New Nanded
Samaj Prabodhan Shikshan Mandal Saknoor
Samata Magasvargiya Vikas Mandal
Samata Youvak Mandal Wadgaon
Samrat Ashok Bahhuudeshiya Lok Vikas Mandal Phule Nagar Mukhed
Sandhya Chaya Vardhashram
Sane Guruji Shikshan Sanstha
Saneguruji Sarvajanik Vachanalay
Sanjay Shikshan Sanstha Kandhar
Sanskriti Samvardhan Mandal
Sant Gora Kumbhar Sikshan Sanstha
Saptrang Sewabhavi Sanstha
Saraswati Shikshan Prasarak Mandal
Sarvangin Vikas Pratishthan
Satyadip Sevabhavi Sanstha Sarpanch Nagar Taroda ( Bk ) Nanded
Savitribai Fhule Bhuudeshiye Sevabhavi Sanstha Ladka
Savitribai Mahila Vikas Mandal
Savitribai Phule Magasvargiya Shikshan Prasarak Mandal
Sevadas Shikshan Prasarak Mandal
Shahnaaz Education And Welfare Society
Shambhuraje Vyayam Shala Sambhaji Nagar Taroda Bu T J Nanded
Shamkimata Bahuuddeshiy Sevabhavi Sanstha
Sharad Shikshan Sanstha Nanded
Shivam Bahuddishiya Sevabhavi And Shikshan Sanstha
Shivkrupa Shikshan Prasarak Mandal, Mukramabad, Tq. Mukhed, Dist. Nanded
Shivlaxmi Sevabhavi Vikas Sanstha
Shivneri Sewabhavi Sanstha Dharmabad
Shivsai Sevabhavi Sanstha Adampur
Shivshankar Bahuuddhishya Sevabhavi Shikshan Sanstha
Shivshankar Shikshan Prasarak Mandal Loha Sanchalit Balakasram Malegaon Yatra
Shramshakti Sevabhavi Sanstha Kuntur
Shree Mahadev Sevabhavi Sanstha Nanded
Shree Swami Samarth Bahuuddeshiya Sevabhavi Sanstha Nanded
Shri Ahilyadevi Holkar Shikshan Prasarak Mandal Sawali
Shri Bholenath Adivasi Shikshan Prasarak Mandal
Shri Chatrapati Shivaji Sevabhavi Shikshan Sanstha Tupdal Khu Tq Mukhed
Shri Datt Sewabhavi Sanstha Yetala
Shri Dattaguru Shikshan Prasarak Mandal Pangra
Shri Dhavaji Laxman Naik Shikshan Prasarak Mandal
Shri Ganesh Shikshan Prasarak Mandal Ahmedpur
Shri Guru Gobind Singh Ji Welfare Trust
Shri Hanuman Vyam Shala Va Krida Mandal Motarga
Shri Sant Balgir Maharaj Shikshan Sanstha Nanded
Shri Sant Dnyaneshwar Shikshan Prasarak Mandal Sawargaon (P)
Shri Sant Gadgebaba Gram Vikas Sevabhavi Sanstha Pandurna
Shri Sant Kaykadi Maharaj Shikshan Prasarak Mandal
Shri Sant Shiromani Manmath Swami Shikshan Prasarak Mandal Shewadi Ba Tq Loha Dist Nanded
Shri Santaram Shikshan Prasarak Bahuuddeshiya Sevabhavi Sanstha
Shri Sarswati Bahuuddeshiya Seva Bhavi Sanstha
Shri Sewalal Maharaj Shikshan Sanstha Shevdi Bajirao Tanda
Shri Somnath Pratistan Someshwar
Shri Venkateshwara Bahuuddeshiya Sevabhavi Sanstha Nanded
Shri Yogeshwar Jan Vikas Mandal Bapshetwadi
Shrikrushna Bahu Uddeshiya Sevabhavi Sanstha
Shrimati Narsabai Mahila Mandal
Shrisai Kashiannapurna Niswarth Karmaseva Vasvi Aryavaisya Nityanna Satram
Shrushti Bahu Uddeshiya Sevabhavi Sanstha
Shubh Sandesh Shikshan Prasarak Mandal
Shubhamkaroti Foundation
Siddarth Bahuddeshiya Sevabhavi Sanstha
Sipra Gramin Samajik Karya Vikas Sanstha
Sneh Sarvajanic Vachanalaya
Society For Education And Environment Lasina
Society For Resource Development
Sonai Mahila Mandal
Sony Bahuudeshiya Sevabhavi Sanstha
Spandan Bahuuddeshya Sevabhavi Sanstha
Subhashrao Patil Smruti Pratishthan Chikhli Ta Kandhar Ji Nanded
Sumedhbodhi Samajseva Partishthan Bawalgaon Post Shelgaon Gouri Taluka Mukhed District Nanded
Sunrisemissionnanded
Swami Vivekanand Bahuudeshiya Sevabhavi Sanstha
Swami Vivekanand Manav Vikas Sanstha
Swami Vivekanand Shikshan Prasarak Mandal Kanki
Swatantryavir Savarkar Bahuuddeshiya Sevabhavi Sanstha
The Crescent Foundation
The Nanded Sikhgurudwara Sachkhand Hazur Abchalnagar
Tukai Pratishthan Nanded
Tukaram Suryawanshi Bahuudeshiya Sevabhavi Sanstha
Ujala Sevabhavi Sanstha Nanded
Umid Global Foundation
Unnatisheel Mahila Mandal Nanded
Vanashri Samajik Sanskrutik And Gramin Vikas Sanstha
Vanchit Vikas Loksanstha
Vasant Shikshan Prasarak Mandal Mukhed
Veer Bhivaji Vayam Shala V Krida Mandal Gonar Tq.Kandhar Dist.Nanded
Veer Lahuji Magas Vargiya Shikshan Sanstha
Vidhya Niketan Sarvajanik Wachanalaya Alur
Vidya Apang Va Balkamgar Purnavasan Sanstha
Vidyaratna Bahuaddasia Sevabhavi Sanstha Aswalwadi
Vijaynagar Vachanalya Vijaynagar Nanded
Vikas Ganga Pratishthan
Vimukta Jati Sewa Samiti
Vipassana Kendra Nanded
Virat Bahuuddishiya Vikas Sevabhavi Sanstha
Virbhadra Shaikshnik V Bahuddeshiya Sevabhavi Sanstha
Vithoba Bahuuddeshiya Sevabhavi Sanstha Kanjara Khurd Taluka Hadgaon Dist Nanded
Vitthaleshwar Shikshan Prasarak Mandal
Vivekshilp Bahuudeshiy Sevabhavi Shikshan Prasark Mandal
Wagdara Bahuudheshiy Sevabhavi Sanstha Nanded
Yasinbi Bahuuddeshiya Sevabhavi Sanstha Biloli
Zen Shikshen Prasarak Mandal Kinwat

If your NGO is having programmes related to social issue in this district, just email the name of the NGO with link to it and we will share it free.
Our email : Datacentre@CSRidentity.com
We Salute
Soldiers, Police, Below the poverty line people who live with humanity, Social workers, NGO Founders, Hospital staff, Health care workers, Chemists, Medicines Trees, Forests, Medicinal plants, Rivers , Extinct animals, Homes, Climate, People working in crematorium
Shop from NGOs
NGO Sellers Concept
Following NGOs sell products.
These products are either made by communities or the NGOs act as agents of companies making these products.
The idea is to help communities, NGOs and corporates together.
NGOs can be selling agents
NGOs must be sustainable.
We dont want to loose focus of serving communities but in case of emergency where their funding stops, they must have at least one year survival funds so that the communities they serve do not suffer.
We have experienced that when an NGO working with disabled sales products made by them or NGOs working with women sell products made by them or NGOs selling tribal products or paintings .. its great honour to communities they serve.
And NGOs working in slums or villages or rural areas have great relationship with communities and corporates can think of having them as agents which can order products from corporates.
Its good for corporates who find good agents
Its good for NGOs because they earn
Its good for communities because its at home service

NGOs can keep half the commission they get and pass the other half to communities so that its win win long term situation