Nadia District In West Bengal
Corporates
Any corporate interested in having NGOs as selling agents can contact the NGO directly.
But if the corporate wants to put their name plus contact person's name and phone number here, then they have to pay a donation of Rs 2000/- for one district.
Corporates
We plan to donate at least Rs 13433000/-
This amount is not just any amount. Bhau, founder Sanjay Kumud Moreshwar Bapat's father gave house & property to him through a Gift Deed and Government Authorities valued it as Rs 13433000/- and founder's father (Bhau) paid a stamp duty of Rs 403000/-. And after the Gift Deed, Bhau was the first person on earth (Of course many others stepped in) to start postponing death of founder after an almost fatal accident on 28.08.2013.
Founder knows that after death, neither anyone takes anything with them nor do they know whether their son, grand son, daughter in law or so called blood relatives or neighbours came to see them before they left earth.
When any human leaves this world, what remains is their Deeds when they were on earth. So our first target is Rs 13433000/- Of course they will not know the impact of their gifts to world, but that is beauty of life. Enjoy it but leave the world as satisfied human and not one with unending greed of money, property.
Corporates can donate to the NGO
Developed Nation Network Trust by G Pay.
It has 80G and waiting for renewal of FCRA.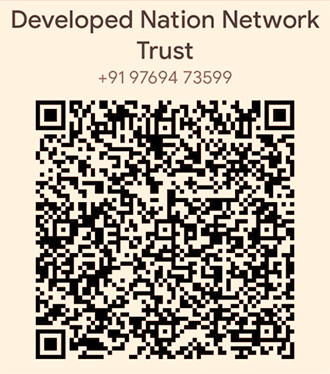 NGOs
NGO Brands
We share NGO Brands statewise in case of India
NGOs in this district
Adrito Finance Services
Aikbdswt (Silpi Sansad)
Albeka Foundation
All India Youth Computer Saksharta Mission
Alliance For Rural Service & Human Improvement
Anandanagarmahilasam
Annapurna Foundation
Antarleen
Baba Bholanath Swanirvar Gosthi
Badkulla Balai Chandra Biswas Memorial Institution
Badkulla Luna Silk Khadi Society
Bagdia Srijan Welfare Society
Balai Chandra Rural Development Organization
Balia New Sonali Sapon
Bamanpukur Integrated Welfare Society
Bandhu Foundation
Bara Andulia Mahila Samity
Barachand Ghar Manahar Sebasram
Barnia Gramin Khadi O Kutir Shilpa Unnayan Samity
Belgoria Khadi Unnayan Samity
Bethua Upliftment Society
Bethuadahari Bhorer Alo
Bethuadahari Institute For Mother & Child Care
Bethuadahari Nabo Diganta Welfare Society
Bethuadahari Reputed Theatre
Bethuadahari Silk Khadi Samity
Bhabanipur Kumudini Smriti Sevashramo Siksha Niketan
Bharat Sevashram Sangha Kusuria Branch
Big Idea Multi Services And Anti Corruption Trust Of India
Catechist Sisters Of Maryimmaculate Help Of Christians
Catherina Charitable Trust
Chakdaha Natyajan
Chakdaha Sri Loknath Women Welfare Society
Chakdha Ashirbad Welfare Society
Chapra Begum Rokeya Educational & Welfare Society
Chapra Social And Economic Welfare Association
Charbrahmanagar Khadi O Gramin Shilpa Unnayan Samity
Chenga Rural Welfare Society
Child Development Research And Youth Welfare Centre
Christ Church Hostel Unit 2
Crop And Weed Science Society
Daluabari Vivekananda Sarvik Pally Unnayan Samity
Dayabari Hope Education Society
Dhantala Mayukh
Digital Youth Computer Education
Disha Mahila Foundation
Disha Microfinance Trust
Don Bosco Ashalayam Kalyani Trust
Don Bosco Krishnagar
Don Bosco Yuva Jayanti Society Krishnanagar
Dr Bidhan Chandra Roy Medical Research Foundation
Dr K R Adhikary College Of Optometry And Paramedical Technology
Dreams
Earke Club
Effort Development Ideal Trust
First Light Welfare Society
Fulia 52-Bigha Social Development Organization
Gayeshpur Sanglap
Ghurni Mahamaya Social Welfare Society
Global Development Foundation
Goas Anirban Club
Gopalpur Acharya Prafulla Chandra Roy Smriti Sangstha
Gopalpur Dr B R Ambedkar Kishore Seva Sangha
Gournagar Kalyan Samity
Halalpur Swarnachitra Shilpa Kala Niketan
Hanskhali Bazarpara Welfare Society
Haringhata Saphalya Develeopment Society
Hatisala Milon Tirtha
Hazabarala
Humayun Kabir Educational & Welfare Trust
I R D O
Ichchha Foundation & Research Institute
Ideal Scienc & Research Welfare Hub
Institute Of Computer Literacy And Training
International Human Rights Commission And Council
International Society For Krishna Consciousness, Mayapur Branch
International Starttford Hotel Management Institute
Iswar Chandra Vidyasagar Rural Development Organization
Iswarchandra Vidyasagar National Youth Council
Jagadish Chandra Bose National Shiksha Mission
Jaganmata Ramkrishna Charitable Trust
Jatrapur Rural Development Society
Jawaharlal Nehru National Youth Computer Centre
Jeevan Jyoti Microfinance
Joh Foundation
Kalyani Alor Disha
Kalyani Auxilium Educational Society
Kalyani Book Fair Committee
Kalyani Kalamandalam
Kalyani Life Institute
Kalyani Natya Vabna
Kalyani Natya Vabna
Kalyani Netaji Subhash Academy
Kalyani North Jayprakash Memorial Development Mission
Kalyani Parmeswar Welfare Society
Kalyani Town Club
Kalyania
Kamal Kanta Das Memorial Social Welfare Society
Kamalpur Sarada Social Welfare Society
Karimpur Anami Jatra Samaj
Karimpur Jamtala Disaree Welfare Society
Karimpur Natyapremi Cultural Trust
Karimpur Sahayogi
Karsuna Swasti Awareness Society
Kataganj Spandan
Kishalay Trust
Krishnagar Cathedral Charitable Social Society
Krishnagar Daffodil Welfare Organisation
Krishnagar Lions Club
Krishnagar Morrow Foundation
Krishnagar Swami Bibekananda Yuba Samity
Krishnagar Theaas
Krishnanagar Sinchan
Krishnapurchak Kiran Welfare Society
Kuliapath Sri Chaitannya Mahapravu Charitable Trust
Lina Unnayan Kendra
Lions Club Of Nabadwip
Lions Club Of Ranaghat West
Loke Seva Sibir
Madanpur Avinoy 9
Madanpur Yatrik Natya Sangstha
Manju Foundation
Marvellous Central Aims Academy
Mayapur Apanjan Rural Foundation
Muragachhha Brave Society Of Young Blood
Murshidabad Sonar Bangla Educational And Welfare Society
Nabadwip Bakultala Vidyalaya Praktan Chhara Sammilanee
Nabadwip Sri Hari Ohm Children Welfare Soc
Nabadwip Uttaran
Nadia Ggramin Bikash Trust
Nadia Gramin Silpi Sanstha
Nadia Murshidabad Adibasi Kalyan Samity
Nadia Progressive Contractors Welfare Association
Nadia Shibpur Sai Sadguru Samity
Nadia Zila Rashtra Bhasa Prachar Samiti
Nadia Zilla Pratibandhi Kalyan Samiti
Nadia Zilla Pratibandhi Manabik Mullayan Samity
Nagadi Agragami Gram Bikash Samity
Nakashipara Nirmal Hriday Samity
Nakshatra
Namhatta Development Trust
National Centre For Development Of Technical Education
National Health Care Charitable Trust
National Institute Of Computer And Technology
Natya Premi Sansthya
Nazirpur Dr B R Ambedkar Eye And General Helth Relief Centre
Netrajyoti Eye Hospital (Unit Of Netrajyoti Eye Research Foundation)
Nirmalnagar Prantik Samaj Unnayan Samity
Pandit Lakshmi Kanta Maitra Smriti Samaj Kalyan Kendra
Parama Mahila Samittee Kamalpur
Patuli Mahila Uddyog Samity
Pavitra Vaydic Math
People For Animals International
Plassey Bhagat Singh Youth Forum
Purba Chichuria Janamangal Sanirbhar Samity
Purnanagar Jagadish Memorial Seva Sangha
Radhanagar Dipsikha Swanirvar Gosthi
Raghabpur Central Rural Development Society
Raja Welfare Charitable Trust
Ramnagar Parimal Social Welfare & Rural Development Centre
Ranaghat Jagpur Road Dr.B.R.Ambedkar Schedule Caste & Scheduled Tribes Development Society
Ranaghat Lions Trust
Ranaghat Nawpara Social Welfare Society
Ranaghat Rastrabhasha Siksha Kendra
Ranaghat Subhas Bose Welfare Society
Rashtriya Mukta Jana Shiksha Parishad
Rashtriya Youth Computer Saksharata Mission
Rastriya Youth Computer Prashikhan Kendra
Rewa Training Institute
Rupanjali Khadi Samity
S.B. Educational Trust
Sadipur Mahila Welfare Samity
Sainath Welfare Organization
Sakdaha Youth And Cultural Forum
Sanhita Sarkar Memorial Trust
Santipur (East) Wealfare Society
Santipur Basanti Welfare Society
Santipur Educational Cultural And Health Organisation
Santipur Rangapeeth
Santipur Sanskritik
Sapta Rathi Unnyan Samiti
Sarkar Youth Education Council
Sati Debvasha Shiksha Niketan
Sattya Seba Sangha
Shaktinagar Rashtrabhasha Prachar Kendra
Shantipur Durbar Samity
Shimultalapara Anandabas Welfare Society
Shri Shri Partha Sarathi Bhuma Sukh Ashram
Sisters Of Mary Immaculate Of Bishop Morrow
Sistry Foundation
Skill India Development Foundation
Society For Prakritjan And Rural Development
Sondanga Bandhu Samity
Souptik Natya Sanstha
Sreedham Mayapur Township Turst
Sreema Mahila Samity
Sri Gopinath Gaudiya Math
Sri Mayapur Food Relief Trust
Sri Mayapur Vikas Sangha
Sri Sri Harichand Guruchand Seva Ashram
Srijani Mahila Swanirvar Dal Samabay Samiti Ltd
Srimad Bhaktikeval Audulomi Srikrishna Chaitanya Sevashram
St John Ambulance Association Ranaghat Centre
St. Margarets Boys Hostel
Step In Development Welfare Organisation
Stepping Stones India
Surakha Financial Welfare Society
Susmita Memorial Philanthropic Trust
Talukhuda Adarsha Academy
Tarakdas Seva Sangha
Taruchaya
Tehatta - Ii Sc St Obc Minority Community Development Organization
The Bhimpur Assannagar Balai Chandra Biswas Memorial Society
The Roman Catholic Diocese Of Krishnagar
Unique Social Equality
Universal Integration Trust
Usha Education And Charitable Trust
Ushagram Loka Sikahaniketan
Ushagram Trust
Vibekananda Sangathan
Youth Unity Volunteers Association
Zenith Welfare Association

If your NGO is having programmes related to social issue in this district, just email the name of the NGO with link to it and we will share it free.
Our email : Datacentre@CSRidentity.com
We Salute
Soldiers, Police, Below the poverty line people who live with humanity, Social workers, NGO Founders, Hospital staff, Health care workers, Chemists, Medicines Trees, Forests, Medicinal plants, Rivers , Extinct animals, Homes, Climate, People working in crematorium
Shop from NGOs
NGO Sellers Concept
Following NGOs sell products.
These products are either made by communities or the NGOs act as agents of companies making these products.
The idea is to help communities, NGOs and corporates together.
NGOs can be selling agents
NGOs must be sustainable.
We dont want to loose focus of serving communities but in case of emergency where their funding stops, they must have at least one year survival funds so that the communities they serve do not suffer.
We have experienced that when an NGO working with disabled sales products made by them or NGOs working with women sell products made by them or NGOs selling tribal products or paintings .. its great honour to communities they serve.
And NGOs working in slums or villages or rural areas have great relationship with communities and corporates can think of having them as agents which can order products from corporates.
Its good for corporates who find good agents
Its good for NGOs because they earn
Its good for communities because its at home service

NGOs can keep half the commission they get and pass the other half to communities so that its win win long term situation