Mysuru District In Karnataka
Corporates
Any corporate interested in having NGOs as selling agents can contact the NGO directly.
But if the corporate wants to put their name plus contact person's name and phone number here, then they have to pay a donation of Rs 2000/- for one district.
Corporates
We plan to donate at least Rs 13433000/-
This amount is not just any amount. Bhau, founder Sanjay Kumud Moreshwar Bapat's father gave house & property to him through a Gift Deed and Government Authorities valued it as Rs 13433000/- and founder's father (Bhau) paid a stamp duty of Rs 403000/-. And after the Gift Deed, Bhau was the first person on earth (Of course many others stepped in) to start postponing death of founder after an almost fatal accident on 28.08.2013.
Founder knows that after death, neither anyone takes anything with them nor do they know whether their son, grand son, daughter in law or so called blood relatives or neighbours came to see them before they left earth.
When any human leaves this world, what remains is their Deeds when they were on earth. So our first target is Rs 13433000/- Of course they will not know the impact of their gifts to world, but that is beauty of life. Enjoy it but leave the world as satisfied human and not one with unending greed of money, property.
Corporates can donate to the NGO
Developed Nation Network Trust by G Pay.
It has 80G and waiting for renewal of FCRA.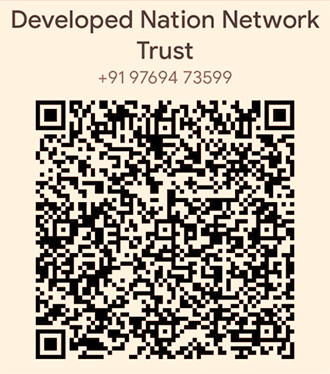 NGOs
NGO Brands
We share NGO Brands statewise in case of India
NGOs in this district
Ace Education Trust
Adullam Educational Institution
Aims
Akhanda Seva For International Shanti
Anjali Ashram
Anurag Seva Trust
Arivu Education And Cultural Trust
Ashakirana Charitable Trust
Ashodaya Samithi
Awmd Association For The Welfare Of The Mentally Disabled
Baptist International Missions Incorporated
Bapuji Childrens Home
Bethel Prayer House Trust
Bhageerath
Bhagvan Sri Satya Sai Baba Mahila And Makkala Koota Trust
Bharanifoundation
Bharath Charitable Cancer Hospital And Institute
Bharathi Yoga Dhama
C.M.Charitable Trust
Cathedral Parish Society
Center For Traditional Education
Chaitanya Charitable Trust
Chethana Trust
Daughters Of Our Lady Of Mercy
Deenashrama
Dheesmruthi Cultural Trust
Dhyanvana
Divya Deepa Charitable Trust
Divya Jyothi Charitable Trust
Dornahalli Parish Society
Drikung Charitable Society
Dss Nirmala Province
Dzongkar Choede College Mahayana Buddhist Cultural Association
Eco Agri Research Foundation
Environmental And Social Education For Valuerable Committee
Fcc Aiwc Mysore
Gayathripuram Educational & Charitable Trust
Geetha Shishu Shikshana Sangha Regd
Global Association Of Scientific Young Minds (Gasym)
Glory Of God Trust
Good Shepherd Convent (Mysore)
Good Shepherd Mission
Grassroots Research And Advocacy Movement
Green Dot Trust
Gyudmed Tantric University Society
Hadong Khangtsen Buddhisi Cultural Society
Heards Foundation
Holy Family Bhavan Trust
International Human Development And Upliftment Academy
Jagadguru Sri Shivarathreeshwara University
Jagruthi
Jagruthi Welfare Of Poor Women
Jain Charitable Trust
Jan Shikshan Sansthan Mysore
Janaseva Trust
Jeevan Daan
Jesus Heals Ministries Charitable Trust
Jnanodaya Ashrama
Jss Hospital
Jss Mahavidyapeetha
K G Groups
K S Of Sacred Sciences
Karuna Home For The Disabled
Karunalaya Charitable Trust
Kripanidhi Trust
Krishna World International Karnataka
La Saleete Niketan Trust
Madrase Rahool Quran
Mahan Trust
Manamel Trust
Mar Thoma Education Society
Martalli Parish Society
Mira Aditi Centre
Myrada Kaveri Pradeshika Samsthe (Mykaps)
Mysore Diocesan Society
Mysore Pallottine Educational Research And Development Society
Nadavidyalaya Academy Of Music And Dance
Nature Conservation Foundation
Navajyothi Trust
Nisarga Foundation Trust
Nyingma Monlam Chenmo International Foundation
Odanadi Seva Samsthe
Om Sri Vishwa Jyothi Vidya Samsthe R
One Family One Heart
Organization For The Development Of People
Otterthotti Parish Society
Parivarthana
Penor Rinpoche Charity Foundation
Pomra Khangtsen Cultural Institute Association
Pragathi
Pratham Mysore
Pratheeksha Social Service Centre
Prathibhe Organisation
Public Health Research Institute Of India
Pushpa Hindi Vidyalay
Pushpashrama
Quikwit Social Welfare Foundation
R T M Trust
Rabgayling Tibetan Family Welfare Association
Raga Ragini Trust
Railway Pensioners Association
Rescue Charitable Trust
Rifahul Muslimeen Educational Trust
Rural Literacy And Health Programme
Sadhana
Sairanga Vidta Samsthe(R)
Sakyapa Monastic Cultural Society
Salve Maria Charitable Trust
Samatha Peoples Education For Development Society
Samskriti Foundation
Samskruthi
Santo Educational Trust
Sarada Vilas Educational Institutions (R)
Sarada Vilas Religious And Charitable Trust
Sbrr Mahajana First Grade College
Secretary Sera Mey Dratsang Cultural Society
Sera Je Drati Educational And Cultural Society Regd
Sera Je School
Sera Jey Denma Khangtsen Society Regd
Sera Jey Monastery
Sera Mey Unified Food Fund Society
Sera Ngari Education Society
Sera Thekchenling Lachi Cul Society
Serajhehealthcarecommittee
Sermey Thoesam School Chaitable Educational Society
Serpom Education Society
Shree Nataraja Performing Arts Centre
Shruthimanjari Foundation (R)
Shukrodaya Animation Centre
Siddhi Vihara
Sjce Science And Technology Entrepreneurs Park
Smt Chikkathayamma And Chikkahaidhegowda Rural Charitable Trust
Smt Susheelabai Srinagesh Educational And Charitable Trust
Society Of Carmelite Teresian Sisters In India
Society Of The Sisters Of St Joseph Of Tarbes
Society Of Ursuline Sisters Of Somasca
Sri B S E C R D T
Sri Bhaktimala Trust (R)
Sri Datta Gnana Bodha Sabha Trust
Sri Ganapathi Sachchidananda Avadhoota Datta Peetha Trust
Sri Ganapathi Sachchidananda Trust
Sri Jain Education Society
Sri Jayalakshmi Mata Nitya Annadana Trust (R)
Sri Lakshmi Khaadi Mathu Gramodhyoga Kaigarika Sangha
Sri Nanjunda Shivayogeshwara Vidya Samsthe
Sri Rajiv Gandhi Education And Welfare Ngo
Sri Rama Seva Ursu Mandali
Sri Ramakrishna Ashrama
Sri Sri Sri Bhagawan Maharshi Charitable Trust
Sri Vishwaguru Sri Sri Sriram Shishyavrundham Mahasamsthanam
Sri Yoga Narsimha Swamy Charitable Trust
Srimad Sai Rajarajeshwari Trust (R)
Srinavagraha Shaneshwaraswamy Charitable Trust
St Bridgets Convent
St Theresas Parish Society
St Thomas Education Society Mysore
St.Paul's Province
State Resource Centre Karnataka
Sumana
Surabhi Gana Kala Mandira Charitable Trust
Suryodaya Trust (R)
Swami Narahari Theertha Medical Mission Trust (R)
Swamy Vivekananda Research Institution Of Medical Sciences And Rural Development Centre
Swara Saagara Music Foundation Charitable Trust
Talenteducationaltrusthunsur
Tashi Lhunpo Cultural Society
The Atisha Charitable Trust
The Mary Calvert Holdsworth Memorial Hospital Aka Csi Holdsworth Memorial Hospital
The Muslim Educational Society(R)
The Mysore Donbosco Society
The Mysore Rotary Club Charitable Trust
The National Centre For Inclusive Growth And Development Research (Ncdr)
The National Institute Of Engineering
The Ursuline Fransiscan Society
Trayinyas Shrividya Foundation
Trust For Human And Community Development
Usha Kiran Charitable Trust
Vachan
Vasundhara Performing Arts Cultural And Charitable Trust
V-Care
Vedanta Bharati
Vedavathi Charitable Trust
Vidyanikethan
Vidyasinchana Educational Trust
Vishwas Foundation
Wildlife Conservation Foundation
Youth Efforts For Society Trust
Yuva Grameena Abhiruddi Samsthe

If your NGO is having programmes related to social issue in this district, just email the name of the NGO with link to it and we will share it free.
Our email : Datacentre@CSRidentity.com
We Salute
Soldiers, Police, Below the poverty line people who live with humanity, Social workers, NGO Founders, Hospital staff, Health care workers, Chemists, Medicines Trees, Forests, Medicinal plants, Rivers , Extinct animals, Homes, Climate, People working in crematorium
Shop from NGOs
NGO Sellers Concept
Following NGOs sell products.
These products are either made by communities or the NGOs act as agents of companies making these products.
The idea is to help communities, NGOs and corporates together.
NGOs can be selling agents
NGOs must be sustainable.
We dont want to loose focus of serving communities but in case of emergency where their funding stops, they must have at least one year survival funds so that the communities they serve do not suffer.
We have experienced that when an NGO working with disabled sales products made by them or NGOs working with women sell products made by them or NGOs selling tribal products or paintings .. its great honour to communities they serve.
And NGOs working in slums or villages or rural areas have great relationship with communities and corporates can think of having them as agents which can order products from corporates.
Its good for corporates who find good agents
Its good for NGOs because they earn
Its good for communities because its at home service

NGOs can keep half the commission they get and pass the other half to communities so that its win win long term situation