Mumbai Suburban District In Maharashtra
Corporates
Any corporate interested in having NGOs as selling agents can contact the NGO directly.
But if the corporate wants to put their name plus contact person's name and phone number here, then they have to pay a donation of Rs 2000/- for one district.
Corporates
We plan to donate at least Rs 13433000/-
This amount is not just any amount. Bhau, founder Sanjay Kumud Moreshwar Bapat's father gave house & property to him through a Gift Deed and Government Authorities valued it as Rs 13433000/- and founder's father (Bhau) paid a stamp duty of Rs 403000/-. And after the Gift Deed, Bhau was the first person on earth (Of course many others stepped in) to start postponing death of founder after an almost fatal accident on 28.08.2013.
Founder knows that after death, neither anyone takes anything with them nor do they know whether their son, grand son, daughter in law or so called blood relatives or neighbours came to see them before they left earth.
When any human leaves this world, what remains is their Deeds when they were on earth. So our first target is Rs 13433000/- Of course they will not know the impact of their gifts to world, but that is beauty of life. Enjoy it but leave the world as satisfied human and not one with unending greed of money, property.
Corporates can donate to the NGO
Developed Nation Network Trust by G Pay.
It has 80G and waiting for renewal of FCRA.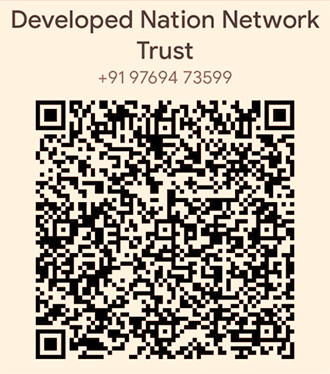 NGOs
NGO Brands
We share NGO Brands statewise in case of India
NGOs in this district
360 Life Changer Charitable Trust
A I I's A.D. Bawla Female Orphanage
Aadhar Bahuuddeshiya Seva Sanstha
Aadhar Mahila Sanstha
Aadhunik Stree Vikas Pratisthan
Aakar Parents Association, Mumbai
Aamadpratishthan
Aanandam India Initiatives Foundation
Aarya Foundation
Abhilasha Foundation
Acid Survivors Saahas Foundation
Acil Navasar Jan Rural Development Foundation
Adhorekhit
Adorers Congregation
Agarwal Janseva Charitable Trust
Ahaan Foundation
Aids Combat International
Aiesec In India
Akancha Srivastava Foundation
Akshara Foundation Of Arts And Learning
Al Jamia Faqihatul Banat
Alap Medical And Educational Trust
Al-Hasanat Education And Welfare Society
All India Andh Stri Hitt Association
All India Handicapped Development Foundation
All India Human Rights Service Group
All India Institute Of Lo Cal Self Government
All India Soverdia Sangam
Aman Ekta Social Society
Amardeep Charitable Trust
Ambagopal Foundation
Amirkhan Educational & Welfare Trust
Anandam Sharnam
Animal Matter To Me Mumbai
Aniruddha's Academy Of Disaster Management
Anirudha Bahadur Singh Charitable Trust
Anjuman Madarsa Taqviyatul Iman
Anjuman-I-Islam Computer Training Centre
Anum Foundation
Arpan
Asha Kendra Charitable Trust
Ashana Trust
Asmita
Association Of Computer Training Institute & Vocational Education
Atharv Academy
Atharva Sarvajanik Sanstha
Athurta Foundation
Atma Charitable Trust
Atmaviswas Vidyalaya
Basilica Of Our Lady Of The Mount
Bharatiya Vishwakarma Janhit Seva Samiti
Bhartiya Vikas Sansthaan
Bhim Sangram Samajik Seva Sanstha
Blackdevil Foundation
Bombay Carmel Society
Bombay Prantiya Rashtrabhasha Prachar Sabha
Bombay Society Of Cloistered Caramel
Bombay St Paul Society
Brac Global Social Foundation
Care Foundation
Career Spirit Education Llp
Carrot Technologies Private Limited
Chandravijay Pratishthan
Charis Foundation
Chellaram Foundation
Cheshire Homes India
Chhedanagar Education Society(Regd.)
Childrens Aadhar Foundation
Citizens Association For Child Rights
Clelia Niketan Little Sisters Of Mother Of Sorrows
Committee For The Right To Housing
Common People Social Foundation
Community Development Centre
Community Development Trust
Conservation Action Trust
Creative Education Trust
Creative Handicrafts
Crescent Education Trust
Crescent Educational And Welfare Society
D.M.Lewis Trust
Dadasaheb Phalke Marathi Sanskrutik Kary Trust
Darul Uloom Ali Hasan Ahle Sunnat
Dattatreya Krishna Sandu Pratishthan
Deeds Public Charitable Trust
Desh Seva Samiti
Devendra Upadhyay Charitable Trust
Devgad Education Board
Devki Krishna Educational Trust
Dhadave Charitable Trusts
Dhara Foundation
Diganta Swaraj Foundation
Divine Light
Dr Ambedkar Sheti Vikas Va Sanshodhan Sanstha
Dr C M Shah Memorial Charitable Trust
Dr Ernest Borges Memorial Home
Dr. Babasaheb Ambedkar Memorial Foundation
Dreamz Home Foundation
Duhita Foundation
Durgaveer Pratisthan
Earth
Elevator And Escalator Safety Trust
Empire Foundation
Empower Foundation
Entcharitabletrust
Environment & Biotechnology Foundation
Ezeal Educational Trust
Federation Of Corrugated Box Manufacturers Of India
First Helpline Foundation
Fowai Forum
Fulora Foundation
Garbage Concern Welfare Society
Gautam Educational Trust
Gayatri Grace Foundation
Gayatri Mahila Samajik Vikas Sanstha
Gillo Foundation
Global Association For The Blind Handicapped And Destitute
Global Graphologists Association
Global Hospital And Research Centre
Glory Of Peace And Love International Foundation
God Of Destiny Invocation Foundation (Godinfo)
Good Samaritan Mission
Good Samarithan Trust
Gowd Sarswat Brahman Sabha Dahisar Borivali Charitable Trust
Gratitude Foundation
Handmaids Of The Sacred Heart Of Jesus Society
Harkulkhurd Shikshan Prasarak Mandal Mumbai
Harshad Mane Foundation
Helping Hands Charitable Trust
Holy Family Church
Hum Trust
Human Social Foundation
Human Team Foundation
Human Welfare Charitable Trust
I.I.T. Bombay Alumni Association
Ideal Education Private Limited
India Sme Forum
Indian Development Foundation
Indian Documentary Foundation
Indian Fisheries Association
Indian Pharma Machinery Manufacturers' Association (Ipmma)
Indian Plastics Institute
Indian Syndicate Of Manual Small Incision Cataract Surgeons
Inn People Foundation
Inner Wheel Club Of Bombay West Charitable Trust
Instucen Trust
Insurance Women's Forum
International Society For Krishna Consciousness
Iqra Education Foundation
Iqragyan Educational & Welfare Foundation
Ishna Motors
Jagrut
Jagruti Charitable Trust
Jaguar Education Trust
Jai Bhavani Charitable Trust
Jai Mata Seva Sangh Mulund
Jain Education And Empowerment Trust
Jana Rakshita Charitable Trust
Janjagruti Lokseva Mahila Mandal
Janseva Samajik Sansta
Janseva Samiti Sanchalit Family Counselling Centre
Jeev Foundation
Jeevan Vikas Pratishthan
Jinagam Foundation
Jk Sandip Infrastructure Private Limited
Jyoti Foundation
Jyoti Mahila Mandal
Kalakritikendra
Kanchan Foundation
Karla Education Trust
Kartavaya Saeva Pratishthan
Kendra Jagruti
Keshav Gore Smarak Trust
Khalsa Mankind Services
Khandelwal Professionals Association
Kherwadi Social Welfare Association
Khula Aasmaan Trust
Kishinchand Chellaram Educational Trust
Kohka Foundation
Kudalkar Foundation
Labh Ventures India Pvt. Ltd
Labour Education & Service Centre
Lakshya Art Foundation
Lalla Charitable Trust
Leapforword
Letspaper Technologies Pvt. Ltd.
Life Resource Foundation
Lifesupporters Institute Of Health Sciences
Lions Club Of Mumbai Carter Road Charitable Trust
Lokhuq Manavseva Council
Lokkalavant Sanskrutik Manch
Lokumal Kishinchand Charity Trust
Lotus Hospital Trust
Madarsa Al Jamiatul Arabia Ahlesunnat Razaul Uloom
Madhu Murchhana
Madrasa Tehfizul Kitab Wasunnah
Magic Bus India Foundation
Magician Foundation
Maharashtra Baptist Society
Maharashtra Educational Society
Maharashtra Janavikas Kendra
Mahatma Education Society
Maheshwari Education Society
Making A Difference Foundation
Malad Educational And Medical Foundation
Malti Vasant Heart Trust
Maranatha Harvest Mission Orphanage
Matang Yuva Seva Sangh
Mauli Bhagavati Mahila Mandal
Mauli Bhuuddeshiy Prashikshan Aani Vikas Sanstha
Merito Charitable Trust
Midas Trust
Millat Rifahe Aam Charitable Trust
Milt Charitable Trust Bombay
Mission Education Trust
Mission Patrakarita
Modern Bachelor Boys Society
Mohile Parikh Center For Visual Arts
Msn Charitable Trust
Mt Education Services Pvt. Ltd.
Mudra Creation
Mumbai Smile Foundation
My Home India
N K Dhabhar Cancer Foundation
Nar Foundation
Nasiha Education And Welfare Trust
National Education Societ Y
National Society For Equal Opportunities For The Handicapped India
Natyashala Charity Trust
Navbharat Agrotech Skill Development Housing Industrial Business Mahasangh
Navyuvak Lokseva Pratishthan
Nazim Foundation
Nilam Patel Bahushrut Foundation
Nrityanjali
Nursed Guild Of India
Nusi / Itf Trust For Indian Seafarers
Ojus Medical Institute
Om Sai Charitable Trust
Onkar Seva Sanstha
Our Lady Of Pillar
Our Lady Of Rosary Church
Pagadandi Education Foundation
Palvi Education Trust
Panchamukhi Seva Sansthan
Pankhudi Foundation
Parabrahma Trust
Pardi Taluka Welfare Charitable Trust
Parisar Asha
Parivartan Social Service
Parshvanath Charitable Trust
Patel Cultural Foundation
Peoples Health Care Foundationmumbai
Pipal Tree Foundation
Pipal Tree Ventures Pvt Ltd
Piyad Catholic Trust
Praabhu Nayan Foundation
Prachi Mahila Vikas Samajik Sanstha
Prarambh Foundation
Prashanti Mahila Mandal
Pratham Infotech Foundation
Pravas Foundation
Prayas Foundation
Prem & Need Educational Fund
Prime Education Health Learning Services
Progressive Foundation
Punarvas Education Society
Punyatma Prabhakar Sharma Seva Mandal
Purnata
Raay Foundation
Raj Foundation
Raj Software Technology India Ltd
Rajashree Chhatrapati Shahu Maharaj Samajik Sanstha Mumbai
Rajasthani Sammelan Education Trust
Rajhans Pratishthan
Rajmata Ahilyadevi Holkar Education Society
Rajmata Pratisthan
Ramanuj Mission Trust
Raosaheb Balaram Dyandeo Thakur Vidya Mandir's
Reach Education Action Programme
Reach Out India Foundation
Red Dot Foundation
Rescuefoundation
Roopangan Foundation
Rotary Club Ghatkopar Charitable Trust
Rotary Club Of Bombay Pier Charities Trust
Rotary Club Of Borivali Charitable Trust
Rotary Royales Foundation
Rubrix Education Foundation
Sadguru Shree Aniruddha Upasana Trust
Sadhana Resources & Advisory Foundation
Sahyog Utkarsh Mahila Mandal
Sai Divya Medical And Education Charitable Trust
Sai Pyramid Trust
Sakhi For Girls Education
Sakina Educational Trust
Samabhavana Society
Samajik Jagruti Pratishthan
Samarthan
Samatol Foundation
Sampark
Samta Yuva Manch
Samyak Kalansh Pratishthan
Sankalp Siddhi Trust
Sanket Sarjan
Sanyo Foundation
Sardar Patel Technology Business Incubator
Sarvajan Kalyan Trust
Sashi Mangalyam Education Society
Seetadevi Bhupnarayan Educational Trust
Shaheed Major Rajesh Nair Foundation
Shanti Avedna Sadan
Shantilal Shanghvi Foundation
Shantimandir
Shishu Prem Samaj
Shree Adinath Charitable Trust
Shree Adishwar Shwetamber Murtipujak Jain Sangh
Shree Anavil Samaj
Shree Aniruddha Upasana Foundation
Shree Ghatkopar Bhatia Mitra Mandal
Shree Ghatkopar Brahman Samaj
Shree Harihar Socio Spiritual And Cultural Evolution Trust
Shree Mumbai Upnagar Parajiya Sahakari Society
Shreea Sadguru Deucation Society
Shri Brahmachaitanya Maharaj Gondavalekar Upasana Kendra Bawalgaon Trust
Shri Hari Narayan Seva Sansthan
Shri K K Krishnan Charitable Trust
Shri Kutchi Visa Oswal Jain Manav Seva Kendra (Dahisar)
Shri Pragati Foundation
Shri Sai Samarth Samajik Sanstha
Shri Samarth Pratisthan
Shri Swami Samartha Vishwa Kalyan Kendra
Shri Vile Parle Kelavani Mandals Mithibai College
Shri Waghjai Charitable Trust
Shri Yashwantrao Chavan Shikshan Prasark Mandal
Shri.Nagardas Dhanji Shanghvi Trust
Siddiquis Educational And Welfare Trust
Sisters Of Charity Of St Anne
Sitaram Charitable Trust
Slum Education And Empowerment Drive Foundation
Smt Jagrutiben Mehta Sarvaseva Pubilc Charity Trust
Smt Lilavati Sawant Charity Trust
Smt. Parvathitai Anand Shetty Charitable Trust
Smt.Indra Educational And Medical Trust
Sneh Kalamanch
Sneha Jeevan Kendra
Snehasadan
Social Welfare Council
Social Worker Foundation
Society For Social Empowerment & Training
Society Of Franciscan Brothers Of Mount Poinsur
Society Of Parents Of Children With Autistic Disorders
Society Of Pious Disciples Of The Divine Master
Society Of St Francis Industrial Training Institute
Society Of St Paul
Society Of The Congregation Of Franciscan Brothers
Society Of The Servants Of The Holy Spirit
Somaiya Vidyavihar
Somjeevan Health And Education Foundation
Sophie Bharat Society
Soroptimist Internationalof North Bombay
Soubhagya Dhaam Trust Mumbai
Sparsh Center For Participatory Learning
Sprj Kanayshala Trust
Sri Bhagwati Sai Sansthan
Sri Kamakshi Trust
Sri Sathya Sai Trust
Srijon Foundation
Srp Charitable Trust
Srushtidnyan Paryavaran Shikshan Sanshodhan Aani Mahiti Sankalan Kendra
St Catherine's Society
St Charles Charitable Society
St Dominic Savio School
St.Louis Charitable Trust
Stri Shakti
Sukrta Foundation
Sulabha Trust For Special Education And Research
Sunshine Education Society
Support The Handicapped's Rehabilitation Effort(Share)
Sur Singar Samsad
Suraksha Health And Education Welfare Association
Suryoday Trust
Swa. Tatyasaheb Ghadge Pratishthan
Swadhaan Microfinance Foundation
Swadhar
Swasth Foundation
Swayamsiddha Foundation
Sweekriti Sociocare Foundation
Talukdars Educational & Welfare Society
Tara Cultural Trust
Thakur Educational Trust
The Bandra Holy Family Hospital Society
The Bandra Parsi Convalescent Home
The Blue Ribbon Movement Trust
The Board Of Education Society Dhanamal High Schoolkandivali
The Bombay Disableds Association
The Borivli Malayali Samajam
The Daughters Of The Heart Of Mary North Province
The Focolare Society Bombay
The Goud Saraswat Brahman Scholarship League
The Juhanon Mar Thoma And Silver Jubilee Memorial Centre
The Kelkar Education Trust Scientific Research Centre
The Marg Foundation
The Muncherjee Nowrojee Banajee Industrial Home For The Blind
The National Association Of Disableds Enterprises
The New Sarvajanik Education Society
The Pauline Sisters Bombay Society
The Prem Foundation
The Shikshan Prasarak Mandal Malad
The Society For The Protection Of Children In Western India
The Society Of The Home For The Aged
The South Indiansorganisation(Regd)
The Surabhi Foundation For Research And Cultural Exchange
Think Foundation
Three 13 Social Foundation
Topiwala National Medical College Global Alumni Association India Chapter
Touching Lives Welfare Trust
Tradesmen Jobs Private Limited
Trimurti Vikas Mandal
Triratna Prerana Mandal
Trishul
Udaan Welfare Foundation
Umang Foundation
Umang Foundation Trust
United Social Welfare Association
United Sports Foundation
Upanagar Shikshan Mandal
Utkarsh Star Mitra Mandal
Uttar Bhartiya Mahasangh
V.D.Indian Society For Mentally Challenged
Vedant Welfare Foundation
Vedh Education Trust
Venus Cultural Association
Veryndia Social
Victory Outreach Trust
Vidhayak Sansad
Vidya Prasarak Mandal Dahisar
Vidyavardhini Education Charitable Trust
Vijay Krida Mandal
Vikas Adhyayan Kendra
Vikas Sahyog Pratishthan
Vivekananda Youth Forum
Vivekanandeducationsoceity
Western Region Social Service Forum
Women's Research And Action Group
World For All Animal Care And Adoptions
Wwh Charitable Foundation
Xavier Institute Of Engineering
Yash Charitable Trust
Yatra Foundation
Yoga Prabha Bharati (Seva Sanstha) Trust
Young Humanity Foundation
Yuva Prerana
Yuvraj Singh Foundation
Zagdusingh Charitable Trust
Zahoor Ahmed Kasam Trust

If your NGO is having programmes related to social issue in this district, just email the name of the NGO with link to it and we will share it free.
Our email : Datacentre@CSRidentity.com
We Salute
Soldiers, Police, Below the poverty line people who live with humanity, Social workers, NGO Founders, Hospital staff, Health care workers, Chemists, Medicines Trees, Forests, Medicinal plants, Rivers , Extinct animals, Homes, Climate, People working in crematorium
Shop from NGOs
NGO Sellers Concept
Following NGOs sell products.
These products are either made by communities or the NGOs act as agents of companies making these products.
The idea is to help communities, NGOs and corporates together.
NGOs can be selling agents
NGOs must be sustainable.
We dont want to loose focus of serving communities but in case of emergency where their funding stops, they must have at least one year survival funds so that the communities they serve do not suffer.
We have experienced that when an NGO working with disabled sales products made by them or NGOs working with women sell products made by them or NGOs selling tribal products or paintings .. its great honour to communities they serve.
And NGOs working in slums or villages or rural areas have great relationship with communities and corporates can think of having them as agents which can order products from corporates.
Its good for corporates who find good agents
Its good for NGOs because they earn
Its good for communities because its at home service

NGOs can keep half the commission they get and pass the other half to communities so that its win win long term situation