Malappuram District In Kerala
Corporates
Any corporate interested in having NGOs as selling agents can contact the NGO directly.
But if the corporate wants to put their name plus contact person's name and phone number here, then they have to pay a donation of Rs 2000/- for one district.
Corporates
We plan to donate at least Rs 13433000/-
This amount is not just any amount. Bhau, founder Sanjay Kumud Moreshwar Bapat's father gave house & property to him through a Gift Deed and Government Authorities valued it as Rs 13433000/- and founder's father (Bhau) paid a stamp duty of Rs 403000/-. And after the Gift Deed, Bhau was the first person on earth (Of course many others stepped in) to start postponing death of founder after an almost fatal accident on 28.08.2013.
Founder knows that after death, neither anyone takes anything with them nor do they know whether their son, grand son, daughter in law or so called blood relatives or neighbours came to see them before they left earth.
When any human leaves this world, what remains is their Deeds when they were on earth. So our first target is Rs 13433000/- Of course they will not know the impact of their gifts to world, but that is beauty of life. Enjoy it but leave the world as satisfied human and not one with unending greed of money, property.
Corporates can donate to the NGO
Developed Nation Network Trust by G Pay.
It has 80G and waiting for renewal of FCRA.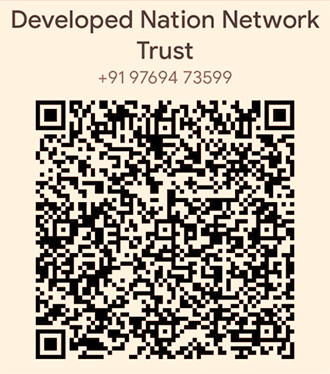 NGOs
NGO Brands
We share NGO Brands statewise in case of India
NGOs in this district
Ability Foundation For The Disabled
Acccord
Al Hidayath Educational Trust Kondoty
Al Hind Educational And Charitable Trust
Al Salama Eye Research Foundation
Almas Medical Educational And Charitable Trust
Amina Educational And Charitable Trust
Ansarul Islam Charitable Trust
Ants Foundation
Anvarul Islam Arabic College Committee
Arya Vaidya Sala Kottakkal
Assumption Public School Trust
Aswasbhavan Charitable Trust
Benchmark Educational Trust
Bethanya Charitable Trust
Board Of Research And Analysis In Intuitive Neuroscience
Centre For Employment And Educational Guidanceceeg
Charismatic Full Gospel Church
Co-Ordination Of Islamic Colleges(Cic)
Darul Huda Islamic Acadamy Managing Committee
Darunnajath Islamic Centre
Diamond Associates
District Nirmithi Kendra Malappuram
Edavanna Yatheem Khana
Evershine Library
Focus India Trust
Hidayathu Sibiyan Sangham Tirurangadi
Holistic Development And Research Foundation
Ideal Educational Society
Ifs Prothujana Vayanasala And Library Kadannamanna
Isha Athul Islam Sangham
Islahiya Charitable Trust
Islamic Cultural Trust Pandikkad
Islamic Mission Trust
Islamic Service Centre
Islamic Service Society
J M C T Edayur
Jan Shikshan Sansthan Malappuram
K C Jamaludheen Musliyar Smaraga Islamic Complex
K T B Educational And Charitable Foundation
Kerala Adult Literacy Augmenting Movement (Kalam)
Kerala Ayurvedic Studies And Research Society
Khuthubuzzman Educational Society
Koottayi High School Committe
Kordhova Educational Charitable Society
Kuniyil Humathul Islam Sangam
Little Flower Novitiate House
Madaru Dawathil Islamiyya
Madinu Ssaquafathil Islamiyya
Majmau Dhaavathil Islamiyya Areacode
Majmau Ssaquafathil Islamiyya
Malabar English School
Malappuram Jilla Markaz Tharbiyyathil Islamiyyah
Mankadaanadhasalasangham
Markazul Bisharah
Maulana Azad Educational And Charitable Trust
Max Education And Charitable Trust
Micro Industrial And Small Traders Organisation
Moulana Abdu Rahiman Fazfari Memorial Charitable Trust
Moulana Educational Chrity Trust
Mueenul Islam Sangam
National Education Training And Development
National Educational And Charitable Trust
National Service Society Perinthalmanna
New Age Educational Trust
Nilambur Muslim Orphanage Committee
Noor Educational Trust
Nooriya Yatheem Khana
Nusrathul Islam Kappu Committee
P Sarojini Amma Smaraka Mahila Samajam Manjeri Kerala
Panjajanyam Sreekrishnashram Snehalayam Public Charitable Trust
People Welfare Trust
Peoples Library Valluvangad
Pocker Sahib Memorial Orphanage College Tirurangadi
Pothujana Vayanasala Perimbalam
Praisewill Educational And Charitable Trust
Prathiba Vayanasala Aliparamba
Pulloor Mahal Muslim Education Society
Rajiv Youth Foundation
Rehab Foundation
Rohini Sathsanga Centre
Safi
Sahya Tourism & Pravasi Co-Operative Society (Stpc) Ltd No. M. 862
Samastha Kerala Jamiyathul Ulama
Sanghamithra Educational And Charitable Trust Ayilakkad
Shabna's Charitable And Educational Trust
Shelter India
Society Of Educational And Environmental Developments (Seed) India
Sree Annapoornneswari Charitable Trust
Sri Muthappan Charitable Trust
Talent Educational And Charitable Trust
Thaaleemuddeen Trust
Thanveerul Islam Association
The Kerala Jamiyyathul Ulama
The Light Educational And Charitable Trust
Tirur Taluk Sunny Orphange Committee
Vallatholtrustngo
Vidhyaposhini Grandhalayam Mannarmala
Vimalahrudaya Ashramam
Viswaprabha Library
Wandoor Muslim Orphanage Committee
Wardha Charitable Trust
Yuvajanavedi Vayanasala Puthanangadi
Yuvarashmi Library

If your NGO is having programmes related to social issue in this district, just email the name of the NGO with link to it and we will share it free.
Our email : Datacentre@CSRidentity.com
We Salute
Soldiers, Police, Below the poverty line people who live with humanity, Social workers, NGO Founders, Hospital staff, Health care workers, Chemists, Medicines Trees, Forests, Medicinal plants, Rivers , Extinct animals, Homes, Climate, People working in crematorium
Shop from NGOs
NGO Sellers Concept
Following NGOs sell products.
These products are either made by communities or the NGOs act as agents of companies making these products.
The idea is to help communities, NGOs and corporates together.
NGOs can be selling agents
NGOs must be sustainable.
We dont want to loose focus of serving communities but in case of emergency where their funding stops, they must have at least one year survival funds so that the communities they serve do not suffer.
We have experienced that when an NGO working with disabled sales products made by them or NGOs working with women sell products made by them or NGOs selling tribal products or paintings .. its great honour to communities they serve.
And NGOs working in slums or villages or rural areas have great relationship with communities and corporates can think of having them as agents which can order products from corporates.
Its good for corporates who find good agents
Its good for NGOs because they earn
Its good for communities because its at home service

NGOs can keep half the commission they get and pass the other half to communities so that its win win long term situation