Ludhiana District In Punjab
Corporates
Any corporate interested in having NGOs as selling agents can contact the NGO directly.
But if the corporate wants to put their name plus contact person's name and phone number here, then they have to pay a donation of Rs 2000/- for one district.
Corporates
We plan to donate at least Rs 13433000/-
This amount is not just any amount. Bhau, founder Sanjay Kumud Moreshwar Bapat's father gave house & property to him through a Gift Deed and Government Authorities valued it as Rs 13433000/- and founder's father (Bhau) paid a stamp duty of Rs 403000/-. And after the Gift Deed, Bhau was the first person on earth (Of course many others stepped in) to start postponing death of founder after an almost fatal accident on 28.08.2013.
Founder knows that after death, neither anyone takes anything with them nor do they know whether their son, grand son, daughter in law or so called blood relatives or neighbours came to see them before they left earth.
When any human leaves this world, what remains is their Deeds when they were on earth. So our first target is Rs 13433000/- Of course they will not know the impact of their gifts to world, but that is beauty of life. Enjoy it but leave the world as satisfied human and not one with unending greed of money, property.
Corporates can donate to the NGO
Developed Nation Network Trust by G Pay.
It has 80G and waiting for renewal of FCRA.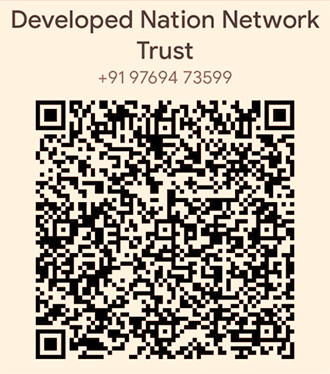 NGOs
NGO Brands
We share NGO Brands statewise in case of India
NGOs in this district
A S High School Trust And Management Society
Acharya Shri Atma Ram Jain Samarak Samiti
Arya College
Association Of Ludhiana Machine Tool Industries
Atam Nursery School
Atam Public Sr. Sec. School
Baba Banda Singh Bahadur Charitable Trust
Baba Budha Ji International Gurmat Granthi Sabha
Baba Vishavkarma Ramgarhia Sabha
Bal Shiksha Avom Vikas Society
Bbn Welfare Society
Bharat Vikas Parishad Charitable Trust Punjab
Bhatia Sabha
Bibi Bhaniji Bhalai Kendar Charitable Trust
Bicycle Research And Development Organization
Chamber Of Industrial & Commercial Undertakings
Christian Community Service Centre
Christian Medical College
Cyberstar Educational Society
Daintech Dairy Development Centre
Darpan An Image Of Innocence
Dayanand Medical College & Hospital Managing Soceity, Tagore Nagar, Civil Lines, Ludhiana (Punjab) 141001
Diocese Of Chandigarh
Doric Multimedia Pvt Ltd
Doric Welfare Society
Dr Ambedkar Nagar Welfare Society
Dr B R Ambedkar Mission Welfare Society
Dr D Abraham Charitable And Educational Trust
Dr. Om Parkash Aggarwal Bimla Devi Charitable Trust
Dr. R.C Jain Charitable Trust
Dream Beauty Charitable Trust Regd
Earth Care Welfare Society
Education Welfare Society
Ek Noor Sewa Kendra
Ekta Public Charitable Education Society
Federation Of Industrial & Commercial Organization
Federation Of Punjab Small Industries Assocations
Garments Machinery Manufacturers And Suppliers Association Regd
Gou Sewa Samiti
Gujjar Samaj Sudhar Sabha
Gulzar Educational And Charitable Trust
Guru Angad Dev Educational And Welfare Council
Guru Angad Dev Sewa Society
Guru Gobind Singh Khalsa College For Women Jhar Sahib
Guru Gobind Singh Study Circle
Guru Nanak Charitable Trust
Guru Nanak Educational & Religious Society
Guru Nanak Simran Charitable Trust
Guru Teg Bahadur Sahib Charitable Hospital Society
Helping Hands Club
Helps Welfare Society
Iiae Educational Society
Indian Red Cross Society
J & K Tempo Transport Union Service (Regd)
Kashyap Rajput Social Welfare Society
Kaushal Shala Foundation
Keharnam Memorial Educational Society
Khalsa Educational Council Gujrawala
Khalsa Institute Of Academic And Technical Education
Kkpmhrc Registered Charitable Society
Krishan Balram Gaushala Trust (Regd)
Kuka Martyrs Memorial Trust
Lala Megh Raj Garg Educational Society
Lok Kala Manch
Ludhiana De Addiction & Rehabiltation Society
Ludhiana Sewing Machine Industries Association ( Lsmia)
M.R. Sharma Charitable Trust
Maa Annpurna Charitable Society
Mai Bhago Educational Charitable Trust
Maja Humanity Foundation
Manmeet Charitable Trust
Mata Ganga Khalsa College For Girls,Manji Sahib, Kottan
Mata Shanti Devi Welfare Trust
National College For Women
Naujawan Social Welfare Cultural Society
Navjyoti Education And Welfare Society
Nehru Sidhant Kender Trust
New Senior Secondary School
Nikhil Singal Noble Trust Regd
Nipa Educational Trust
Nishkam Sewa Ashram Trust
Noble Foundation
Om Parkash Charitable Trust
Operation Agape
Orient Educational Society
Patna Sahib Education Trust Ludhiana
Peace Foundation
Pracheen Charitable Trust
Printing And Packaging Cluster Development Company
Punjab Management Education Trust
Punjabi Sahitya Akademi
R.K High School Jagraon
Rainbow Charitable Trust
Ramgarhia Educational Council,Miller Ganj Ludhiana
Ransh Foundation
Reviving Green Revolution Cell
Roshini
Royal King Sewa Foundation Trust
Ruhani Satsang Prem Samaj
Sada Sukh Charitable Trust
Sahaita
Sahib Shree Guru Angad Dev Ji N G O
Samrat Ashoka Maurya Sahayta Samiti
Sanatan Dharam Parcharak Sabha Regd
Sarb Rog Ka Aukhad Nam Mission Trust
Sardarni Sukhninder Kaur Charitable Trust
Senior Citizens Council Of Ludhiana
Shree Radhe Krishna Gau Dhaam Trus
Shri Aksharpurshotam Swami Naryan Sanstha
Shri Gian Dharamvir Charitable Trust
Shri Guru Hargobind Ujagar Hari Trust Sidhwan Khurd
Shri Guru Ram Dass Educational & Charitable Trust
Shri Guru Ravi Dass Mandir And Dharmshala Parbandhak Committee
Shri Guru Ravidass Mandir And Dharamshala Parbandhak Committee
Shri Ram Institute For Information And Technology
Silicon Valley Educational Society
Siyyon Prayer Tower
Ssjainsabhakhanna
Swami Ganga Nand Bhuriwale International Foundation
Temple Of Humanity Trust (Regd.)
The Baba Jaswant Singh Trust
The Institution Of Civil Engineers Society
The Mouhie Primary Cooperative Milk Producers Society Limited
The North India Cerebral Palsy Association
United Cycle And Parts Manufacturers Association
Vets Club Ludhiana
Vidya Care
Vijayanand Diagnostic Centre
Vijaypal Charitable Trust
Vishav Namdhar Sangat
Wire Drawing Development Society
Women And Children Welfare Society
Zayn Educational Trust

If your NGO is having programmes related to social issue in this district, just email the name of the NGO with link to it and we will share it free.
Our email : Datacentre@CSRidentity.com
We Salute
Soldiers, Police, Below the poverty line people who live with humanity, Social workers, NGO Founders, Hospital staff, Health care workers, Chemists, Medicines Trees, Forests, Medicinal plants, Rivers , Extinct animals, Homes, Climate, People working in crematorium
Shop from NGOs
NGO Sellers Concept
Following NGOs sell products.
These products are either made by communities or the NGOs act as agents of companies making these products.
The idea is to help communities, NGOs and corporates together.
NGOs can be selling agents
NGOs must be sustainable.
We dont want to loose focus of serving communities but in case of emergency where their funding stops, they must have at least one year survival funds so that the communities they serve do not suffer.
We have experienced that when an NGO working with disabled sales products made by them or NGOs working with women sell products made by them or NGOs selling tribal products or paintings .. its great honour to communities they serve.
And NGOs working in slums or villages or rural areas have great relationship with communities and corporates can think of having them as agents which can order products from corporates.
Its good for corporates who find good agents
Its good for NGOs because they earn
Its good for communities because its at home service

NGOs can keep half the commission they get and pass the other half to communities so that its win win long term situation