Leh District In Ladakh
Corporates
Any corporate interested in having NGOs as selling agents can contact the NGO directly.
But if the corporate wants to put their name plus contact person's name and phone number here, then they have to pay a donation of Rs 2000/- for one district.
Corporates
We plan to donate at least Rs 13433000/-
This amount is not just any amount. Bhau, founder Sanjay Kumud Moreshwar Bapat's father gave house & property to him through a Gift Deed and Government Authorities valued it as Rs 13433000/- and founder's father (Bhau) paid a stamp duty of Rs 403000/-. And after the Gift Deed, Bhau was the first person on earth (Of course many others stepped in) to start postponing death of founder after an almost fatal accident on 28.08.2013.
Founder knows that after death, neither anyone takes anything with them nor do they know whether their son, grand son, daughter in law or so called blood relatives or neighbours came to see them before they left earth.
When any human leaves this world, what remains is their Deeds when they were on earth. So our first target is Rs 13433000/- Of course they will not know the impact of their gifts to world, but that is beauty of life. Enjoy it but leave the world as satisfied human and not one with unending greed of money, property.
Corporates can donate to the NGO
Developed Nation Network Trust by G Pay.
It has 80G and waiting for renewal of FCRA.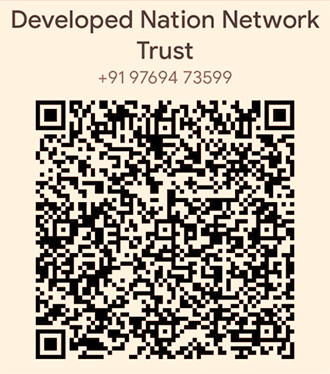 NGOs
NGO Brands
We share NGO Brands statewise in case of India
NGOs in this district
All Ladakh Gonpa Society
Bodicharyavatar Society
Centre For Sustainable Development And Food Security In Ladakh (Censfood)
Chamtse Society
Chumur Cultural & Welfare Society
Cultural And Welfare Society Takthak Gonpa
Cultural& Welfare Society Mathe Gonda Ladakh
Deskid Cultural And Welfare Society
Drepung Loseling Pethub Khangsten Education Society Leh
Drigung Dharma Foundation
Drikung Kagyu Cultural And Welfare Society
Druk Pema Karpo Educational Society
Flowering Dharma Center
Galdan Targaisling Cultural And Welfare Society Pethup Gonpa
Galdan Targyun Tsogspa
Gephel Shadrubling Nunnery Phey Leh Ladakh
Hemis Culture And Welfare Society
Himalayan Cultural Heritage Foundation
His Holiness The Gyalwa Karmapa Welfare Society Choglamsal Leh Ladakh
Imamiya Mission Educational And Social Welfare Society
Juley Ladakh
Karma Dupgyud Choeling Cultural And Welfare Association
Kharnak Cultural & Welfare Society
Kidmang Cultural And Welfare Society
Ladakh Buddhist Association
Ladakh Ecological Development Group
Ladakh Heart Foundation
Ladakh Institute Of Prevention
Ladakh Nuns Association Leh
Ladakh Organic Farmers Foundation
Ladakh's Women Welfare Network (Lwwn) New Share
Lalok Kunfan Thundel Tsogspa
Lamauru Cultural And Welfare Society
Lamdon Chidren Welfare Society Nubra Leh
Lamdon Social Welfar Society Ladakh
Ldumra Lamdon Society Sumoor
Leh Nutrition Project
Leh Old Town Initiative
Leho-Ladalkh Environment And Health Organisation
Lekir Cultural And Welfare Society Lekir Gonpa Ladakh
Lha-Rje Sorig Foundation
Lingshed Area Development Foundation (Ladf)
Lingshed Cultural And Welfare Society
Lingshed Nunnery Welfare Society
Lions Club International
Munsel Society
New Millennium Education Foundation Ladakh
Ngari Institute Of Buddhist Dialectics
Nunnery Cultural And Welfare Society Dambuchan Leh Ladakh
Pata Welfare Society
Pegan Phagspa Nastan Bakula Institute
Peoples Action Group Of Inclusion And Right
Phuktal Gonpa Cultural And Welfare Society
Rewa Society
Rizong Cultural And Welfare Society
Rural Resource Development Organisation
Sacred Educational Society Of Ladakh
Sakya Nuns Association Matho Leh Ladakh
Samstan Chosling Cultural And Welfare Society Pethup Gonpa Leh
Servant Of Society Club
Service Secrifice Brotherhood Dharma Centre Kigutak Leh
Siddhartha Culture & Welfare Society
Skaldan Chiskyobling Samekar Gonpa Leh
Snow Leopard Conservancy India
Students Educational And Culture Movement Of Ladakh
Tangyar Cultural And Welfare Society
Tashi Gyaphel Cultural And Welfare Society
Tashisthong Gonpa Sabha Yulchung
Thiksey Cultural And Welfare Society
Thundel Tsogspa Welfare And Cultural Society Gonpa Leh
Thuptan Danang Shedup Choekorling Nyingmapa Gonpa
Tingang Tsalkar Gonpa Sabha
Wamley Cultural And Welfare Society Wamley Gonpa Ladakh
Womens Alliance Of Ladakh

If your NGO is having programmes related to social issue in this district, just email the name of the NGO with link to it and we will share it free.
Our email : Datacentre@CSRidentity.com
We Salute
Soldiers, Police, Below the poverty line people who live with humanity, Social workers, NGO Founders, Hospital staff, Health care workers, Chemists, Medicines Trees, Forests, Medicinal plants, Rivers , Extinct animals, Homes, Climate, People working in crematorium
Shop from NGOs
NGO Sellers Concept
Following NGOs sell products.
These products are either made by communities or the NGOs act as agents of companies making these products.
The idea is to help communities, NGOs and corporates together.
NGOs can be selling agents
NGOs must be sustainable.
We dont want to loose focus of serving communities but in case of emergency where their funding stops, they must have at least one year survival funds so that the communities they serve do not suffer.
We have experienced that when an NGO working with disabled sales products made by them or NGOs working with women sell products made by them or NGOs selling tribal products or paintings .. its great honour to communities they serve.
And NGOs working in slums or villages or rural areas have great relationship with communities and corporates can think of having them as agents which can order products from corporates.
Its good for corporates who find good agents
Its good for NGOs because they earn
Its good for communities because its at home service

NGOs can keep half the commission they get and pass the other half to communities so that its win win long term situation