Kottayam District In Kerala
Corporates
Any corporate interested in having NGOs as selling agents can contact the NGO directly.
But if the corporate wants to put their name plus contact person's name and phone number here, then they have to pay a donation of Rs 2000/- for one district.
Corporates
We plan to donate at least Rs 13433000/-
This amount is not just any amount. Bhau, founder Sanjay Kumud Moreshwar Bapat's father gave house & property to him through a Gift Deed and Government Authorities valued it as Rs 13433000/- and founder's father (Bhau) paid a stamp duty of Rs 403000/-. And after the Gift Deed, Bhau was the first person on earth (Of course many others stepped in) to start postponing death of founder after an almost fatal accident on 28.08.2013.
Founder knows that after death, neither anyone takes anything with them nor do they know whether their son, grand son, daughter in law or so called blood relatives or neighbours came to see them before they left earth.
When any human leaves this world, what remains is their Deeds when they were on earth. So our first target is Rs 13433000/- Of course they will not know the impact of their gifts to world, but that is beauty of life. Enjoy it but leave the world as satisfied human and not one with unending greed of money, property.
Corporates can donate to the NGO
Developed Nation Network Trust by G Pay.
It has 80G and waiting for renewal of FCRA.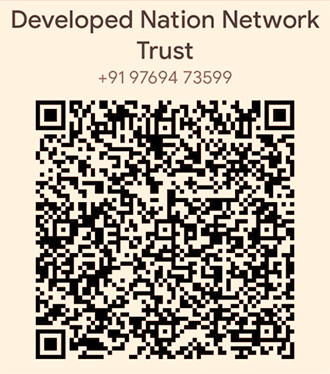 NGOs
NGO Brands
We share NGO Brands statewise in case of India
NGOs in this district
Aboa Educational Trust
Adarrt Irca
Adivasi Dalit Women Empowerments Study Centre
Adoration Congregation
Adoration Monastery (Poor Clares Of Perpetual Adoration)
Adorers Women's Welfare Kerala
Adorno Crm Society
Alan T21 Welfare Trust
Al-Huda Charitable Trust
All Kerala Orphans Welfare Association
All Kerala Varnava Society
Amal Jyothi Rural Technologies Business Incubator
Amala Province Of The Congregation Of The Mother Of Carmel
Ambika Educational Charitable Trust
Anugraha Charitable Society
Apostolic Church Of Pentecost Of India
Apostolic Oblates Secular Institute
Archdiocese Of Changanacherry
Ardhratha Fellowship
Arsha De Trust
Arunodaya Educational Cultural And Charitable Trust
Asha Bhavan Institute
Asha Niketan Trust
Assisi Asha Bhavan (Special School For The Mentally Handicapped)
Assisi School For The Blind
Association For Social Involvement Service In India
Atmata Kendram
Aymanam Mariyathuruthu Social Welfare Vanitha Samajam
Bhoomika Charitable Society
Bodhi Dharma Charitable Trust
Cana
Cancer And Aids Shelter Society
Cardinal Padiayara Educational Trust Manimaala
Caritas Hospital
Carmel English Medium School Educational And Charitable Trust
Chaithanya Pastoral Centre
Charis Womens Society
Charisbhavansociety
Charity World Trust
Chavara Educational And Charitable Trust
Christeen Trust
Christian Mission Society
Christuraj Social Service Society
Church Of South India East Kerala Diocese
Church Of South India Madhya Kerala Diocese
Claret Bhavan Minor Seminary Of The Claretian Congregation
Congregation Of The Daughters Of St Joseph
Corrections India
Darsan Cultural Society
Daugthers Of S Heart Of Jesus
Dc Kizhakemuri Foundation
Deephi Centre A
Deseeya Vayanasala
Deva Matha Charitable Trust
Devamatha Province
Diocesan Educational Trust
Diocese Of Kanjirappally
Discalced Carmelites
Don Bosco Charities Trust Don Bosco Home
Ebenezer Community Development Mission
Ebenezer Gospel Hall And Bible Institute
Fellowship Of Independent Full Gospel Church In India
Franciscan Clarist Congregation
Franciscan Missionaries Of Service
Franciscan Missionary Of St.Clare Trust
Franciscan Sisters Of All Saints
Franciscan Sisters Of Holy Annunciation
Gandhi Smaraka Grama Seva Kendram Nattassery
Girls Town
Good Hope Blind Mission Trust
Good News Charitable And Educational Society
Good News Charitable Trust
Good Shepherd Monastery Society
Grama Jyothi Grandhasala
Grama Vikasana Seva Samithi
Handicaped Welfare Rehabilitation And Charitable Trust
Holy Ghost Mission Hospital
Holy Queens Province
Home Of Peace
Hospitaler Sisters Of Mercy (Mercy Hospital)
Immaculate Heart Of Mary Hospital
India Center For Social Change
India Gospel Ministries
India Vision And India Bible College Ministries
Indian Pentecostal Church
Indian Province Of The Claretian Congregation
Infact (Information For Action)
Infant Jesus Sisubhavan
Institute For Holistic Medical Sciences
Institute For The Development Of Social , Medical And Management Sciences
Inter Collegiate Prayer Fellowship
International Full Gospel Ministry
International Gospel Church
International Human Rights Association
Islamic Guidance Trust
Japamala Bhavan Trust
Jawahar Relief Centre
Jawaharlal Memorial Social Welfare And Public Coop
Jeevan Jyothi Ashram
Jeevan Jyothi Charitable Society
Jeevan Jyoti Seva Bharti
Jeevodaya Centre
Josephine Sisters
Jyothy Welfare Association For Women And Childeren
Kairali Grandhalayam
Kerala Christ Church Mission
Kerala Christian Mission
Kerala Council Of Churches
Kottayam Social Service Society
Kuriakose Elias Educational And Charitable Trust
Kurisumala Ashram
Kvms Cultural And Charitable Society
Lasyakairali
Lead Foundation
Little Flower Educational And Charitable Trust
Little Lourde Mission Institutions
Little Workers Of The Sacred Hearts
Malanadu Development Society
Malanadu Farmers Society
Malankara Orthodox Syrian Church
Malliyoor Adhyatmika Peedom
Manarcadu Social Service Society
Manavaseva Charity Oriented Trust
Mangalam Educational Society
Mannanal Thodu Poura Samithi
Mar Gregorios Academic Trust
Mar Gregorios Karunya Nilayam
Mariagiri Charitable Society
Marian Medical Centre
Mariyasadanam
Mary Queens Mission Hospital
Medical Mission Sisters
Medical Mission Sisters Society
Mercy Convent
Mercy Social Welfare Centre Mercy Home Chethipuzha
Mitraniketan Social Service Society
Mother Anna Convent (Daughters Of St.Francis Sales)
Mother Savina Study House
Mundakapadam Mandirams Society
Muslim Girls Hss Erattupetta Run By Muslim Educational Trust
Nazareth Public School Neyyattussery
New India Church Of God
Oblate Missionaries Of Mary Immaculate
Ozanam Society
Palakunnu Sree Dharma Sastha Temple Charitable Trust
Patmos Ministries India
Payappar Rubber Ulpadaka Sangam
Penuelemmanuel Charitable Trust
Peoples Library
Poor Boys Home
Prison Fellowship India
Priyadarsini Charitable Society
Public Library
Public Library Chittady
Public Library Ponadu
Puthujeevan Trust
Ramakrishna Math Pala
Rural Charitable Development Centre
S M V Higher Secondary School
Sacred Heart Medical Centre
Sacred Heart Public School
Sacred Heart Trust
Sadhujana Sahaya Sangham
Salvatorian Sisters Institute
Samagravikas
Sandhya Development Society
Sangiovanni Adoration Provincialate
Sanjivani Charitable Society
Sanjose Welfare Centre
Santhinikethan Education Trust
Santhwanam
Santhwanam
Sargakshetra Charitable Trust
Sauhrutham Charitable Trust
School For The Deaf And Blind
Scrony Educational Charitable Trust
Sdc Kply
Sector Asia Medical Mission Sisters Society
Sevabharathi Charitable And Cultural Society
Shalom Christian Education And Service Trust
Share And Care Charitable Society
Sisters Of St Marthas Congregation
Sisters Of The Imitation Of Christ
Sneha Bhavan
Snehagiri Institutions
Snehagiri Missionary Sisters
Social Work Mission
Society For The Empowerment Of The Learning Disabled
Sons Of The Immaculate Conception Of India
Southern Regional Care Charitable Trust
Sparsh Bharat Gospel Mission
Sree Mahadeva Educational And Charitable Society
Sree Narayana Guru Trust
Sreeramavilasam Nair Karayogam
Sreesaraswathy Educational Trust
Sreyas Vanitha Samajam
St Francis Educational Society
St George Educational And Welfare Charitable Trust
St Gregorios Holistic
St John Of God Hospitality Society
St Johns Province
St Joseph Educational And Charitable Trust
St Joseph Kerala Capuchin Province
St Josephs Province Of Vincentian Congregation
St Josephs Province Sisters Of Destitute
St Thomas Benedictine Monastery
St Thomas Church Kanamala
St Thomas College Palai Educational Trust
St Thomas Province (Clarists)
St Thomas Province Pala Of The Snehagiri Missionary Sisters
St Vincent Poor Home
St. Kuriakose Public School Society
St. Paul Province Of Heralds Of Good News
St.Antony's Educational & Charitable Society
St.Joseph's Children's Home Kummannoor
St.Jude's Charitable Trust
Sukhodaya Charitable Society
Sukrutham Charitable Trust
Swamy Ayyappa Seva Samithi
Tabernacle Christian Centre
Tapovan Cultural Trust
The Catholic Diocese Of Vijayapuram
The Goodsam Gospel And Medical Society
The Greenvalley Residents Welfare Association Kizhathadiyoor
The Kerala Fransalian Educational Society
The Kottayam Don Bosco Society
The Nilackal St.Thomas Church & Ecumenical Centre Trust
The Palai Social Welfare Society
Theresian Charitable Trust
Thirunilam Educational Trust
Thottakad Kheera Vyavasaya Society No K 4194(D) Apcos
Trada
Tropical Institute Of Ecological Sciences
Vallakom St.Mary's Educational And Charitable Trust
Vijayapuram Social Service Society
Vikas Vidyalaya Trust
Vyapara Bhavan
Womens Welfare Associations
Womens Welfare Centre
Youth Institute For Leadership Training
Yuvarashmi Arts And Sports Club

If your NGO is having programmes related to social issue in this district, just email the name of the NGO with link to it and we will share it free.
Our email : Datacentre@CSRidentity.com
We Salute
Soldiers, Police, Below the poverty line people who live with humanity, Social workers, NGO Founders, Hospital staff, Health care workers, Chemists, Medicines Trees, Forests, Medicinal plants, Rivers , Extinct animals, Homes, Climate, People working in crematorium
Shop from NGOs
NGO Sellers Concept
Following NGOs sell products.
These products are either made by communities or the NGOs act as agents of companies making these products.
The idea is to help communities, NGOs and corporates together.
NGOs can be selling agents
NGOs must be sustainable.
We dont want to loose focus of serving communities but in case of emergency where their funding stops, they must have at least one year survival funds so that the communities they serve do not suffer.
We have experienced that when an NGO working with disabled sales products made by them or NGOs working with women sell products made by them or NGOs selling tribal products or paintings .. its great honour to communities they serve.
And NGOs working in slums or villages or rural areas have great relationship with communities and corporates can think of having them as agents which can order products from corporates.
Its good for corporates who find good agents
Its good for NGOs because they earn
Its good for communities because its at home service

NGOs can keep half the commission they get and pass the other half to communities so that its win win long term situation