Kolhapur District In Maharashtra
Corporates
Any corporate interested in having NGOs as selling agents can contact the NGO directly.
But if the corporate wants to put their name plus contact person's name and phone number here, then they have to pay a donation of Rs 2000/- for one district.
Corporates
We plan to donate at least Rs 13433000/-
This amount is not just any amount. Bhau, founder Sanjay Kumud Moreshwar Bapat's father gave house & property to him through a Gift Deed and Government Authorities valued it as Rs 13433000/- and founder's father (Bhau) paid a stamp duty of Rs 403000/-. And after the Gift Deed, Bhau was the first person on earth (Of course many others stepped in) to start postponing death of founder after an almost fatal accident on 28.08.2013.
Founder knows that after death, neither anyone takes anything with them nor do they know whether their son, grand son, daughter in law or so called blood relatives or neighbours came to see them before they left earth.
When any human leaves this world, what remains is their Deeds when they were on earth. So our first target is Rs 13433000/- Of course they will not know the impact of their gifts to world, but that is beauty of life. Enjoy it but leave the world as satisfied human and not one with unending greed of money, property.
Corporates can donate to the NGO
Developed Nation Network Trust by G Pay.
It has 80G and waiting for renewal of FCRA.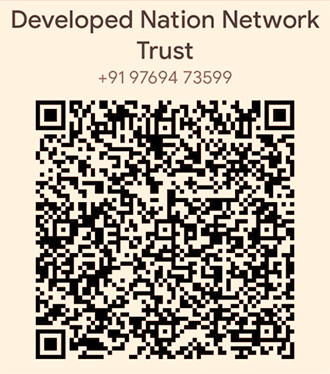 NGOs
NGO Brands
We share NGO Brands statewise in case of India
NGOs in this district
Abhinav Education Society
Adarsh Shikshan Prasark Mandal Savarde
Adhar Cultural Educational Society Gadhinglaj
Adhar Samajik Sanstha
Aditya Gramjivan Samajik Sanstha Kariwade
Ambai Shikshan Prasark Mandal Majgaon
Anand Biogas Urjanirman Va Tantra Vikas Sanstha
Anand Shikshanik Samajik Sevabhavi Sanstha Kalajawade
Anandibai Mahila Bahuuddeshiya Sanstha
Anant Educational Social And Cultural Society
Anant Vachanalay Gadhinglaj
Anantshanti Bahuddeshiay Samajik Seva Sanstha
Anmol Charitable Trust Gadhinglaj
Antar Bharati Shikshan Mandal Kolhapur
Ashoka Bahuudeshiy Fondetion
Asmita Mahila Vikas Mandal
Astha Charitable Institute
Avani Pratishthan
Bal Shivaji Talim Mandal Ghalwad
Bhagwan Baba Shikashan Prasarak Mandal Ichalkaranji
Bhartiya Krida Va Sanskrutik Mandal
Bhayari Bhawani Shikshan Prasarak Mandal Sanghashi
Bhudargad Gramin Vikas Sanstha Khanapur
Care Foundation
Carmel Ashish Charitable Trust
Ccikotra Khore Shikshan Prasarak Nabdak Kapshi
Chandi Karakhandar Association
Chhatrapati Shahu Cancer Research Foundation
Chikotra Panchkroshi Shikshan Prasarak Mandal
Chikotra Shikshan Sanstha Kolhapur
Compassion 24 Foundation Kolhapur
Council For Agricultural And Rural Development
Crown Of Life Ministries
D Y Patil Education Society Deemed University Kolhapur
Dattajirao Kadam Technical Education Society Ichalkaranji
Dayanand Ramchandra Sonule Charitable Trust
Dinlaxmi Gaushakti Sanvardhan Bahuuddishiya Chairtable Trust
Disha Shikshan-V-Vikas Kendra
Dkshindesmaraktrust-Gadhinglaj2006
Dnyandeep Vachnalaya Yenechavandi
Dnyandip Bahuuddeshiya Sevabhavi Sanstha Basarewadi
Dnyanho Vidhyamandir Shikshan Prasarak Mandal
Dnyankala Shikshan Santha
Dnyanprabodhini
Dr Ambedkar Mahila Vidyapeeth ( Sanstha)
Dr Babasaheb Ambedkar Sanskritik Mandal
Dr Kumar S Valvade Foundation Kurundwad
Dr Sukumar J Magdum Foundation
Dr.J.J.Magdum Trust
Dr.Shivanand Patil Charitable Trust Nesari
Ganga Education Society
Gayan Samaj Deval Club Kolhapur
Gomteshwer Krushi Va Gramin Vikas Sanshtha Peth Vadagaon Taluka Hatkanangale Dist Kolhapur
Grameen Shikshan Vidyarthi Mandal
Gramin Aparamparik Urjya Nirman Sanstha Malave
Gramin Arogya Vikas Trust Kurundwad
Gramin Biogas Tantra Vikas Va Urjanirman Prashikshan Sanstha
Gramin Biogas Tantravikas Urjanirman P Sanstha
Gramin Biogas Urja Nirman Va Tantra Vikas Sanstha
Gramlaxmi Vikas Sanstha
Gramvikas Shikshn Prasarak Mandal
Granthmitra Ma Tanajirao Magdum Sarv Wachanalay
Gurudatta Gramin Seva Sanstha Mallewadi
Hattarki Institute Of Medical & Education Research Centre Gadhinglaj
Helpers Of The Handicapped
Hij Highness Rajashri Shahuji Maharaj Institute If Information Technology
Hujur Gousul Aazam (Hga) Rh Social Foundation
Indra Gramin Biogas Urjya Nirman V Prashikshan Sanstha Malave
Inqubedream Research And Development Foundation
Institute For Health Education And Rural Development
Jagruti Gramin Bahuuddeshiya Vikas Sanstha Gargoti
Jain Sanskrit And Shaikshnik Mandal
Jain Tirthyatri Seva Trust
Janata Shikshan Mandal
Janata Shikshan Prasarak Mandal
Janklyn Samajik Seva Santha Kolhapur
Janta Gramin Education Sanstha Chandgad
Jeevan Ashay Bal Yuva Kendra
Jeevandeep Arogya Krushi Va Samajik Gramin Vikas Sevabhavi Sanstha Chipri
Jeevraksha Animal Care Trust
Jijau Bahuuddeshiy Samajik Va Shaikshnik Sanstha Kolhapur
Jivandan Mahila Bahuddeshiy Sevabhavi Sanstha
Jyotirling Shikshan Prasarak Mandal
Kai Krushnabai Chudappa Patil Foundation
Kai Mahadev Bhosale Patil Yuva Foundation Mallewadi
Kai Mahadev Jadhav Smruti Mophat Vachanalay
Kai Shankar Dhondi Patil Gramin Biogas Aparamparik Urjanirman Sanstha
Kisanrao More Education Society Sarawade
Kolhapur Church Council
Kolhapur Zilha Chhote Vyapari Feriwale Sangh Ichalkaranji
Kolhapur Zilla Judo Association
Krantiveer Tambat Kaka Vachanalay
Krushi Vikas Vidnyan Mandal Bubnal
Krushidoot Krushi Vidnyan Shetkari Mandal Karpewadi (Kha)
Late Shri Haribhau Desai Multipurpose Foundation Mani
Lilavanti Mahila Seva Sanstha Mallewadi
Lotus Medical Foundation
Maharashtra Advance Training Center
Maharashtra Industrial Training Center
Maharashtra Information Technology Support Center
Manav Kalyan Bahu Udyeshiya Charitable Trust
Manav Sansadhan Vikas Mission
Manoranjan Mandal Ichalkaranji
Manspandan Foundation
Manthan Foundation
Maratha Commando Foundation
Maratha Gramin Vikas Sanstha
Marathi Vidnyan Parishad Gadhinglaj
Matoshree Medical Service Society
Mauli Care Center
Mauli Garment Dharak Kalyankari Sevabhavi Sanstha Korochi
Milind Shikshan Sanstha Sanchalit Bhaurao Shirke Vidyarthi Vastigruh
Mukta Social Foundation
Muslim Mahila Shaikshanik Wa Sanskritik Vikas Mandal
Nagaon Gramin Aarogya Mandal Nagaon
Nagnath Education Society Narande
Nagnath Gramin Va Aparamparik Urjanirman Sanstha
Nandadip Bahuuddeshiy Sevabhavi Sanstha
Nari Shakti Social Foundation
Narsinh Gramin Biogas Wa Apranparik Urja Nirman Sanstha Talashi
Navinya Bahuddeshiya Sanstha Kurukali
Navjeevan Gramvikas
Nesari Vachan Mandir Nesari
New Maharashtra Shikshan Sanstha Tikkewadi
Niradhar Vruddhashram Va Anath Bal Shikshan Sankulan Mandal Pachgaon Ta.Karvir Ji.Kolhapur
Om Sai Medical Trust Gargoti
Panhala Education Society, Panhala
Parivaratan Bahu Uddeshiya Va Vikas Seva Sanstha Kolhapur
Parivartan Bahu Seva Sanstha Chandgad
Parivartan Samajik Bahuuddeshiy Sanstha, Kini
Patil Education Society
Play Sport Acadamy
Power For People Foundation Gargoti
Pu Sane Guruji Sarvajanik Vachnalaya Madyal
Radhanagari Parisar Maji Sainik Sangh K Walave
Rajarshi Shahu Bahuuddeshiy Sanstha Koulage
Rajarshi Shahu Kala Krida V Shaikshanik Prabodhini Konvade
Rajarshi Shahu Rural And Education Institute Radhanagari
Rajarshi Shahu Shikshan Prasarak Mandal At-Ganeshwadi Post-Kasaba Beed Tal-Karvir Dist-Kolhapur Maharashtra
Rajashri Shahu Jyesht Nagarik Seva Sangh
Rajshree Foundation
Rashiwade Kala Krida V Sanskrutik Mandal Rashivade
Rashtriy Uva Swaymrojgar Vikas Sanstha
Reliable Foundation Navale
Roman Catholic Church Of Our Lady Of Rosary
Rugna Kalyan Samiti Savitribai Phule Rugnalay Kolhapur
Rukmini Dnyanprabodhini Wachanalay V Sanskritik Sanstha Mahagond
Runanubandh Kala Krida And Shikshan Mandal Ichalkaranji
Saad Multipurpose Foundation
Sadguru Balumama Vikas Foundation
Sadguru Sai Samarth Jeevan Adhar Samajik Sanstha Gargoti Shakha Gadhignlaj
Sahara Sevabhavi Sanstha
Sahjivan Bhauudeshiy Seva Sanstha
Sai Education Society
Sainath Gramin Biogas Aparamparik Urja Nirman Sanstha
Samrudhi Mahila Samajik Sanstha
Sanmitra Bahuuddeshiya Grameen Vikas Sanstha
Santoshi Mata Mahila Anathasharam And Unanti Mandal Ichalkaranji
Saraswati Bahu Uddeshiy Pratishthan
Sarvodayvidyakendra
Sevabharati Ichalkaranji
Shaikshanik Vikas Mandal Bhedasgaon
Shamvrushti Education Society Hupari
Shikshan Prasarak Mandal, Kurundwad Taluka Shirol District Kolhapur Pin 416106
Shikshan Samiti Kasaba Nesari
Shishan Prasarak Mandal Kasaba Nool
Shivaji Shikshan Prasarak Mandal Latawade
Shivar Foundation
Shivasanket Pratishthan Ichalkaranji
Shivchaya Tarun Mandal Navale
Shivechha Sarvjanik Vachanalaya Jaysingpur
Shivtej Pratishthan Manpadale
Shramshakti Pratishthan
Shree Chaitanya Shikshan Prasarak Mandal
Shree Jyotirling Shikshan
Shree Sadguru Balumama Sevabhavi Samajik Bhuuddeshiya Sanstha
Shree Sainath Charitable Trust
Shree Sukhakarta Bahuddeshiy Samajik Seva Sanstha
Shree Swami Samarth Bahuuddeshiy Sewabhavi Sanstha
Shri Acharyaratna Deshbhooshan Shikshan Prasarak Mandal
Shri Ashtvinayak Kala Krida Va Sanskrutik Mandal P Chikhali
Shri Balasaheb Maneshikshan Prasarak Mandal Sanchalit Awtc Peth Vadgaon
Shri Balumama Devalay Adamapur
Shri Chimasaheb Jagdale Foundation
Shri Datta Mofat Vachanalaya Kodoli
Shri Datta Shikshan Prasarak Mandal Panutre At Post Kale. Tal Panhala Dist Kolhapur Maharashtra.
Shri Dattaguru Gramin Biogas Va Aparamparik Urja Nirman Sanstha
Shri Dnyaneshwar Shikshan Prasark Mandal Waghave
Shri Ganadhipati Gandharacharya Kuntiusagar Vidya Sodh Sansthan
Shri Hindurao Shelake Charitable Trust
Shri Kedarnath Shikshan Sanstha
Shri Kisan Shikshan Prasarak Mandal
Shri Mahalaxmi Annachatra Seva Trust
Shri Mahalaxmi Aparmparik Urja Nirman Sanstha
Shri Manvel Bardeskar Education Society Gargoti
Shri Mohanrao Deshpande Education Society
Shri Mouni Vidyapeeth Gargoti
Shri Nathkrupa Shikshan Prasrak Mandal
Shri Navajeevan Nagar Wachanalaya Nandani
Shri Ram Dynanpeeth
Shri Sadguru Jangli Maharaj Aashram
Shri Sadguru Sai Baba Seva Trust
Shri Sadguru Shrinand Maharaj Charitable Trust
Shri Sadguru Vishwanath Maharaj Rukadikar Trust
Shri Shahu Chhatrapati Apang Kalyan Sanstha Kagal
Shri Shahu Shikshan Prasarak Seva Mandal
Shri Shankarappanna Bagi Library Gadhinglaj
Shri Shwami Samartha Shikshan Sanstha Peth Vadgaon
Shri Siddheshwar Gramin Biogas Urjanirman Va Tantra Vikas Sanstha
Shri Siddhivinayak Gram Vachanalay Dasewadi
Shri Sidhagiri Math
Shri Talemauli Biogas Gramin Vikas Sanstha Ambavane
Shri Vimleshwar Automobile Trade Real Practical Training Sanstha
Shri Vyankanath Shikshan Prasarak Mandal
Shridattabal Mission Divine
Shriprakashpatilyuvapratistankondoshi
Shriram Educational Social And Cultural Society Gijavane
Siddhai Education Society
Siddheshwar Krishi And Gramin Vikas Sanstha New Pargaon
Siddhivinayak Gramin Vikas Sanstha Gargoti
Sion Ministries Ichalkaranji
Smrat Bahuuddeshiy Gramin Vikas Sanstha Mhasarang
Society For Mathematical Engineering
Sou Nalini Sha Pant Walawalkar Girl Observation Home Kolhapur
Sri Mahalaxmi Shaikshnik Samajik Gramin Vikas Sanstha Karadwadi
Srinivasa Educational Society
Suprabhat Vachanalaya Sohale
Sushila Danchand Ghodawat Charitable Trust
Suvarn Jayanti Biogas Sanstha
Swami Vivekananda Foundation
Swanand Bahuuddeshiya Seva Bhavi Sanstha Kolhapur
Swatantraya Senani Kai Annasaheb Mahadev Karale Seva Pratishthan Nandani
Swatantryaveer V D Savarkar Shikshan Sanstha
Swayambhu Bahuuddeshiya Mahila Seva Bhavi Sanstha Mouni Bidri
Talimi Adara E Mubarakia Aurwad
Tararani Samajik Vikas Sevabhavi Sanstha
Tararani Vidyapeeth
The Maharashtra Education And Sports Academy Chandgad
Time Industrial And Entrepreneurship Development Institute
Vaishali Bhau-Uddeshiya Sevabhavi Sanatha
Varddaan Bahuuddeshiy Samajik Sanstha
Vatsalya Go Shala Bahuuddeshiy Samajik Seva Sanstha Kolhapur
Vidyangan Shikshan Prasarak Mandal
Vidyavihar Education Society
Vijay Kala Krida Sanskritic Sanstha
Vikalang Sevabhavi Sanstha Nandani
Vikram Education Society Kolhapur
Vishwachhaya Foundation
Vishwamauli Samajik V Shikshan Mahila Foundation
Vishwaratna Dr Babasaheb Ambedkar Foundetion Ichalkaranji
Vitthalai Bahuuddeshiya Sevabhavi Sanstha Basarewadi
Wakeshwar Datta Mandir Gudal
Wil Rose Fondation
Yashswini Mahila Sabalikaran Foundation
Yog Vidya Dham Gadhinglaj
Yuva Gramin Vikas Sanstha
Zil Pas Aniket Niketan Balgruh
Zilla Pariveksha Kanya Balgruha
Zilla Pariviksha Va Anurakshan Sanghtana Sanchlit Shishugruh

If your NGO is having programmes related to social issue in this district, just email the name of the NGO with link to it and we will share it free.
Our email : Datacentre@CSRidentity.com
We Salute
Soldiers, Police, Below the poverty line people who live with humanity, Social workers, NGO Founders, Hospital staff, Health care workers, Chemists, Medicines Trees, Forests, Medicinal plants, Rivers , Extinct animals, Homes, Climate, People working in crematorium
Shop from NGOs
NGO Sellers Concept
Following NGOs sell products.
These products are either made by communities or the NGOs act as agents of companies making these products.
The idea is to help communities, NGOs and corporates together.
NGOs can be selling agents
NGOs must be sustainable.
We dont want to loose focus of serving communities but in case of emergency where their funding stops, they must have at least one year survival funds so that the communities they serve do not suffer.
We have experienced that when an NGO working with disabled sales products made by them or NGOs working with women sell products made by them or NGOs selling tribal products or paintings .. its great honour to communities they serve.
And NGOs working in slums or villages or rural areas have great relationship with communities and corporates can think of having them as agents which can order products from corporates.
Its good for corporates who find good agents
Its good for NGOs because they earn
Its good for communities because its at home service

NGOs can keep half the commission they get and pass the other half to communities so that its win win long term situation