Khordha District In Odisha
Corporates
Any corporate interested in having NGOs as selling agents can contact the NGO directly.
But if the corporate wants to put their name plus contact person's name and phone number here, then they have to pay a donation of Rs 2000/- for one district.
Corporates
We plan to donate at least Rs 13433000/-
This amount is not just any amount. Bhau, founder Sanjay Kumud Moreshwar Bapat's father gave house & property to him through a Gift Deed and Government Authorities valued it as Rs 13433000/- and founder's father (Bhau) paid a stamp duty of Rs 403000/-. And after the Gift Deed, Bhau was the first person on earth (Of course many others stepped in) to start postponing death of founder after an almost fatal accident on 28.08.2013.
Founder knows that after death, neither anyone takes anything with them nor do they know whether their son, grand son, daughter in law or so called blood relatives or neighbours came to see them before they left earth.
When any human leaves this world, what remains is their Deeds when they were on earth. So our first target is Rs 13433000/- Of course they will not know the impact of their gifts to world, but that is beauty of life. Enjoy it but leave the world as satisfied human and not one with unending greed of money, property.
Corporates can donate to the NGO
Developed Nation Network Trust by G Pay.
It has 80G and waiting for renewal of FCRA.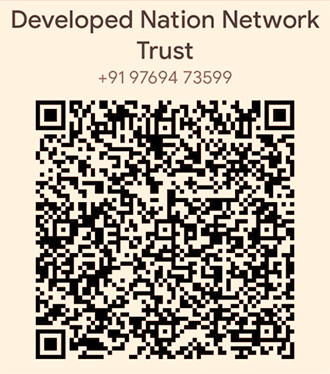 NGOs
NGO Brands
We share NGO Brands statewise in case of India
NGOs in this district
3rd Eye Foundation
A K Samantray And Company Private Limited
Aaina
Aama Odisha
Aangika
Aawaz Voluntary Organisation
Abhinash Socio Economic Voluntary Organisation
Abhinaya Jagruti Institute Of Theatre
Academy Of Yoga And Oriental Studies
Access India Foundation
Adarsha Odisha Foundation
Adhikar
Aditya Birla Fashion And Retail Limited
Adventure
Affinity Foundation
Al Banat Educational Welfare Trust
Alakananda Philanthropic Trust
Alekh Foundation Trust
All Orissa Philosophy Association
Almadad Social And Welfare Trust
Amaadhikar
Amarjyoti
Ananda Charitable Trust
Ananya Unlocking Potential
Anjuman Appeal Foundation
Ankita
Anurag Foundation
Aradhana
Arambha
Arohee
Art Vision
Arupa Mission Research Foundation
Asian Institute Of Public Health
Asper
Association For Tormented Mans Aid
Astitwa
Atma Krushak Parishad
Aumsys Technologies Private Limited
Aurosikha Welfare Centre For Rural & Social Development
Back To Village
Baidyanath Sangeet Mandir
Banadurga Society
Bansidhar & Ila Panda Foundation
Basanti Dash Educational Trust
Bat Net
Be Good Will Be Good
Bhairabi Club
Bharadwaj Education Trust
Bharat Gyan Vigyan Samiti
Bharat Jan Gyan Vigyan Samity
Bharat Nirman Foundation
Bharatiya Vidya Niketan
Bhartiya Adim Jati Sevak Sangh Bhubneshshwar Branch Orissa
Bhoomika
Bhubaneswar Lions Hospital Foundation And Research Trust
Bhubaneswar Music Circle
Bijayalaxmi Club
Bijoy Ketan Jubak Sangha
Binapani Sishu Mandir
Binapani Sisu Bidya Mandir Khordha
Bless India Movement
Bou Foundation
Braja Gopika Seva Mission
Bright Human Action & Voice
C M D B Trust
Caram
Card
Care And Share Mission
Catholic Charities
Centre For Action & Rural Reconstruction
Centre For Action Research
Centre For Autism Therapy Counselling And Help
Centre For Child And Women Development
Centre For Studies In Yoga Ayurved And Naturopathy
Centre For Youth And Social Development
Centurion Science And Technology Enterpreneurship Facilitation Centre
Centurion University Of Technology And Management
Chale Chalo
Cheysta
Club Red Rose
Collabration Integrity Bravery
Community Development Medicinal Unit
Continual Growth Council
Council For Youth Welfare And Social Education Development
Council Of Ex Nss Volunteers Odisha
Ctran Consulting Ltd.
Cvrce Technology Incubator Foundation
D M Trust
Darabar Sahitya Sansad
Debadasi
Delta Foundation Trust
Dengei Pahad Jalabibhajika Sangha
Destitute Aged Young Association
Development Action Society Foundation
Development Centre For Disabled
Development Initiative
Dhara(Socio-Eco-Cultural Research And Communication Syndicate)
Dhruba Dhukhi Charitable Trust
Dinabandhu Foundation For Educational Research And Socio Economic Development
Disha Foundation
Divya Jyoti Seva Shram
Dr. Abdul Kalam Charitable Trust
Drushti Daan
Dynamic Institute For Social Health
Ektaparishadtrust
Equality Education Trust
Foundation For Development Initiatives
Gandhiji Seva Niketan
Global Development Initiative
Global Foundation For Educational Excellence
Global Institute Of Management (Gim)
Globalscience Foundation Trust
Gopinath Juba Sangha
Gram Bharati
Gramin Khadya Yojna Trust
Gramya Shree Seba Sangha
Great Kalinga Foundation
Guru Sri Pankaj Charan Odissi Research Foundation
Gurukrupa Educational Trust
Gyan Kalp Charitable Trust
Hdf Cdar
Heeraj Foundation
Heritage Charitable Trust
Holy Spirit Health And Charitable Society
Humara Bachpan Trust
I Concept Initiatives
Iates
Icefoundation
Indian Institute Of Environment And Science
Indian Liver Patient Foundation (Ilpf)
Indian National Organisation
Indian Social Service And Charitable Trust Issact
Indusinfo Management Private Limited
Innodust Techsolution Private Limited
Institue Of Rural Development And Management Studies
Institute Of Information Studies
Institute Of Life Sciences
Institute Of Youth And Womenwelfare
Ishaneswar Jubak Sangha
J D Centre Of Art
Jagannath Seva Sangathan
Jan Shikshan Sansthan Bhubaneswar
Jana Jagruti Yubak Sangha
Janakalyan Samiti
Janasadhana
Janaseva Charitable Trust
Jatiya Krusak Samukhya
Jayadev Institute Of Social Sciences And Research
Jeeban Jibi Ka Mahila Mandal
Jeevan Jyoti Ashram
Jeevan Rekha Parishad
Jevan Anand Seva Santhan
Jrg Educational Trust
Juvajyoti Club
Kalashrama
Kalinga Career Academy
Kalinga Foundation Trust
Kalinga Human Service Centre
Kalinga Improvement And Educational Trust
Kalinga Institute Of Industrial Technology
Kalinga Institute Of Social Sciences
Kalinga Relief And Charitable Trust
Kalyan
Kalyan Health Organisation
Kamala Foundation
Kartabya
Kartabya
Kasturi
Khandual Shelter
Kiit Technology Business Incubator
Kranti Samaj
Kriyayoga Foundation Trust Kriyayoga Ashram
Kuber Educational It And Rural Development Charitable Trust
Kumudini Devi Charitable Trust
Living Farms
Livolink Foundation
Loyola Educational Society
M Zone
Maa Durga Electronics Industrial Society
Maa Durga Sanskrutika Parishad And Pathagara
Maa Durga Silpa Samiti
Maa Hinjalakshya Mahila Samiti
Maa Jaya Durga Trust
Maa Ramachandi Foundatation
Maa Santoshi Anchalika Unnayana Sangha
Maa Sarala Education And Health Trust
Maariya Charitable Trust
Madhyam Foundation
Madni Women's Welfare Association
Madrash Nazmul Bukhari
Mahendra Education And Child Organisation
Mamata Charitable Trust
Manav Vikash
Mardala Academy
Marwari Yuva Manch
Mediaa Mind
Meghna Charitable Trust
Mother
Mother Teresa Foundation
Mother Teresa Welfare Trust
Mousumi Charitable And Educational Trust
Mudra Foundation
Mukti Development Foundation
Murchhana
My Heart
Naba Pallav
Naba Pravat Trust
Nabajuga Educational And Charitable Trust
Naivedya
Nandighosh
Nari Shakti
National Human Rural Development Institute
National Institute Of Social Rehabilitation And Rural Development
National Youth For Social Justice Trust
Natural Institute Of Social Changes And Resource Generation
Natya Chetana
Navajyoti Mahila Samiti
Nehru Seva Sangh
Nigam Institute For Governing Activities Of Mass
Nikhila Utkal Harijan Adivasi Seva Sangha
Nilamani Routray Nalini Devi Routray Memorial Trust
Nirmala Kruti Bikash Trust
Niyatee Foundation
Nrutya Naivedya
Nrutya Upasana Pitha
Nrutyadham
Nrutyaprativa
Nrutyashala
Nrutyayan
Nydhee
Odisha Akshaya Mohanty Foundation Trust Khordha
Odisha Culturalcircle
Odisha Institute For Social Development
Odisha Jyoti Foundation
Odisha Multi Medicus And Alternative Association
Odisha Sabuja Patrika Bikash Parishad
Odisha Startup Club
Om Maa Hatiasuni Trust
Omm Educational Charitable Trust
Omm Jyoti Educational Trust
Oms Power Training And Research Institute
Oofy Opulence Foundation
Open Learning Systems
Organisation For Development Of Rural Economy And Social Service
Organisation For Protection Of Ecosystem Environment & Endangered Species
Organisation For Welfare To Society
Organization For Management And Development Center. (Omdc)
Orissa Catholic Health Association
Orissa Child Welfare And Education Trust
Orissa Computer Academy
Orissa Foundation
Orissa Jesuit Society
Orissa Khadi And Village Industries Association
Orissa Millennium Education Trust
Orissa Modern Art Gallary
Orissa Multipurpose Development Centre
Orissa Patita Udhara Samiti
Orissa Rural And Urban Producers Association
Orissa Society Of Extension Education
Orrissa Organisation For Rural Reconstruction And Integrated Social Service Activities
Orshed Welfare Society
Paika
Palli Unnayan Seva Samiti
Pallisanjibani
Patitapabana Educational & Charitable Trust
Peace For India Trust
People For Action
People S Council For Social Welfare
Peoples Forum
Peoples Organisation For Orphan And Rural Service
Perlct
Perpetual Reconstructive Instituteforyouth Activty
Planet Development Foundation
Prafulla Kar Foundation
Pranakrushna Cultural Charitable Foundation Trust
Pratisruti
Programme For Advancement Of Youth And Society
Progressive Elite Trust
Raga Mala
Rajadhani Kala Niketan
Rajdhani Institute Of Information Technology
Rajkanika Coir Spv Trust
Rajya Akhyam Seba Sangha
Ramakrishnamath
Rawa Academy
Regional Centre For Development Cooperation
Regional College Of Management Trust
Research Analysis Consultants
Right Initiative For Social Enlightenment
Royal Charitable Trust
Ruchika Social Service Organisation
Rudrakshya Foundation
Rural Development Center
Saarawna Trust
Sachetana
Sadhana
Sahabhagi Vikash Abhiyan
Sahara For All
Sahas Trust
Sahaya
Sahayam
Sahayog
Sahayog Educational And Charitable Trust
Sahayog Foundation
Saheed Yuba Sangha
Sai Eden School
Sai Saranam Charitable Trust
Sai Smruti Kalakendra
Sai Swastik Educational Trust
Sakar
Samaj Kalyan Foundation
Samaj O Sansjruti
Samaleswari Education Trust
Samanta Chandrasekhar Educational And Charitable Trust
Samarth Jeevan Trust
Sambandh
Sangeet Sudhakar Balakrushna Dash Foundation
Sankalpa Odisha Foundation Trust
Sanskruti Bikash Sansad
Sanskruttim
Sansristi
Saraswati Dukhi Bandhab Peoples Foundation
Saraswati Pratisthan
Satindra Giribala Memorial Trust
Satwik Mini India Education Society
Satya Panda Basant Manjari Foundation
Secular And Teritorial Association For Welfare And Devl Ofxxx Inhabitants
Seva Prayas Foundation
Seven Diamond Wordl Welfare El-Dorado Board Organisation
Shaksi World Association Charitable Trust
Shanta Memorial Rehabilitation Centre
Shanti Bhavan Charitable Trust
Shantidham Foundation
Shradhanjali
Shree Dance Academy
Shree Gopal Jew Trust
Shree Jagannatha Sanskruti Parisad
Shree Swaminarayan Temple Trust-Jagannathpuri
Shree Vidya Niketan Trust
Shristi
Shrutinyasa
Siksha O Anusandhan
Sikshasandhan
Sikshya Bikasha
Silpika Society Of Culture
Sisu Sakha Sangha
Sitadevi Ghanshyam Charitable Trust
Smart International Research & Technology
Soch Foundation Trust
Social Advancement And Nourishment For Community Kink Eradication And Training
Social Awareness Programme For Integrate Development
Social Educational Research &Voluntary Institute For Community Education
Social Welfare And Research Centre (Swrc)
Social Welfare Environmental And Educational Trust-Sweet
Social Welfare Organisation Of The Ladies & For The Ladies
Society Empowerment And Welfare Actions
Society For Children
Society For Education And Welfare Action
Society For Entrepreneurship Environment & Human Resources Development (Seehurd)
Society For Health Action Development And Environmental Services
Society For National Excellence And Higher Achievement (Sneha)
Society Of Health Education Legal Training And Emergency Rehabilitation(Shelter)
Somanath Seba Samiti
Sourabha
Spread
Sree Sree Parama Premamaya Purusottam Trust
Sri Aurobindo Purnanga Sikshya Kendra
Sri Chaitanya Institute Of Vaishnavic Culture
Sri Ghasiram Majhi Memorial Charitable Trust (Sgmmct)
Sri Kalpataru Gyanjyoti Trust
Sri Ramakrishna Sevashram
Sri Sathyasai Trust Orissa
Sri Shikhya Bharati
Sri Sri Maa Anand Ashram
Srjan
Srusti
St Joseph Ofannecy India Educational Society
St. Joseph Of Annecy (India) Society
St.Joseph Of Annecy (India) Medical Society
Star Educational Charitable Trust
State Progressive Womens Forum
Subhadra Mahtab Seva Sadan Odisha
Sushama Sangeet Sadan
Susi Charitable Trust
Swabhiman A Disability Information And Resource Center
Swapna Trust
Swiss Heidi Foundation
Tapasya
Tapobhoomi Trust
Tarini Education Trust
Team For Human Resource Education And Action For Development
Thanapalli Milita Jubak Sangha
The Cuttack Roman Catholic Diocesan Corporation
The Divine
The Eastern Multipurpose Coop Ltd
The Organisation For Women And Rural Development
The Orissa Academy Of Tribal Culture Research And Performing Art
The Shelter
The Welfare
Touch In Associates
Transintegra Research And Care Foundatio
Trident Academy Of Creative Technology
Tridhara
True Aid Foundation
Udyogika
Umalaxmi Educational Charitable Trust
Unnayan
Upasana Education Trust
Urmila Memorial Trust
Utkal Bipanna Sahayata Samiti
Utkal Development Of Rural Accademy
Utkal Educational And Charitable Trust
Utkal Handicapped Welfare Organisation
Utkal Networking Services Private Limited
Utkal Youth Association For Social Development
V A R S A
Vandhu
Vasudha Institute For Devlopment Works Training And Rehabilitation
Vasundhara
Victoryus Ministry
Vidya Bikash Educational Trust
Vikash
Vikash Dhara
Vikash Educational Charitable Trust
Vishwa Jyoti
Viswa Bharati Foundation Trust
Viswas Volunatry Institute For Social Welfare And Service
Voluntary Institution For Village Empowerment And Knowledge
Vsp Vinoba Seva Pratisthan
Wake Up
Way Of Integrated Social Service(Wiss)
We 4 You Charitable Trust
Webcom Associates Private Limited
Welfare World
White Cross Ministries
Womens Community Management Group
Word For All Ministry
World Federation Of United Nations Organisation (Wfuno)
Xavier University Bhubaneswar
Young Mens Christian Association Bhubaneswar

If your NGO is having programmes related to social issue in this district, just email the name of the NGO with link to it and we will share it free.
Our email : Datacentre@CSRidentity.com
We Salute
Soldiers, Police, Below the poverty line people who live with humanity, Social workers, NGO Founders, Hospital staff, Health care workers, Chemists, Medicines Trees, Forests, Medicinal plants, Rivers , Extinct animals, Homes, Climate, People working in crematorium
Shop from NGOs
NGO Sellers Concept
Following NGOs sell products.
These products are either made by communities or the NGOs act as agents of companies making these products.
The idea is to help communities, NGOs and corporates together.
NGOs can be selling agents
NGOs must be sustainable.
We dont want to loose focus of serving communities but in case of emergency where their funding stops, they must have at least one year survival funds so that the communities they serve do not suffer.
We have experienced that when an NGO working with disabled sales products made by them or NGOs working with women sell products made by them or NGOs selling tribal products or paintings .. its great honour to communities they serve.
And NGOs working in slums or villages or rural areas have great relationship with communities and corporates can think of having them as agents which can order products from corporates.
Its good for corporates who find good agents
Its good for NGOs because they earn
Its good for communities because its at home service

NGOs can keep half the commission they get and pass the other half to communities so that its win win long term situation