Kheda District In Gujarat
Corporates
Any corporate interested in having NGOs as selling agents can contact the NGO directly.
But if the corporate wants to put their name plus contact person's name and phone number here, then they have to pay a donation of Rs 2000/- for one district.
Corporates
We plan to donate at least Rs 13433000/-
This amount is not just any amount. Bhau, founder Sanjay Kumud Moreshwar Bapat's father gave house & property to him through a Gift Deed and Government Authorities valued it as Rs 13433000/- and founder's father (Bhau) paid a stamp duty of Rs 403000/-. And after the Gift Deed, Bhau was the first person on earth (Of course many others stepped in) to start postponing death of founder after an almost fatal accident on 28.08.2013.
Founder knows that after death, neither anyone takes anything with them nor do they know whether their son, grand son, daughter in law or so called blood relatives or neighbours came to see them before they left earth.
When any human leaves this world, what remains is their Deeds when they were on earth. So our first target is Rs 13433000/- Of course they will not know the impact of their gifts to world, but that is beauty of life. Enjoy it but leave the world as satisfied human and not one with unending greed of money, property.
Corporates can donate to the NGO
Developed Nation Network Trust by G Pay.
It has 80G and waiting for renewal of FCRA.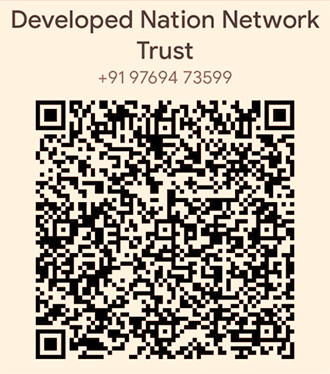 NGOs
NGO Brands
We share NGO Brands statewise in case of India
NGOs in this district
Arthved Foundation
Catholic Church
Catholic Church Amod
Catholic Church Kathlal
Catholic Church Matar
Catholic Church Mehmadabad
Christ Is The Answer
Dakor Saiesian Society Dakor
Dakor Vikas Sarvajnik Trust
Dayitva Janseva Trust
Dharmsinh Desai University
Dinsha Patel Charitable Trust
Divaswapna Sarvjanik Trust Porda Fagvel
Forgotten Children Foundation
Gujarat Methodist Church Cardiac Care & Research Society
Gujarat Methodist Church Cardiothorecic & Vascular Research Society
Hari Om Ashram
Hindu Anath Ashram Nadiad
Jamiaah Islmiyyah Manshurul Uloom
Jay Hind Charitable Trust
Kaira District Probation & After Care Association Sanchalit Children Home
Kapadwanj Kelavani Mandal
Karuna Ni Ketan Education Society
Lokhit Education And Charitable Trust
Mahagujarat Medical Society
Mahakali Arogya Seva Trust
Mark Foundation
Matruchhaya Balasinor
Matrudhara Sarvjanik Seva Trust
Matruseva Sanstha
Meladimaa T B Hospital Trust
Muljibhai Patel Society For Research In Nephro Urology
Newtech It Education Private Limited
Newtech Rural And Urban Education Development Foundation
Ohm Shri Shiv Sankalp Seva Trust
Parvati Bhaskaran Charitable Tgrust
Patel Shardaben Indubhai Ipcowala Charitable Trust
Prakruti Charitable Society
Ramanandi Hindi Sahitya Mandal
Rashtriya Andhjan Mandal Ckheda District Branch
Resource Centre For Training And Development Soceity
Rotary Club Nadiad Samaj Seva And Sanshodhan Trust
Saccidanand Ashram Catholic Church Thasra
Sadbhavna Seva Trust
Sadvichar Samiti
Sadvichar Sangh
Sahyog Charitable Trust
Sandhyadeepsocietyofthehelpersofmary
Sanidhya Skill Development Pvt Ltd
Sanskar Rastriya Kelwani Mandal
Sarvajanik Mahila Seva Sangh
Shanti Polytechnic Foundation
Sheth Mithabhai Gulachand Cheritable Trust
Shree Ghanshyam Education Trust
Shree Khambhat Taluka Anusuchit Jati Sahkari Khetitatha Utpadak Sangh Limited
Shree Rashtriy Gramin Kelavni Mandal
Shree Sanatan Hindu Samaj Seva Trust
Shree Santram Janseva Trust
Shree Sevaliya Mahajan Trust
Shree Swaminarayan Bhagwan Kala Kendra Trust
Shri Laxmanarayan Dev Shrishan Seva Khendra
Shri Manglam Education Trust
Shri Santram Maharaj Samadhi Sthan
Shri Vadilal S Gandhi Charitable Trust
Sisters Mary Immaculative Of Bishop Of Morrow Nadiad
Sisters Of Mary Immacucate Kathlal
Soor Zankar
St Annes High School Trust Nadiad
St. Mary's Education Society
Sundaram Bharati
Swa Shri Girjaben Mohanlal Shah Amliwala Memorial Trust
Thasra Taluka Yuvak Mandal Association
The Trust Of The Temple Of Shree Laxminarayan Dev At Vadtal And Its Subro
Ummah Helping Hands Anand
Vithaldas Tulsidas Charity Trust
Yashasvi Foundation
Yug Shakti Mandal Mankwa

If your NGO is having programmes related to social issue in this district, just email the name of the NGO with link to it and we will share it free.
Our email : Datacentre@CSRidentity.com
We Salute
Soldiers, Police, Below the poverty line people who live with humanity, Social workers, NGO Founders, Hospital staff, Health care workers, Chemists, Medicines Trees, Forests, Medicinal plants, Rivers , Extinct animals, Homes, Climate, People working in crematorium
Shop from NGOs
NGO Sellers Concept
Following NGOs sell products.
These products are either made by communities or the NGOs act as agents of companies making these products.
The idea is to help communities, NGOs and corporates together.
NGOs can be selling agents
NGOs must be sustainable.
We dont want to loose focus of serving communities but in case of emergency where their funding stops, they must have at least one year survival funds so that the communities they serve do not suffer.
We have experienced that when an NGO working with disabled sales products made by them or NGOs working with women sell products made by them or NGOs selling tribal products or paintings .. its great honour to communities they serve.
And NGOs working in slums or villages or rural areas have great relationship with communities and corporates can think of having them as agents which can order products from corporates.
Its good for corporates who find good agents
Its good for NGOs because they earn
Its good for communities because its at home service

NGOs can keep half the commission they get and pass the other half to communities so that its win win long term situation