Kanyakumari District In Tamil Nadu
Corporates
Any corporate interested in having NGOs as selling agents can contact the NGO directly.
But if the corporate wants to put their name plus contact person's name and phone number here, then they have to pay a donation of Rs 2000/- for one district.
Corporates
We plan to donate at least Rs 13433000/-
This amount is not just any amount. Bhau, founder Sanjay Kumud Moreshwar Bapat's father gave house & property to him through a Gift Deed and Government Authorities valued it as Rs 13433000/- and founder's father (Bhau) paid a stamp duty of Rs 403000/-. And after the Gift Deed, Bhau was the first person on earth (Of course many others stepped in) to start postponing death of founder after an almost fatal accident on 28.08.2013.
Founder knows that after death, neither anyone takes anything with them nor do they know whether their son, grand son, daughter in law or so called blood relatives or neighbours came to see them before they left earth.
When any human leaves this world, what remains is their Deeds when they were on earth. So our first target is Rs 13433000/- Of course they will not know the impact of their gifts to world, but that is beauty of life. Enjoy it but leave the world as satisfied human and not one with unending greed of money, property.
Corporates can donate to the NGO
Developed Nation Network Trust by G Pay.
It has 80G and waiting for renewal of FCRA.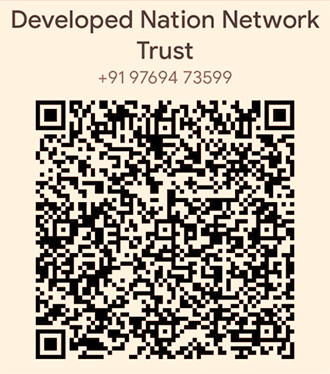 NGOs
NGO Brands
We share NGO Brands statewise in case of India
NGOs in this district
Aaron Charitable Trust
Alayam Educational And Charitable Trust
All Saints Charitable Trust
Alphonse Cheyamma Helping Society
Amala Home For Children
Amala Mahalir Mantram
Anbarin Satham Ministries Trust
Anbu Illam
Annai Foundation
Apostolic Faith Baptist Prayer Fellowship
Apposthala Chiristhuva Oliyam
Aruldurgaashramamtrust
Ashaabul Ansaar Cultural Association
Ashoka Foundation
Asian Center For Professional Skills
Assisi Farm And Training Centre
Association For Social Health Action(Asha)
Association For Women's Education And Development
Athencottasan Muthamizh Kazhagam Amk
Awareness For Women And Action For Rural Development (Award Movement)
Babu Foundation
Bairavi Foundation
Bethel Ashram International Life Centre Trust
Blessing Social Welfare Trust
Blessings Life Foundation Trust
Bright Foundation Trust
Brilliya Educational Charitable Trust
Cashew Workers Development
Catholic Diocese Of Marthandam
Center For Human Resource And Rural Developmental Programmes
Center Of Light
Centre For Action Development Research And Education In India
Centre For Hope
Centre For Rural Development Of India
Centre For Social Action Trust
Centre For Social Devpt
Centre For Social Reconstruction
Chavara Cmc Religious And Charitable Trust
Chavara Educational Institutions Ofcmc
Cheuruthiconam Mather Sangam Kanyakumari
Chiriyapushpam Mather Sangam
Christian Overcomers Fellowship
Christs Harvest Mission
Church Of Guiding Light
Church Of South India Kanyakumari Diocese
Covenant School Of Theology
Crosstrust
Dale View Charitable Trust
Deepam Rural Development Charitable Trust
Deepthi Children's Home Kaliyal
Diocese Of Marthandam
Diocese Of Thuckalay
Dos Retired Employees Association
Dr Kumar And Kathleen Charitable Community Health Trust
Dr.Nallathambi Education And Health Foundation
Ephphatha Institute For The Deaf
Evanjalin Charitable Trust
Ezra Goodnews Mission
Faith In Action Church Of God
Faith In Action Ministries India Trust
Fellowship Of Evangelical Friends
Fourth Angel Prayer Team Trust
Freedom In Christ Foundation
Friends Of Kottar
Full Gospel Pentecostal Church
Gerdi Gutperle Agasthiyar Muni Child Care Centre
Global Salvation Trust
Gokulam Foundation Charitable Trust
Good Samaritan Fellowship Of India
Good Vision Seva Trust
Grace Foundation
Grace Of Hands Trust
Grassroot Organization Of Development
Guild Ofservice Nagercoil
Health For One Million
Health Mission Service Centre
Heavenly Army Ministries
Helt Trust
Hill Organisation For Peoples Education
Home For The Aged
Hope Charitable Trust
Human Education And Action For Liberation Movement
Human Formation Organisation
Ieagles International Foundation
Indian Social Development Centre
International Pentecostal Church Of God
Iqra Educational And Charitable Trust
J M Charitable Trust
James Mem Charitable Trus
Jananayaga Christhava Peravai
Jayam Educational And Charitable Trust
Jeeva Karunya Animal Welfare Charitable Trust
Jehovah Charitable Trust
Jehovah Fellowship Ministries
Jehovah Nissi Theological Institute
Jehovah Salvation Church
Jesus Liberates Ministry Public Charitable Trust
Jyothi Jeeva Poorna Trust
Kanayakumari District
Kannan Arivagam
Kanyakumari District Children Welfare Trust
Kanyakumari Mavatta Hindu Mission Society
Kanyakumari Rural Development Society
Kanyakumari Social Service Society
Kasthuribai Mahalir Mandram
Keil Caal Mission Trust
Kingsly Memorial Charitable Trust
Kiruba Charitable Trust
Kiruba Educational And Chritable Trust
Kodimunai Pengal Eyakkam
Kottar Social Service Society
Kuzhithurai Intergral Development Social Services
Lal Kuzhanthaigal Kappagam
Life Care Trust
Light Of Hope Mission
Malankara Syrian Catholic Trust
Maranatha Educational Service Trust
Marthandam Integrated Development Society
Mary Jesus Socal Welfare Trust
Meri Gold Society
Mission Voice Network
Missionary Sisters Of The Immaculate
Mizhba Mission Trust
Mother Theresa Social Service Organization
Muslim Educational Society
Muthiah Charitable Trust
Nadar Samajam
Nanmaram Charitable Trust
Need Based Educational Service Trust
Nesam Foundation
Nesamony Institute Of Religion And Society
New Bharat Trust
New Life Church Of Christ
New Life Goodnews Mission
New Life Rehabooth Mission
Nipponzan Myohoji Tamilnadu
Noorul Islam Centre For Higher Education
Noorul Islam Educational Trust
Nuthana Trust
Organisation For Community Development
Past Selvamoni Mem Trust
Peace Mission
Peace Trust
Peniel Pentecostal Family Trust
Peoples Movement For Development
Poor Clares Of Perpetual Adoration
Prema Kumari Karunalayam
Programme For Human Development-India (P H D-India)
Promote Organisations To Viable Venture Of Empowering The Rural
Pro-Vision
Psn Educational And Charitable Trust
Punar Jeevan
Punithasoosaiyapper Mathar Sangam
Pura
Raalkam Educational Trust
Rani Social Welfare Centre
Rejoice Trust
Remiliyen Foundation Trust
Ruckmoni Memorial Charitable Educational Health Trust
Rural Community Development Association
Rural Community Development Of India
Rural Developement Agency Kanyakumari
Rural Development Movement
Rural Education And Technical Training
Rural Education For Development
Rural Identity And Cultural Education
Rural Organisation For Awareness And Development
Rural Uplift Centre
Rural Womens Development Society
S T Hindu College Association
Saas Social Awareness And Action For Service Trust
Saint Boniface Anbaham
Samuel Memorial Charitable Trust
Sanjoe Religious And Charitable Trust
Saroja Educational Trust
Sc Jat Trust Sisters Of Charity Of Stjeanne Antide Thouret Convent
Seva Bharat
Shanthi Nilayam
Shanthidan
Shanthinivas Charitable Religious Social Welfare Society
Sharon Charitable Trust
Shepherd's Shadow Charitable Trust
Shine Medical Foundation
Siddhabhoomi Trust
Sigaram Academy Of Excellence
Sisters Of Charity Of St Jeanne Antide Thouret Charitable Trust
Sisters Of Charity Of St.Anne Tamilnadu
Snehalayam Charitable Trust
Social Education And Awareness For Development Society
Social Education For Development
Social Welfare Assocation
Society For Integrated Development
Society Of The Daughters Of Mary St Josephs Province
Society Of The Sisters Of St Anne Society No.15
Society Of The Sisters Of The Divine Saviour
Society Of The Sisters Of The Presentation Of The Bvm Convent
Socio Economic Development Association
Sosod
Sreeram Cancer Trust
Sri Brindavan Kosalai Trust
Sri Kanyakumari Gurukula Ashram
St Joseph's Carmel Home For Children
St. Joseph's Nanjil Farmers Association
St. Thomas Social Welfare Centre
St.Mary's Nursery School And Women Welfare Centre
Starwin Charitable And Educational Trust
Stephen Charitable Trust
Strossello Charitable Trust
Suraksha Community Center For Family Health
The Immaculate Heart Of Mary Society Society
The Immaculate Heart Of Mary Society Society No 1
The Immaculate Heart Of Mary Society Society Society No 2
The Kulasekharam Pallotine Society
The New Life Society
The R.C.Diocese Of Kottar
The Roman Catholic Diocese Of Kuzhithurai
The Society Of Mother Of Sorrows Servants Of Mary Louisa Province
The Society Of The Sisters Of St Anne Society No.16
Thelivinggod'sministries
Thiruvalluvar Social Service Movement
Transformation Youth Mission
Trinity Rural Development Service Centre
Vaanam Foundation Charitable Trust
Vasantham Trust
Vidial Social Service Centre
Vivekananda Kendra Kanyakumar
Voice India Development Trust
Voice Of Shalom Charitable Trust
Voluntary Health Association Of Kanyakumari
White Memorial Educational Society
William Research Centre
Yesu Periyavar Trust
Young Men Christian Association Moolachel
Zarephath Ministry
Zion Life Mission Of India
Zion Parvatham

If your NGO is having programmes related to social issue in this district, just email the name of the NGO with link to it and we will share it free.
Our email : Datacentre@CSRidentity.com
We Salute
Soldiers, Police, Below the poverty line people who live with humanity, Social workers, NGO Founders, Hospital staff, Health care workers, Chemists, Medicines Trees, Forests, Medicinal plants, Rivers , Extinct animals, Homes, Climate, People working in crematorium
Shop from NGOs
NGO Sellers Concept
Following NGOs sell products.
These products are either made by communities or the NGOs act as agents of companies making these products.
The idea is to help communities, NGOs and corporates together.
NGOs can be selling agents
NGOs must be sustainable.
We dont want to loose focus of serving communities but in case of emergency where their funding stops, they must have at least one year survival funds so that the communities they serve do not suffer.
We have experienced that when an NGO working with disabled sales products made by them or NGOs working with women sell products made by them or NGOs selling tribal products or paintings .. its great honour to communities they serve.
And NGOs working in slums or villages or rural areas have great relationship with communities and corporates can think of having them as agents which can order products from corporates.
Its good for corporates who find good agents
Its good for NGOs because they earn
Its good for communities because its at home service

NGOs can keep half the commission they get and pass the other half to communities so that its win win long term situation