Kangra District In Himachal Pradesh
Corporates
Any corporate interested in having NGOs as selling agents can contact the NGO directly.
But if the corporate wants to put their name plus contact person's name and phone number here, then they have to pay a donation of Rs 2000/- for one district.
Corporates
We plan to donate at least Rs 13433000/-
This amount is not just any amount. Bhau, founder Sanjay Kumud Moreshwar Bapat's father gave house & property to him through a Gift Deed and Government Authorities valued it as Rs 13433000/- and founder's father (Bhau) paid a stamp duty of Rs 403000/-. And after the Gift Deed, Bhau was the first person on earth (Of course many others stepped in) to start postponing death of founder after an almost fatal accident on 28.08.2013.
Founder knows that after death, neither anyone takes anything with them nor do they know whether their son, grand son, daughter in law or so called blood relatives or neighbours came to see them before they left earth.
When any human leaves this world, what remains is their Deeds when they were on earth. So our first target is Rs 13433000/- Of course they will not know the impact of their gifts to world, but that is beauty of life. Enjoy it but leave the world as satisfied human and not one with unending greed of money, property.
Corporates can donate to the NGO
Developed Nation Network Trust by G Pay.
It has 80G and waiting for renewal of FCRA.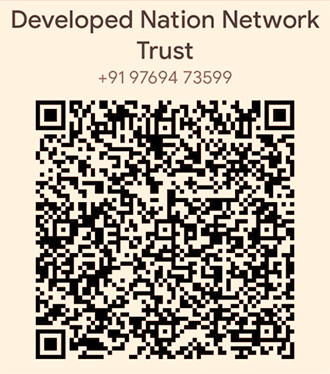 NGOs
NGO Brands
We share NGO Brands statewise in case of India
NGOs in this district
Aavishkaar Yaatraa
Active Nonviolence Education Center
Arya Educational And Employment Society
Association For Rural And Technical Education Centre
Bharat Bhushan Public School Society
Bir Tibetan Society
Col Parmodh Singh Education Society
Community Growth Society
Dharamshala Rotary Bhawan Foundation
Dhauladhar Education Society
Dongyu Gatsal Ling Trust
Dorzong Monastic Institute Charitable Trust
Dream Catchers Solutions Private Limited
Excel Society For Information Technology And Education
Family And Welfare Project Society
Friends Club
Friends Welfare Association
Global Hands For Rural Development
Gramin Sewa Ashram
Gunjan
Gyuto Tanric University
H H The Dalai Lamas Religious And Cultural Society
Hh The Dalai Lamas Central Tibetan Relief Committee
Him Prabha Welfare Society
Himachal Vipassanacentre
Himalayan Nature Society
Himalayan Vision Foundation Trust
Holly Heart Charitable Trust
Institute Of Buddhist Dia Lectics
Jagori Rural Charitable Trust
Jamyang Choling Institute
Kangra Valley Khadi Avam Gramoudyog Society
Karma Drubgyu Thargay Ling Mahayana Budhist Charitable Society
Khadi Gramodyog Sansthan Nagrota
Khamgar Druk Dharmakara College Of Buddhist Cultural And Welfare Charitable Trust
Khampagar Monastic Charitable Trust
Khanchi Education Soceity
Krishana Cure Awakening Mythology
Library Of Tibetan Works And Archives
Maa Saraswati Educational Society Maranda
Medhamother International Education Trust
Mehta Charitable Prajnalaya Trust
Men-Tsee-Khang(Tibetan Medical & Astro.Institute)
Namgyal Tantric College
National Organisation For Youth And Rural Development
Natural Environmental & Health Association (Neha)
Navjeevan Foundation
Nechung Monastery
New Chamunda Pickle Society For Rural Development & Technology
Nine Gold
Nirmal Khanna Memorial Society Regd.
Nishtha Rural Health Education And Environment Centre
Nyingmapa Buddhist Charitable Institute
Nyingtobling
Osho Nisarga Foundation
Palpungmunishasan Dharamcharra Sangh
Peniel Ecclecia Of Living God Society
Rudra Education Society
Rural Technology And Development Centre
Saksham Institute Of Management And Technology
Saksharta Foundation Trust
Samaj
Sambhota Tibetan School
Sarswati Education Society
Sarva I.T & Educational Development
Save Life Save India Charitable Trust (Slsi)
Sewa Society
Shradha,A Foundation For Social And Environmental Care
Shweta's Foundation
Siddhartha's Intent Society
Social And Resource Development Fund
Society For Environment And Rural Awakening Era
Surya Uday Charitable Trust
Swasthya Shiksha Parayavaran Avam Mahila Vikas Samiti Hp
Talent Welfare & Management Foundation
Thakur Karam Singh Charitable Trust
The Berachah Church Of God
The Bir Sakya Lamas Society
The Dalai Lama Trust
Tibet Charity
Tibetan Center For Human Rights And Democracy
Tibetan Centre For Conflict Resolution
Tibetan Childrens Education And Welfare Fund
Tibetan Childrens Village
Tibetan Delek Hospital
Tibetan Institute Of Performing Arts
Tibetan National Sports Association
Tibetan Voluntary Health Association
Tibetan Womens Association
Tong Len Charitable Trust
Tsechokling Monastry
Tushita Retreat Public Charitable Society
Vaishnavi Education Welfare Society Paisa
Vivekanand Medical Research Trust
Youth Development Centre

If your NGO is having programmes related to social issue in this district, just email the name of the NGO with link to it and we will share it free.
Our email : Datacentre@CSRidentity.com
We Salute
Soldiers, Police, Below the poverty line people who live with humanity, Social workers, NGO Founders, Hospital staff, Health care workers, Chemists, Medicines Trees, Forests, Medicinal plants, Rivers , Extinct animals, Homes, Climate, People working in crematorium
Shop from NGOs
NGO Sellers Concept
Following NGOs sell products.
These products are either made by communities or the NGOs act as agents of companies making these products.
The idea is to help communities, NGOs and corporates together.
NGOs can be selling agents
NGOs must be sustainable.
We dont want to loose focus of serving communities but in case of emergency where their funding stops, they must have at least one year survival funds so that the communities they serve do not suffer.
We have experienced that when an NGO working with disabled sales products made by them or NGOs working with women sell products made by them or NGOs selling tribal products or paintings .. its great honour to communities they serve.
And NGOs working in slums or villages or rural areas have great relationship with communities and corporates can think of having them as agents which can order products from corporates.
Its good for corporates who find good agents
Its good for NGOs because they earn
Its good for communities because its at home service

NGOs can keep half the commission they get and pass the other half to communities so that its win win long term situation