Kamrup Metropolitan District In Assam
Corporates
Any corporate interested in having NGOs as selling agents can contact the NGO directly.
But if the corporate wants to put their name plus contact person's name and phone number here, then they have to pay a donation of Rs 2000/- for one district.
Corporates
We plan to donate at least Rs 13433000/-
This amount is not just any amount. Bhau, founder Sanjay Kumud Moreshwar Bapat's father gave house & property to him through a Gift Deed and Government Authorities valued it as Rs 13433000/- and founder's father (Bhau) paid a stamp duty of Rs 403000/-. And after the Gift Deed, Bhau was the first person on earth (Of course many others stepped in) to start postponing death of founder after an almost fatal accident on 28.08.2013.
Founder knows that after death, neither anyone takes anything with them nor do they know whether their son, grand son, daughter in law or so called blood relatives or neighbours came to see them before they left earth.
When any human leaves this world, what remains is their Deeds when they were on earth. So our first target is Rs 13433000/- Of course they will not know the impact of their gifts to world, but that is beauty of life. Enjoy it but leave the world as satisfied human and not one with unending greed of money, property.
Corporates can donate to the NGO
Developed Nation Network Trust by G Pay.
It has 80G and waiting for renewal of FCRA.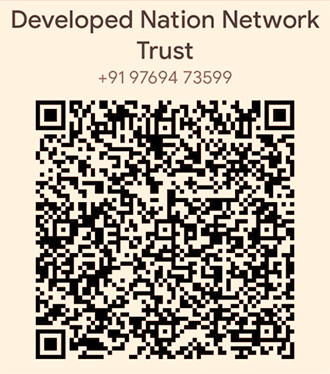 NGOs
NGO Brands
We share NGO Brands statewise in case of India
NGOs in this district
Aaina
Aakar
Aanrkapor
Aaranyak
Aasha (A Hope) Foundation & Social Welfare Society
Aashaa Bora Foundation
Aashraya
Abhigyanm
Academic And Research Foundation
Ace Global Organisation
Aditya
Aditya Association And Hindi Development Society
Akshar Foundation
Altruist Venture
Alzheimer's And Related Disorders Society Of India
Ankon
Anubhuti Gosthi
Aprins
Archdiocese Of Guwahati
Arcis Foundation
Arpan Aid Foundation
Arunodoy
Asha Rehabilitation Centre Narangi
Ashadeep
Asia Foundation
Asian Infotech Education Development Society
Asom Rastra Bhasa Prachar Samiti
Asom Veda Vidyalaya
Asomi Charitable Trust
Assam Aid India
Assam Cancer Care Foundation
Assam Government Marketing Corporation Limited
Assam Industrial Training Institute
Assam Mountaineering Association
Assam Professional Academy
Assam Rastrabhasha Sebak Sangha
Assam Sishu Kalyan Sadan
Association For Education And Social Advancement
Association For Social Health In India Assam State Branch
Association Of Youth Futsal Assam
Atma Nirbhar Ek Challenge
Auxilium Reach Out
Ava Foundation
Awake (Action For Welfare And Knowledge Enhancement)
Ba
Bahuguna Socio Economic Development Society
Balipara Tract And Frontier Foundation
Bamundi Hindi Bidyalaya
Bastab Ngo
Bhabadadevi Memorial Philanthropic Trust
Bharat Jan Vigyan Jatha Assam
Bharat Sevashram Sangha Guwahati
Bhaskarhindi
Bhawani Marketing Private Limited
Bichitra Pratibha Education Foundation
Bikiron
Bishwa Prahori
Brahmaputra Foundation
Brahmon Sobha
Briksha Save Trees Save Children
Bureau Of Integrated Rural Development
Cee Pee Skill Services
Centre For Development And Peace Studies
Claretian Society For Integral Human Development
Committee On Socio Economic And Health Development Assam
Community Awareness Rural Empowerment Society (Cares)
Community Development Foundation Trust
Community Radio Service Gauhati University
Conference Of Religious North East India
Council Of Baptist Churches In North East India
Creative A Society For Rural Economic Development
Deepsikha
Destination
Dhubri Educational Foundation Trust
Dimoria Anchalik Mahila Mancha
Dimorian Society For Rural Development
Diocesan Social Service Society
Don Bosco Technical School
Don Bosco Youth Mission And Educational Services Guwahati
Donbosco Communications
Down Town Charity Trust
Dr T Ao Birth Centenary Celebration Committee
Eastern Beats Music Society
Eastern Peoples Community Participation
Education And Society Development Foundation
Education Research & Development Foundation
Edutech Foundation
Environ
Environmental Watch And Management Institute
Epitome Educational Society
F R I E N D Ngo
Federation Of Industry And Commerce Of North East Region
Ferangadaw Samajik Sanskritik Anusthan
Forum For Total Development Of North Eastern Region
Foundation For Integrated Support And Solution
Foundation For Social Transformation Enabling North East India
Foundation For Sustainable Development Trust
Gana Sewa
Garanga Theatre
Gauhati Lions Eye Hospital
Get Grow Foundation
Global Concept
Global Organisation For Life Development
Grace Care Center
Green Valley Educational Society
Green Woods
Grmd Foundation
Guwahati Buddha Vihar Samiti
Guwahati Gana Seva Society
Guwahati Rastrabhasha Mahaviyalaya Parichalana Samity
Gyan Gurukul
Gyanjyoti Foundation
Hankers Society
Heads
Healing Hands
Help Earth
Helping Hand For Artisans
Hengrabari Assam Kalakendra
Hitech Foundation
Horizon
Horizon Spring Lives
Horizon Welfare Society
House For Orphan And Peoples Entity (Hope)
Human Care Society (Ngo)
Human Foundation
I.Q. Guwahati
Indian Council For Child Welfare Assam State Bran
Indian Council Of Social Welfare Assam State Branch
Indian Institute Of Entrepreneurship
Industries And Trade Fair Association Of Assam
Infinity Foundation
Infovalley Educational And Research Privatelimited
Institute Of Computer & Infotech (Ici)
Institute Of Research And Documentation Of Indigenous Studies
Institute Of Rural Management Guwahati
Institute Of Yoga And Nutrition Sciences
Integrated Development Association
Integrated Rural Artisans Development Organisation Irado
J M Foundation
Jagaran Educational Social And Cultural Society
Jan Shikshan Sansthan Kamrup
Jana Kalyan Trust
Jana Vikas
Janasadharan Social Development Society
Janavikas Kendra
Jazzy
Jeevan Initiative
Kalpa (A Society For Promotion Of Literature Art Culture And Social Harmony)
Kanaklata Mahila Bikash Samity
Kankalata Janaseva Samity
Kaziranga Multipurpose Women Society
Kristir Kothia
Legal Cell For Human Rights
Legends Society
Lerela Khudoi Memorial Trust Shivasankar
Light Of Village Energy
Madhav Sanskriti Nyas
Mahadevi Matri Mandir
Mahila Aru Sishu Unnayan Samity
Manab Sewa And Vikash Samittee
Manikuntala Mahila Unnayan Kendra
Mari Gold
Milon N.G.O
Mime Academy
Mind India
Mission True Vision
Mitra
Modern United Community Foundation
Motion
Mukak Puppet Theatre
Mushroom Development Foundation
N F Railway Pensioners Association
Nahorr Foundation
National Education Foundation Trust
National Educational Trust
National Youth Welfare Association (India)
Nations Life Foundation
Natun Astha
Nature Care&Tourism Education Foundation
Nature North East (Nne)
Natures Observer (Cb)
Nayi Roshni Foundation
Nepni Trust
Nespym
Neuro Presidency Skill Educare (Nps Educare)
New Destination
New Greenfield Educational Society
New Horizon
New Horizon
New Wave Foundation
Nilachal Educational Welfare Society (News)
Niloy
North East Development Consortium
North East Diocesan Social Service Society
North East Eco Development Society
North East Enliven Development Society
North East Foundation For Cultural And Socio Economic Development
North East India Buddhist Sangha Council
North East India Institute Of Training & Skill Development
North East Network
North East Organic (Neo)
North East Rural Development Systems Nrds Foundation
North Eastern Centre For Education Trust
North Eastern Council For Development Of Economy And Manpower
North Eastern Regional Youth Commission
North Eastern Social Research Centre
North Eastern Society For Human Development
North Eastern Voluntary Organization
Northeast Centre For Equity Action On Integrated Development
North-Eastern Society For Technical Education (Neste)
Om Sai Mahila Helpage
Oxford Foundation
Panah A Mission Of Shelter
Panchasur
Pandu Buddhist Association
Parijat Academy
Pathik
Pavitra Athma Sevika Sanstha
Peoples For Utilisation Of Human Resource
Peoples Organisation For Welfare Empowerment And Research
Pfi Foundation
Pipllika
Pragati Edutech Private Limited
Pragya Reeb (A Socio & Cultural Organization) (Ngo)
Pratiksha
Pratishruti Foundation
Prem Bandhan Human Development Society
Priyobondhu
Purbanchal Rastravasha Prachar Academy Managing Committee
Purbaranga
Purvanchal Pragati Samaj
Purvottar Development Society
Rakshya Care Foundation
Ramakrishna Mission Ashrama Guwahati
Rashtriya Gramin Vikas Nidhi
Rehabilitation Training And Research Organization (Rtro)
Rj Educational Trust
Rn Society For Advancement Of Human Resource
Rongghar
Rupali Foundation
Sachetan Nagarik Mancha Axom
Sachitra Puthi Sanskritic Gosthi
Sadba Technological Society
Sahayika Sishu Nirdeshan Kendra
Saksham Samridhi Foundation
Sakyamuni Development Foundation
Salesian Sisters Of North East India
Samahar Natya Gosthee
Sangeet Sattra
Sangeet Suravi Samaj
Sanskar Bharati Poorvottar
Satkara
Satribari Christian Hospital
Sattriya Akademi
Scholars Society
Seagull
Seujee Dharanee - The Green Earth
Seva Bharati Purbanchal
Seven Sisters Development Assistance
Sevensisterruraldevelopmentsociety
Shanti Creation
Shishu Sarothi
Shreedeep
Simputech And Management Society
Site Foundation
Snehalaya
Sneh-Bharat
Social Development Society
Social Organisation For Life Development
Society For Creature
Society For Promotion Of Education & Economic Development
Society For Socio Economic Dev For Rural & Urban Community Sedruc
Society Of The Daughaters Of St Paul
Socio Economic Development Forum
Socio Economic Development Organization
Sreemanta Sankar Mission Of Guwahati
Sri Kanchi Sankara Health And Educational Foundation
Sstep Society For Social Transformation And Environment Protection
Ssuhs
Starlight Social Economic Development Committee
State Anti Drug & Prohibition Council
State Resource Center Dispur Assam
State Resource Centre Assam
State Social Justice Commission
Subham Society
Suraksha Charitable Trust
Surjoydoi Samaj Kalyan Samittee
Surojit Academy
Swaraj
Swarnajyoti Ngo
Tarabati Development Foundation
Taz Uddin Ahmed Educational Trust
The Congregation Of The Sisters Of The Cross Of Chavanod
The Evergreen Groups
Tipkai
Tla Educational Trust
Tribal Welfare Development Organization Council Autonomous Council
Trinayan Multi-State Handloom & Handicraft Development Coop Society Ltd.
Trisaptak
Tusti Foundation
Ubp's Centre For Alternative Vocation
Udbhav
Uddipanghy
Udyogi Mahila Sangstha
Unified Foundation
Utkarsh Development Society
Uttar Purbanchal Janajati Seva Samity
Vedham Foundation
Vision Ne India
Vivartan Sankalp Trust
Vivekananda Kendra Institute Of Culture
Wings (Cultural Group)
Xaviers Foundation For Social And Educational Development And Research
Xondhan Foundation
Young Achievers Foundation
Yugashutra
Yuva Prayas
Zannat Home Care Society
Zutshi Shanti Home Welfare Trust

If your NGO is having programmes related to social issue in this district, just email the name of the NGO with link to it and we will share it free.
Our email : Datacentre@CSRidentity.com
We Salute
Soldiers, Police, Below the poverty line people who live with humanity, Social workers, NGO Founders, Hospital staff, Health care workers, Chemists, Medicines Trees, Forests, Medicinal plants, Rivers , Extinct animals, Homes, Climate, People working in crematorium
Shop from NGOs
NGO Sellers Concept
Following NGOs sell products.
These products are either made by communities or the NGOs act as agents of companies making these products.
The idea is to help communities, NGOs and corporates together.
NGOs can be selling agents
NGOs must be sustainable.
We dont want to loose focus of serving communities but in case of emergency where their funding stops, they must have at least one year survival funds so that the communities they serve do not suffer.
We have experienced that when an NGO working with disabled sales products made by them or NGOs working with women sell products made by them or NGOs selling tribal products or paintings .. its great honour to communities they serve.
And NGOs working in slums or villages or rural areas have great relationship with communities and corporates can think of having them as agents which can order products from corporates.
Its good for corporates who find good agents
Its good for NGOs because they earn
Its good for communities because its at home service

NGOs can keep half the commission they get and pass the other half to communities so that its win win long term situation