Kalaburagi District In Karnataka
Corporates
Any corporate interested in having NGOs as selling agents can contact the NGO directly.
But if the corporate wants to put their name plus contact person's name and phone number here, then they have to pay a donation of Rs 2000/- for one district.
Corporates
We plan to donate at least Rs 13433000/-
This amount is not just any amount. Bhau, founder Sanjay Kumud Moreshwar Bapat's father gave house & property to him through a Gift Deed and Government Authorities valued it as Rs 13433000/- and founder's father (Bhau) paid a stamp duty of Rs 403000/-. And after the Gift Deed, Bhau was the first person on earth (Of course many others stepped in) to start postponing death of founder after an almost fatal accident on 28.08.2013.
Founder knows that after death, neither anyone takes anything with them nor do they know whether their son, grand son, daughter in law or so called blood relatives or neighbours came to see them before they left earth.
When any human leaves this world, what remains is their Deeds when they were on earth. So our first target is Rs 13433000/- Of course they will not know the impact of their gifts to world, but that is beauty of life. Enjoy it but leave the world as satisfied human and not one with unending greed of money, property.
Corporates can donate to the NGO
Developed Nation Network Trust by G Pay.
It has 80G and waiting for renewal of FCRA.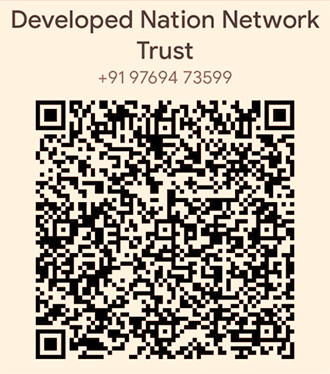 NGOs
NGO Brands
We share NGO Brands statewise in case of India
NGOs in this district
A Plus Institute
Akash Social Welfare And Cultural Development Society
Al Qamar Educational And Charitable Trust
Al-Farooq Education Society
All Karnataka Social Welfare And Youth Educational Development Society
All Muslim Baitulmaal And Zakat Trust
Allamprabhu Urban And Rural Development Welfare Charitable Trust
Almas Education Trust
Ameenuddin Education & Welfare Trust
Amreen Samajseva And Vidhyvardhakh Sangh
Annapurneshwari Grameen Abhivrudhi Seva Samsthe
Asra Educational Charitable And Welfare Trust
Avidha Foundation
B Sham Sundar Sports Culb S4 Social Welfare Association
Bhagya Abhivrudhi Seva Samasthe
Bhagyodaya Vidya Vardhak Sangh Chincholi
Birds Society Of Health Education Action For Liberation
Blind And Handicapped Childrens Welfare Association Afzalpur
Chetan Shikshana Hagu Vividoddesha Seva Samsthe(R)
Chikmath Education And Charitable Trust
Diocese Of Gulbarga
Dr Nelson Mandela Grameen Abhivrudhi Seva Samsthe
Fatima Bushra Educational And Charitable Trust
Forum For Social Cultural Economical And Education Development Kalaburgi
Ganga Sanskrutika Seva Sangh
Gautam Gramina Svayam Seva Samste
Gazi Educational Rural Development & Charitable Trust (R)
Gnyana Bharati Shikshan Samsthe
Gollalappa Yatanoor
Grace Womens Welfare And Rural Development Society
Gram Kiran Seva Samsthe Kalaburagi
Grameena Vikas Seva Samsthe
Grameena Vikas Yuva Kendra
Gulbarga Academy Of Art, Culture And Literature
Haleema Educational And Charitable Trust
Holy Rock Educational And Research Trust
Horizon Minority Educational Trust
Human Integrated Development Association
Hyderabad Karantaka Kala And Saskurti Parishat
Hyderabad Karnataka Disabled Welfare Society Gulbarga
Intergrated Development
International Institute Of Social Science Research Foundation
Iqra Educational Welfare And Charitabale Trust Sedam
Iramma Tai B Desai Memorial Education Society Ydrmi
Jan Shikshan Sansthan Gulbarga
Jewargi Talukina Gulbarga Nivasigala Kshemabhruddi Sanga
Jyothisevakendratrust
Kannada Sainya Sangh Kalaburagi
Karunadu Janapada Kala Sangh
Khaja Education Society
Mahadevitai
Maharaj Education And Rural Development Trust
Maharushi Vyas Trust
Maheshwara Kale Sahitya Mattu Samskrutika Seva Sangh
Mallikarjun Grameena Abhivrudhi Swayam Seva Samasthe
Margadarshi Society
Millat Rural Educational Trust
Mother Theresa Charitable Hospital Trust
Mouneshwar Poor People Development Welfare Charitable Trust
Mrbeducationandwelfaredevelopmentsociety
National Banjara Education Society
Nisarga Grameen Abhivradhi Seva Society
Om Shree Sadguru Sridevi Mataji Trust
Panchsheel Janhit Seva Samsthe (R)
Panditdvpaluskarsangeetsahityakalasamsthe
Parishishta Jaati Parishishta Pangada Welfare Society
Pooja Cultural And Social Welfare Society
Prakash Educational Trust
Raj Naval Trust
Rastriya Manav Abhivrudhi Foundation
Reachruraldevelopmen Servicesociety
Rohini Educational And Rural Development Trust
Rub Islam Ujagar Society
S S Gumma Computer Training Institute
Saba Mahila Swa Sahaya Sangha
Sahara Social Awareness And Human Action For Rural Area
Saheba Education & Rural Development Trust
Saheli Educational & Charitable Trust
Samata Lok Shikshan Samiti Gulbarga
Sanman Educational And Rural Development Society
Sant Kabirdas Education Society Gulbarga
Santh Sri Sevalala Maharaj Gour Banjara Trust
Sevasangama Development Society
Sharanara Nadu Education Society
Shilpa Education Society
Shri Basava Chandra Hunacheshwar Seva Society
Shri Basaveshwar Janapada Kala Sangh
Shri Mandar Pushpa Shikshana Mathu Kalyan Samsthe
Shri Navagraha Nageshwar Mandir Jir Noddhar Trust
Shri Ramakrishna Vivekananda Ashrama
Shrimati Ganga Matoshree National Association For The Handicapped
Shweta Educational And Rural Development Trust
Social Awareness And Rural Devolpment Society
Society For Rural And Urban Development Action Sruda
Spandana Mahila Mattu Makala Seva Samste
Sri Balaji Education And Rural Development Trust
Sri Beeralingeshwar Vividhoddesh Samag Seva Sangh
Sri Manik Prabhu Youth Social Welfare Society
Sri Pandit Panchakshari Gavayeegalavara Sangeeta Kala Balaga (R)
Sri Sri Sri Mahayogini Roopa Rahita Ahimsa Yogeshwari Veera Dharmaja Maata Trust
Sri Vinayaka Educational Trust
Sukanya Mahila Seva Sangha
Swarajya Swva Sangha
Syed Barey Educational & Charitable Trust
The Buddhist Society Of India
The Tippu Shama Mahila Mandal Minority Education And Welfare Soceity
Unity Kendra Multipurpose And Social Welfare Forum
Uttar Karnataka Rajya Ghatak Nirgathika Mahileyara Mattu Devadasiyar
Vaibhavsocialwelfaretrust
Vidya Liberation Through Cultural Action
Vikas Seva Samsthe (R)
Vikassanum Education And Welfaretrust
Vishwa Seva Mission
Yuva Jagruthi Vedike

If your NGO is having programmes related to social issue in this district, just email the name of the NGO with link to it and we will share it free.
Our email : Datacentre@CSRidentity.com
We Salute
Soldiers, Police, Below the poverty line people who live with humanity, Social workers, NGO Founders, Hospital staff, Health care workers, Chemists, Medicines Trees, Forests, Medicinal plants, Rivers , Extinct animals, Homes, Climate, People working in crematorium
Shop from NGOs
NGO Sellers Concept
Following NGOs sell products.
These products are either made by communities or the NGOs act as agents of companies making these products.
The idea is to help communities, NGOs and corporates together.
NGOs can be selling agents
NGOs must be sustainable.
We dont want to loose focus of serving communities but in case of emergency where their funding stops, they must have at least one year survival funds so that the communities they serve do not suffer.
We have experienced that when an NGO working with disabled sales products made by them or NGOs working with women sell products made by them or NGOs selling tribal products or paintings .. its great honour to communities they serve.
And NGOs working in slums or villages or rural areas have great relationship with communities and corporates can think of having them as agents which can order products from corporates.
Its good for corporates who find good agents
Its good for NGOs because they earn
Its good for communities because its at home service

NGOs can keep half the commission they get and pass the other half to communities so that its win win long term situation