Hisar District In Haryana
Corporates
Any corporate interested in having NGOs as selling agents can contact the NGO directly.
But if the corporate wants to put their name plus contact person's name and phone number here, then they have to pay a donation of Rs 2000/- for one district.
Corporates
We plan to donate at least Rs 13433000/-
This amount is not just any amount. Bhau, founder Sanjay Kumud Moreshwar Bapat's father gave house & property to him through a Gift Deed and Government Authorities valued it as Rs 13433000/- and founder's father (Bhau) paid a stamp duty of Rs 403000/-. And after the Gift Deed, Bhau was the first person on earth (Of course many others stepped in) to start postponing death of founder after an almost fatal accident on 28.08.2013.
Founder knows that after death, neither anyone takes anything with them nor do they know whether their son, grand son, daughter in law or so called blood relatives or neighbours came to see them before they left earth.
When any human leaves this world, what remains is their Deeds when they were on earth. So our first target is Rs 13433000/- Of course they will not know the impact of their gifts to world, but that is beauty of life. Enjoy it but leave the world as satisfied human and not one with unending greed of money, property.
Corporates can donate to the NGO
Developed Nation Network Trust by G Pay.
It has 80G and waiting for renewal of FCRA.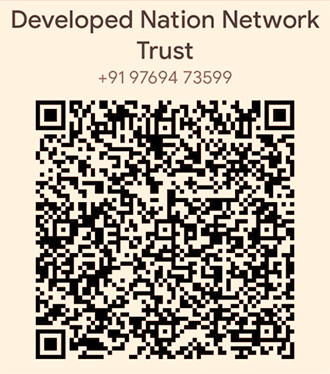 NGOs
NGO Brands
We share NGO Brands statewise in case of India
NGOs in this district
7road Welfare Foundation
Aahana Foundation
All India Computer And Vocational Training Council Charitable Trust
Ankush Foundation
Aryan Computer Education Society
Aryan Foundation
Aryavarat Gau Sansthan
Association For Promotion Sustainable Development
Azaad Bharat Social Welfare And Charitable Trust
Baba Phullu Sadh Gaushala Samiti
Baba Shyamvan Education Trust
Bce Education Society
Bharat Rattan Baba Sahib Dr Bhim Rao Ambedkar Kalyankari Sabha
Bua Kanwari Gaushala Trust
Ch. Het Ram Johari Lal Education Promotion Society
Chanderpati Education And Charitable Trust
Council Of Education And Skill Development
Dada Devraj Lohan Janhit & Khelkud Samiti
Dera Mahant Om Narayan Giri Goshala Samiti
Devki Nandan Sharma Charitable Trust
Dharohar Foundation
District Bar Association Hisar
Dot Army Wives Welfare Association Asha School
Dr Bhimrao Ambedkar Sangharsh Shiksha Samiti
Dr. Bhim Rao Ambedkar Society
Future Vision Educational Society
Gram Swarajya Sansthan
Gramin Utthan Samiti
Grewal Welfare Society
Indian Association Of Health Research And Welfare
Indian Society For Buffalo Development
Indian Society For Veterinary Surgery
Indian Society Of Blood Transfusion And Immunohaematology
Innovation Skills Foundation
Inspire Group Of Associates
Integrated Education Society
Jai Baba Vicharpuri Shrine Board
Jai Shivshakti Samiti
Kabir Sahib Education Society
Kamal Giri Goshala
Kautilya-A Complete Solution
Kuber Jan Kalyan Trust
Kumhar Maha Sabha Kumhar Dharamshala
Lakshya Trust
Lal Das Trust
Late Lala Barumal Goyal Social Welfare And Educational Society
Lc Education Society
Little Star Kids Vatika Educational Trust
Lord Krishna Education Society
Madad
Maharaja Agrasen Medical Education & Scientific Research Society
Maharishi Dayanand Gaushala Balsamand
Mahatma Gandhi Prakritik Chikitsa Samiti
Mahila Jagruk Samiti
Manav Kalyan Ved Parchar Sansthan
Meham Chaubisee Educational Society
Modern Skill Foundation
Moksha Meditation Welfare Society
Nai Pahal Education Trust
National Education Society
National Organisation Of India (Go To Village)
Nav Nirman Education And Welfare Society
Nehru Yuva Club
Noble Universal Trust
Om Vijay Charitable Trust
Om Welfare Society
Pali Trust
Panchyati Dharmshala Sewa Saden
Pradhan Foundation
Rang Prayas Natya Manch
Rise Technology
Riyaaz Academy Of Performing Arts
S R Memorial Shiksha Samiti
Sagar Samrat Shiksha Samiti Od Samaj Haryana
Saini Sabha Trust
Sajag
Saksham Mahila Charitable Trust Uklana Mandi
Sanjivani Education Society
Sant Kabir Shikshan Avm Anusandhan Sansthan
Sant Kabir Siksha Samiti Dhanak Samaj Haryana
Sant Namdev Charitable Trust
Sardar Patel Smark Gurjar Panchayat Sewa Samiti Hansi
Satyam Human Welfare And Education Society
Servom Education Society
Sewak Sabha Charitable Trust
Sewarth Ashram Dharmarth Sewa Samiti
Sh. Raja Ram Memorial Trust Hisar
Shree Go Raksha Sewa Samiti
Shree Gopal Gaushala
Shree Guru Jambeshwar Sewa Samiti
Shree Haryana Gaushala
Shree Haryana Kurukshetra Gaushala
Shree Krishan Gaushala
Shree Krishan Nandi Gaushala Kohli
Shree Krishan Parnami Gaushala Shyamsukh
Shree Ladwa Gaushala
Shree Rama Dramatic Club Welfare Society
Shree Shyam Bhawan Trust
Shri Bani Singh Parag Singh Education Society
Shri Gaushala Shala Deri Data
Shri Gopal Gaushala
Shri Krishan Gopal Gaushala Trust
Shri Krishna Gaushala
Shri Laxmi Group Welfare Tust
Shri Ram Foundation
Shri Salig Ram Godham
Shri Vishwakarma Auto Traders Dharmshala Trust
Sidh Mahamritunjaya Anterastriya Yog Aibam Jyotish Anusandhan
Siwatch Skill Development Society
Skill Development And Training Foundation
Sports Development Board India
Sr Infotech Education Society
Study Matrix Skill Development Mission
Sukh Ram Gram Vikas Trust
Sumit Dhariwal Education Society
Swami Deeptanand Avdhoot Memorial Charitable Trust
The Hisar Hr Csc Vle Cooperative Mutli Purpose Society Limited
The Mahavir Cooperative Multi Purpose Society Limited Hisar
Unnati Educational Society
Vidya Arya Sabha Gurukul
Vidya Arya Sabha Gurukul Dheeranwas
Vishesh Computer Education Society
Wheels For Green
Women And Child Welfare Association
Yadav Sabha Hisar

If your NGO is having programmes related to social issue in this district, just email the name of the NGO with link to it and we will share it free.
Our email : Datacentre@CSRidentity.com
We Salute
Soldiers, Police, Below the poverty line people who live with humanity, Social workers, NGO Founders, Hospital staff, Health care workers, Chemists, Medicines Trees, Forests, Medicinal plants, Rivers , Extinct animals, Homes, Climate, People working in crematorium
Shop from NGOs
NGO Sellers Concept
Following NGOs sell products.
These products are either made by communities or the NGOs act as agents of companies making these products.
The idea is to help communities, NGOs and corporates together.
NGOs can be selling agents
NGOs must be sustainable.
We dont want to loose focus of serving communities but in case of emergency where their funding stops, they must have at least one year survival funds so that the communities they serve do not suffer.
We have experienced that when an NGO working with disabled sales products made by them or NGOs working with women sell products made by them or NGOs selling tribal products or paintings .. its great honour to communities they serve.
And NGOs working in slums or villages or rural areas have great relationship with communities and corporates can think of having them as agents which can order products from corporates.
Its good for corporates who find good agents
Its good for NGOs because they earn
Its good for communities because its at home service

NGOs can keep half the commission they get and pass the other half to communities so that its win win long term situation