Hingoli District In Maharashtra
Corporates
Any corporate interested in having NGOs as selling agents can contact the NGO directly.
But if the corporate wants to put their name plus contact person's name and phone number here, then they have to pay a donation of Rs 2000/- for one district.
Corporates
We plan to donate at least Rs 13433000/-
This amount is not just any amount. Bhau, founder Sanjay Kumud Moreshwar Bapat's father gave house & property to him through a Gift Deed and Government Authorities valued it as Rs 13433000/- and founder's father (Bhau) paid a stamp duty of Rs 403000/-. And after the Gift Deed, Bhau was the first person on earth (Of course many others stepped in) to start postponing death of founder after an almost fatal accident on 28.08.2013.
Founder knows that after death, neither anyone takes anything with them nor do they know whether their son, grand son, daughter in law or so called blood relatives or neighbours came to see them before they left earth.
When any human leaves this world, what remains is their Deeds when they were on earth. So our first target is Rs 13433000/- Of course they will not know the impact of their gifts to world, but that is beauty of life. Enjoy it but leave the world as satisfied human and not one with unending greed of money, property.
Corporates can donate to the NGO
Developed Nation Network Trust by G Pay.
It has 80G and waiting for renewal of FCRA.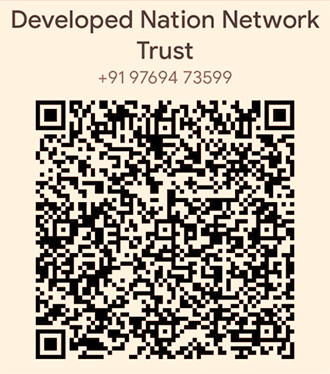 NGOs
NGO Brands
We share NGO Brands statewise in case of India
NGOs in this district
Ahilyabai Holkar Sarvajanik Garanthalaya Aattharwadi
Ali Sevabhavi Santha Shukrawar Peth Basmath
Aman Ekta Welfare Trust
Aradhya Gram Vikas Pratishthan Samga Tq Dist Hingoli
Ashok Shikshan Sanstha
Bharari Bahu-Uddeshiy Sevabhavi Sanstha Jamthi B K
Chadragiri Shikshan Prasarak Mandal Pardi Saw Tq Aundha Dist Hingoli
Dhanshree Sevabhavi Sanstha Hingoli
Disha Gramin Vikas Pratisthan Hingoli
Dnyan Vardhak Sarvjanik Vachnalay Pusegaon
Dr Babasaheb Ambedkar Bahuuddeshiya Association
Dr Babasaheb Ambedkar Smarak Samiti Aundha (N)
Federation Of Scst Entrepreneurs
Gayatri Sevabhavi Sanstha Sengaon Tq Sengaon Dist Hingoli
Global Fund For Children India Foundation
Gram Vikas Sarvajanik Vachanalay Kalamkonda Bk
Gramin Vikas Sarvajanik Vachanalay Isapur Ramna
Haji Abdul Lateef Ashrafi Education & Walfare Society Kalamnuri
Hariom Bhauudhyeshiya Sevabhavi Sanstha
Ifra Foundation Hingoli
Jagaguru Sant Tukaram Maharaj Varkari Sevabhavi Santha Kondhur Tq Kalamnuri Dist Hinoli
Jagruti Mahila Mandal Kalamnuri
Jai Gurudev Bahuuddeshiya Sevabhavi Sanstha Wadad
Jay Hanuman Bahuuddeshiya Sevabhavi Sanstha
Jay Kedarling Magaswrgy V Bahujan Vikas Bahuddeshy Sevabhavi Santha
Jay Vitthal Rukhmai Bahuuddeshya Seva Bhavi Sanstha Kendea
Jayavantrao Ghyar Patil Sevabhavi Sanstha
Kai Nagorao Deshmukh Sarwajani Wachanalaya
Kai Pandit Guruji Vachanalaya Jawala Bk
Kai Swa Sai Ganpatrao Jamgavankar Pratishtan Jamgavan
Kanishka Sevabhavi Sanstha Aundha Nagnath Dist Hingoli
Kayadhu Gram Vikas Pratishthan
Kiran Bahuuddeshiya Sevabhavi Sanstha Savna Tanda
Krantisury Mahatma Jyotiba Fule Sarvjanik Granthalay Jaipur
Late Tehlaram Khurana Pratishthan
Lokasha Human Development Research Center
Maa Jijau Maa Saheb Sarvajanik Vachanalaya Nalegaon
Mankeshwar Shikshan Sanstha Basmath
Mankind Foundation
Mayur Sevabhavi Sanstha Vasmat
Nalanda Educational Cultural And Research Institute Hingoli
Network Of Hingoli By People Living With Hivaids
Padmavati Sevabhavi Sanstha
Panchashil Bahuuddeshiya Sevabhavi Sanstha
Pragati Bahuuddeshiya Vikas Mahila Mandal Wanzola
Prajapati Bahuuddeshiya Shikshan Prasarak Mandal Vasmat
Puja Mahila Vikas Sevabhavi Sansthapurjal
Raje Sambhaji Shikshan Va Bahuuddeshiya Gramin Sevabhavi Sanstha Pota Khurd
Rashtriya Samrat Shikshan Sanstha Wanzola
Rutuja Bahuuddeshiya Sevabhavi Sanstha Belmandal
Sant Dnyaneshwar Mauli Granthalay Wadad
Sant Tukaram Maharaj Sarvajanik Vachanalay Ekamba
Saraswati Bahuuddeshiya Sevabhavi Sanstha Basmath Dist Hingoli
Savangadi Foundation Amla
Savitribai Phule Sevabhavi Sanstha Basmath
Sawali Pratisthan Shivaraj Nagar Hingoli
Sawraj Minority Foundation
Sham Sewabhavi Sansta
Shiv Parvati Gramin Vikas Sevabhavi Sanstha
Shree Palsiddhe Swami Bahhudeshiya Sevabhavi Sanstha Pusegoan
Shri Amrateshwar Sarvjanik Vachanalay Umara Wable
Shri Ashtavinayak Bahuuddeshiya Sevabhavi Sanstha Basmath Tq Basmath Dist Hingoli
Shri Sacchidanand Sevabhavi Sanstha Chinchordi
Shri Sant Bhagwanbaba Sevabhavi Sanstha Basmath Tq Basmath Dist Hingoli
Shri Shivaji Shikshan Prasarak Mandal Hingoli
Swami Vivekanand Sarvjanik Vachanalay Wadhivra
Swami Vivekanand Savabhavi Sanstha Reulgaon
Swami Vivekanand Sewa Trust
Swatantrya Sainik Limbaji Patil Sarvjanik Vachnalay Zara
Ujwal Shikshan Prasarak Mandal
Unique Bahuuddeshiya Sanstha
Unique Women Development And Multipurpose Society
Vidyashakti Shikshan Prasarak Mandal
Vithai Sarvajanik Wachanalaya Vasmat
Yash Group & Charitable Trust Balsond
Yash Seva Bhavi Bahu Uddeshiy Samajik Sanstha Golegaon
Yeshwantrao Chavan Rural Devlopment Mission
Yuva Pratishthan Hingoli

If your NGO is having programmes related to social issue in this district, just email the name of the NGO with link to it and we will share it free.
Our email : Datacentre@CSRidentity.com
We Salute
Soldiers, Police, Below the poverty line people who live with humanity, Social workers, NGO Founders, Hospital staff, Health care workers, Chemists, Medicines Trees, Forests, Medicinal plants, Rivers , Extinct animals, Homes, Climate, People working in crematorium
Shop from NGOs
NGO Sellers Concept
Following NGOs sell products.
These products are either made by communities or the NGOs act as agents of companies making these products.
The idea is to help communities, NGOs and corporates together.
NGOs can be selling agents
NGOs must be sustainable.
We dont want to loose focus of serving communities but in case of emergency where their funding stops, they must have at least one year survival funds so that the communities they serve do not suffer.
We have experienced that when an NGO working with disabled sales products made by them or NGOs working with women sell products made by them or NGOs selling tribal products or paintings .. its great honour to communities they serve.
And NGOs working in slums or villages or rural areas have great relationship with communities and corporates can think of having them as agents which can order products from corporates.
Its good for corporates who find good agents
Its good for NGOs because they earn
Its good for communities because its at home service

NGOs can keep half the commission they get and pass the other half to communities so that its win win long term situation