Haridwar District In Uttarakhand
Corporates
Any corporate interested in having NGOs as selling agents can contact the NGO directly.
But if the corporate wants to put their name plus contact person's name and phone number here, then they have to pay a donation of Rs 2000/- for one district.
Corporates
We plan to donate at least Rs 13433000/-
This amount is not just any amount. Bhau, founder Sanjay Kumud Moreshwar Bapat's father gave house & property to him through a Gift Deed and Government Authorities valued it as Rs 13433000/- and founder's father (Bhau) paid a stamp duty of Rs 403000/-. And after the Gift Deed, Bhau was the first person on earth (Of course many others stepped in) to start postponing death of founder after an almost fatal accident on 28.08.2013.
Founder knows that after death, neither anyone takes anything with them nor do they know whether their son, grand son, daughter in law or so called blood relatives or neighbours came to see them before they left earth.
When any human leaves this world, what remains is their Deeds when they were on earth. So our first target is Rs 13433000/- Of course they will not know the impact of their gifts to world, but that is beauty of life. Enjoy it but leave the world as satisfied human and not one with unending greed of money, property.
Corporates can donate to the NGO
Developed Nation Network Trust by G Pay.
It has 80G and waiting for renewal of FCRA.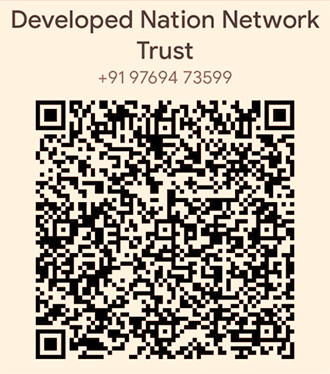 NGOs
NGO Brands
We share NGO Brands statewise in case of India
NGOs in this district
Aarogya Swasth Misan Trust
Academy Of Career Education Training And Welfare Society
Adarsh Yuva Samiti
Aditya Sewa Sansthan
Ajit Rural Technology Of Institute Society
Akanksha
Akankshanirudh Foundation Trust
Alhind Welfare & Charitable Educational Trust
Anath Shishu Palan Trust Of India
Arsh Yog Avam Jankalyan
Ata-E-Sabir Pak Trust
Baba Sahab Dr Bhimrao Ambedkar Charitable Trust
Baljeet Sadhna Kender Trust
Bhagwanpur Industries Association
Bharat Jan Kalyan Charitable Trust
Bharat Lok Sewa Sansthan
Bharat Mata Janhit Trust
Bhartiya Mahila Kala Samiti
Bhartiya Samaj Kalyan Sewa Samiti
Bhartiya Samarsta Sewa Mission
Bhartiya Shiksha Avm Swasthay Charitable Trust
Bhartiye Jagrukta Samiti
Bhimraw Ambedkar Vidyamandir Samiti
Big Vision Educational Welfare And Charitable Trust
Cambridge Academy Society
Chetan Jyoti Sanstha
Chetna Manav Samaj Vikas And Gramodyog Sewa Samiti
Chida Nand Kust Asram
Chitrakoot Akhandashram Saptsarovar Haridwar Trust
Crime Investigation Detective Of India Cidi
Darpan Welfare Society
Darussalaam Educational & Welfare Society Dhanpura Dist Haridwar
Dean Sric
Deen Mohammad Educational Society
Devine Sriram International Charitable Trust
Devwani Propkar Mission
Dhanvantri Yog Ashram
Divine International Foundation
Divya Yog Mandir Trust
Egypttech Vocational Services Private Limited
Epsilon Organization
Faizan Educational Welfare Society
Forum For Rural Infrastructural Environmental And National Development
Ghareeb Nawaz Educational And Charitable Trust
Global Organization Of Development
Gresh Mahila Evam Gramin Vikas Trust
Guru Kripa Adhyatmik Chetna Sansthan
Gurukul Mahavidyalaya
Gyan Rural Education Development Trust
Haji Mangta Hasan Charitable Welfare Trust
Happy Family Health Care And Research Association
Hari Dham Sanatan Sewa Trust
Himalaya Foundatio
Huda Minority Charytable Trust
Hunal Bal Kalyan Sewa Samiti
Husainia Islamia School Margoobpur Mustafabad
Idara Mazhar E Hidayat Taleemi Samiti
Imperial Education Trust
Indian Geological Congress
Indian Water Resources Society
Iqra Educational Welfare Society
Jai Ganga Maiya Gramo Udhyog Sansthan
Janhit Divyang Sewa Samiti
Kalibari Serawali Ashram Trust
Kanwarpal Hathkargha Evam Hasthshilp Bunkar Society
Kaushalya Gramodhog Sansthan
Khidmate Gareebnawaz Educational And Soscial Welfare Society
Kripal Shikshan Sansthan
Krishna Kripa Mission Charitable Trust
Life Sciences Meditech Foundation International
Maa Adishakti Aparajita Trilokinath Vishwa Seva Sansthan (Nyas)
Madarsa Dua Educational School Samiti
Madarsa Mehaboobia Public Samiti Hazara Grant Haridwar
Mahavidyalaya Sabha Jwalapur
Mahila Utthan Sanstha
Manav Kalyan Sansthan Trust
Manu Mandir Samiti
Muskaan Siksha Avam Samaj Seva Samiti
Muslim Fund
Nai Umang Samajik Sanshta
Nanakpura Ashram Welfare Trust Society
Narayani Paropkari Sewa Sansthan
National Human Welfare Trust
Nav Prabhat Vikas Sanshthan
Navjyoti Hastshilp Hathkargha Vikas Sansthan
Nceb Skill Development Private Limited
New Star Public Sewa Samiti
Nurture Employability & Economic Development Society
Om Aarogyam Yog Mandir Trust
Om Foundation Charitable Trust
Panchwati Mahila Ashram
Partyaksh Yuva Anv Samaj Kalyan Trust
Patanjali Research Foundation Trust
Patanjali Yog Peeth Trust
Patanjali Yoga And Jankalyan Trust
People Acion For Safe Environment Foundation
Poornima Shanti Charitable Trust
Prema Bhakti Goseva Trust
Rabiya Sabiya Educational Avam Welfare Society
Rajat Shahri Evam Gramothan Sansthan
Ramakrishna Math Kankhal
Ramakrishna Mission Sevashrama
Ramraj Gramodhyog Seva Sansthan
Rashidiya Educational Social Welfare And Sports Society
Rashtriya Samaj Kalyan Mission Trust
Rotary Ranipur Charitable Trust
Sabir-E-Pak Foundation
Sabri Bulbul Dilshad Ali Trust
Sadar Cheritable Educational Trust
Sahara Foundation Society
Samarth Sewa Samiti
Sanatan Seva Mission Trust
Sankalpna Social Organization
Sanskar Seva Samiti Haridwar
Satya Dharam Bodh Mission
Satyam Siksha Avem Vikash Society Landhoura
Senior Citizen Forum Haridwar
Seth Bimal Prasad Jain Educational Trust
Seth Roshan Lal Jain Trust
Shahwilayat Educational And Social Welfare Society
Shivanchal Sewa Samiti
Shivhom Charitable Trust
Shree Ganga Ji Foundation
Shree Krishnayan Desi Gauraksha Evam Gaulok Dham Sewa Samiti
Shree Prakhar Paropkar Mission Trust
Shree Raghvendra Sewa Ashram Samiti
Shree Swami Arjunpuri Sewa Charitable Trust
Shri Krishna Jyoti Manav Kalyan Trust
Shri Shanidev Dhaam Charitable Trust
Sir Sayyed Educational Society
Som Foundation Trust
Sonifoundationtrust
Sri Jyoti Gramodyog Seva Sansthan
Srishti Vikas Samiti
Surabhi Gauseva Parivar Nyas
Swami Narayan Sewa Mission Society
Technology Incubation And Entrepreneurship Development Society
The Chocolate Foundation
The Glourious International Trust
The Hans Foundation Hospitals
The Nature Foundation Society
Ujjwal Bharat Nirmaan Samitee
U-Tech Computer Education Avom Prashikshan Sansthan
Uttra Computer Shiksa Sansthan
Varnika Lalyan Group Of Education Institute
Ved Mata Gayatri Trust
Village Development Society
Vishva Kalyan Mission Trust
Vyapar Mandal Manglaur Samiti
Yana Society
Zainab Shiksha Samiti
Zoe Ministries Trust

If your NGO is having programmes related to social issue in this district, just email the name of the NGO with link to it and we will share it free.
Our email : Datacentre@CSRidentity.com
We Salute
Soldiers, Police, Below the poverty line people who live with humanity, Social workers, NGO Founders, Hospital staff, Health care workers, Chemists, Medicines Trees, Forests, Medicinal plants, Rivers , Extinct animals, Homes, Climate, People working in crematorium
Shop from NGOs
NGO Sellers Concept
Following NGOs sell products.
These products are either made by communities or the NGOs act as agents of companies making these products.
The idea is to help communities, NGOs and corporates together.
NGOs can be selling agents
NGOs must be sustainable.
We dont want to loose focus of serving communities but in case of emergency where their funding stops, they must have at least one year survival funds so that the communities they serve do not suffer.
We have experienced that when an NGO working with disabled sales products made by them or NGOs working with women sell products made by them or NGOs selling tribal products or paintings .. its great honour to communities they serve.
And NGOs working in slums or villages or rural areas have great relationship with communities and corporates can think of having them as agents which can order products from corporates.
Its good for corporates who find good agents
Its good for NGOs because they earn
Its good for communities because its at home service

NGOs can keep half the commission they get and pass the other half to communities so that its win win long term situation