Guntur District In Andhra Pradesh
Corporates
Any corporate interested in having NGOs as selling agents can contact the NGO directly.
But if the corporate wants to put their name plus contact person's name and phone number here, then they have to pay a donation of Rs 2000/- for one district.
Corporates
We plan to donate at least Rs 13433000/-
This amount is not just any amount. Bhau, founder Sanjay Kumud Moreshwar Bapat's father gave house & property to him through a Gift Deed and Government Authorities valued it as Rs 13433000/- and founder's father (Bhau) paid a stamp duty of Rs 403000/-. And after the Gift Deed, Bhau was the first person on earth (Of course many others stepped in) to start postponing death of founder after an almost fatal accident on 28.08.2013.
Founder knows that after death, neither anyone takes anything with them nor do they know whether their son, grand son, daughter in law or so called blood relatives or neighbours came to see them before they left earth.
When any human leaves this world, what remains is their Deeds when they were on earth. So our first target is Rs 13433000/- Of course they will not know the impact of their gifts to world, but that is beauty of life. Enjoy it but leave the world as satisfied human and not one with unending greed of money, property.
Corporates can donate to the NGO
Developed Nation Network Trust by G Pay.
It has 80G and waiting for renewal of FCRA.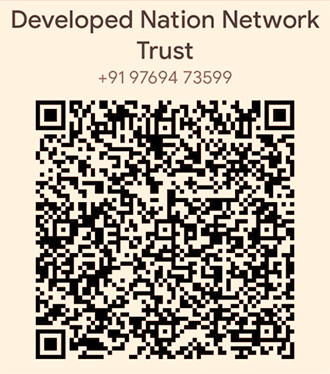 NGOs
NGO Brands
We share NGO Brands statewise in case of India
NGOs in this district
Across
Action For Integrated Rural Developement
Adarsha Bharathi Mahila Mutually Aided Cooperative Thrift Society Limited
Addagada C Rao Charitable Foundation Trust
Agape And Hope Ministries
Agnus Ganja Bojexio Social Service Society
Ahamadiya Educational And Welfare Society
Airtds
Alive Ministries
Alive Ministries Trust
Ambedkar Foundation
Amg (Advancing The Ministries Of Gospel) India International
Amma Charitable Trust
Andhra Evangelical Lutheran Church
Ani Swarna's Rural Children Development Society
Anne Yarlagadda Charitable Trust
Anthony Vijaya Charitable Trust
Ap Womens Cooperative Finance Corporation
Apple Global Foundation
Arris Career Guidance Private Limited
Asha Society For Education And Training
Assembly Of Believers Gathered To The Name Of The Lord Jesus Christ
Assist
Assocation For Social Service And Educational Transformation
Association Of Indian Gospel Assemblies
Atluri Mastan Reddy Educational Society
Awards Yuva Tech Authorised Computer Centre
Bala Bata Society
Banjara Gospel Ministry & Welfare Association
Bapatla Mahila Macts Ltd
Benjiman Bible Ministries
Bethany Colony Leprosy Association
Bethesda Baby Home
Bhavapuri Mutually Aided Cooperative Thrift And Credit Society Limited
Bless (Brother In The Lord For Evangelism And Social Service)
Blessed Time Ministry
Blessing Hands Ministries
Broughton Educational Society
Calvary Evangelical Vision Ministries
Camp
Capital Area Council Of Society
Care Voluntary Organization
Center For Disabled Children
Centre For Education And Economic Development(Ceed)
Centre For Rural Community Services
Centre For Rural Development
Chaitanya Voluntary Service Organisation
Chaithanya Bharathi Macts Ltd
Chalapathi Institute Of Pharmaceutical Sciences
Chamber Of Chit Fund And Finance Companies
Chetana Charitable Trust
Christ Orphan Center Ministries - Cocm
Christian Fellowship
Christian Gospel Society
Christian Help In Learning And Development
Christian Living Ministries
Christianachildrenshomes
Christu Suda Communications And Ministries
Chrstian Community Development Society
Citizens Development Organisation
Claps Society
Coastal Voluntary Network
Community And Rural Education Society
Community Awareness And Village Improvement
Community Rural Orient Service Society
Comprehensive Rural Development Society
Conrod And Norbert Academy
Converted Christians Ministries
Daily Bread Missions
Dalit Bahujan Resource Centre
Daniel Educational Society
Deenamma And Rural Development Society
Deepa Weaker Section Mahila Mandali
Dehon Charitable Trust
Development Action For Women In Need Society
Development Society For Poor ( Dsp )
Dhanya Educational And Environmental Development Society (Deeds)
Divine Care Ministries
Don Bosco Prem Nivas
Dorcas Aid Organisation
Dr P S R Anjaneyulu And Meenakshi Eye Hopital Vision Centre
Eden Ministries
Eliezer Relief Ministries
Esther Ministries Trust
Evangelical Association For Revival Education (Eare)
Faith India Ministries
Far Corners India International
Favour The Helpless Mission
Foundation For Education And Economic Development
Foundation For Stakeholders In Sustainable Development
Free Grace Evangelistic Association
Gamana
Gayathri Educational Development Society
Get Connected Mission Of India
Global Helping Hands Inc
Global Seva Trust
Glory Ministries
Gmcana Gmc Trust
God's Grace Ministries
Good News For Tear Care Society
Good News Messengers
Good Samaritan Mission
Good Shepherd Ministriess
Good Shepherd Welfare Development Society
Gospel Mission Of India
Gospel Outreach Ministries
Gospel Outreach Ministries
Gospel Truth Publications
Goutham Welfare Society (Gws)
Gowriruralactivesocialservicesociety
Grace Of God Ministries
Grama Vikas Peace Foundation
Greater Tenali Leprosy Treatment Education Schemgreat Naljes
Gsr & Kkr Educational Society
Guntur Auxilium Society
Guntur Kolping Society
Hadassah Charitable Trust
Hands Of Compassion
Harijana Mahila Mandali
Harijana Vyavasaya Karmika Sangam
Heaven For Orphan People On Earth
Hebron Mission Trust
Heralds Of Good News Social Service Society
Holy Childhood Society
Holy Family Convent
Hope And Help Social Welfare Society
House Of Hope Orphanage Home
Huda Society
I Donate Organisation
I Donate Organisation
Icc Social Service Association
Immanuel Mission Church India
Immanuel Prayer Tower Ministries
India Rural Evangelical Fellowship
Indian Orphans Missionary Society
Indira Memorial Weaker Section Development Society
Innovative Development Society
Institute For Integrated Rural Development
Integrated Needy Development Initiative Association I N D I A
Jagadeeswari Seva Mahila Mandali
Jan Shikshan Sansthan Guntur Andhra Pradesh
Jana Chaitanya Samithi
Jayabheriyuvajanasevasangham
Jeevan Jyothi Handicapped Childrens Rehabilitation Centre
Jeevana Jyothi Swatchanda Seva Society
Jeevana Sravanthi (Js)
Jesus Saves Ministries
Jhansi Rani Community Development Society
Jmj Social Service Society
Joy Full Willing Heart Community Development Society
Kala Social Welfare Society
Kallam Academy Of Educational Society
Kamala Nehru Youth Association
Kamala Theresa Charitable Trust
Kammajana Seva Samithi
Kandrika Mahila Mandali
Kanti Kiran Mahila Mandali
Karmika Vidya Peet
Karunamaya Charitable Trust
Kinderhilfe Charitable Trust
Kishorememorialsociety
Kondaveeti Subrahmanyam
Kotappakonda Kakatiyaseva Samithi
Kothapet Mahila Mandali
Krishi Valley Foundation
Krishna Sai Educational Society
Krishnaveni Educational Society
Lalitha Rajeswari Charitable Trust
Land Of Sharon Ministries
Lb & Jb Educational Society
Learning Estate Ministry
Leema Deaf And Mentally Handicapped Welfare Association
Legal Awareness And Welfare Society
Liberty Gospel Ministries
Limra Rural Develapment Society
Link To Hope Ministries
Lions Montessori School Society
Little Flower Welfare Society, Emani
Little Sisters Of The Poor
Lord's Full Gospel Church Ministries
Lords Orphan Rural Development Society (Lords)
Love And Care Ministries Charitable Trust
Lssk Trust
Maddirala Sivaiah Memorial Educational Society
Madhavilatha Educational Social Service Society
Maggi Sushan Ministries
Malleswari Mahila Mandali
Manikya Help Society
Manthena Satyanarayana Raju Charitable Trust
Marg
Medarametla Anjamma Mastan Rao Memorial Service Society
Medical & Cultural Association
Mefiboseth Ministries
Members In Christ Assemblies
Mercy Integrated Rural Health Care Ministries
Mercy Ministries
Merucy Neelavathi Educational Society
Minorities Welfare Society
Mission For Help Society
Mission For The Rural People Charitable Trust
Mitra Service Society
Montessori Educational Development Society
Mother Ministries
Mother Ministries
Mother Service Society
Mother Theressa Swachanda Seva Samstha
Mother Theressa Weaker Section Development Welfare Society
Mothers Touch Charity Foundation
Mukti Society For Tribal Integration
Nagarjuna Education Society
Narasaraopet Taluka Schedule Tribes Youth Club
Narayana Educational And Rural Development Society
Natural Health Care Society
Navabharat Educational And Welfare Society
Navatharang
Naveena Adarsya Mahila Mandali
Needs For Education And Economical Development Society
Nestam
New Educational And Economic Development Society
New Life Voluntary Organisation
Nilagiri Foundation
Nitya Jana Seva Samajam
Nsm Convent
Omkar Rural Development Society
Padmasri D R N T R Memorial Handycape And Poorpeople Welfare Society
Pedarika Nirmoolana Samithi
Penny Ministries India International
People In Need Foundation
People's Action For Development Alternatives
Pothireddy Santhosh Reddy Charitable Trust
Prabhata Sindhuri Educational Society
Pragathi Rural Development Society
Pragathi Service Society
Pragathi Youth Sangam
Prakasam Nagar Mahila Mandali Guntur
Rajeev Harijana Kraistava Sangham
Rajiv Educational And Community Helps
Rajiv Yuvajana Seva Sangam
Ratnamani Mahila Macts Ltd
Rayapati Charitable Association
Rayoflight
Reaching Forward Ministries
Redemption Ministry Center
Rekhamahilamandali
Restoration Ministries
Revelation Ministries
Revival Education Literacy Integrated Evangilical Fellowship Relief
Revival Voluntary Welfare Society
Road Safety Ngo
Rock Solid Social Service Organisation
Roshini Andula And Sareeraka Vikalangula Seva Sangham
Rural Action Development Weaker Section Society
Rural Action Down Trodden Development And Education Society
Rural Awareness Service
Rural Care Ministries
Rural Development And Health Educational Society
Rural Development Society
Rural Development Society
Rural Education Development Society
Rural Educational And Community Health
Rural Institute For Community Education
Rural Institute For Social Education
Rural Social Welfare Development Organization
S G V R S Educational Society
Saadhana Educational And Rural Development Society
Sadha Sahaya Matha Turst
Sai Balaji Educational Society
Salem Gospel Outreach In Education And Rural Care Organisation
Sam And Jane Foundation
Sam And Sharon Ministries (Sasm)
Samatha Mahila Mutually Aided Cooperative Thrift Society Ltd
Samraksha Society
Sangamitra Seva Khadi And Silk Rural Development Association
Sanghamitra Voluntary Organisation
Sarada Educational Society
Seed Of Hope
Serve Trust
Service
Service With Love
Seva Bharathi Woman Mutually Aided Cooperative Thrift And Credit Society Ltd
Sfird
Sgwsmm1980
Sharon International Ministries
Sharon Welfare Society
Shiny Christian Rural Development Society
Sneha Sahaaya Society
Social Action And Value Education Trust
Social Educational Trust
Social Organisation For Rural Development
Social Welfare Society
Society For Assistance And Vocational Education
Society For Educate And Empower People
Society For Fast Justice Guntur
Society For Helping Action For R Ural Poor
Society For Training And Caring
Society For Upliftment Of People Participation On Rural Transformation
Society For Upliftment Of Rural Education(Sure)
Society For Welfare Hiv Infected People
Society For Women And Rural Development
Society Of Divine Word Seminary
Society Of Jesus Mary And Joseph
Society Of Jesus Mary And Joseph Snehalaya
Society Of Sisters Of St Charles Convent
Society Of The Congregation Of The Sisters Of The Cross Of Chavanod
Socio Economic Alternatives Research And Resource Community For Humanity
Sonia Gandhi Harijana Girijana Balaheen Vargamula Mahila Mandali
Sow The Seed
Sozo Charitable Trust
Sree Foundation
Sree Rajya Lakshmi Weaker Section Mahila Mandali
Sree Santhi Reddy Educational Society
Sri Dakshinya Bhava Samithi
Sri Devi Weakar Section Mahila Mandali
Sri Ekulanagaiah Memorial Disabled Service Society
Sri Markandeya Khadi Rural Development Association
Sri Mary Integration And Rural Development Society
Sri Medha Educational Society
Sri Padma Jyothi Khadi Village Development Association
Sri Padmavathi Khadi Rural Development Association
Sri Prasannanjaneya Swamy Seva Sangm
Sri Priyanka Mahila Mandali
Sri Ramakrishna Seva Samithi
Sri Rasekhara Khadi Gramodyog Sangham
Sri Rayavarapu Ramamurthy Vruddhula Sevasamstha
Sri Sai Sandhya Mahila Samskhema Sangam
Sri Sarada Mahila Vignana Samithi
Sri Satya Deva Khadi And Slik Weavers Association
Sri Sitarama Khadi And Village Industries Welfare Society
Sri Sri Sri Hanumath Kali Vara Prasad Babu Trust
Sri Sringeri Sharada Veda Vedanta Gurukula Mahavidyalaya
Sri Srinivasa Weaker Section Development Society
Sri Varaha Educational Society
Sri Venkateswara Bala Kuteer
Sri Venkateswara Mahila Mandali
Sri Viswajananee Parishat
Sri Visweswaraiah Educational Society
Srimaharshi Research Institute Of Vedic Technology
St Anns Social Service Society
St Ignatius Convent
St Joseph Foundation
St Josephs Convent
Sthree Shishu Seva Sankshema Sangam
Stpaulseducationalsociety
Suraksha Old Age And Health Society
Surya Kiran Parents Association
Swaralaya Vedika Musical And Cultural Organisation
Swarna Educational Development Society
Team For Education Action Mobilisation
Tejaswi Mahila Macts Ltd
Telugu Network Of People Living With Hiv And Aids
The Bharath Abhyudaya Seva Samithi
The Brahmanakoduru Maria Matha Society
The Church Of Lord Jesus Christ Abroad & Seekers For Light Society
The Claretian Fathers Association
The Dioses Of Guntur Society
The Eleshaddai Gospel Lower Developement Ministries
The Gandhi Mission International Society Of India
The Golden Gates Of Revival Ministries
The Good Shepherd Convent Mangalagiri
The Guntur Diocese Socialservice Amp Welfare Society
The Guntur St Michael's Boys Home Society
The Kanaka Durga Weaker Section Mahila Mandali
The Loyola College Society Guntur
The Mentally Retarded Welfare Society
The Ponnur Don Bosco Society
The Province Of St Maximilian Kolbe
The Repalle Taluk Educational Improvement Society
The Shepherds Fold
The Society Of Catechist Sisters Of St Ann Guntur
The Society Of St. Anne
The Srimathi Nandamuri Basava Ramatarakam Smaraka Mahila Mandali
The Village Development Organisation
The Voluntary Rural Development Society
Think Try Solve Social Service Society
Tirumala Engineering College
Tribal And Rural Development Society
Truth Ministries Social Organisation
Urban And Rural Development Mission Chilakaluripet
Vanitha Bharathi Mutually Aided Cooperative Thrift Society Limited
Vardhan Foundation
Vasavi Vanitha Mutually Aided Co-Operative Thrift Society Ltd.
Vasudeva Charitable Foundation
Veda Educational Development Association
Vedaparishat
Vengamamba Embold Sentient Talented And Advanced Ladder (Vestal)
Vignans Foundation For Science Technology And Research
Vikasa
Village Reconstruction Organisation
Villages In Partnership (Vip)
Vinukonda Missionary And Medical Fellowship
Viswa Bharathi Mahila Mutually Aided Cooperative Thrift Society Limited
Viswamanava Samaikyata Samsat
Vivek Foundation Charitable Trust
Vudayasree Mahila Mandali
Welfare Organisation For Rural League Development World
Welfare Societies Samakya
World Human Rights Council
Y K R Educational Trust
Yanadi Education Society
Yedidya Organisation
Yontus Life Sciences Pvt Ltd
Youth Help Organization
Yuva Sakthi Association
Zion Faith Ministries

If your NGO is having programmes related to social issue in this district, just email the name of the NGO with link to it and we will share it free.
Our email : Datacentre@CSRidentity.com
We Salute
Soldiers, Police, Below the poverty line people who live with humanity, Social workers, NGO Founders, Hospital staff, Health care workers, Chemists, Medicines Trees, Forests, Medicinal plants, Rivers , Extinct animals, Homes, Climate, People working in crematorium
Shop from NGOs
NGO Sellers Concept
Following NGOs sell products.
These products are either made by communities or the NGOs act as agents of companies making these products.
The idea is to help communities, NGOs and corporates together.
NGOs can be selling agents
NGOs must be sustainable.
We dont want to loose focus of serving communities but in case of emergency where their funding stops, they must have at least one year survival funds so that the communities they serve do not suffer.
We have experienced that when an NGO working with disabled sales products made by them or NGOs working with women sell products made by them or NGOs selling tribal products or paintings .. its great honour to communities they serve.
And NGOs working in slums or villages or rural areas have great relationship with communities and corporates can think of having them as agents which can order products from corporates.
Its good for corporates who find good agents
Its good for NGOs because they earn
Its good for communities because its at home service

NGOs can keep half the commission they get and pass the other half to communities so that its win win long term situation