Gondia District In Maharashtra
Corporates
Any corporate interested in having NGOs as selling agents can contact the NGO directly.
But if the corporate wants to put their name plus contact person's name and phone number here, then they have to pay a donation of Rs 2000/- for one district.
Corporates
We plan to donate at least Rs 13433000/-
This amount is not just any amount. Bhau, founder Sanjay Kumud Moreshwar Bapat's father gave house & property to him through a Gift Deed and Government Authorities valued it as Rs 13433000/- and founder's father (Bhau) paid a stamp duty of Rs 403000/-. And after the Gift Deed, Bhau was the first person on earth (Of course many others stepped in) to start postponing death of founder after an almost fatal accident on 28.08.2013.
Founder knows that after death, neither anyone takes anything with them nor do they know whether their son, grand son, daughter in law or so called blood relatives or neighbours came to see them before they left earth.
When any human leaves this world, what remains is their Deeds when they were on earth. So our first target is Rs 13433000/- Of course they will not know the impact of their gifts to world, but that is beauty of life. Enjoy it but leave the world as satisfied human and not one with unending greed of money, property.
Corporates can donate to the NGO
Developed Nation Network Trust by G Pay.
It has 80G and waiting for renewal of FCRA.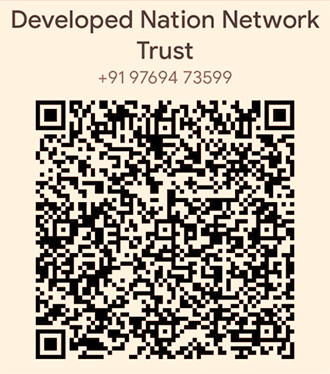 NGOs
NGO Brands
We share NGO Brands statewise in case of India
NGOs in this district
Aadhar Bahuuddeshiya Seva Sanstha
Aaj Individuale Development And Education
Abhinav Memorial Cheriable Trust Tirora
Aditi Bahuudeshiya Sanstha
Adiwasi Swayam Kala Sansthan
Aman Bahuuddesiya Samajik Sanstha Gondia
Ambika Bahuddeshiya Shikshan Sanstha Salekasa
Anugrah Multipurpose Education Society
Apeksha Magasvargiya Bahuuddeshiya Shikshan Sanstha Gondia
Azad Library Gondia
Bahujan Granthalaya Shikshan Krida And Wayam Prasarak Bahyuudesiya Mandal Rawanwadi
Bhagvati Shikshan Sanstha Mendha
Bhartiya Vikas Mahila Shikshan Sanstha Thanegaon
Birsa Munda Adivasi Mahila Social Welfare Education Sanstha Arjuni Mor
Career Point Online Services Private Limited
Chaitanya Bahudeshiya Shikshan Prasar Mandal Bamhani
Chaitanya Bahudeshiya Shikshan Sanstha
Cheklal Tandekar Magaswargiya Bahuudeshiya Shikshan Prashikshan Sanstha
Dayaram Gyan Vikas Sanstha
Deepshikha Bahuuddeshiya Shikshan Sanstha Amgaon
Devlopment Of Social Human Asosiotion Amgaon
Dyandarshan Bahuddeshiya Social Walfair Sanstha Bolde
Fulchur Paryatan Va Paryawaran Vikash Mandal
Gayatri Parivar Trust
Gayatri Pariwar Trust Amgaon
Gondwana Bahuddeshiya Gramin Vikas Shikshan Sansatha Gadegaon
Guide For Animal And Agriculchar Riserch Devlopment Socity
Hirwal Bahuuddeshiya Sanstha
Indian Social Welfare Society
Jain Kalar Samaj Gondia
Jan Shikshan Santhan Gondia
Janvikas Foundation
Kalayani Bahuddeshiya Shikshan Sanstha Gondia
Kalptaru Bahuuddeshiya Vikas Sanstha Gondia
Krushna Sahayogi Tantra Shikshan Sanstha
Kshatriya Martha Kalar Samaj
Late Smt Laxmibai Tembhare Bahuudeshiya Shiksha Prasar Mandal
Maa Durga Bahuuddeshiya Sanstha Gondia
Madhyabharat Education Society, Gondia
Magaswargiy Lokklyan Gramin Socity
Mahakaushal Rashtrabhasha Prachar Samiti Gondia
Mahatma Fule Bahuudeshiya Grameen Vikash Sanstha Amgaon
Malik Bahuuddeshiya Shikshan Sanstha Gondia
Mandodevi Gramin Jankalyan Bahuddeshiy Krushi Vikas Sanstha
Muslim Minority Trust Gondia
Navchaitanya Bahuuddesiye Samajik Sanstha
Navsanjivani Bahuudeshiya Sanstha Goregaon
Pahandi Pari Kupar Lingo Bahuddeshiya Sanstha
Pariwartan Bahuuddeshiya Shikshan Sanstha Tirora
Parvati Bahuuddshiya Vikas Sanstha
Powar Jagruti Pragatishil Sanstha Tirora
Pragati Bahu Uddeshiya Shaikshanik Sanstha
Priyadarshani Mahila And Balvikas Mandal Gondia
Pudhakar Bahuudesiya Samajik Sanstha Murpar
Radha Social Welfare Education Society
Rajgiri Bahuuddeshiya Samajik Sanstha
Raza Alapasankhyak Bahudeshiya Sanstha Gondia
Sanjeevani Bahuudeshiya Shikshan Sanstha Salekasa
Sankalp Apang Va Niradhar Bahuuddeshiya Shikshan Sanstha
Savitribai Fule Bahuuddeshiya Shikshan Sanstha
Sewa Bahuuddeshiya Sanstha
Shree Gurudeo Adivasi Shikshan Prasarak Mandal Govindpur
Shree Pragatisheel Education Society
Shree Sai Bahuuddeshiya Samaj Sevi Sanstha Chopa T Goregaon D Gondia
Shri Ganesh Gramin Vikas Shikshan Sanstha
Shri Jagruti Bahuuddeshiya Vikash Shikshan Sanstha
Shri Ranisati Seva Samiti Gondia
Shrimati Kamaladavi Shende
Sri Ram Bahuuddeshiya Sikshan Sanstha
Srushti Janvikas Bahuuddeshya Sanstha Gondia
Success Social Multipurpose Society
Swami Vivekanand Shikshan Sanstha
Swami.Vivekanan.Seva.Sansthan
Swarnkanchan Education Society Soundad
Tathagat Krida Mandal Gondia
Tirora Bahuudesiya Shikshan Sanstha Tirora
Unnati Education Society

If your NGO is having programmes related to social issue in this district, just email the name of the NGO with link to it and we will share it free.
Our email : Datacentre@CSRidentity.com
We Salute
Soldiers, Police, Below the poverty line people who live with humanity, Social workers, NGO Founders, Hospital staff, Health care workers, Chemists, Medicines Trees, Forests, Medicinal plants, Rivers , Extinct animals, Homes, Climate, People working in crematorium
Shop from NGOs
NGO Sellers Concept
Following NGOs sell products.
These products are either made by communities or the NGOs act as agents of companies making these products.
The idea is to help communities, NGOs and corporates together.
NGOs can be selling agents
NGOs must be sustainable.
We dont want to loose focus of serving communities but in case of emergency where their funding stops, they must have at least one year survival funds so that the communities they serve do not suffer.
We have experienced that when an NGO working with disabled sales products made by them or NGOs working with women sell products made by them or NGOs selling tribal products or paintings .. its great honour to communities they serve.
And NGOs working in slums or villages or rural areas have great relationship with communities and corporates can think of having them as agents which can order products from corporates.
Its good for corporates who find good agents
Its good for NGOs because they earn
Its good for communities because its at home service

NGOs can keep half the commission they get and pass the other half to communities so that its win win long term situation