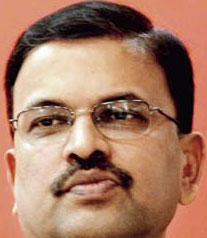 VV Lakshminarayana
V V Laxminarayana, was additional director general of police (admin) in Mumbai on (25.07.2016).
He took his retirement from police force after we interviewed him and now he is thinking of joining politics to serve India.

V V Laxminarayana, when he was the joint commissioner of Thane Police, was known as clean and used to be fair with everyone, be it anyone from any caste or religion.

The major work done by the officer was that he himself went on raids.
In his two years of service, he has showed that no one is above law. Thane is a place where many local goons feel that they are the don, but he brought an end to this nuisance. His work has restored confidence of the people in police.
V. V. Laxminarayana thoughts

V. V. Lakshminarayana - Thoughts on Early Childhood

V. V. Lakshminarayana - Thoughts on Value Education

V. V. Lakshminarayana - Thoughts on politics