Ghazipur District In Uttar Pradesh
Corporates
Any corporate interested in having NGOs as selling agents can contact the NGO directly.
But if the corporate wants to put their name plus contact person's name and phone number here, then they have to pay a donation of Rs 2000/- for one district.
Corporates
We plan to donate at least Rs 13433000/-
This amount is not just any amount. Bhau, founder Sanjay Kumud Moreshwar Bapat's father gave house & property to him through a Gift Deed and Government Authorities valued it as Rs 13433000/- and founder's father (Bhau) paid a stamp duty of Rs 403000/-. And after the Gift Deed, Bhau was the first person on earth (Of course many others stepped in) to start postponing death of founder after an almost fatal accident on 28.08.2013.
Founder knows that after death, neither anyone takes anything with them nor do they know whether their son, grand son, daughter in law or so called blood relatives or neighbours came to see them before they left earth.
When any human leaves this world, what remains is their Deeds when they were on earth. So our first target is Rs 13433000/- Of course they will not know the impact of their gifts to world, but that is beauty of life. Enjoy it but leave the world as satisfied human and not one with unending greed of money, property.
Corporates can donate to the NGO
Developed Nation Network Trust by G Pay.
It has 80G and waiting for renewal of FCRA.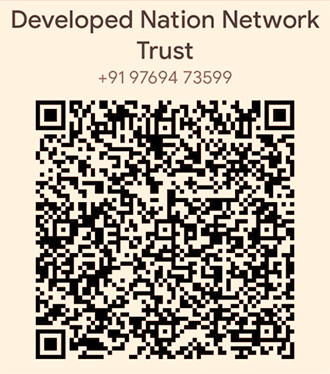 NGOs
NGO Brands
We share NGO Brands statewise in case of India
NGOs in this district
Aaryan National Rural Development Foundation
Adarsh Gramin Jansewa Evam Prashikshan Samiti
Adarsh Gramodyog Vikas Sansthan
Adarsh Mahila Jagran Samiti
Adishakti Mahav Kalyan Sewa Samsthan
All India Society For Modern Electronics And Computer Technology
Anjuman Hedaytul Uloom
Ashok Sansthan
Atharv Welfare Society
Aurora Charitable Trust
Aurora Welfare Society
Awadh Educational Group And Trust
Azad Siksha Avn Vikash Samiti
Baba Bairagi Birendra Jansewa Trust Sant Tulsi Das Colony Banshi Bazar Ghazipur
Baba Bholenath Seva Sansthan
Baba Maniram Shiksha Samitee
Baba Mukhdev Jankalyan Sanstha
Baba Sahaj Ram Paltu Shikshan Sansthan
Bachha Singh Educational Welfare Society
Baijnath Shiksha Pracharini Samiti
Baudh Kalyankari Mahila Utthan Trust
Bhartiya Jan Kalyan Evam Prashi Kshan Sansthan
Chandrashekhar Bal Niketan Samiti
Chashma E Rahmat Oriental College
Children Welfare Society
Crescent Educational Society
Degree College Association Ghazipur Up
Delight Foundation
Depressed Community Development Foundation
Dewarshi Dewal Shiksha Prasarn Samiti
Divyalok Manav Vikash Kalyan Samiti
Doodhnath Shiksha Samiti
Dr Bhimrao Ambedakar Seva Sanstha
Durgavti Shiksha Sansthan
Durgawati Jansewa Trust
Friends Youth Foundation Trust
Ganga Development And Research Association
Generation Shiksha Samaj Seva Samiti
Ghazipur Gramotthan Samiti
Glo Institute
Gopinath Vidhya Trust
Gorakhnath Pragatisheel Shiksha Samiti
Gram Sewa Ashram
Gramin Shikshan Evam Prashikshan Sanstha
Gramin Udyog Evam Vikas Samiti
Gramin Vikash Avam Janjagaran Sewa Samiti
Gramoday Ashram Khajua
Gramya Vikas Adarsh Jansewa Samiti
Guru Dham Trust Adhyatamik Vidya Peeth
Gurukul Siksha Sewa Samiti Trust
Gyan Bharti Samiti
Gyan Foundation
Gyandeep Jankalyan Shikshan Sanstha
Gyandeep Mahila Kalyan Samiti
Haider Ali Minority Charitable Trust
Harvansh Samajik Shiksha Samiti
Hawaldar Singh Smarak Shiksha Samiti
Indian Redcross Society Ghazipur
Indra Chandra Jnseva Sansthan
Insaf Foundation
Islamia Educational Society
J N Sansthan
Jai Maa Durga Shikcha Sewa Samity Kunwarpur
Jan Gramin Vikash Sansthan
Jan Kalyan Parishad
Jan Kalyan Samiti
Jan Sewa Prashikshan Sansthan
Jan Sewa Sansthan
Jan Swasthya Avam Prashikshan Sanstha
Janhit Vikas Avam Prashikshan Sansthan
Janta Khadi Gramdyog Bika Sh Sansthan
Jeevan Jyoti Foundation
Jeevan Jyoti Foundation
Jyoti Gramin Kalyan Sansthan
K S Jan Sewa Trust
K V S Educational Society
K V S Educational Society
Kamakhya Manav Vikas Samiti
Kashi Kala Samiti
Kd Singh Cheritable Trust
Khadi Avam Gramodyog Vikas Sansthan
Khadi Gramodyog Sansthan Jivpur
Krishak Vikas Samiti
Kumar Pahlwan Welfere Trust
Late Chandrashekhar Ji Purva Pradhanmantri Smarak Trust
Late Shivpujan Pathak Umv Shiksha Samiti
Late Tagar Sharma Memorial Society
Life Long Trusts
Lokbandhu Rajnarayan Vikas Sansthan
Ma Jagdamba Devi Khadi Gramodyog Samiti
Ma Prema Devi Janseva Nyas
Maa Kamakhya Janseva Sanstha
Maa Parmba Bhagawati Devi Sewa Samiti
Maa Ramsumeri Devi Smriti Purvanchal Vikas Samiti
Maa Sharda Vindhwasini Sewa Samiti
Maa Shiksha Samiti
Madarsa Darul Uloom Makhdumiya
Madarsa Quadria Deendaria Razaul Uloom
Mahatma Jyotiva Row Fule Vikas Sewa Sansthan
Mahila Evam Bal Kalyan Utthan Samiti
Mahila Sewa Sansthan
Manav Seva Samiti
Manish Foundation
Mata Amarawati Sikshan Sanstha
Mata Dharmawati Shashikala Trust
Medha Welfare Society
Medhaj Welfare Trust
Mehboobe Rahman Foundation
Mehndi Hasan Wasihasan Computer Education Society
Moti Devi Education Samiti
Moulana Azad Educational Foundation
Muslim Welfare Association
Nar Seva Narayan Seva Trust
Narayan Jansewa Sikshan Prasikshan Society
Navbharat Sewa Samiti
Nirbal Varg Gramodyog Vikassamiti
Noor Welfare Foundation
Om Harinarayan Manav Abhyutthan Seva Samiti
Prashant Foundation
Priya Rural Development And Service Society
Priyanka Jan Sewa Trust
Purti Sansthan
Purvanchal Gramin Vikas Evam Prashikshan Sansthan
Purvanchal Social Dovelopment Society
Purvanchal Vikas Sansthan
Purvottar Vikas Evam Samaj Kalyan Smiti
R L L Charitable Trust
Rajmati Sewa Shiksha Prasar Trast Nyas
Ram Awadh Shiksha Samiti
Ram Janaki Aadarsh Shiksha Niketan Samiti
Ram Nagina Shodh And Prashikshan Sewa Sansthan
Ravindranath Educational And Welfare Trust
Rayeen Islamic Shikshan Sansthan
Raza Social Educational Upliftment Society
Reshmi Khadi Gramodyog Sewa Sansatha
S P Institute Of Higher Education
S.S.Welfaretrust
Samagra Vikas Evam Shiksha Samiti
Samarpan Sanstha Up
Sankalp Foundation
Sankalp Vikas Samiti
Sarojni Bal Kalyan Samiti
Sarthak Educational Trust
Sarvjan Hitay Sarvjan Sukhay Samajik Sanstha
Sati Anusuiya Gramotthan Sewa Samiti
Satnam Khadi Gramodyog Sewa Samiti
Satynarayn Sewa Samiti
Savitri Jan Sewa Trust
Sayed Faizullah Educational Foundation
Seema Gramodeyog Vikas Sansthan
Shanti Niketan Shikshan Sansth
Shiksha Prasarini Samiti
Shiv Shiva Sneh Sanstha
Shivanshu Shaikshik Evam Samajik Trust
Shree Balaji Jan Kalyan Mishion Trust
Shree Ved Foundation
Shri Ganesh Gramoday Ashram
Shri Jagdish Tiwari Shikshan Sanstha
Shri Nayna Nand Upadhyay Shikshan Prashikshan Seva Sansthan
Shri Paltu Shikshan Sansthan Trust
Shri Rana Ramdhari Pahalwan Shikshan Sansthan Trust
Shrishti Jan Kalyan Foundation
Shrivatsa Group Of Education Trust
Sir Saiyad Ahamad Shishan Samiti
Smt Dhanesari Devi Shiksha Samiti
Social Welfare Trust
Sri Brahmaji Siksha Avam Samaj Kalyan Samati
Sri Dhodha Ram Khadi Sevashram
Suraiya Shikshan Avam Samajik Vikas Samiti
Swa Brijbhusan Tiwari Memorial Trust Mau
Swa Jagarnath Smarak Siksha Samiti
Swargiya Shreenath Singh Sewa Samiti
Swarn Jayanti Seva Sansthan
Swati Gramy Uthan Sansthan
The Managing Commitee Of The Subhash Vidya Mandir School Bahariyabad Ghazipur
Vidhi Gramodyog Mahila Vikas Sansthan
Vihangam Samaj Seva Awam Shiksha Samiti
Visnu Vikas Sanstha
Yadu Devnath Phulvasi Educational Research And Social Memorial Trust
Yaduvanshi Janta Shikshan Sansthan
Yog Sadhana Avam Yuva Vikas Sansthan

If your NGO is having programmes related to social issue in this district, just email the name of the NGO with link to it and we will share it free.
Our email : Datacentre@CSRidentity.com
We Salute
Soldiers, Police, Below the poverty line people who live with humanity, Social workers, NGO Founders, Hospital staff, Health care workers, Chemists, Medicines Trees, Forests, Medicinal plants, Rivers , Extinct animals, Homes, Climate, People working in crematorium
Shop from NGOs
NGO Sellers Concept
Following NGOs sell products.
These products are either made by communities or the NGOs act as agents of companies making these products.
The idea is to help communities, NGOs and corporates together.
NGOs can be selling agents
NGOs must be sustainable.
We dont want to loose focus of serving communities but in case of emergency where their funding stops, they must have at least one year survival funds so that the communities they serve do not suffer.
We have experienced that when an NGO working with disabled sales products made by them or NGOs working with women sell products made by them or NGOs selling tribal products or paintings .. its great honour to communities they serve.
And NGOs working in slums or villages or rural areas have great relationship with communities and corporates can think of having them as agents which can order products from corporates.
Its good for corporates who find good agents
Its good for NGOs because they earn
Its good for communities because its at home service

NGOs can keep half the commission they get and pass the other half to communities so that its win win long term situation